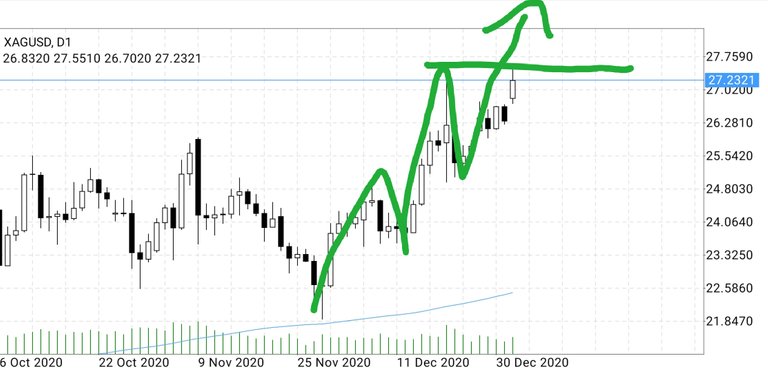 Silver opens above the PG trigger point on a monthly basis.
The silver chart is also on my list with potential for a breakout. The recent highs have proven that there is life in this metal for a change. Fundamentally, industrial production should now pick up speed again and silver is needed for many products.
The charts indicate big movements
In chart terms, the PG was only just exceeded, but that can still change.
Subordinately, the small downward trend has now been broken and all time units are again on buy. The daily chart gives reason to hope for more, as wave 5 has not yet arrived.
Important zones in the chart
The upper trigger at 25.95$ has already been overcome and this level could serve as a short-term hedge. Below $21.87, however, things become dangerous, because this is where the trigger is located on the downside. No matter in which direction it goes, the movement should bring volatility.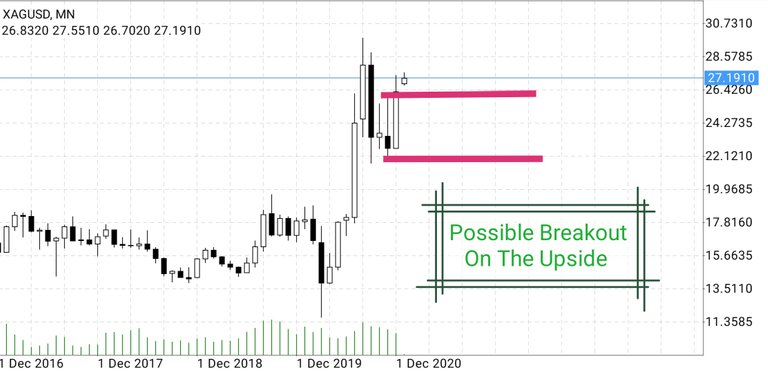 Silber eröffnet über dem Triggerpunkt der PG auf Monatsbasis
Der Silberchart befindet sich auch auf meiner Liste mit Potential für einen Ausbruch. Die jüngsten Höhenflüge haben es ja bewiesen, dass zur Abwechslung auch mal Leben in diesem Metall steckt. Fundamental dürfte die industrielle Fertigung jetzt wieder fahrt aufnehmen und Silber wird ja für viele Produkte benötigt.
Die Charts deuten große Bewegungen an
Charttechnisch wurde die PG zwar nur sehr knapp überschritten aber das kann sich ja noch ändern.
Untergeordnet wurde der kleine Abwärtstrend jetzt gebrochen und es stehen wieder alle Zeiteinheiten auf Kaufen. Der Tageschart lässt mehr erhoffen, denn die Welle 5 ist ja noch nicht da.
Wichtige Zonen im Chart
Der obere Trigger bei 25.95$ ist ja bereits überwunden und diese Marke könnte als kurzfristige Absicherung dienen. Unter der 21.87$ wird die Sache aber gefährlich, denn hier befindet sie der Trigger auf der Unterseite. Egal in welche Richtung es geht, die Bewegung sollte Volatilität mitbringen.
Source/Quelle Charts: (Guidants/Godmode Trader) & JFD Broker & Binance
Für mehr Informationen rund ums Trading empfehle ich meinen
Discord Channel: https://discord.gg/j5A3CUq
Twitter: https://mobile.twitter.com/TraderOut
Gehandelt werden meist KO-Scheine, Futures und Aktien, günstige Broker habe ich hier mal verlinkt.
Werbung wegen Markennennung.
Deutscher Broker für Aktien und Derivate.
Trade Republic: https://ref.trade.re/vwxxl228
Marktplatz für Kryptowährungen mit Spot, Future und Optionsmarkt.
Binance: https://www.binance.cc/en/register?ref=QB18DEMH
Risikohinweis:
Dieser Post stellt keine Anlageberatung oder sonstige Empfehlung dar.
Die dargestellten Analysen, Techniken und Methoden dienen ausschließlich Informationszwecken
und stellen weder eine individuelle Anlageempfehlung noch ein Angebot zum Kauf oder Verkauf
von Finanzinstrumenten dar, sondern spiegeln lediglich die Meinung des Referenten wider.
Eine Haftung ist ausgeschlossen.
Legal Disclaimer:
I am not a financial advisor
nor is any content in this article presented
as financial advice. Never invest more
than what you can afford to lose.
This post is my personal opinion,
do your own research before making any investment decisions.
If you make any trades after reading this post,
it is completely in your responsibility.
I am not responsible for any of your losses.
By reading this post you acknowledge and accept that.
Posted Using LeoFinance Beta