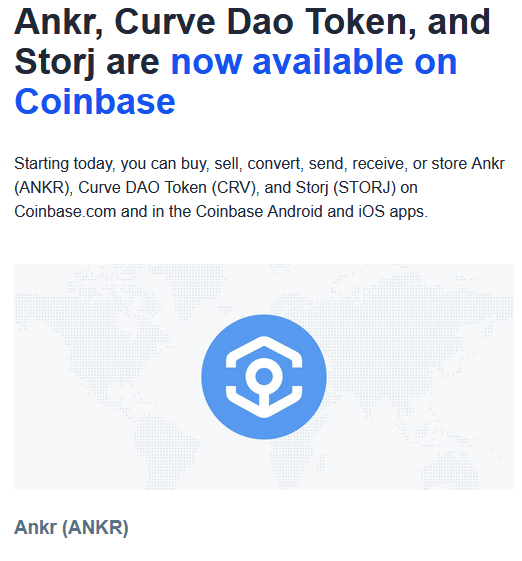 ---
I was flipping through my Google news feed a couple of weeks ago and it never fails that one of the stories is about some "influential" person recommending this token or that token. The headlines are all pretty similar. They look something like this "(insert name here) talks about about the five altcoins they are betting on for 2021". Just swap out the adverbs and the names and you pretty much get the picture.
Sometimes they don't even give the names. They jus say, "wallstreet guru" or something attention grabbing like that.
In any event, my attention was grabbed on this particular occasion and one of the tokens that they were talking about was ANKR. I've always wanted to dive into one of these up and coming tokens. The idea just taking the advice of someone I have never heard of before and having it pay of big is very attractive to me.
Of course I could lose it all too.
Unfortunately, the majority of these tokens are on the ETH network. You just need to read my post from yesterday to figure out how I feel about the ETH network.
Needless to say I passed on this one and then was confronted with this news just the other day.

Coinbase to add ANKR

You have got to be kidding me! Notice I didn't get into the specifics about what the token does because that doesn't really matter since I didn't purchase any.
What does matter is the fact that typically when tokens get listed on Coinbase like this, the price tends to skyrocket. Okay, to be fair, the increase isn't as much as I was afraid it would be. The fact remains that if I had purchased ANKR when I first heard about it, I would have gotten it for around $.025 per token. Highs after the announcement put it right around $.134.
Yet another missed opportunity. Thankfully, I don't feel as bad about this one. Since it is over on the ETH chain, I know I would have probably paid insane fees just to swap into it. Probably enough that it wouldn't have made it worth it. At most I would have been investing maybe $300. That gives me about 12,000 tokens. Minus the $50 to $75 Gas fees I would have needed to pay.
I could have turned that $300 into $1608 - $150 in gas fees, so $1458 net. Or so. Still not too bad and a good nest egg to pump into the next "up and coming token".
Should I take the gamble next time? Is this how the big fish get to be big fish by taking small risks like this?
---
---

---
@eos.detroit Staff Writer/BOID Team Leader
Join our Discord here
Posted Using LeoFinance Beta