Inspired by this post Defining my Leofinance Targets for this year written by our colleague @alexvan, I try, first of all for myself, to clarify my thoughts and try to establish a path in LeoFinance.
I hope @alexvan doesn't mind that I even used the title of his post ... and doesn't ask for my copyright. I count on his generosity and his desire, confessed, to help the less skilled in writing such blogs.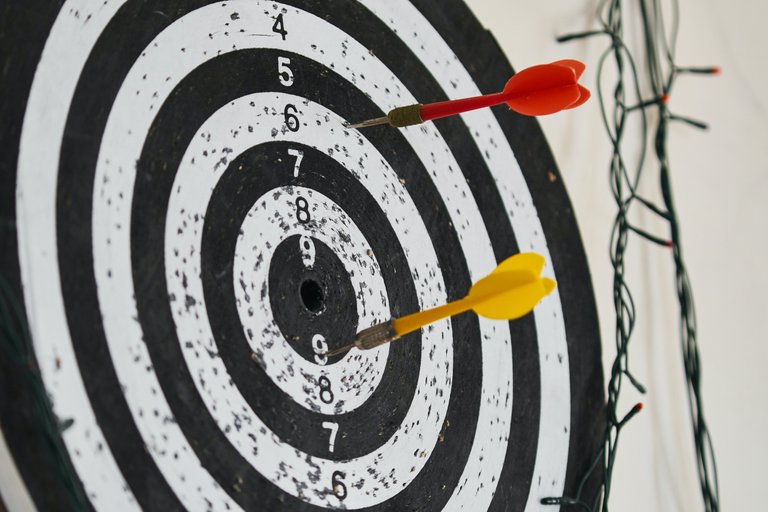 Photo by engin akyurt on Unsplash
The first goal, already achieved, is to be in this community extremely dedicated to business, finance and cryptocurrencies, even if at the moment I'm not really trained in this field but I have a great desire to overcome this handicap.
The second goal is to be able to accumulate 1000 LEO Power by the end of the year. At the moment I only have 200 LPs, (buy not made) and the prospect of accumulating from my activity here is small, I consider it, as it will be, as a bonus. I have to buy Leo ...
I learn, quite painfully, that lack of vision, flair and attention pays off. I sold all the Leo I received last year, thinking that I will not be able to work in this community due to lack of knowledge in the financial field. I was not passionate about discussions about cryptocurrencies, nor do we consider Steem or Hive cryptocurrencies but a kind of measure of the value of blogger activity, strictly on our social platform. Big mistake, which now puts me in the situation of buying Leo that many others have won by the simple activity of writing here.
I don't think I will be able to accumulate more than 30-50 Leo from my activities here this month, so I will have to buy another 750 Leo to reach my goal. I have a budget at the current value of Leo, if the value will increase a lot during this period (as we all want) then I may not reach the goal.

Another recent post changed my perspective on myself and LeoFinance. This blog is about curators ... LEO Whales Are Spreading Stake to New Users | Curator Reward Leaderboard
This is how I understood why the level of engagement is so high. The level of engagement and interaction between the members of a social platform expresses how alive that platform is.
From this point of view, LeoFinance, through the modifications made to the Hive model, proved that the activity can be improved and that the members of the community can be impelled to be very active. Of course, the best impetus is given by the rewards.
It's clear from this report that the community and top stakeholders support users who consistently create content and engage with other user content regularly. If you want to be successful on a platform like LeoFinance, then engagement is 90% of the game.
What did I understand reading this last blog written by @leofinance?
First of all, I don't necessarily have to be an inspired and good blog writer. In order to be noticed and to be rewarded, it is enough to be very active, to read as many posts of my colleagues as possible and to interact with them, asking or trying to make a contribution to the subject.
Then, as my LP grows, to be a discerning curator and look for what I think is value and vote for those posts.

I hope that @theycallmedan, who is a follower of this principle, will be able to promote such actions for Hive as well. Because a living and dynamic Hive, like a LeoFinance that is already like that, can only be to our advantage, to everyone!


Interesting how such a system makes everyone evolve. The desire and the need to comment forces me, first of all, to read that post carefully, so to learn something from each blog and so, even people without much knowledge will soon learn the notions related to finance, stocks , business, crypto currencies and blockchain. The next step will be the need to share my opinion and this will be by writing blogs, and once in this position I will become (will become all beginners) the initiated members of this community. Rewards will also increase.
This, of course, will require patience and perseverance
To be successful at some point, we must follow a successful example, the example of other colleagues who have successfully passed these stages. I have the example of my Romanian colleagues who do very well here: @acesontop, @erikah and @alexvan. Of course, they know much better about this area of finance but they are, at the same time, among the best commentators. This helped them, first of all, to be noticed by the curators and their results reflect this.

What determines, first of all, the success of this community, is the curation activity and the involvement of the whales. It is the most important method of retaining and supporting newcomers.
I started three and a half years ago in Steemit and for more than a year no one noticed me, although I was making great efforts to write quality blogs with beautiful graphics. I wanted to give up twice and only the (moral) support I received from a few colleagues made me to change my mind.
Now I see here that the man with the largest amount of LEO staked, @onealfa, has manually cast over 5,000 votes in the past month ...
I see ...
Amazing @onealfa.leo is on the top here as well with more than 5k votes. @taskmaster4450le on the second spot with almost 3k votes. @oakshieldholding on the third place with 2.7k votes in the period.
Only these three whales shared over 10k votes in a month.
Imagine how many benefited from their votes. I also benefited, probably for encouragement. There are many more curators who generously share their votes ... to those who deserve it.
You have to be crazy not to want to be here.
The main reason why it is not yet an avalanche of registrations, in my opinion, is that these things are not known and of course, the retention, which I had, of those who are not familiar with the technical terms regarding finance. But these can be learned by reading posts and comments in LeoFinance.
I am very happy that I had the courage to cross this threshold, towards LeoFinace! I hope that I will be able to fulfill the goal I have chosen.
---


Posted Using LeoFinance Beta