Here are some more stats that don't have to much importance, done in my quest to learn a bit more of basic SQL things. I don't know does @arcange has the possibility to see the queries i tried and used, if he does he is for sure thinking "why did i made this accessible to all" :D
Random stats done in caveman stile.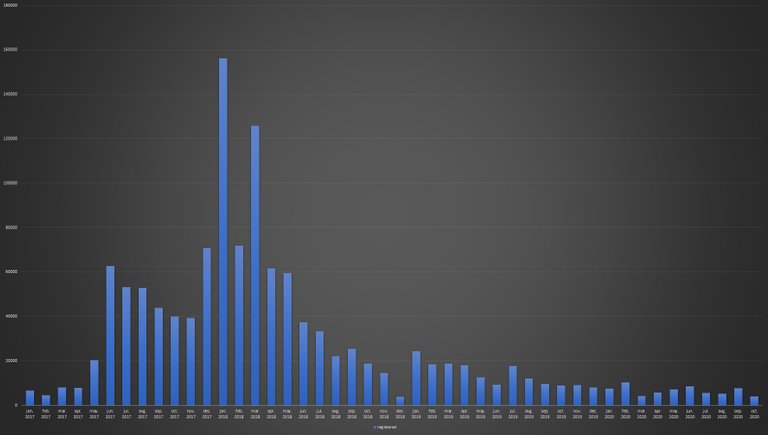 Registered accounts by month from 01.01.2017 to 31.10.2020. We can see that January of 2018 had the crazy amount of new accounts created. And it is not a surprise as that was the golden time of the blockchain (in price) with the all time high, and also all the crypto marked was still going crazy. And you need to remember that was the time when you had to wait for as much as 2 weeks to get your account approved. I joined in that month so i can't say for sure that there was no marketing effort, but there was no marketing effort, it was just crypto hype.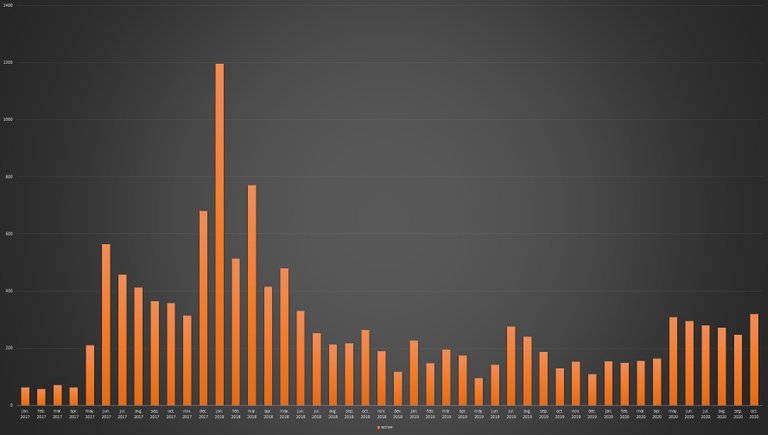 Next is account registered in specific month that were still active in the period of 01.11.2020-15.11.2020. I thought most that are active get to use it at least once in 15 days so that is why i chosen the 15 day period. The chart is pretty similar with the registered accounts, especially in the periods where enough time passed. The last few months look a bit better, but as we will see later, there was just not enough time for them to quit.
So essentially, the number of, for example, accounts registered in the period 01.01.2018-31.01.2018 that are still active now.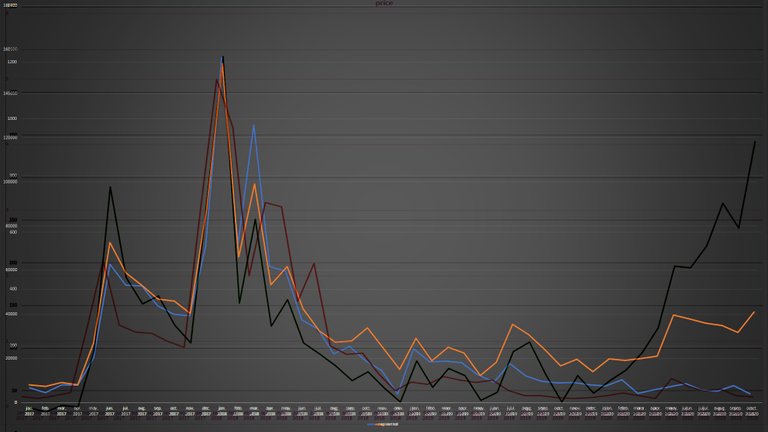 All mushed together Blue=registered, orange=voted, dark green= commented, dark red=price
We can probably agree that the price movement affected the number of accounts, and just pure number of accounts made were responsible for the number of still active accounts. There is a uptrend in commenting and voting at the end, could be maybe the @leofinance with more people active as they started to push in last few moths, but i think it is just the short time passed from creation of the account. And why i think that, you can see in the chart below.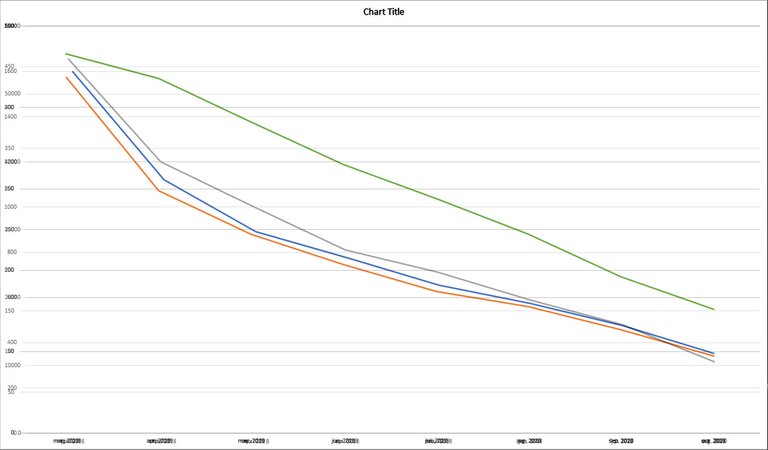 Here you can see the trend of accounts becoming inactive from the month of registration and next 8 months.
Blue = accounts registered in January 2018. Active accounts drop in every month in next 8 months (January-August 2018)
Gray = accounts registered in August 2019. Active accounts drop in every month in next 8 months (August 2019-March 2020)
Green = accounts registered in March 2019. Active accounts drop in every month in next 8 months (March-October 2019)
Orange = accounts registered in March 2020. Active accounts drop in every month in next 8 months (March-October 2020). From creation of hive.
The green was probably drunk, or maybe i missed something because you can clearly see the trend in accounts becoming inactive by passage of time. And it did not really change with Hive. It is probably a normal thing for all social networks, but it does not look nice.
Here is the table with all the numbers as it is hard to see them in the charts (and some are overlapped so you can't see them at all)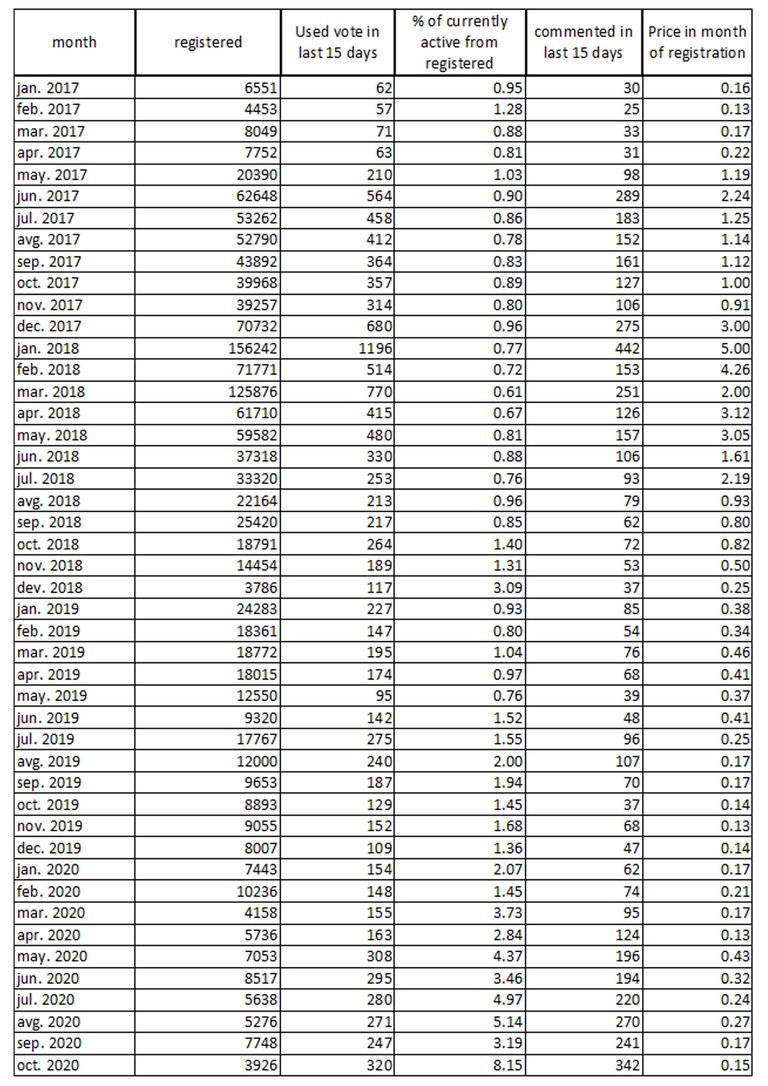 In all this stats custom_jsons are not included so All people that are only playing games are not in this. I tried to do the same thing for custom_jsons but all the queries i tried were giving me weird results so i concluded that i don't have the skill to do that and abandoned it.
And it would probably be interesting to see that, because in one of my random queries i noticed that really small amount of accounts created by Splinterlands ever use the social part of the blockchain (on 2500 accounts created, 20-30 commented or voted). And that is a good and bad thing. Good as most of new players are outside of hive, bad as they don't get to use all other things on hive.
Another thing that would be interesting to check out in few months is how is the retention of accounts created by LeoFinance. They started creating accounts last month so there is no data for that yet. And i am also not sure are they only using Leo account to create accounts.
If you got bored with all this random stats you can check out some tutorials abut photography for easy understanding of Manual Mode shooting.
Photography Basics: Learn Manual Mode (tutorial, Part 1)
Photography Basics: Learn Manual Mode, Shutter speed (tutorial, Part 2)
Photography Basics: Learn Manual Mode, Aperture and ISO (tutorial, Part 3)
Photography Basics: Learn Manual Mode - Thinking process (Tutorial Part 4)
Posted Using LeoFinance Beta