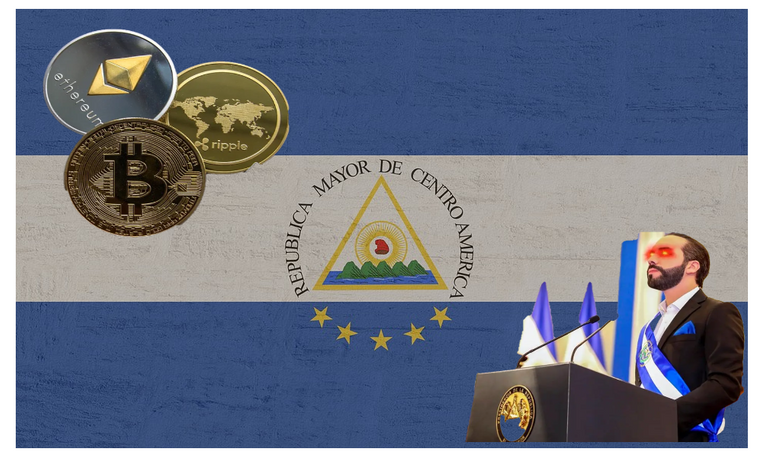 Word about El Salvador working hard to legalize Bitcoin as a means of exchange in the country has hit the airwaves pretty hard. The country with a population just shy of 7 million people, with a name that literally means "The Saviour" looks like they just might become the saviors of Bitcoin.
As you know, Nigeria is currently in really bad shape and I have been thinking up different options to exit this place. I decided to do a minor inquest about the country to see if it is a place that me and my family could relocate to in the near future.
El Salvador is a Spanish-speaking country in Central America that shares a border with Honduras and Guatemala. Due to its position around the Pacific, it is also susceptible to tectonic activities, Earthquakes, and probably floods. It also suffers from the effects of severe weather conditions and various unpleasant factors.
El Salvador is also home to multiple aggressive gangs and anti-government guerilla-type mafias that don't mess around. The country's homicide rate was skyrocketing for a period, however, that was in the past.
The country has also been embroiled in a series of civil wars that spend tens of years and only came to a rest in 1992, coincidentally, the year I was born, so maybe destiny is at play? Since the current Bitcoin loving President, Nayib Bukele took over homicide rate has dropped by 60% and things are looking better.
In terms of Human Rights, there have been some issues that remind me about Nigeria. Here's what I snatched from El Salvador's Wikipedia;
Amnesty International has drawn attention to several arrests of police officers for unlawful police killings. Other issues to gain Amnesty International's attention include missing children, failure of law enforcement to properly investigate and prosecute crimes against women, and rendering organized labour illegal.[84] Discrimination against LGBT people in El Salvador is very widespread.[85][86] According to 2013 survey by the Pew Research Center, 62% of Salvadorans believe that homosexuality should not be accepted by society.[87]
So if you're in the LGBTQ+ community, then you might want to rethink moving to El Salvador that seems to be extremely conservative. I often translate that to be "secretly gay" but that's just my opinion and shouldn't be taken as fact.
Why Crypto?
When you think about El Salvador's position that has been drastically affected by natural disasters, it is only natural to expect the nation to be welcoming to cryptocurrencies. Bitcoin and many other digital assets have servers that operate in different parts of the World, so local disasters won't affect them.
In fact, growing a large crypto community in El Salvador might go a long way in improving their situation.
At the end of the day, it is all about perspective. If you're living in a shitty place like Nigeria and Venezuela, it might not be a bad idea to relocate to El Salvador. In fact, Venezuelans have it easier since the country is closer and speaks the same language as them.
For me in Nigeria, I fear the process might be too drawn out and stressful to embark on, and considering that the difference between El Salvador and Nigeria isn't that much, it might not be worth the stress, despite how crypto-friendly the country might be.
Please check out my Freelance gigs:
Signup for Oropcket with my referral link
Contact me

Posted Using LeoFinance Beta