For the past two months, things have been so exciting about Bitcoin and Ethereum. There are many new people getting into BTC and ETH and the market keeps pumping. Along with this pump, these two coins are taking a few more coins along with them. Though this is a good thing, I started getting a feeling as to when this pumping will stop.
The main reason for this feeling is because I don't have any holding of these coins that are pumping right now. I would like to see an alt season coming where the coins that I hold start pumping. I have been waiting for that moment.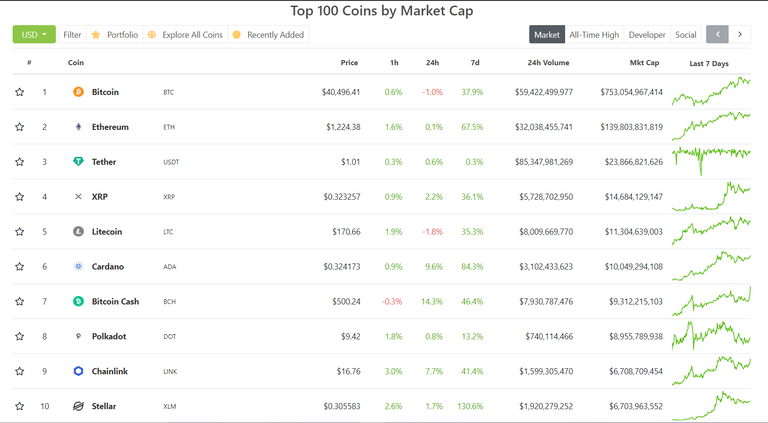 I also noticed that there are some new coins coming up this list. The list displayed above is from Coingecko. So far my investments have been only on Hive and Hive related coins. Two days back I wrote an article that I looking forward to investing a little in Polkadot. Similarly, there are also hopes on Chainlink I guess. I have been hearing about this from some of my friends.
I hope when this bull run is over, people will start booking some profits from their trade, and that gives me a feeling that Hive and other coins can have a very good time. The market cap of these coins keeps changing. I remember seeing Tron and few other cryptocurrencies in the top 10 list long back. I guess these things are kept on changing.
It is a good thing that BTC and ETH markets are pumping but I'm eagerly waiting for the pump of Hive, BAT, XRP, and other tokens that I have been holding for a long time. Hope that happens soon and gives some happiness to me.
---
---





---
Posted Using LeoFinance Beta