You might think 10$ may not even be reasonable money from trading to write an article or describe this. But I have to say that it is definitely a big thing for me. But if I had done that with a good volume, maybe my profit would have been a lot better. I have never been a good trader from the beginning. I failed big time in trading. I usually invest at the wrong time and exit at a bad time. But I wanted to see some good fortune even in that. For the past one or two months I have been trying really hard to do some good trading. I did successful trading when Hive was lunched. After that, I have been observing the market watching the price and looking for some good opportunity to trade and get some quick bucks.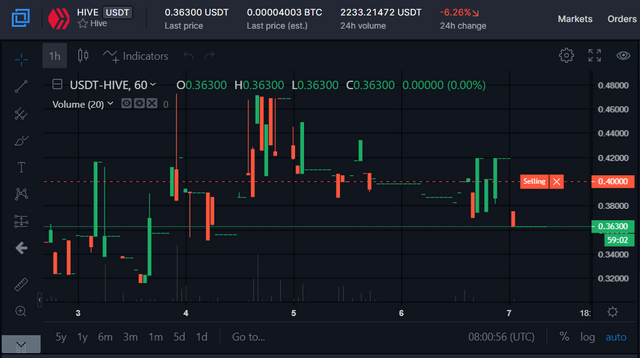 I have to tell that today the market was a bit favorable towards me. For the past one week, after Bittrex introduced the USD-HIVE pair, I have been observing the price very closely. In order to do some trading, I did move my 300 hive to the exchange wallet. You would have seen an article from me about that a few days back. After moving my hive to the market I sold it for 40 cents. The same day I had the opportunity to buy them back for 36 cents which were a very good deal. But I thought 35 cents would be best to purchase and I was just waiting for it.
Days passed and the price never came below 36 cents and I also noticed that there was no big movement in the market in terms of the price or even quantity of trading. I should say that it was indeed a flat market. Today just to be a little curious about trading, I thought I will just buy Hive back for 37 cents and placed a buy order. I made around 23 Hive extra by doing this purchase. This was indeed easy trading I should say. But it drained me a little bit as I had to observe the market frequently and look if the price hit the buy order and sell order. I don't know how many people have the patience for that. I'm going to be trying this again later.
---
Thanks for reading the article. If you like my article please vote, share, and follow!
---
Posted Using LeoFinance