Today I woke and noticed that many people have posted their experience about Koinos mining. Yesterday @zaku bro mentioned it in the city but I did have second thoughts to use it. Today after reading so many articles and seeing that many people are into mining, I also wanted to give it a try. Especially when I read about positive mining experience from people, I really wanted to give it a try.
For people who would like to know more details about this project, here is the link.
https://github.com/open-orchard/koinos-gui-miner/releases
I first went to the GitHub page and downloaded the windows version of the miner application. I have to admit that this is my first mining experience. I haven't done any CPU mining before. I did try a few before using a few mining software but it did not go well. I even tried mining BOID but the setup did not work well.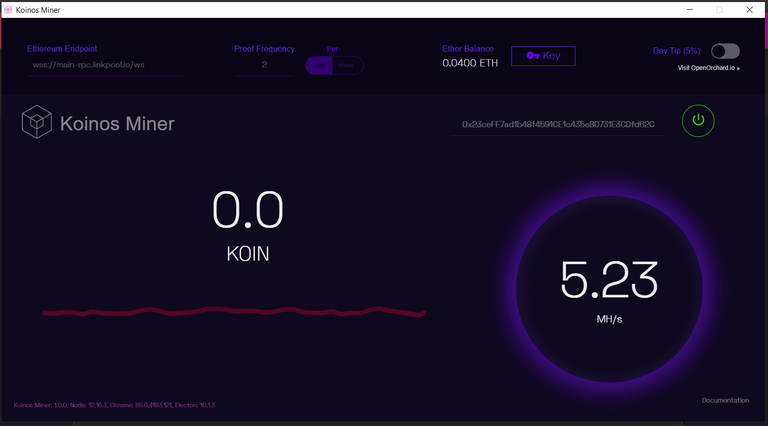 I then followed all the instructions mentioned in their github page. As a next step in the process, I had to then set up a wallet first to fund the mining process. I was skeptical about this step because it would cost me not only electricity and other resources but also some more money to pay ETH gas fees and transfer fees. This is really sad. Like everyone else, I also felt why on earth would someone choose ETH for this when we have so many free alternatives.
I read it from @mindtrap's post that the first transaction alone cost so much and after that it was nominal. So, I thought I would deposit around 0.04 ETH which costs around 16 USD at the current price. I'm keeping my fingers crossed to see how much time it would take to send me the first set of coins.
I was surprised to see that I got around 5 MH/s as my hash rate. Not too bad for a gaming PC. Just one concern is that this mining activity is definitely going to create some wear and tear for my laptop as it is already headed up like a frying pan and my CPU is already at 100%. One good thing I noticed about this is that even though I had so many tabs open in the Brave browser, it automatically switched to GPU when it saw that the CPU was fully occupied. That was something impressive.
If you planning to get started after reading this article, I have a tip for you. Before starting your mining and while making your settings right, please ensure you use the below ETH endpoint.
After almost one hour of execution, my application errored out. Details are available in the GitHub issue link below.
https://github.com/open-orchard/koinos-gui-miner/issues/106
The second tip that I wanted to share is that, set your proof frequency from 1 to 24 to start with. I saw a few people setting it 240 times per day. For blockchains with a free transaction that should be okay but we are using ETH, if we set the value, we would end up spending so much on ETH gas fees which may not be reliable.
It is only a few hours since I started the mining process, I haven't received my first set of coins yet. I will try to write another article in the coming days to update my progress. I'm not even sure if I will be continuing with this for the next 6 months or not. But yeah let's see. I'm at least glad that I was able to participate in this mining. Hope it turns out well.
---




---
Posted Using LeoFinance Beta