There would be lots of investment opportunities in the real world but the profit from those investments would be very less. I'm not sure about other countries but for countries like India, it has been very difficult to even cross 7 or 8 percent APR from investments.
Recently the fixed deposit returns reduced drastically making it highly challenging for Indians to make any profit from such investments. Even though there are other opportunities available, it has been hard to get returns consistently.
I'm really glad that the blockchain world provides some decent investment opportunities with a proper return from the same. Of course, there is also a huge risk involved in this where if the price of a particular coin goes down it would greatly affect the investment.
When it comes to the hive, it is indeed a great opportunity. People can easily gain from 12 to 18 percent APR for the investment they do here just with the help of curation.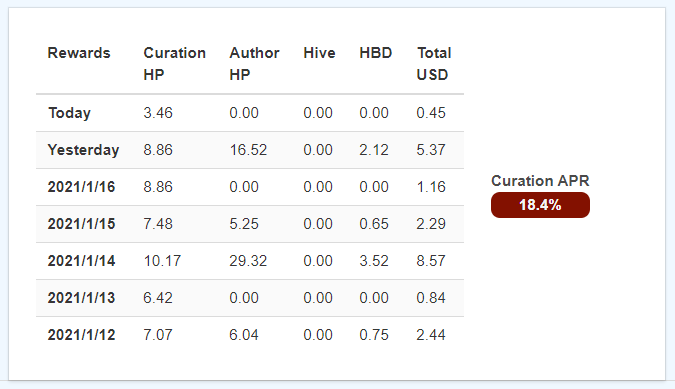 The price of Hive had been very consistent for the past few months even though there was a bull run in the market for other coins. In my opinion, we are still in the early stage of crypto adoption and that is why we have tremendous opportunity to reap profits in the future.
In my case, I have around 15,000 effective Hive power which is close to 2000 USD value. For that, I get around 18% APR just from curation. If I calculate the author rewards it goes even more than that. Even if I average the daily curation rewards I get, I would say that it is close to at least 15 percent.
This is indeed a great thing and I don't think any of the other cryptocurrencies gives this much. For other cryptocurrencies, there are options available to keep the funds in the exchanges and gain some interest for the same. We might have to be dependent on a centralized exchange but here we can just have our funds in the wallet and reap the profits from Hive directly.
This is one thing that I like about Hive. Investing in Hive doesn't go in vain. Even if there is a drop in Hive price our APR would reduce a bit but I don't think it would go below 10% which is indeed a great thing for sure. If the investors are also consistent authors here, the profit would be even greater. This is definitely not financial advice but you can think about this and do your own research to find out which is more profitable.
---





---
Posted Using LeoFinance Beta