For the past few days, XRP tokens are pumping. The price is slowly picking up. I hope it reaches an all-time high soon. There are a few reasons for it and one important reason is because of Spark token airdrop. I have been hodling a decent amount of XRP with me for the past 3 years. I bought it when the price was over 1.5 $ per XRP. Not just me but I even made some of my friends purchase XRP at that price back then.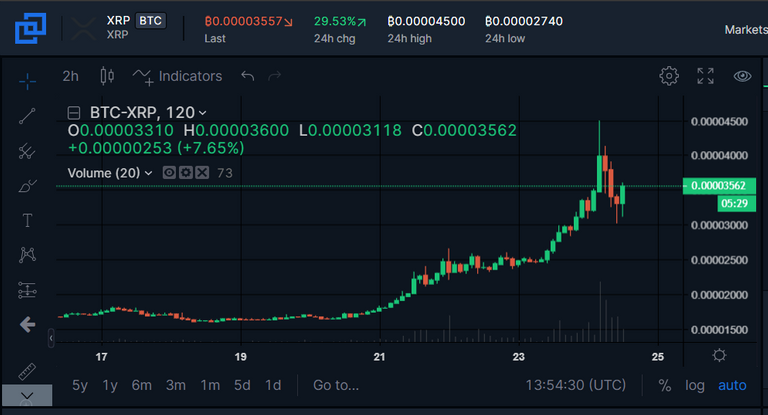 For the past 3 years, I have been seeing the price of XRP declined by so much. Many people advised me to sell XRP and go for something that would give me some better short-term returns but I did not go for their words. I was holding them on an exchange for almost over 2 years. I didn't even think about depositing them somewhere and getting some benefits out of it.
Recently, a little over 2 months back, I came to know about Crypto.com and wanted to use their deposit scheme to deposit my XRP tokens. I know the risk of storing the tokens in a centralized exchange as opposed to having it in my own wallet. But I did not worry too much about that because I had only a little XRP and the overall price was also not that much.
I deposited my XRP on a term deposit for 3 months and I was also getting a small passive income from that for holding it at the rate of 4.5% per annum. I found it okay compared to having it idle in a wallet or other exchanges which wouldn't give me anything.
Recently after the FOMO about Spark Airdrop that was prevailing everywhere, I was also worried a little bit because when I checked the list of exchanges supporting them, I couldn't find my Crypto.com in that list. I was also thinking of quitting and taking away all my funds from Crypto.com to a better exchange that would give a similar dividend.
Today I was totally surprised to see the below message. It looks like Crypto.com is now supporting the Spark airdrop and I'm also very happy that I'm going to be getting airdrop for all the tokens I hold there. I also found a line in the message saying that the tokens that have been deposited will also be eligible for the airdrop.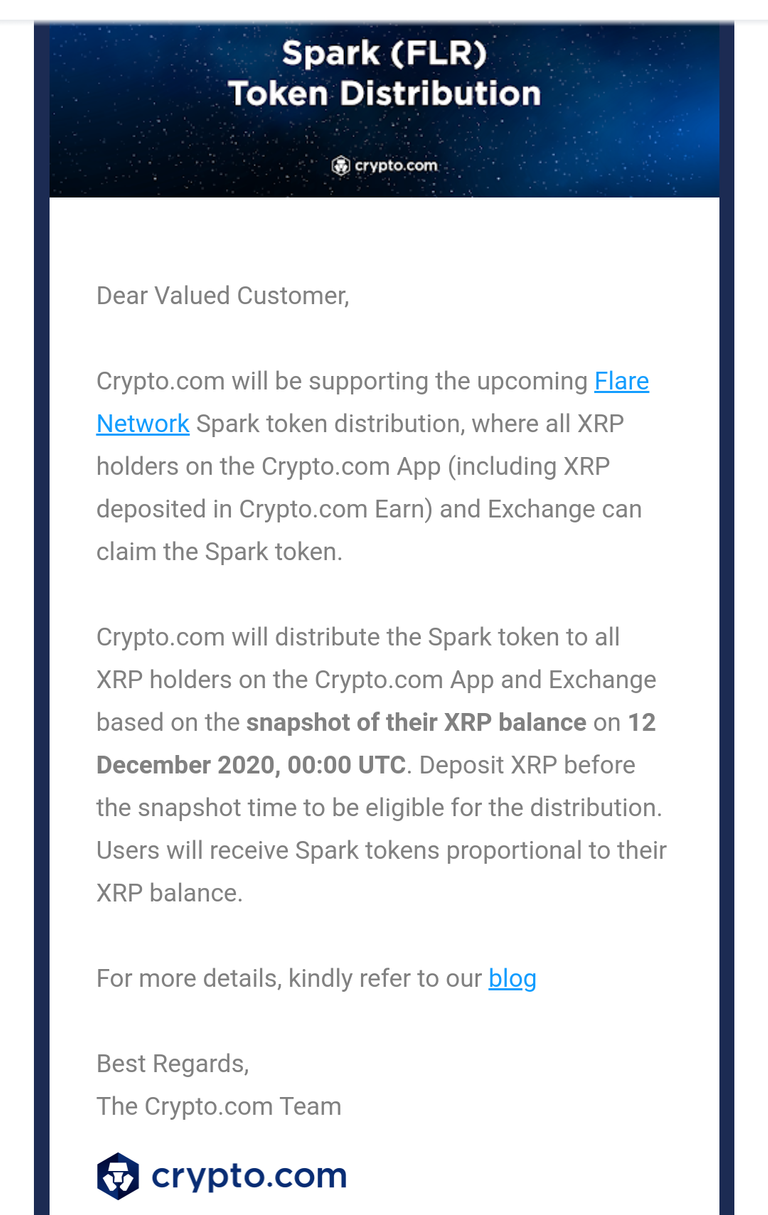 I'm not sure what value Spark is going to bring in the future. But being left out without an airdrop even though I had a decent balance is something that doesn't give a good feeling. After seeing this email, I'm glad and happy that I'm able to participate in this airdrop. I'm just going to play with whatever I currently hold and I'm not planning to do any additional purchases before the snapshot date.
For those who are interested to know more about crypto.com and would like to get started there, you can feel free to use my referral code. By using my referral code both you and me would get 25$.
My Referral Code: m26ma2crrf
During sign up, you would be asked to enter the referral code and you can use the above code.
---




---
Posted Using LeoFinance Beta