In the last week, I have been looking around for some good platforms that would help me earn some decent cryptos. While doing so, I came across Betfury by reading some articles on Publish0x. At the first sight, it looked very interesting. I really wanted to give it a try. The rewarding model is a bit different from other websites and they also have a Bitcoin faucet that gives you some Bitcoins every 20 minutes.
My Referral Link: https://betfury.io/?r=5fa29aabefb8de560f130bab

I initially thought it was a gaming platform similar to wombat.play that has many games and lets us earn rewards for playing the game of our choice. But after exploring I found out that it is a gambling platform just like an online casino that makes us win or lose based on our luck. I'm usually someone who stays away from all these gambling platforms as I have a problem with controlling my greed. But in this platform, there is no need that we have to invest an initial amount to get started. We get a faucet every 20 minutes and we can use the same to play slot games here. This is the most interesting thing that I see here.
Betfury is valued by many people in the crypto world. I have seen many people investing in Betfury and are checking their luck by playing games here. I see many articles online explaining their experiences with Betfury. Some people get started by investing 10 or 15 $ and some people get started without any investment.

Above is the free box that gives you free BTC every 20 minutes. You get an opportunity to earn a maximum of 1800 Satoshi per day if you happen to claim every 20 minutes. It used to be 5400 Satoshi till yesterday where we can claim 7500 Satoshi per day. Now they have reduced it to 25 Satoshi every 20 minutes.
Games available
Games are the most common way to increase your revenue on this platform. If you plan your funds very well and play the game, you would be able to make a good return from this platform. There are also a few games here which I would recommend to stay away from. Maybe I was unlucky but the point is not all the games are favorable unless you know how to play it. Greed also plays a vital role here. People who are into gambling should know definitely better than me.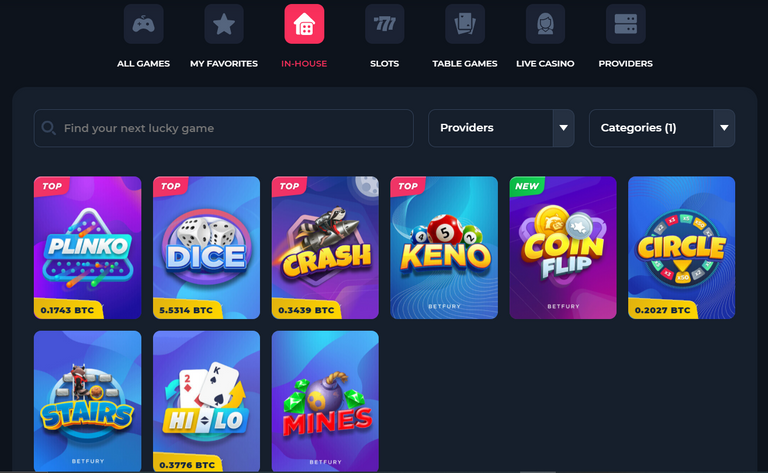 These are some of the games that I have tried. I did not try any other game here. I mostly play the Dice game and Hi-Lo game. Only these two games have been highly favorable for me. I once increased my holding from 100 Satoshi to 1100 Satoshi by just playing Dice game here. But after that comes the Greed. I bet all my holdings on a game and lost everything in just a few seconds. In the last few days, I have done this multiple times.
Earning Dividends
Betfury doesn't stop with just playing games. There is also an in-game currency that we can get for playing games. If we continuously play games by spending our BTC holdings, we will get some BFG tokens based on the value we bet. The BFG holdings keep increased based on how much we have played and how much we have spent. They have a dividend sharing mechanism based on the BFG tokens we hold. There is a calculation that shows how much we can earn. It is said that we can earn even 350% dividends for what we hold.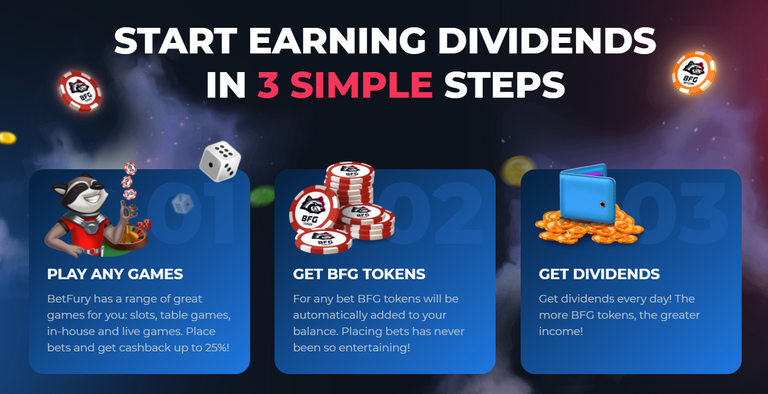 There are more details on the website itself. People also invest their money directly on the website to increase their dividends. The game also supports multiple tokens.
That's it from me. You can check out the website by yourself and get to know more details on the other aspects like a daily bonuses, staking, etc. If you would like to give the website a try, feel free to use my referral link.
My Referral Link: https://betfury.io/?r=5fa29aabefb8de560f130bab
---





---
Posted Using LeoFinance Beta