credit
I literally couldn't wait for this day to come, it's been an unending urge for me just to share some personal thoughts about Leofinance. If you're a content creator on leofinance you've probably known better what this awesome platform offers, but if you're new to this space or probably reading this from wherever or however you may have bumped into it, let me take you through some honest thoughts and review of Leofinance.io.
People from the underdeveloped countries understand how hazardous the atmosphere is due to the covid 19 crises and beyond, there's literally a slacking nation with dying people. I am actually African, Nígerian to be precise, I'm still a student, doing all the necessary things like learning and earning while am still very young, that way I could just be securing a good future for myself. In my country a dollar cost against the native currency Naira counts up a pretty high figure. An Average Job in Nigeria pays 15,000 naira a month and that's about $40, not much right? Well I'd let you know that having such a paid job in my country is quite enough because finding it is even harder. I barely seek such jobs, I just focus on my education because dad tackles the hassle around here and pays all bills for us which I am really lucky, but Not everyone is so lucky, This Is Where Leofinance comes in. Although you can't live a carefree life in my country with such little amount, you'd have to watch your spending in order not to run into borrowing, fact is an average meal is worth about $4, to be honest such a meal is just to keep you from dying, I actually consume more than that.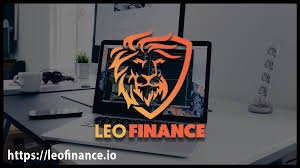 credit
Blogging On Leofinance Has Made A lot Of Impact.
I am not the first African on Leofinance, neither am I the first Nigerian, we have so many of them here and I bet they can attest to my story and review. Earning in dollars has a very huge impact on our finances because on an exchange rate, you get a higher return figure in our native currency. I joined Leofinance a month ago from the day of writing this, permit me to tell you that my first post here generated as much money, even more than a monthly average pay job in Nigeria.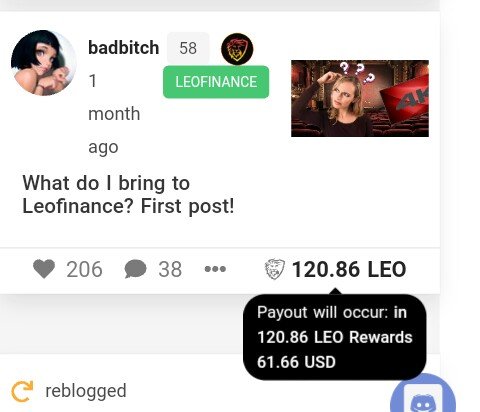 From the Screenshot you can see roughly 120 LE0 on my first impression on this platform, that's about $61 at the time of writing this, I don't know when it is that you're reading this post, but to be clear, if it's more than a month from now, that amount probably already doubled, so we are looking at $122 in just one single post, equating to approximately 45,000 Naira, threes times of a monthly pay job. So let's say i blog on here daily, luckily stumble on that figure on every post, I'll prolly be richer than I thought in a year, trust me you can actually earn as much when it comes to Leofinance, I've seen so many with such counting figures, not magic, just hard work and dedication. NOW let's take a look at every field of my activities here and see how good it has been.

I've made exactly 38 posts, this one makes it 39, from my already paid out rewards, I've got 263.52 Leo all together, summing up to 948.81 Hive if converted, and that's all $131.20 In One Month, school teachers in my country would literally want to quit their jobs for this opportunity, but some of them are just passionate about teaching the children, but nevertheless, some do both, it's actually really helpful to cover some expenses that would have been billed on a cheap pay cheque.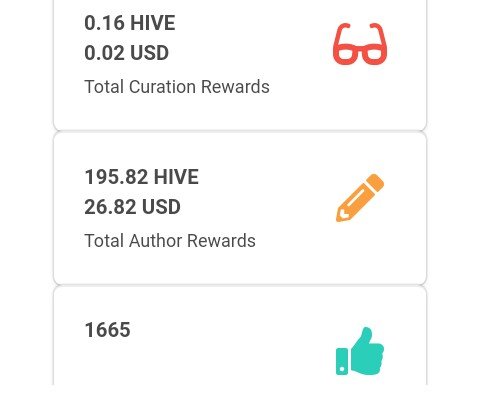 Here you see that the leofinance supporters has also been giving me their unending love and support through the Hive preference and I've made some Hive rewards that's about $26.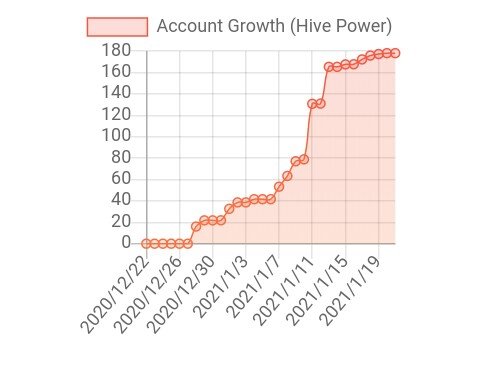 My account Growth in the last thirty days has been really nice looking at the chart above, I still have a couple pending rewards to close this review all up to some bigger figure than it already is. I don't really mind spending my entire day on leofinance because I know I can earn roughly $130 - $200 a month, enough to buy me food, get some clothings and save some money or invest just in case of casualties, also reducing the need I would have to trouble my Dad for, even though he would still take care of it, Leofinance.io has made me financially independent.
My Final Words To all readers is that, regardless of the Time you may have seen this post, it is never late for you to join in, if you're good at research writing on finance, economics, or crypto, then you will much definitely feel comfortable here, along the line there are numerous authors here to follow up and learn from. It's all a three way factor, learn, earn and have fun. If there's any questions then you can make use of my comments section. Also consider joining the Leofinance discord channel by clicking here , it's a fun place to be as well, and also you can get some help there if you're having any difficulties or trouble on the system.
Thanks For Giving Me Your Attention Up Until Now.
#badbitch but not so bad, Much Love :)


Gif created @mariosfame
Posted Using LeoFinance Beta