Hey you guys…
I wanna share a pathetic money hunt story of mine. The discovery of cryptocurrency brought a bigger driving force to make money, but most importantly to acquire some tokens and coins for myself. If am to tell my most hated messaging media I'd say "telegram"
I know a lot of us agree to this motion. The level of scams on telegram is incontrolable that the system has implemented some stiff rules that affect innocent users at times and make them lose interest in using the messaging media. I am one of the unfortunately blocked users on "telegram" lol. Why was I blocked? Funny story short, I got added to a group that shares a lot of links of bots and stuff that is supposed to issue free crypto. Some guy sent a certain link to my dm and asked me to use a bot. I insulted the dude and he reported me for no good reason. And you know how telegram works, once you're blocked on a certain device, even if you create a new account it will also be blocked as long as you're using the same device.
But that's not the topic here, the point here is that I stopped using telegram because of this limitation, I believe that by now the limitations should have been released. But before I left telegram, I did engage in a few crypto bots. Some were scam that I was smart not to fall for and some were "cool" but paid in cents. .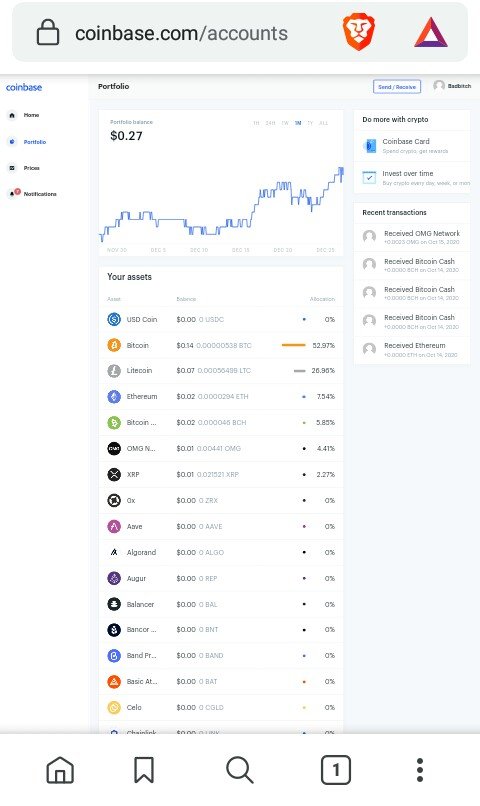 Take a look at that screenshot. I recently remembered I used to have a coinbase account for running airdrops and telegram bots shits. There you see $0.27, I know it's not much but hey, a few months back it wasn't even up to that figure. I picked up some cents of Ethereum, Litecoin, Bitcoin cash, OMG, and XRP. All these crypto in this coinbase account was acquired from telegram shit bots. I somehow wish I was still pushing bit by bit with these bots, prolly now I would have a lot more.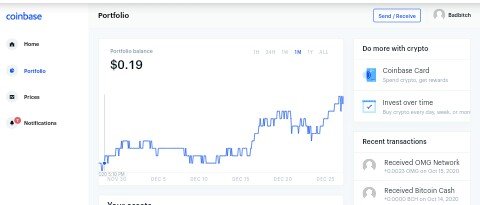 This other screenshot shows some details whereas my assets were worth only $0.19 and that was around November, so I believe it was actually around $0.10 - $0.11 when I deposited those shits. Ethereum had an increase of +7.54%, Litecoin had an increase of +26.54%, Ripple(XRP) had an increase of +2.27%, OMG had an increase of +4.41%, Bitcoin cash had an increase of +5.85% and Bitcoin had the biggest increase obviously of +52. 97%.
Did I mention how I got some cents of Bitcoin? OK, I don't know if any of you have heard of the game "Bitcoin Blast". This game is entertaining, looks like a candy crush but the difference is that it is an online game, on every level you earn Bling points that are converted to Bitcoin cents. A little of my time was put in this game and that's how I got some Bitcoin cents deposited in this wallet. A friend of mine asked me if I had any Bitcoin investment that I might have neglected, she was like Bitcoin is going wild so any neglected investment should be recovered at all cost. That was how I remembered I had some Bitcoin cents in a coinbase wallet. I was hoping it had gotten to $1 in worth but lol, it still has a long way to go. The point here is that I have $0.14 Bitcoin sitting in some abandoned wallet and that's a "good" thing honestly. My plan now is to check up the "Bling" game and see if it still works, play it when I am chanced, pick up some points and earn some bitcoin cents for myself.
This has proven that no little time invested in any crypto project is a waste. Now I got $0.27 in Crypto that I would spend on my bitches prolly around 2050,prolly then Bitcoin will be worth $100k :)
badbitch
Posted Using LeoFinance Beta