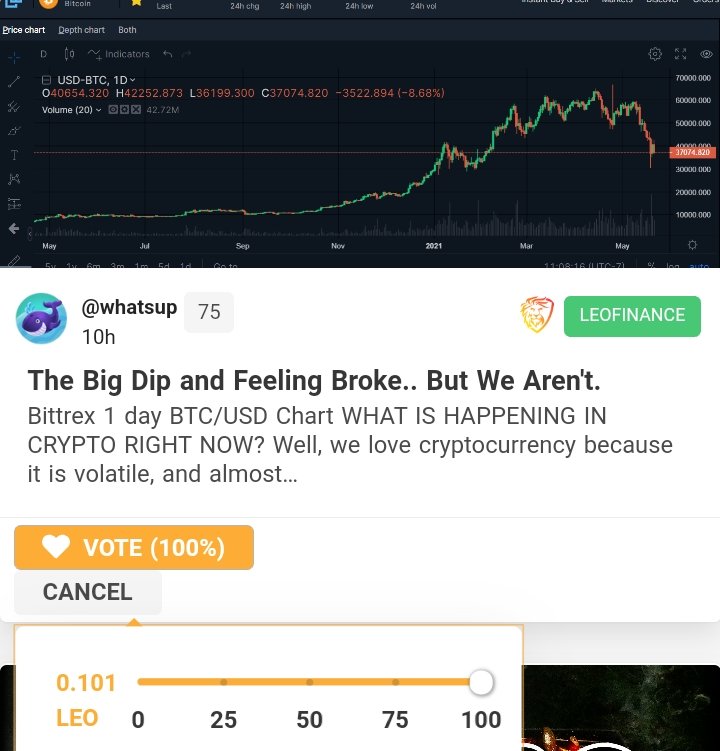 Hey, I know you all poor again! Bitcoin dip is running and leading all your money into the ocean, but hey, look at the bright side : "I Have A Larger Upvote Value"
With all the recent support I've been getting, I've managed to accumulate 800 leo tokens, and that has had a significant impact on my upvote value as seen on the screenshot. I don't know how long it will take to accumulate enough tokens where an upvote from me will be valued at 1 leo ( potentially 3-5$) but it's a building process, probably sooner or later...
On the other side
There's a hell of panic in the air, all no coiners that only visited the system based on the gains that were observed are jumping out in seconds, but diamond hands be traveling the world like nothing is up.
If you're wondering what happened after the market had a jump up from all the Elon FUD, it's a simple theory, pretty experimental actually. After a dump triggered by so much FUD spread, a market rebound is often temporary because peeps who had acquired losses will want to take shades whenever they spot a little percentage increase. Right now the market is at its beast mode, highly volatile in the sense that no one can detect when it's gonna go flying again.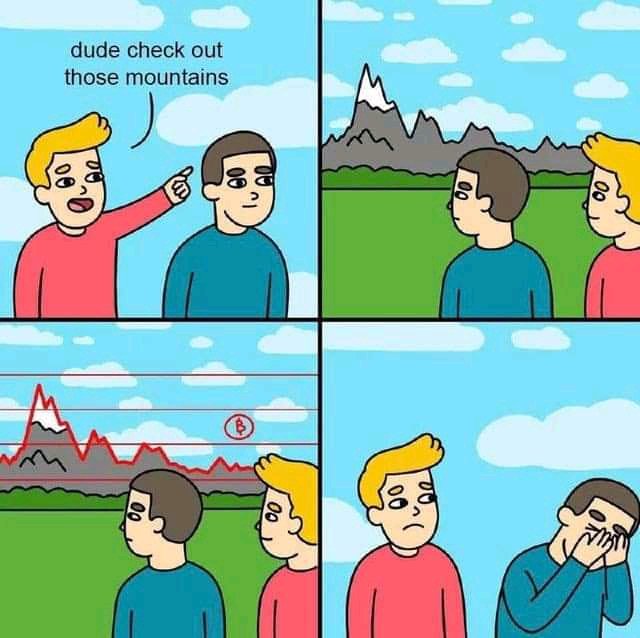 HOW poor are you right now? And how much do you care?
I don't know why or how, but I honestly don't even care about the blood flowing, if am being real we legit got people wishing for bigger dips to accumulate more coins, but all I really care right now is having fun, and here's what I've been picking up.

I don't know where this guy finds all the guts and money from at every dip, does he not have family and problems bugging him?
A role model indeed? Well it's debatable since he's already self established unlike most of us trynna find our way. But notwithstanding, if Cryptocurrencies was to stop existing, he would be loosing a lot of money.
But why does he keep buying?
It's pretty simple, there's more to cryptocurrency than just being a bunch of internet codes, it's an internet money that's gonna take over the trade system and re-establish the economic sectors, but very few can see the bigger picture, most people are just still stuck to these Fiat based mentality and that's sad.
Speaking of sad, here's something sad and funny at the same time!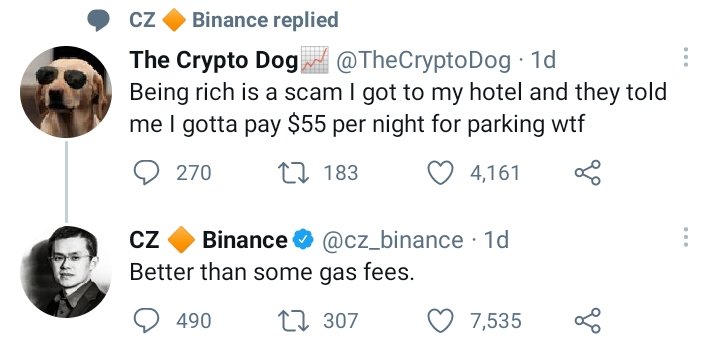 Firstly, I am not really after riches but financial freedom. Being rich is profitless from a point of view. But wait, let's take away some attention from being rich, let's focus on what the Binance Ceo is saying :)
CZ is definitely talking about Ethereum but why? is something I don't know or care, it just got me laughing when I spot it, I mean dudes, we're having a mature dip, people are losing money and you all be speaking of hotel charges and gas fees? That's the level "zero concern" or "attention" diamond hands give to market speculations, it's not something to panic, let it slide, focus on happiness :)

@whatsup got me laughing here. I mean better start thinking of what club to hit over and make a couple bucks once the crypto industry closes down, haha. I legit saw someone on Twitter saying she's going back to stripping as though Elon Musk recent hyping then ridiculing bitcoin has got her rekt, like crazy right? So we all better go learn some coding now? Maybe we'd find a job in one old computer store paying $100 a month, prrrff, do you really think that's where we're heading to?
We couldn't possibly move years only to give up now, there's a lot of diamond hands in the game, if you jump out, they ma buy up, it ma pump again, you ma literally come back to buy the top. Be wise and delete your Binance app, or whatever exchange and wallet from your devices. Buy a hardware wallet, store your crypto, and go to bed!
@badbitch advices, yes, financial advice
Posted Using LeoFinance Beta