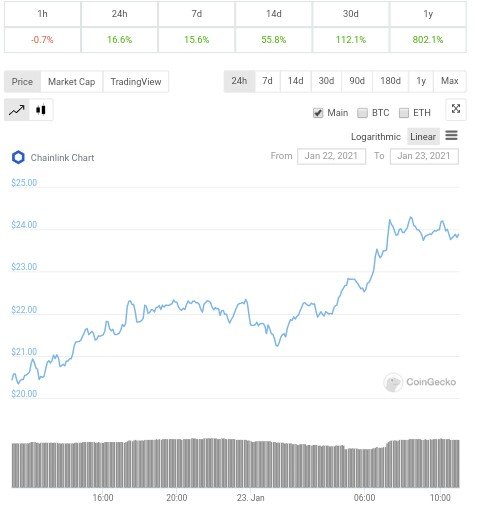 Am I The Only One Seeing This?
In Exactly 24hrs of Bitcoin being extremely volatile, oh craps this shit of an oracle protocol token is mooning. A few days back I made a post on how chainlink and Thorchain may just have the best DeFi project at hand Then and Now - still a flawed Sentiment because I may be wrong, Crypto has a way of tricking us, getting in some wild imaginations and leaving us tensed on volatility instances. At the time I published this post Link Was Worth $23.30 and now it's worth $23. 84 while writing this, not much of a difference I agree. What really happened here is that Link pushed back to a comfortable stage after being shortlisted amongst the affected cryptocurrency as Bitcoin had a huge dip. Bouncing back so quickly is something we don't see everyday, even Bitcoin takes time to rebound, but the link seems to toil with prices like it's some bitchy Crypto.
WHO could be SHILLING LINK?
As we all know the power influencers have in this Crypto-sphere, the likes of Elon Musk pumping the meme crypto - Dogecoin Is a big reference that will stick, so you better get used to hearing his name often. Now on Link we're bound to ask - Who is shilling Link?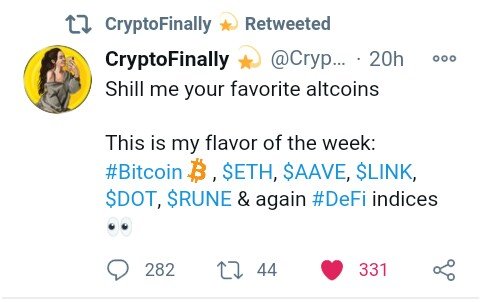 Prolly not the biggest Influencer out there but every little tweet is enough to pull in some audience, with her popping in more tweets about link which she constantly does, one or two people will certainly pop up in the Markets to grab a couple, 2 - 3 dollars of Link, more and more orders and watch that shit pump. People get the FOMO and jump into diverse projects so long as it trends, Link is literally trending a bit on Twitter, and that should be enough to buy more pump.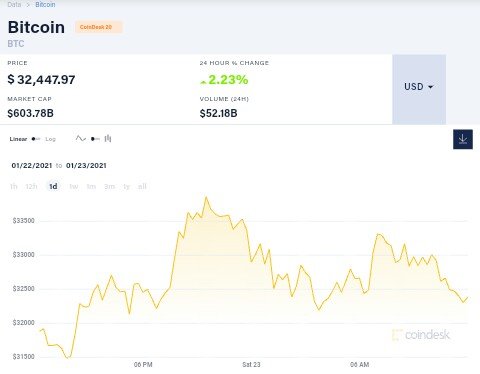 Bitcoin Is Not Doing So Good!
Regardless of what the big bag investors think of Bitcoin, the truth remains that we're experiencing a highly volatile stage, The downtrend is somewhat relative, it's like it's pushing a few percentage up, let's say 2.5% up and the give that figure a 10× and we are looking at a 25% drop, something relative to the 30% dump we experienced. It is highly crazy how much money has been pushed in to support the Bitcoin market in the last 24hrs, 10 million USD in Bitcoin accumulated yet we ain't seeing some huge pump, just a resistive struggle, and that makes me to wonder how much of BTC was dumped to have crashed the price so low, I mean we expected it but not so sudden. I read a post yesterday and I won't say I totally agreed to this guy's point, but what I find tangible here is that the recent Microstrategy news of buying Bitcoin is just some sort of Shilling move, not sure he's being bullish about this at all, I guess when there's money then people are bound to do anything to hit the trends frequently, fact!
LINK VS BITCOIN
This is not a comparison by me but you can agree that it's globally a competition, watching Bitcoin crash yet Ethereum network tokens soaring could get one to wonder "what's up with this blockchain" what really makes it so unique? We've seen ChainLink boost the roles of the blockchain oracles to the next level, so now are we Expecting a Flippening in Ten years? If you ask me what projects I see to make a difference this 2021 then I'd put in all on The Ethereum Shits! I may not quite attain which network token would be the most bullish but I can say LINK is off for a great start. Link has already surpassed so many cryptocurrencies both in token value and mostly in market cap, currently speaking Link is at 7 place with +9 billion market cap. It gets weird how much of a market cap some crypto project got but Oops, they ain't the most Expensive out there.
Sell Bitcoin For Link?
YES you read that right! I am not the type that jumps into every sparking new project just in a few, that would be a risky idea. The thing about crypto investment is that if there's no available fiat to purchase, you're gonna be forced to trade One crypto for the other. We have so many crypto holders that have never purchased any crypto from fiat money, some get fortunate for making good trading choices, the likes of people who had Ripple Coin laying around before it pumped, there they would be getting back a ton of their traded investment. I don't advise selling Bitcoin, even a tiny fraction of it, but if you crave for grabbing some more crypto along the line then I don't see any other choice here. But hey, only consider getting some Link if you're ready to baghold when you Blink and it all suddenly Sinks.
Crypto Poetry, Gracies :)
Thank You For The Attention Up Until Now
If you find my article informative or beneficial, do well to leave a comment, you can follow me so you don't miss any new post, just know that you're totally awesome
Earn free Crypto, are you in? Check out this Cool Referrals Below:
Earn FreeBitcoin - link
Earn Swappable Coins on FaucetCrypto to any crypto - link
Use Doge mate To Earn any Crypto - link
You Can Also Earn Numerous Crypto playing This provably fair games below :
Earn Ripple(XRP) Crypto - link
Earn Nem Crypto - link
Earn Cardona Crypto - link
Earn Bitcoin Crypto - link
Earn Ethereum Crypto - link
Earn Tron(TRX) Crypto - link
Earn Dash Crypto - link
Earn Link Crypto - link
Earn Neo Crypto - link
Earn Steem Crypto - link
Earn Binance Crypto - Link
Earn Tether Crypto - link
Earn USDC crypto - link
All systems run referral programs to earn as well, so there's just so many chances to accumulate free Crypto :)
#CLICK ME
To follow @badbitch on Twitter, it's a new account so I need that follow to be able to trend my contents from leofinance , promise to follow back, thanks again
Posted Using LeoFinance Beta