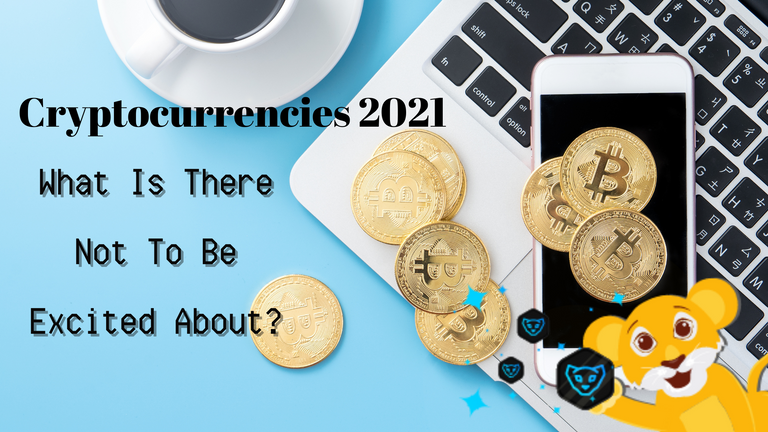 "You are the only person I know who is still excited about crypto."
Says my friend who I managed to onboard on to Steem three years ago. He did pretty well but the interest had since waned. Each time we get together and the conversation leads to crypto, he says he thinks I talk gibberish and everything I say seem to just vanish in thin air. Poof. 😁
The moment I learned about cryptocurrencies, I fell in love with it. That was in 2017. I've lived through the bear season and my passion for it didn't even falter. Why should it, when we are here for the long haul, right?
There's still so much hype with crypto!
The past months have been very interesting in the crypto-space, with insitutions buying into Bitcoin, hence pulling the price up to $60k recently.
Even the conservative investors who were naysayers of bitcoin started saying that they are finally putting a percentage of their investments on BTC or other alt-coins.
Local and international newspapers would have articles on cryptocurrencies every now and then -- people, now more than ever, are getting more involved in the space!
There are people who live off of their crypto earnings, while I am personally starting my children's savings accounts in cryptocurrencies.
So am I really the only one still interested in crypto?
Hello, Elon Musk! He's been getting flak (and cheers!) from some because of his frequent shilling of his "favorite" <?> coin. 🐕 If Elon Musk openly talks tweets about digital assets, then I am very glad to be of-league with the world's wealthiest person. LOL.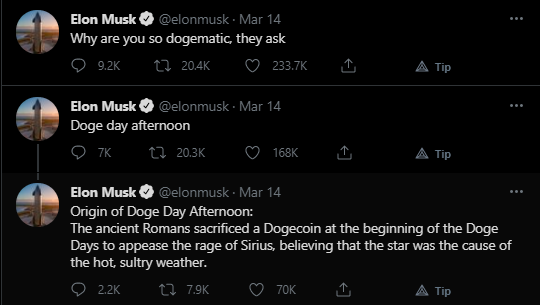 Elon Musk on Twitter
And then there's DeFi
De---what???
Few months ago, I wouldn't be bothered with DeFi -- the "farming" and "wrapping" and tokens named after food! I mean, wth!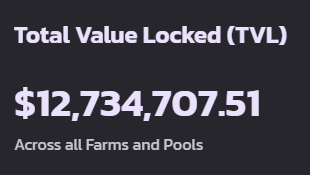 Screenshot: Cub Finance 15.03.2021
But look at us now, so busy farming CUBs 🦁; some earned free CUBs from the airdrop, others gladly invested (and still investing and reinvesting). If that is not being "excited" about crypto then I don't know what that means. It's not just me. There's currently over $12.7M total value locked on CubDefi and I am sure that the amount is not entirely mine. Haha.
Earning Crypto
Of course, there's what we do, blogging here on Leo Finace/Hive which gives us opportunity to earn Hive, LEO, and many other second layer tokens. That's multiple-earning streams in one ecosystem alone. Again, while many have stopped, I have been actively blogging since I started in June 2017 regardless of how much monetary reward I get from it. Why? Because I love doing it. I enjoy it and the interactions I get with the other passionate users here.
There are a lot of other ways to earn crypto that people are passionate about - NFT's are the current talk of the town, there are some who play to earn, heck, even mere browsing the internet using Brave browser can earn us a few cents! In short, there are many ways to earn crypto, all we need is to find the right medium for us.
But yes, crypto has still yet to get mainstream.
I feel sad for those who are clearly missing out on the excitement and opportunities that crypto can bring about. The more I feel sad about my friends who have been exposed but fell out.
I sincerely hope they retained the passion... and I really hope they find their private keys to their Steem and Hive accounts. LOL. A few of them still have a good amount of Steem/SBD and Hive/HBD in their wallets that they now cannot touch just because they did not do the first and most important reminder of all when they signed up -- save your key!
I am sure I missed something...
Yes! Decentralization! How can I even forget? A lot of people clamor for decentralized everything - finance, media, content, etc.
While there are lot of content creators/influencers who fear of getting bumped-out of their traditional social media platforms, several blockchains offer this. What is that called again? Web 3.0?
Are there anything else you can add? The bull season has brought about exciting times in the crypto-sphere... what are the other things that excite you about crypto?
❤️ Arlyn
Cover Image Credit: Canva. Lion Cub Token Graphic by @leofinance
Posted Using LeoFinance Beta