Finally, I have time to write about this subject. I'm happy to share with you a strategy that I'm following to curate content on HIVE. As you may know, this project has three main goals: Organize and Sponsor Initiatives, Support the Community, and Curate Content. In this post, I'm going to talk about the third point and share one of my strategies; as I said before, it's nothing out of this world. Let's start.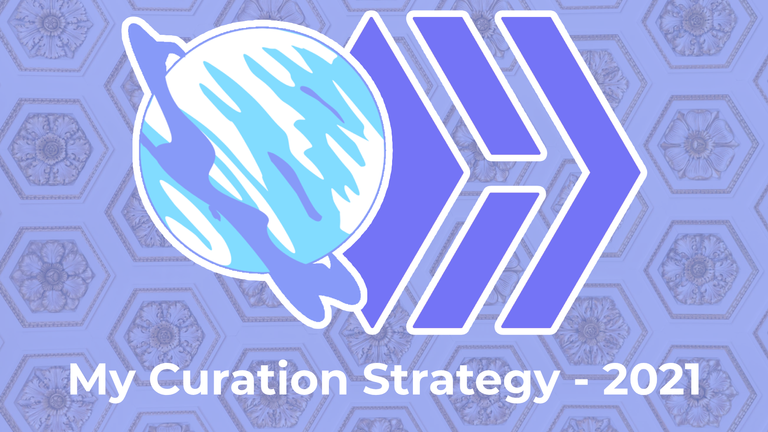 Currently, I am doing 100% manual curation with @aliento, but I use some tools to maximize my curation rewards. The "secret tool" is: GINAbot, a handy Discord bot. GINA can be customized to receive all kinds of helpful notifications about our HIVE account. You can receive messages from votes, comments, mentions, transfers, and much more. GINA has existed since STEEM, and it still works quite well. Even though it's a little bit broken since HF 24, I believe they have not solved the API issues yet, but it's working a bit better than in October.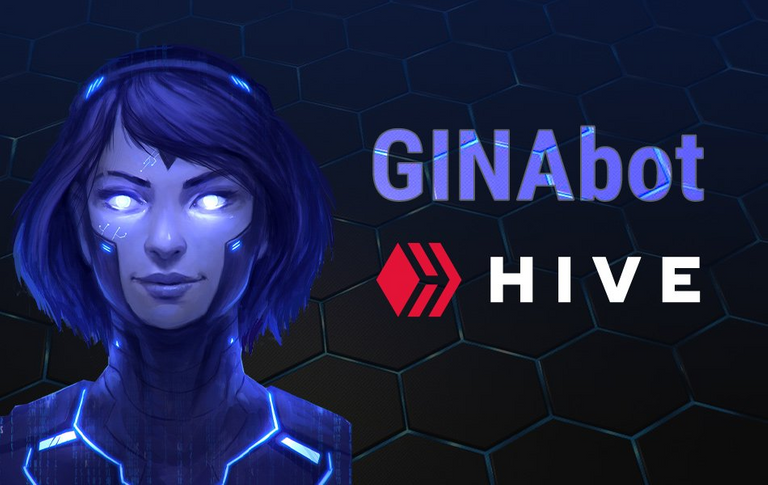 Check this post if you want to read a tutorial on how to install GINA on Discord. Also, you can message me on Discord if you need help: eddiespino#1698.
"Well, tell me! Which is your strategy?"
My strategy is to go to the GINA settings and add a notification when my favorite Hivers post. That's it. That way, I can be the first to read and vote the posts, and depending on my VP, I can decide the percentage of the vote or not vote at all if it's too low or the post is not that good in my opinion.

I've been using this strategy for around two weeks, and I have had good results. I will show you my current curation results, but please don't judge me too hard currently supporting a couple of initiatives with my upvotes. My efficiency has been higher.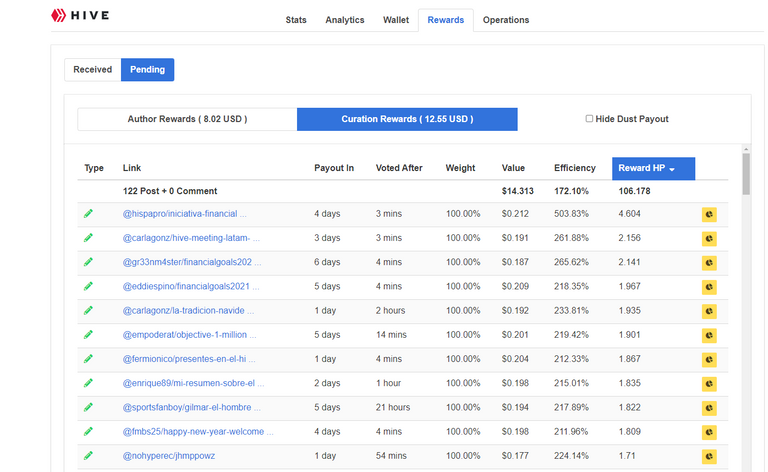 https://hivestats.io/@aliento
On the other side, I'm also curating content on LeoFinance with my @eddiespino account. I have been less active than initially, and I want to start making more comments and more votes. It's hard to be active in every space, but I'm going to make an effort. Currently, I'm earning about 1.100 LEO a day just for curation. It's not much, but it's a little progress.
Well, that's all for this post. I'll keep working to increase my curation rewards but, most importantly, to support the community with my votes!
Main Image Source
---
Mi Estrategia de Curación para el 2021
Finalmente, tengo tiempo para escribir sobre este tema. Estoy feliz de compartir con ustedes una estrategia que estoy siguiendo para curar el contenido del HIVE. Como posiblemente sabrán, este proyecto tiene tres objetivos principales: Organizar y Patrocinar Iniciativas, Apoyar a la Comunidad, y Curar el Contenido. En este post, voy a hablar del tercer punto y compartir con ustedes una de mis estrategias; como dije antes, no es nada fuera de este mundo. Comencemos.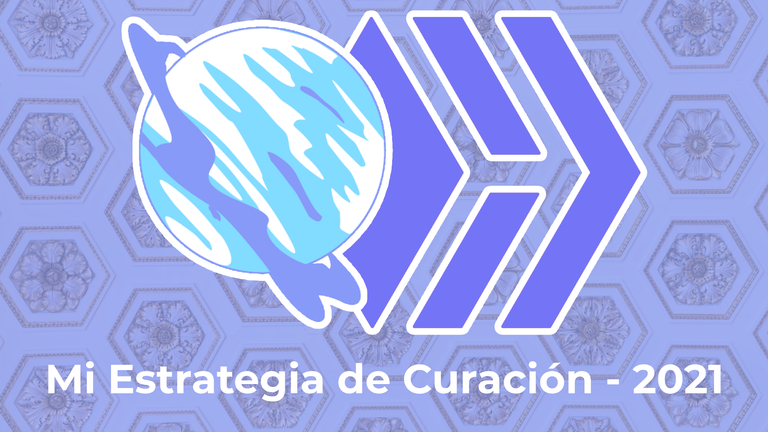 Actualmente, estoy haciendo la curación 100% manual con @aliento, pero uso algunas herramientas para maximizar mis recompensas de curadució. La "herramienta secreta" es: GINAbot un práctico robot de Discord. GINA puede ser personalizada para recibir todo tipo de notificaciones útiles sobre nuestra cuenta de HIVE. Puedes recibir mensajes de votos, comentarios, menciones, transferencias y mucho más. GINA ha existido desde STEEM, y todavía funciona bastante bien. Aunque está un poco rota desde HF 24, creo que aún no han resuelto los problemas de la API, pero funciona un poco mejor que en octubre.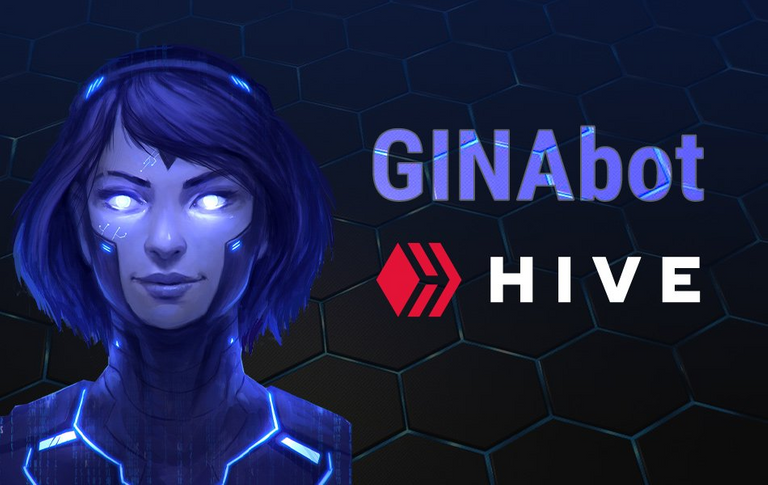 Revisa esta publicación si quieres leer un tutorial sobre cómo instalar GINA en Discord. También, pueden enviarme un mensaje en Discord si necesitan ayuda: eddiespino#1698
"¡Bueno, dime! ¿Cuál es tu estrategia?"
Mi estrategia es ir a la configuración de GINA y añadir una notificación cuando mi Hivers favorito postea. Eso es todo. De esa manera, puedo ser el primero en leer y votar los posts, y dependiendo de mi VP, puedo decidir el porcentaje del voto o no votar si es demasiado bajo o el post no es tan bueno, en mi opinión.

He estado usando esta estrategia durante unas dos semanas, y he tenido buenos resultados. Voy a mostrarles los resultados actuales de curación, pero por favor no me juzguen demasiado duro actualmente apoyando un par de iniciativas con mis votos, y mi eficiencia ha sido mayor.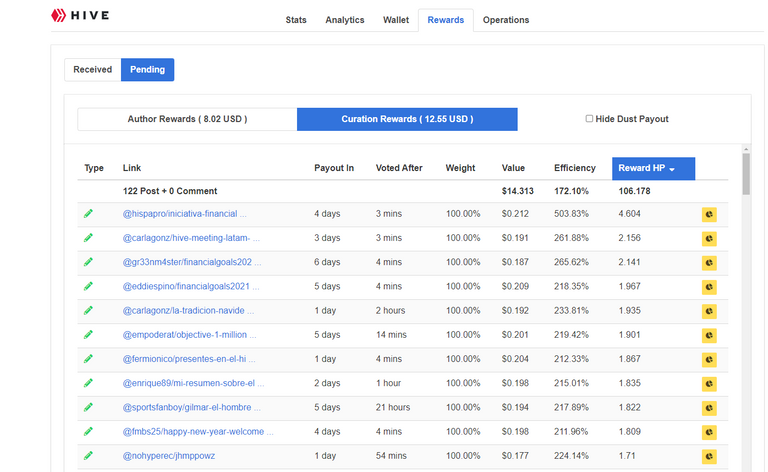 https://hivestats.io/@aliento
Por otro lado, también estoy curando el contenido de LeoFinance con mi cuenta @eddiespino. He estado menos activo que al principio y quiero empezar a hacer más comentarios y más votos. Es difícil estar activo en todos los espacios pero voy a hacer un esfuerzo. Actualmente estoy ganando alrededor de 1.100 LEO al día sólo para la curación. No es mucho pero es un pequeño progreso.
Bueno, eso es todo para este puesto. Seguiré trabajando para aumentar mis recompensas por la curación pero sobre todo para apoyar a la comunidad con mis votos.
Fuente de la Imagen Principal

---
---
Posted Using LeoFinance Beta