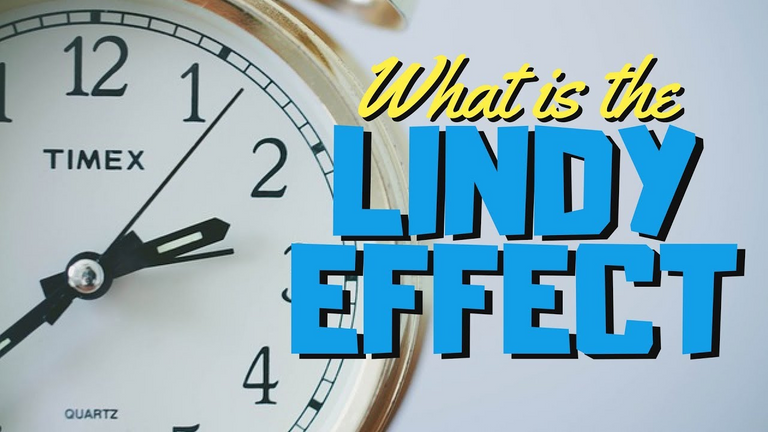 If there is something that in 2020 we learned to value even more, it was time. It was a year that took time to pass, with several turbulences and events that tested our strength and resilience.
Bitcoin has proven to be a great symbol of strength and resilience. On January 3, 12 years have passed since the creation of the genesis block, survival and this entire period of exposure has a very important meaning for its history.
Among criticisms, volatility and crashes it continued to be the most prominent asset of the decade and ended the year much stronger than it started, preserving its security and decentralization characteristics and taking another big step towards becoming a de facto reserve. value.
To understand the importance of another year of survival and strengthening for Bitcoin, we will use as an basis an idea that began to be disseminated in 1964 and that was more recently studied by Nassim Taleb.
She says that: the longer an idea or technology lasts and along with each additional period of survival, the longer its life expectancy / success, and the more likely it is to continue to last in the future. In addition, the younger something is, the less likely it will last.
We are talking about the Lindy Effect, a concept that states that the future life expectancy of a non-perishable thing, such as a technology, is proportional to its current age. Let's learn more about this effect and understand its application to Bitcoin.
WHAT IS THE LINDY EFFECT
In 1964, a man named Albert Goldman coined the term Lindy effect. However, when he created the term, he was not referring to technology. Instead, he referred to comedians, who performed at a restaurant called Lindy's, on Broadway in NY.
Over time, Albert and other authors came across the following heuristic: it was observed that artists who had more years of presentation had a tendency to last even longer.
New ones generally ended their careers earlier. For example: shows that lasted, say, 100 days, had an expected future life of 100 more. For those that lasted 200 days, another 200.
In simpler terms, this concept states that the older something is, the longer it tends to last in the future. This is because, for each additional period of survival of something to adversity, criticism and rejection scenarios, its life expectancy must increase due to its strengthening and consolidation.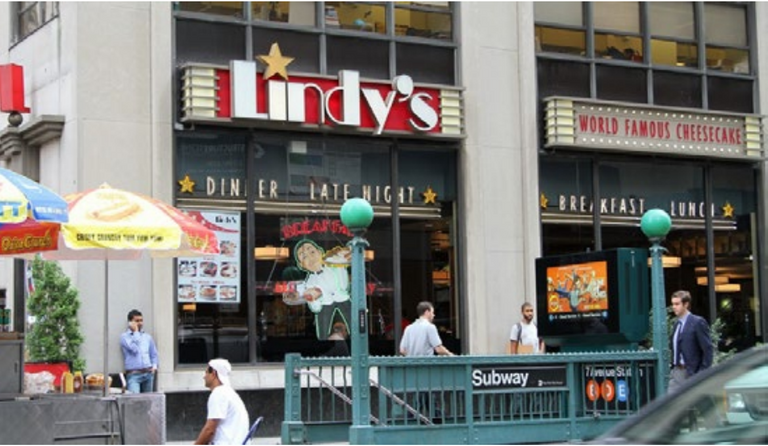 LINDY'S RESTAURANT, WHERE BROADWAY'S ARTIST PRESENTATIONS HAPPENED AND WHICH GIVEN THE NAME LINDY EFFECT.
This applies to things like ideas, political ideologies, technologies and systems.
Take Aristotle's ideas or Bach's songs as an example. Since they have been around for years, we imagine they will continue to exist for as many years as we can imagine.
In more recent years, the term was popularized by Nassim Taleb, author of the books The Logic of the Black Swan, Antifragile and Deluded by Chance.
He linked the effect to the notion of antifragility, when events that cause disturbance and stress, sooner or later, will destroy fragile things and give antifragile longevity. Time + adversity, there are two very important elements for the survival of something not perishable.
For something perishable, each additional day in your life translates into a shorter additional life expectancy.
For non-perishables, each additional day may imply a longer life expectancy.
AN IDEA THAT THE FUTURE LIFE EXPECTATION OF SOME NON-PERISHABLE THINGS, LIKE A TECHNOLOGY OR AN IDEA, IS PROPORTIONAL TO YOUR CURRENT AGE, SO EACH ADDITIONAL PERIOD OF SURVIVAL IMPLIES A LONGER REMEDIANT LIFE EXPECTATION
by Benoit Mandelbrot
BITCOIN AND THE LINDY EFFECT
Although in the beginning of 2008 it was normal to be skeptical of someone who first encountered the idea behind a technology like Bitcoin and thought it would never last that long, what we see is 12 years of uninterrupted operation, with an ecosystem stronger and safer.
Bitcoin is one of the greatest examples of antifragility. During these years he has resisted opposition in the most varied ways and has proven that skeptics were wrong.
During those years, it managed to survive hackers, who are always on the lookout for loopholes in the billionaire Bitcoin network.
Governments, which have tried to stop it in many ways, either by banning the operation of exchanges or trying to prevent citizens from using it. It has also survived criticism from influencers, who try to cause fear and uncertainty (FUD) in people about the future of Bitcoin. Not to mention the many times in which it faced sudden drops of more than 50% and epic hacks to exchanges, as in the case of Mt. Gox in 2014 for example.
It is impressive the number of people on Twitter admitting to not understanding anything about the subject, but who have a negative opinion about Bitcoin. The vast majority, clearly, for having been left out of all the valuation of the asset or for fear of losing the status of "market specialist", as they clearly do not understand anything about the subject.
"The price is not justified". "Ah, come on a bubble, similar to the Dutch tulips of the 17th century".
"It has no value", and all that old conversation already known. They do nothing but encourage their followers to close themselves off from the new and be prevented from diversifying and protecting their investment portfolios.
All of this happens, but what it seems is that, like wine, Bitcoin continues to "age" very elegantly.
"Every day more that Bitcoin survives, confidence in it will increase." by Paul Tudor Jones
On the Bitcoin Obituaries page, we see that Bitcoin has been declared "dead" by hundreds of alleged experts and scholars over the years.
The site already accounts for more than 391 public statements. However, Bitcoin is still standing and stronger than ever.
The reasons for all this are clear when you understand that Bitcoin poses a threat to the current monetary system. A decentralized currency means less power, control and a change in the status quo.
Amid so much criticism, from those who do not understand anything about the subject, Bitcoin reached the mark of half a trillion dollars in market capitalization for the first time and became the 11th most valuable asset in history, surpassing giants such as Mastercard, Visa, JP Morgan and Wal Mart.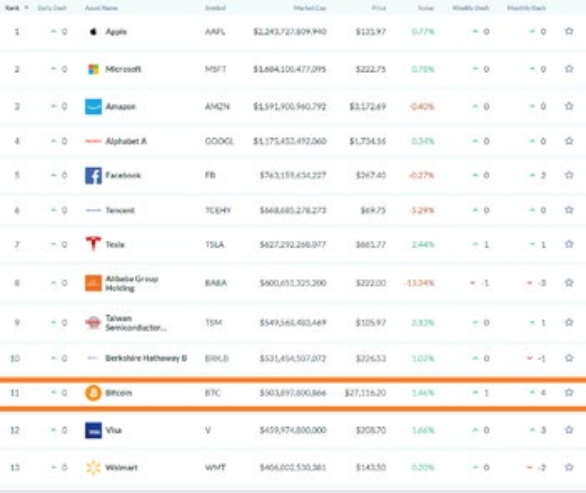 Bitcoin's market capitalization is increasingly approaching the giants Apple and Microsoft, Amazon, Alphabet and Facebook.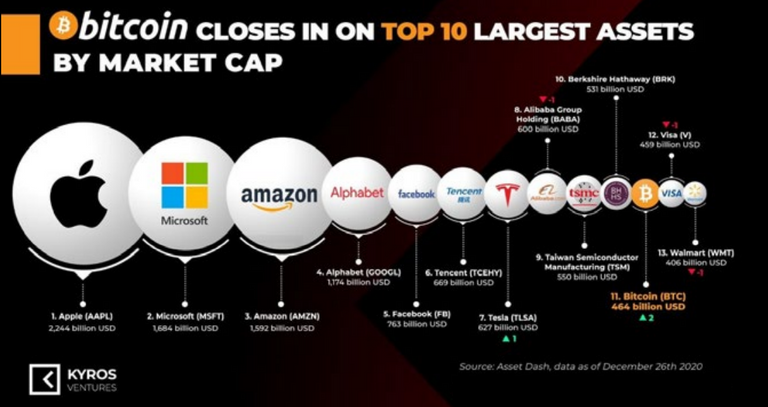 Another point that shows Bitcoin's antifragility. Safety in the environment has improved over time!
Only 4,366 BTC were stolen in major thefts (hacks and scams) publicly announced during 2020. This is a 92% drop from 2019 and a historic low of only 0.02% of total supply.
This demonstrates a maturity of Bitcoin investors and users, who are getting smarter in terms of protecting their investments. The information was shared on Twitter by Casa Bitcoin App co-founder and CTO Jameson Lopp.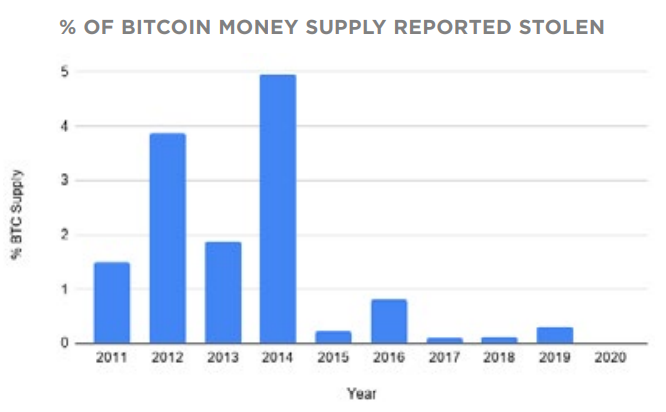 WE HAVE A LONG PATH TO COURSE AND OBSTACLES TO EXCEED.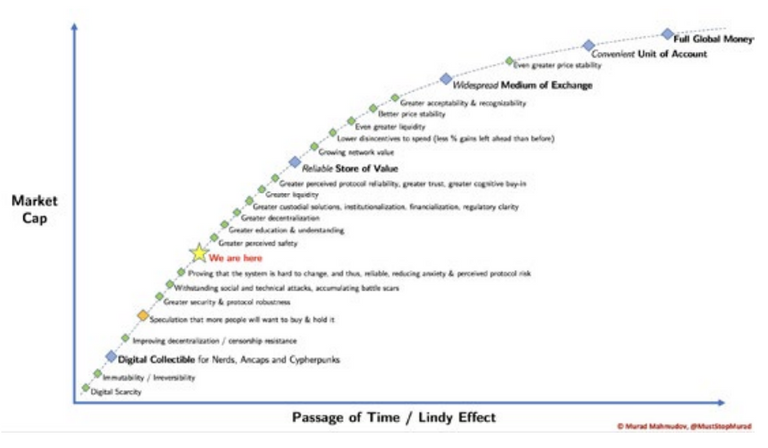 It may still take a few decades for Bitcoin to achieve the confidence and use necessary to continue pushing its price.
Adversities will continue to arise along the way.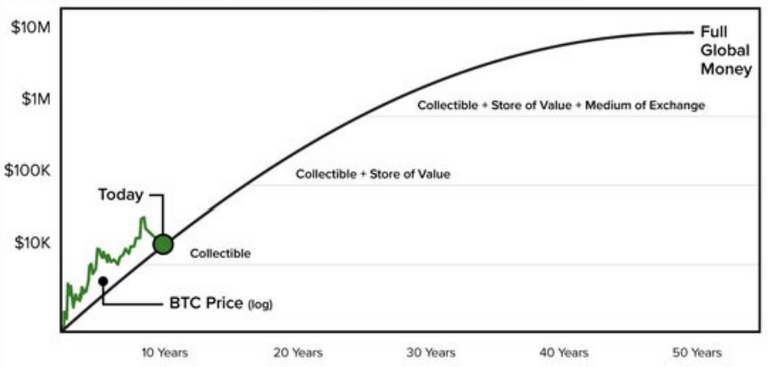 Bitcoin will still be attacked in many ways, whether through mining, network attacks or legally. It is innocence to think that something so disruptive, that will lead to great changes and that is leading humanity to see money in another way, does not encounter resistance along the way.
Attempts to stop it may even delay further adoption, but not stop it, as the way it works is already known and represents something very big. Each additional year that Bitcoin reliably stores value, is one more point in favor of making it more of a real store of value along with gold.
Time will tell, but what the Lindy Effect tells us is that time is on the side of Bitcoin and digital gold is here to stay.
Posted Using LeoFinance Beta