Dirilis Ertugrul
English
Today I change the subject of my writings to bring you a review of this wonderful Turkish blockbuster, which is about the life of a legendary, real-life character who laid the foundation for the birth of the Ottoman Empire, which in turn was the root of what we now know as Turkey.
I start with the synopsis IMDb makes about it.
This series is about the Turkish warrior Ertugrul from the 13th century, one of the most famous warriors of his time and also the father of Osman (the founder of the Ottoman Empire). He is an ambitious man who wants to bring peace and justice to his people. He is in a war with the Crusaders on one side, the Byzantines on another side and the brutally expanding Mongols who killed a lot of Turks on another side. In between this he is in a psychological war between his love and destiny.
Español
Hoy hago un cambio de tema en mis escritos para traer la reseña de esta maravillosa superproducción turca, que trata sobre la vida de un personaje legendario, de la vida real, que fue quien sentó las bases para el nacimiento del Impero Otomano, que a su vez fue la raíz de lo que ahora conocemos como Turquía.
Empiezo con la sinopsis que hace IMDb sobre la misma.
Esta serie trata del guerrero turco Ertugrul del siglo XIII, uno de los más famosos guerreros de su tiempo y también el padre de Osman (el fundador del Imperio Otomano). Es un hombre ambicioso que quiere llevar la paz y la justicia a su pueblo. Está en una guerra con los cruzados en un lado, los bizantinos en el otro y los mongoles en brutal expansión que mataron a muchos turcos en el otro lado. En medio de esto, está en una guerra psicológica entre su amor y su destino.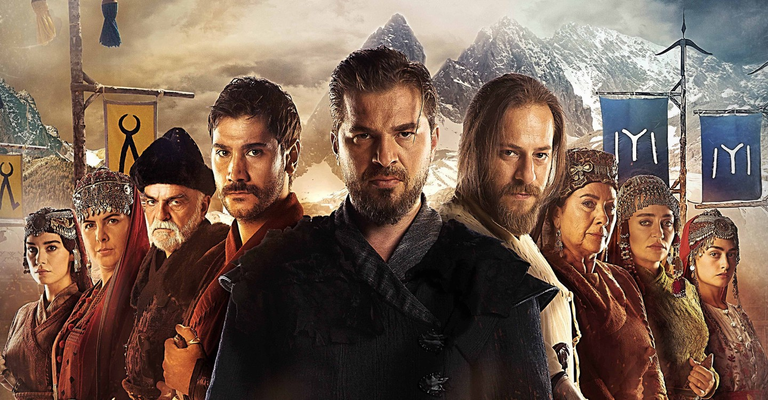 Source | Fuente
A big production
When I say " big ", I mean all aspects, starting with its duration. This is not a series for lovers of short programs, since it is composed of 448 chapters, divided into five seasons (I confess that I am one of those who do not support long series, however I made my exception).
It had the participation of more than 500 actors. A curious fact is that in view of the presence of many animals in the series, they created a kind of zoo to attend to the number of sheep, goats, various types of birds, in addition to the 25 horses that are part of this series.
For the design of the setting they hired the services of a Mongolian artist, specialized in paintings of the 13th century, who was the creator of the base designs for the tents, the camps, as well as the costumes.
Una producción en grande
Cuando digo "grande", me refiero a todos los aspectos, empezando por su duración. Esta no es una serie para amantes de programaciones cortas, pues se compone de 448 capítulos, divididos en cinco temporadas (Confieso que yo soy uno de esos que no soportan series largas, sin embargo hice mi excepción).
Contó con la participación de más de 500 actores. Un dato curioso es que ante la presencia de muchos animales en la serie, crearon una especie de zoológico para atender la cantidad de ovejas, cabras, varios tipos de aves, además de los 25 caballos que forman parte de esta serie.
Para el diseño de la ambientación contrataron los servicios de un dibujante mongol, especializado en pinturas del siglo XIII, quien fue el creador de la base de los diseños para las carpas, los campamentos, así como el vestuario.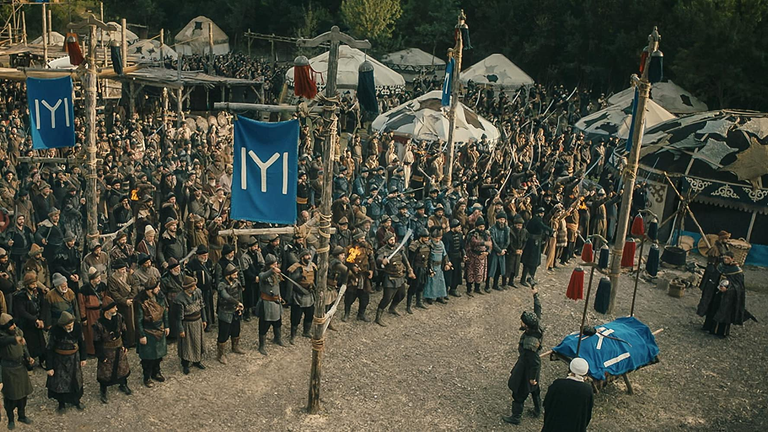 Fuente | Source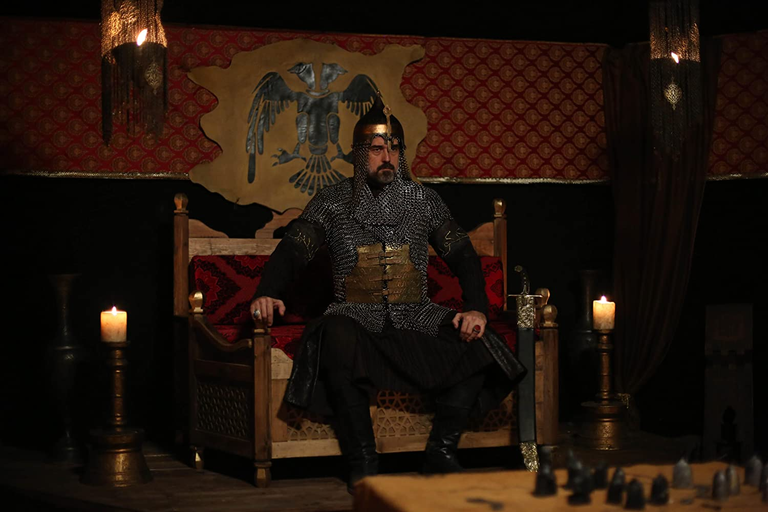 Source | Fuente
My appreciation
It is an extraordinary plot, which manages to capture the audience from the beginning. For me, one of the most outstanding aspects was to find such a different vision of the history. One in the West has been taught to see the world in one way and from one vision. Here we find history told from the viewpoint of the East, with Islam as one of its references and as victims of Christianity and other religions of the time.
Just the fact of seeing the story told from another angle, already makes this series worth watching. But beyond that, the way the series was built is not wasted.
Of course, if in a series of 30 chapters, there are usually some "weaker" than others, in a series of almost 500, it happens with more reason. In spite of that and the fact that, in my opinion, the last season is one of the weakest, I recommend it widely and, if it were not so long, I would watch it again (My wife just started watching it for a second time).
Mi apreciación
Es una trama extraordinaria, que logra captar al espectador desde el inicio. Para mí uno de los aspectos más resaltantes, fue encontrarme con una visión tan distinta de la historia. A uno en occidente lo han enseñado a ver el mundo de una manera y desde una sola visión. Acá nos encontramos con la historia contada desde la visión de oriente, con el Islam como una de sus referencias y como víctimas que fueron del cristianismo y otras religiones imperantes en la época.
Solamente el hecho de ver la historia contada desde otro ángulo, ya hace que valga la pena ver este seriado. Pero más allá de eso, la forma en que fue construida la serie no tiene desperdicio.
Por supuesto, si en una serie de 30 capítulos, suele haber algunos más "débiles" que otros, en una serie de casi 500, pasa con más razón. A pesar de eso y de que, a mí modo de ver, la última temporada es una de las más débiles, la recomiendo ampliamente y, si no fuera tan larga, la volvería a ver.
Fiction or reality?
As stated by the creator of this project, Mehmet Bozdag, there is no detailed information about these times, therefore most of the stories told are fiction, based on the general history, with the characters that existed.
Thus there are facts such as the Turkish advance into the lands of Nicaea and Constantinople, which correspond to the real history, as well as the settlement in the town of Sogut and many others, but the stories that are woven between the characters are the product of the writers.
However, towards the end of the series there is a historical fact that was altered in the plot, product of the departure of one of the actresses, which left a bad taste, because it is a change that changes the historical sense of a very important relationship in real life. In order not to make a spoiler, I limit myself to that comment.
¿Ficción o realidad?
Tal como lo afirmó el creador de este proyecto, Mehmet Bozdag, no hay información detallada de estos tiempos, por lo tanto la mayoría de las historias contadas son de ficción, basadas en la historia general, con los personajes que existieron.
De esta manera hay hechos como el avance turco turco hacia las tierras Nicea y Constantinopla, que se corresponden con la historia real, así como el asentamiento en la población Sogut y muchas otras, pero las historias que se van tejiendo entre los personajes son producto de los escritores.
Sin embargo, hay hacia el final de la serie un hecho histórico que fue alterado en la trama, producto de la salida de una de las actrices, que dejó un mal sabor, pues se trata de un cambio que cambia el sentido histórico de una relación muy importante en la vida real. Con el fin de no hacer spoiler, me limito a ese comentario.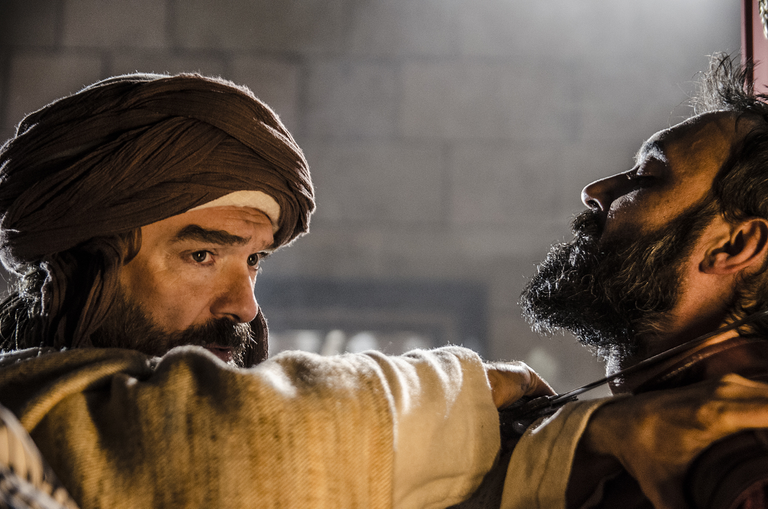 Source | Fuente
The Turkish Game of Thrones
Many media outlets have given this name to the series, and not without reason. In many aspects of this story they lead us to the other, starting with the aesthetic concept, which places both productions in a similar historical time, where sword fights, knights, kings and battles predominate.
But also in this one, the struggle for power is present at all times, the conquest of the lands and the fight against injustice and tyranny is the guide that keeps the central character of the plot, from the first chapter to the end of it.
Spectacular choreographies accompany the multiple battles, where the main warriors are conceived in a certain way in the style of video game fighters, where there is the one who fights with the simple sword, the one who uses two of them, the one who fights with a sword and a dagger, the one with the axe, etc.
The fame of the Kayi tribe, of which the main character Ertugrul is the leader, stands out as the cradle of invincible warriors. This must not have been very far from reality, since the main soldiers who accompanied this character in real life, died of old age, after going through countless battles, fights and intrigues. This characteristic is very well achieved in a fighting concept, which combines different fighting techniques.
In this aspect, I was very impressed by the "dance" that precedes each beheading in the plot (yes, there are many of them in the whole story) and that is perfected towards the final stage.
El Juego de Tronos turco
Muchas medios de comunicación bautizaron con este nombre a la mencionada serie y no sin razón. En muchos aspectos de esta historia nos llevan a la otra, empezando por el concepto estético, que ubica ambas producciones en un tiempo histórico similar, donde predominan las peleas con espadas, los caballeros, reyes y batallas.
Pero también en ésta, la lucha por el poder está presente en todo momento, la conquista de las tierras y la lucha contra la injusticia y la tiranía es la guía que mantiene al personaje central de la trama, desde el primer capítulo hasta el final de la misma.
Espectaculares coreografías acompañan las múltiples batallas, donde los guerreros principales están concebidos en cierta manera al estilo de los luchadores de videojuegos, donde hay el que lucha con la espada simple, quien usa dos de ellas, el que pelea con una espada y un puñal, el del hacha, etc.
La fama de la tribu Kayi, de la cual es líder el protagonista Ertugrul, destaca como la cuna de unos guerreros invencibles. Esto no debe haber estado muy lejos de la realidad, pues los principales soldados que acompañaron en la vida real a este personaje, murieron de viejo, luego de pasar por infinidad de batallas, luchas e intrigas. Esta característica está muy bien lograda en un concepto de lucha, que combina distintas técnicas de lucha.
En este aspecto, me llamó mucho la atención la "danza" que precede a cada decapitación que hay en a trama (sí, hay muchas de ellas en toda la historia) y que se van perfeccionando hacía la etapa final.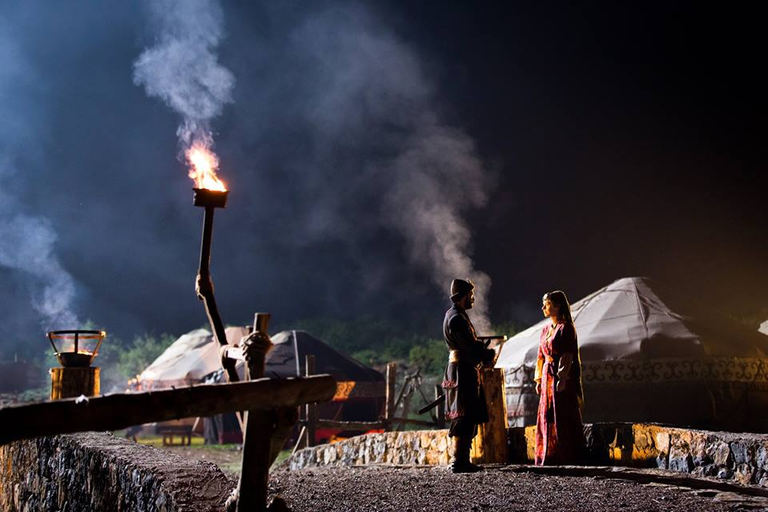 Source | Fuente
Various aspects
As I mentioned at the beginning, one of the most outstanding aspects is the "different" vision that it offers, to the western spectator, to tell the story from the eyes and the Turkish culture. Likewise, the music does not make concessions to this side of the world and offers us sounds in accordance with the cultural environment of the region and the time, which greatly favors the atmosphere.
The work of artistic direction requires a special mention, because one perceives a balance in the level of quality of the performances, which leaves the whole production very well standing.
I do not recommend the series to people who are reluctant to Islam, as it has a high religious charge, since it is religion that motivates Ertugrul in all his actions and is present in all seasons. It is worth mentioning that for this purpose they introduced in the plot, in a very skilful and intelligent way, another historical character, as it was the philosopher and poet Ibn Arabi, who acts as Ertugrul's spiritual advisor in this production.
Without a doubt, one of the most wonderful aspects of the series is the setting and costumes, which transport us to the moments and spaces of this great story.
Varios aspectos
Tal como mencioné al principio, uno de los aspectos más resaltantes es la visión "diferente" que brinda, al espectador de occidente, contar la historia desde los ojos y la cultura turca. Así mismo la música no hace concesiones a este lado del mundo y nos ofrece unos sonidos acordes al entorno cultural de la región y la época, que favorecen enormemente a la ambientación.
El trabajo de dirección artística requiere una mención especial, pues uno percibe un equilibrio en el nivel de calidad de las actuaciones, que deja muy bien parado toda la producción.
La serie no se la recomiendo a personas reacias al Islam, pues tiene una alta carga religiosa, ya que es la religión la que motiva a Ertugrul en todas sus acciones y está presente en todas las temporadas. Valga mencionar que para este fin introdujeron en la trama, de manera muy hábil e inteligente, a otro personaje histórico, como lo fue el filósofo y poeta Ibn Arabi, quien funge de consejero espiritual de Ertugrul en esta producción.
Sin duda, uno de los aspectos más maravillosos de la serie es la ambiéntación y el vestuario, los cuales nos transportan a los momentos y espacios de esta grandiosa historia.
---
Technical data sheet:
| Also known as | Resurrection: Ertugrul (Netflix) |
| --- | --- |
| Genre | Real, historical, action |
| Script by | Metin Günay |
| Directed by | Mehmet Bozdağ, Atilla Engin |
| Protagonists | Engin Altan Düzyatan, Kaan Taşaner |
| Composer(s) | Alpay Göktekin, Zeynep Alasya |
| Production company | Tekden Film |
Available on Netflix.
Ficha técnica:
| También conocido como | Resurrection: Ertugrul (Netflix) |
| --- | --- |
| Género | Real, histórica, acción |
| Guion por | Metin Günay |
| Dirigido por | Mehmet Bozdağ, Atilla Engin |
| Protagonistas | Engin Altan Düzyatan, Kaan Taşaner |
| Compositor(es) | Alpay Göktekin, Zeynep Alasya |
| Empresa productora | Tekden Film |
Disponible en Netflix.
---
Promo with English subtitles
---
Promoción con subtítulos en español

If you don't have an account at Hive yet, I invite you to read my post My Hive Testimony || Mi testimonio Hive
Si aún no tienes cuenta en Hive te invito a leer mi publicación My Hive Testimony || Mi testimonio Hive