Hold your popcorn handkerchiefs because this movie is going to get you very teary.
In this 2020 romantic movie, Jaden Smith plays the role of Daryn a 17 year old student who's trying to work his way into Harvard much to his father's (Cuba Goodling Jr.) delight. He's a typical good kid that pleases his strict parent but gets cut some slack sometimes thanks to his mum Catherine (Nia Long).
One night he gets permission to go to a rap concert and while trying to sneak in with his friends, he meets Isabelle (Cara Delevingne) who he finds very intriguing. He tracks her at the diner she works and tries to befriend her but she proves to be uptight.
Eventually she gives him a chance and goes on a date with him and Daryn tries impressing her arriving in a car and dressing up, none of which thrills her. They develop a beautiful friendship and she makes him realize what he really wants out of life - to pursue his dreams of a rap career and not the Harvard dream his father wants so bad for him.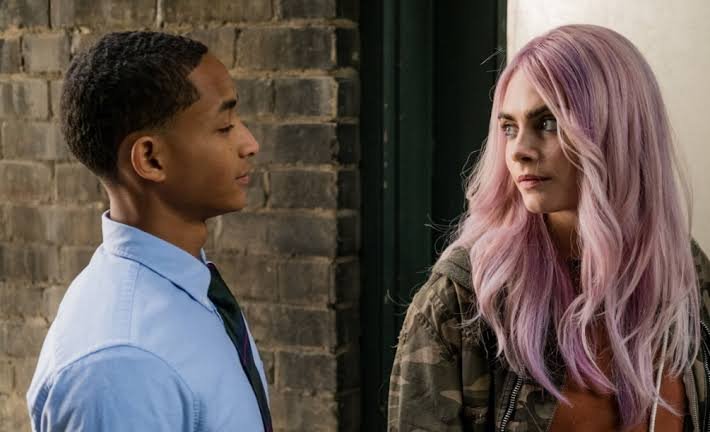 source
Isabelle becomes withdrawn when Daryn confesses he's in love with her which leaves him very confused. He gets to find out she has cancer and just a year to live 😥
Fueled by love, Daryn promises to make her last year worth it. They both live a whole life in a year, doing all the things they want, having fun and even get married eventually. A few days after the wedding, Isabelle dies.
I really like this movie and was impressed by Jaden Smith's performance. It's the first movie I've seen of his as a grown guy and he delivered well. The connection with his co-star felt real and they portrayed the story excellently.
The way both lovers influence each other within a short while is very admirable and Daryn's love was as pure as water, no way you wouldn't cry during the emotional/romantic scenes.
Although the young couple were a good match, Cuba Goodling Jr. and Nia Long didn't quite seem like a good match as Daryn's parents, there was zero connection for me.
I would watch this movie again because I really enjoyed it but I'm not ready for the migraine that comes with the tears so I'm good.
My Rating - 8.5/10
Minus 1.5 for Cuba Goodling Jr. not portraying the father role well enough.