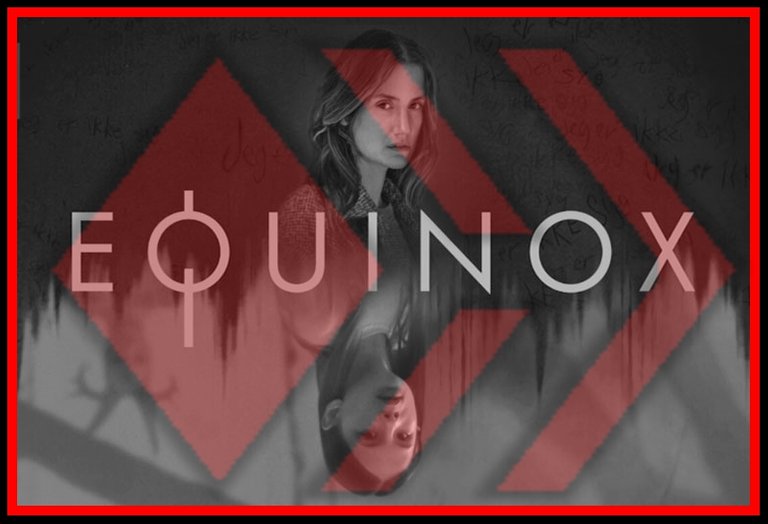 Orginal Image

ENGLISH
Since the end of Dark, the famous German Netflix series created by Baran bo Odar and Jantje Friese. I had to find other series within the streaming service to fill that void, as in mid-December last year, an ad had come out about a series called "Equinox" that promised to be the new Dark. I have to admit that this caught my attention, but I eventually forgot about it and didn't make a point to watch it during its premiere but only recently.
Those who love these misleading revelations I guess you already know Equinox, it's a Danish Netflix original series premiering on December 30, 2020, directed by Søren Balle and written by Tea Lindeburg, Mette Kruse, Tue Walin Storm and more. It seemed promising even in the plot, mostly because of all the elements and symbologies that surround it, in my case, I am a great lover of mythology and I am having a certain affiliation for the Norse mythology, something that Equinox led me to dig deeply.
The series is based on Tea Lindeburg's podcast, called "Equinox 1985", and although I don't know the project, from what I could observe, they didn't hesitate to add an analogy within the series.
The synopsis talks about a woman named Astrid (Danica Curcic), who is the spokesperson and director of a radio show haunted by strange visions from her past, which deal with her family, especially the mysterious disappearance of her sister Ida (Karoline Hamm) and that of 21 other students, but soon, Astrid's past begins to haunt her even more, when a revelation prompts her to investigate that strange disappearance and get the answers she needed all her life.
ESPA Ñ OL
Desde que terminó Dark, la famosa serie alemana de Netflix creada por Baran bo Odar y Jantje Friese. Tuve que encontrar otras series dentro del servicio de streaming para llenar ese vacío, como a mediados de diciembre del año pasado, había salido un anuncio sobre una serie llamada "Equinox" que prometía ser la nueva Dark. Tengo que admitir que esto llamó mi atención, pero con el tiempo lo olvidé y no me empeñé en verla durante su estreno sino hace poco.
Aquellos amantes de estas revelaciones engañosas supongo que ya conocen Equinox, es una serie danesa original de Netflix estrenada el 30 de diciembre del 2020, dirigida por Søren Balle y escrita por Tea Lindeburg, Mette Kruse, Tue Walin Storm y otros más. Parecía prometedora hasta en la trama, más que todo por todos los elementos y simbologías que la envuelven, en mi caso, soy un gran amante de la mitología y estoy teniendo una cierta filiación por la mitología nórdica, algo que Equinox me llevó a indagar profundamente.
La serie está basada en el podcasts de Tea Lindeburg, llamado "Equinox 1985", y aunque desconozco el proyecto, por lo que pude observar, no dudaron en agregar una analogía dentro de la serie.
La sinopsis habla sobre una mujer llamada Astrid (Danica Curcic), que es la vocera y directora de un programa de radio atormentada por extrañas visiones de su pasado, las cuales tratan sobre su familia, especialmente la misteriosa desaparición de su hermana Ida (Karoline Hamm) y la de otros 21 estudiantes, pero pronto, el pasado de Astrid comienza a atormentarla aún más, cuando una revelación la incita a investigar aquella extraña desaparición y obtener las respuestas que toda su vida necesitó.
At the beginning, the story sequence starts off entertaining, because there is a mystery, a mystery to be solved, Astrid starts to investigate what happened to her sister, but her family doesn't agree, why, questions start to arise, and then you realize that after a long time, there have always been things intermingled, esoteric, supernatural things, that completely dominate the atmosphere.
The creators did a good job of introducing us to Norse mythology and enrapturing us with wonderful stories, I wish I could say the same about the direction and sequencing, as they did not, in my opinion, develop the story as it should be.
First of all we have an abuse of "flashbacks" that abruptly cut the thread of the story, creating a certain annoyance in my viewer monomania, these deal with Astrid's childhood and her moments with her sister, and serve to explain to us why the protagonist suffered from so many anxiety disorders, however, this broke in many occasions the chain of things that happened in the present, being quite exasperating even annoying.
Al principio, la secuencia de la historia comienza siendo entretenida, porque hay un misterio, un misterio que se debe resolver, Astrid empieza a investigar lo que le pasó a su hermana, pero su familia no está de acuerdo, ¿por qué?, comienzan a surgir las preguntas, y luego te das cuenta que después de mucho tiempo, siempre ha habido cosas entremezcladas, cosas esotéricas, sobrenaturales, que dominan por completo la atmosfera.
Los creadores hicieron un buen trabajo al introducirnos en la mitología nórdica y embelesarnos con maravillosas historias, ojalá pudiera decir lo mismo de la dirección y la secuencia, ya que no desarrollaron, a mi parecer, la historia como debería ser.
En primer lugar tenemos un abuso de los "flashbacks" que cortan abruptamente el hilo de la historia, creando una cierta molestia en mi monomanía de espectador, estos tratan sobre la niñez de Astrid y sus momentos con su hermana, y sirven para explicarnos por qué la protagonistas sufría de tantos trastornos de ansiedad, sin embargo, esto rompía en muchas ocasiones la cadena de cosas que pasaban en el presente, siendo bastante exasperante incluso fastidioso.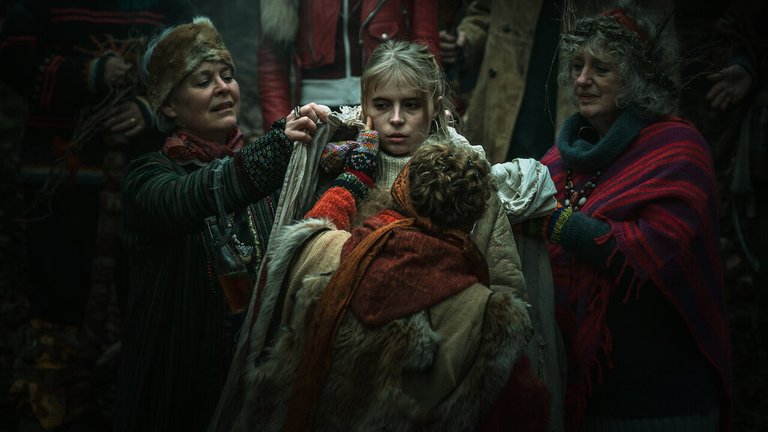 Orginal image
That notorious detail, together with a rather slow and boring continuity, made me gradually lose interest, since the connections took a long time to appear. I am certain that the mysteries should be kept, that gives more appeal to the plot, but not in such a captivating way as they did, and although there were interesting moments that were worth watching, it seemed that the series was being too forced to keep the mystery, something that could be noticed in the development of several chapters.
But well, despite the unnecessary complexity, the Netflix miniseries has excelled in symbolism and scenography, retaining that strange suspense that took root as a strong characteristic, even if it didn't know how to master it well, I think it has been what caught my attention the most out of all of this.
Ese detalle tan notorio, aunado a una continuidad bastante lenta y aburrida, hacía que paulatinamente perdiera el interés, ya que las conexiones tardaban bastante en aparecer. Soy fehaciente de que los misterios deberían conservarse, eso le da más atractivo a la trama, pero no de la manera tan poco cautivadora como lo hicieron, y aunque había momentos interesantes que si eran merecedores de contemplar, parecía que la serie estaba siendo demasiado forzada en conservar el misterio, algo que se pudo notar en el desenvolvimiento de varios capítulos.
Pero bien, a pesar de la innecesaria complejidad, la miniserie de Netflix ha destacado en el simbolismo y la escenografía, conservando ese extraño suspenso que se arraigó como fuerte característica, aunque no lo supiera dominar bien, creo que ha sido lo que más me llamó la atención de todo esto.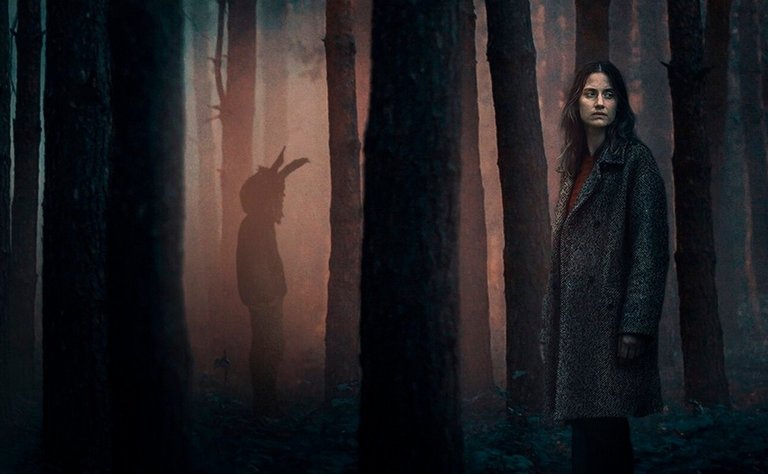 Orginal image
If the series had not had those shocking and fantastic moments, maybe I wouldn't like it so much, since its cold and direct plot (as the Danes usually do) seemed to decay during its 6 hours of footage, making it long and boring. I think naming it "The New Dark" was too much of an exaggeration since there is a gulf of miles and miles separating the two series.
Unfortunately, I can't give it a 10/10 because of the notorious negative elements it exposes. It is a pity that the series did not make the most of all those factors and particularities with which it moved, starting with an interesting story, if it had done so, maybe things would have been absolutely different.
Si la serie no hubiese tenido esos momentos impactantes y fantásticos, quizás no me gustaría tanto, ya que su trama fría y directa (como los daneses la suelen hacer) parecía decaer durante sus 6 horas de metraje, haciéndola larga y aburrida. Creo que nombrarla como "La nueva Dark", fue demasiado exagerado puesto que entre ambas series hay un abismo de kilómetros y kilómetros de distancia que las separa.
Lastimosamente, no puedo darle un 10/10 por los elementos tan negativos tan notorios que expone. Es una pena que la serie no haya aprovechado al máximo todos esos factores y particularidades con los que se movía, empezando por una historia interesante, de haberlo hecho, quizás las cosas hubiesen sido absolutamente diferentes.
---
---

---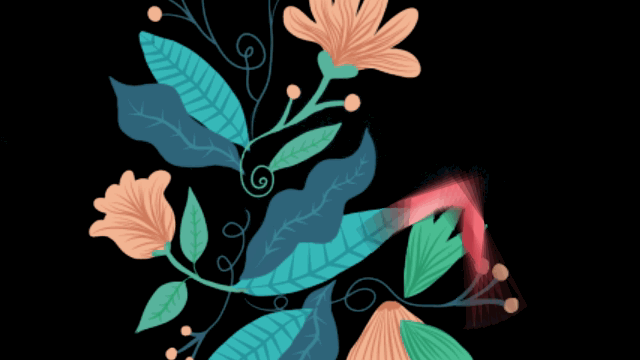 ---
¿Eres escritor? ¿No encuentras un lugar adecuado para colocar tus trabajos literarios? Unete a Literatos, una comunidad en Hive donde puedes publicar tus cuentos, poemas, ensayos literarios y novelas inéditos de tu propia autoría.
---

GIFs elaborated by @equipodelta