ENGLISH
Today's streaming services increasingly surprise us with their wide catalog of original series and movies with amazing stories that hook us as we get into them, as does Netflix, who could be considered the most popular of all, and is that this platform is not only limited in creating their own film hits, but also gets right into animation, leaving for our entertainment a large expanse of animated films and series, created or not by the virtual platform.
One of those fantasy-themed works for which I make this post, is the series Dota 2: Dragon's Blood, a Netflix Animations original animated series written and directed by Ashley Miller, known for his contribution in films such as Thor (2011) and X-Men: First Generation. The series is based on the famous MOBA-style video game, Dota 2, released by Valve Corporation in 2013. The game emerged as a playable map of Warcraft III: Reign of Chaos, until it was spun off from Blizzard itself, giving it a unique characteristic to its characters as well as a story of its own and different from the world of Warcraft.
The series is about the young Davion, a warrior belonging to an order called "Dragon Knights", who were basically dedicated to hunting and killing dragons. Soon, the young man is interrupted during a mission by an unfortunate event where he later meets Princess Mirana, belonging to the Order of the Silver Moon. Together, with different missions but with exalted spirits, they embark on a great adventure to prevent a terrible war between humans and elves.
ESPA Ñ OL
Los servicios de streaming de hoy en día cada vez nos sorprenden con su amplio catálogo de series y películas originales con historias sorprendentes que nos enganchan a medida que nos adentramos en ellas, tal como lo hace Netflix, quien podría considerarse el más popular de todos, y es que esta plataforma no solo se limita en crear sus propios éxitos filmográficos, sino que también se mete de lleno con la animación, dejando para nuestro entretenimiento una gran extensión de películas y series animadas, creadas o no por la plataforma virtual.
Una de esas obras con temática fantástica por la que hago esta publicación, es la serie Dota 2: Sangre de Dragón, una serie animada original de Netflix Animations escrita y dirigida por Ashley Miller, conocido por su aporte en películas como Thor (2011) y X-Men: Primera Generación. La serie está basada en el famoso videojuego estilo MOBA, Dota 2, lanzando por la empresa Valve Corporation en el año 2013. El juego surgió como un mapa jugable de Warcraft III: Reign of Chaos, hasta que se desprendió de la propia Blizzard, dándole una característica singular a sus personajes así como una historia propia y diferente del mundo de Warcraft.
La serie trata sobre el joven Davion, un guerrero perteneciente a una orden llamada "Caballeros dragones", que básicamente se dedicaban a la caza y matanza de dragones. Pronto, el joven es interrumpido durante una misión por un evento desafortunado donde posteriormente conoce a la Princesa Mirana, perteneciente a la Orden de la Luna Plateada. Juntos, con misiones diferentes pero con espíritus enaltecidos, se enfrascan en una gran aventura para evitar una terrible guerra entre humanos y elfos.
With a season of 8 episodes of 25 minutes each, Valve's series, in collaboration with the animation studio Studio MIR (the same ones that produced Mortal Kombat Legends: Scorpion's Revenge and The Legend of Korra), has caught the attention, not only for being based on one of the most famous real-time online video games in the world, but for its 2D animation with 3D elements that give it that visual strength that differentiates it from other proposals.
Within the plot I thought I would find a story identical to the video game, that is, that I would find a hostile war scenario of diverse characters facing each other in a sudden death battle arena, but instead, I found a good story full of adventure, friendship, romance, confrontations, action, betrayal, lust and tragedy.
What I love about the series is that it keeps all the fantastic elements of the video game world, but with a story of its own that follows from the video game synopsis, thus taking us into an epic world similar to the Dungeon and Dragons franchise. The reviews have favored in a good way the first season of this series, being one of the most awaited by gamers and lovers of the epic fantasy genre.
Con una temporada de 8 capítulos de 25 minutos cada uno, la serie de Valve, en colaboración con el estudio de animación Studio MIR (Los mismos que produjeron Mortal Kombat Legends: La venganza de Scorpion y La leyenda de Korra), ha captado la atención, no solo por estar basada en uno de los videojuegos en línea de tiempo real más famosos del mundo, sino por su animación en 2D con elementos 3D que le dan esa fuerza visual que la diferencia de otras propuestas.
Dentro de la trama pensé que me encontraría con una historia idéntica al videojuego, es decir, que encontraría un escenario de guerra hostil de personajes diversos enfrentándose entre sí en una arena de batalla a muerte súbita, pero en vez de ello, encontré una buena historia llena de aventura, amistad, romance, enfrentamientos, acción, traición, lujuria y tragedia.
Lo que me encanta de la serie es que mantiene todos los elementos fantásticos del mundo del videojuego, pero con una historia propia que se desprende de la sinopsis de este, llevándonos así hacia un mundo épico similar al de la franquicia Dungeon and Dragons. Las críticas han favorecido de buena manera la primera temporada de esta serie, siendo una de las más esperadas por los gamers y los amantes del género fantasía épica.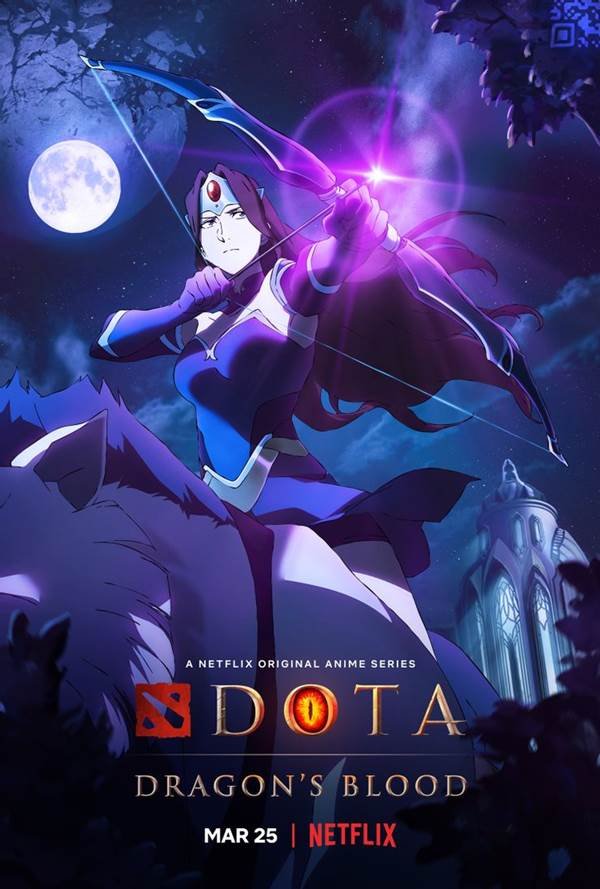 Original image
One aspect to highlight is that two of the main characters of the series are playable characters within the videogame, being the Dragon Knight the character that received a more ascending popularity from the players due to the series, however, the character of Princess Mirana has not had the same effect, maintaining the same percentage of popularity as always.
Davion, a sympathetic character that viewers will easily love, is like a combination of Han Solo from Star Wars and Indiana Jones. He is a dragon slayer who travels from town to town slaying these beasts, looking for a bar to get drunk and sleep with women. Along the way he meets Mirana, a pretentious and bitter princess focused on a single goal: to recover the sacred lotuses of the goddess Selemene, the deity she worships, so she, along with Marci, her companion, engage in an adventure to retrieve them.
Both seemed to me to be perfect opposites and perfect for each other. Davion, is the typical noble hero with flimsy principles but with a big heart, on the other hand Mirana is rigid, seemingly cold and completely focused on her goal, I must say that I loved these characters and within the plot they made a great couple.
Un aspecto a resaltar, es que dos de los personajes principales de la serie son personajes jugables dentro del videojuego, siendo el Dragon knight, el personaje que recibió una popularidad más ascendente por parte de los jugadores debido a la serie, sin embargo, el personaje de la princesa Mirana, no ha tenido el mismo efecto, manteniendo el mismo porcentaje de popularidad de siempre.
Davion, es un personaje simpático que los espectadores fácilmente amarán, es como una combinación de Han Solo de Star Wars e Indiana Jones. Es un cazador de dragones que viaja de pueblo en pueblo matando a estas bestias, buscando un bar donde emborracharse y acostarse con mujeres. Durante su camino se encuentra con Mirana, una princesa pretensiosa y amargada enfocada en un solo objetivo: recuperar los lotos sagrados de la diosa Selemene, la deidad a quien adora, por lo que ella, junto a Marci, su acompañante, se enfrascan en una aventura para recuperarlos.
Ambos me parecieron tal para cual, por ser tan opuestos y perfectos el uno con el otro. Davion, es el típico héroe noble con principios endebles pero con un gran corazón, en cambio Mirana es rígida, aparentemente fría y completamente enfocada en su objetivo, debo decir que amé a estos personajes y dentro de la trama hicieron una gran pareja.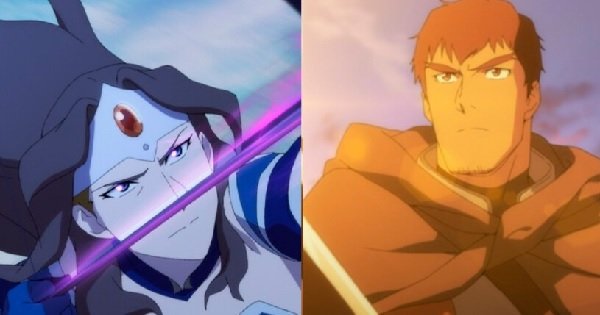 Original image
Although I loved the series, there is only one thing I would criticize, and that is the explosion of information that goes in sequence as the story develops, that is, one story after another within the same main story. I have read that for several people it is something annoying, but in my case it was not so, perhaps because many viewers do not know the universe of Dota to perfection as a gamer fan of the game would do, for example, in my case, I have played it since I was 17 years old a thousand times, I found the plot and everything it exposes fantastic.
After finishing it so soon (big mistake on my part), I have been eager for the second season, because with that open ending, which did not disappoint me at all by the way, I was eager to know what will happen next. For all those who love video games, especially this one in particular, I recommend this excellent story that will make you laugh, impress, repulse and even sadness, that maybe, within so many emotions together, love for the Dota universe will sprout.
Aunque la serie me encantó, solo hay una cosa que le criticaría, y es la explosión de información que va en secuencia a medida que se va desarrollando la historia, es decir, una historia tras otra dentro del mismo cuento principal. He leído que para varias personas es algo molesto, pero en mi caso no fue así, quizás porque muchos espectadores no conocen el universo de Dota a la perfección como lo haría un gamer fanático del juego, por ejemplo, en mi caso, que lo he jugado desde que tengo 17 años un millar de veces, se me ha hecho fantástica la trama y todo lo que expone.
Después de terminarla tan pronto (grave error de mi parte), he quedado con ansias por la segunda temporada, ya que con ese final abierto, que no me decepcionó para nada por cierto, quedé con ganas de saber lo que pasará después. Para todos aquellos amantes de los videojuegos, especialmente de este en particular, les recomiendo esta excelente historia que les sacará risas, impresiones, repulsiones y hasta tristezas, que a lo mejor, dentro de tantas emociones juntas, brote el amor por el universo Dota.
---
---
Other publications of my authorship | Otras publicaciones de mi autoría

---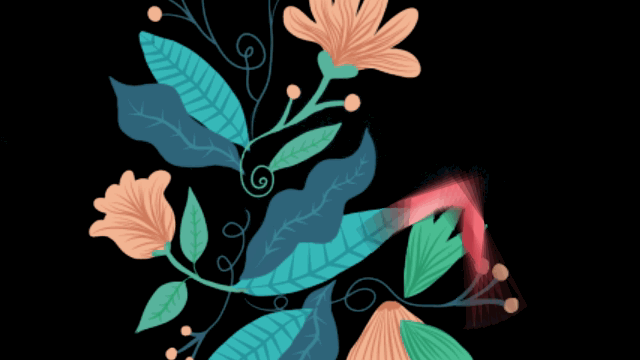 ---
¿Eres escritor? ¿No encuentras un lugar adecuado para colocar tus trabajos literarios? Unete a Literatos, una comunidad en Hive donde puedes publicar tus cuentos, poemas, ensayos literarios y novelas inéditos de tu propia autoría.
---

GIFs elaborated by @equipodelta