Cuando hablamos de series debo confesar que es un tema que siempre me apasiona 😍 y aunque hoy en día la lista de series que se encuentran para ver son infinitas hay unas que simplemente siempre guardo en un lugar especial de mis recuerdos, las cuales vería de nuevo sin dudar (la mayoría las he visto más de una vez) y siempre pero siempre recordaré.
When we talk about series I must confess that it is a topic that I am always passionate about and although nowadays the list of series to watch are endless there are some that I simply always keep in a special place in my memories, which I would watch again without hesitation (most of them I have seen more than once) and I will always but always remember.
El orden de estas es muy difícil 😰, creo que a todas las pondría de N°1 en algún punto de mi vida o dependiendo del estado de ánimo en el que me encuentre al momento de la recomendación, es por esto que quiero aclarar que el orden en el que las coloque no es el orden de importancia sino el orden en que las recuerdo.
The order of these is very difficult, I think I would put them all as N°1 at some point in my life or depending on the mood in which I am at the time of the recommendation, which is why I want to clarify that the order in which I put them is not the order of importance but the order in which I remember them.
Trataré de no solo nombrarlas sino de escribir un poco de ellas sin hacer spoilers (trataré) porque lo ideal es que al terminar de leer este post busquen al menos una de ellas y por supuesto que la vean y espero disfruten tanto como yo, así que aquí vamos…
I will try not only to name them but to write a bit about them without spoilers (I will try) because the ideal is that when you finish reading this post you will look for at least one of them and of course you will watch it and I hope you enjoy it as much as I do, so here we go...
1. Bates Motel: es una serie basada en la película Psicosis de 1960 (de seguro has visto referencia de ella en los Simpson , Travis Bickle en 'Taxi Driver', La parodia en 'Máxima ansiedad', Sam Loomis en 'La noche de Halloween' y en muchas otras más), cuenta la historia de la vida de Norman Bates y su madre Norma Bates, antes de lo ocurrido en la película Psicosis, posee una excelente trama, puede llegar a ser un poco oscura por decirlo así, para algunos, pero sin duda es atrapante, cuenta con un elenco increíble, con una actuación a mi parecer impecable, algunos de sus personajes principales fueron interpretados por: Freddie Highmore (a quien actualmente encontraras en The Good Doctor) y con quien tendrás una relación de amor/odio durante la serie, Vera Farmiga a quien podríamos culpar en varias ocasiones por las cosas sucedidas, Max Thieriot, Olivia Cooke (quien está confirmada como parte del elenco de House of the Dragon), y uno de mis favoritos Nestor Carbonell.
1. Bates Motel: is a series based on the 1960 movie Psycho (you've surely seen reference to it in the Simpsons, Travis Bickle in 'Taxi Driver', the parody in 'Maximum Anxiety', Sam Loomis in 'Halloween Night' and many others), tells the story of the life of Norman Bates and his mother Norma Bates, before what happened in the movie Psycho, it has an excellent plot, it can become a little dark so to speak, for some, but it is certainly gripping, it has an incredible cast, with a performance in my opinion impeccable, some of its main characters were played by: Freddie Highmore (who you will currently find in The Good Doctor) and with whom you will have a love/hate relationship during the series, Vera Farmiga who we could blame on several occasions for the things that happened, Max Thieriot, Olivia Cooke (who is confirmed as part of the cast of House of the Dragon), and one of my favorites Nestor Carbonell.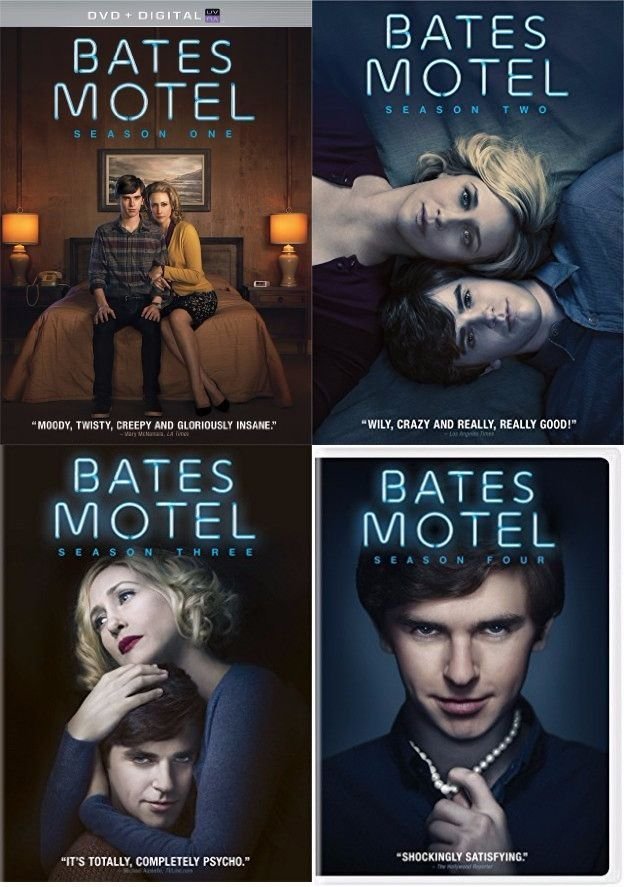 https://i.pinimg.com/originals/e2/84/76/e284769f96abda3cb6bfa08d7ba52c72.jpg
2.How I Met Your Mother: clásica serie norteamericana, mostrando las vivencias de un grupo de amigos, pero ya va, en realidad no es solo eso es mucho más, muestra la lucha constante de Ted Mosby por hallar al amor de su vida, Ted es un arquitecto, romántico, luchador y demasiado tierno, aunque muchos artículos dirán que era muy demandante y egoísta, seamos realistas ¿Quién no lo ha sido en algún momento?, además estoy segura que todxs necesitamos un Ted en nuestras vidas, ya que no solo era lo antes mencionado sino un increíble e incondicional amigo. La serie no trata solo de él sino que también nos van mostrando la vida de sus amigos, Marshall Eriksen (un abogado apasionado por salvar el medio ambiente que en el camino puede llegar a desviarse un poco del objetivo pero siempre retoma el rumbo, muy noble y con muchas ocurrencias), Lily Aldrin (profesora de preescolar, pero el arte siempre lo ha llevado en su corazón y es su gran sueño), Robin Scherbatsky (Canadiense, no sé porque es lo primero que digo, ah sí, en la serie no permiten que lo olvidemos jajajaja, una mujer luchadora, independiente, pero con un enorme corazón) y Barney Stinson (el típico mujeriego, adinerado donde nadie sabe en que trabaja, siempre estará disponible para meterse con sus amigos, y para ayudarlos porque aunque al principio cueste creerlo él si tiene sentimientos ah y ama los trajes, ¿Quién no usa trajes?). Esta mezcla de amigos y sus distintas formas de ver las cosas es excelente, sus capítulos son cortos, aproximadamente de 25min cada uno, cuenta con nueve temporadas, y su final fue muy criticado, pero les digo la verdad? A mí sí me gusto!, cuenta con un final alternativo del que se habla mucho en internet.
2. How I Met Your Mother: classic American series, showing the experiences of a group of friends, but it's not just that, it's much more, it shows the constant struggle of Ted Mosby to find the love of his life, Ted is an architect, romantic, fighter and too tender, although many articles will say that he was very demanding and selfish, let's face it, who has not been at some point, besides I'm sure we all need a Ted in our lives, as he was not only the above mentioned but an incredible and unconditional friend. The series is not only about him but also shows us the lives of his friends, Marshall Eriksen (a lawyer passionate about saving the environment that on the way can get a little off track but always gets back on track, very noble and with many witticisms), Lily Aldrin (preschool teacher, but art has always been in her heart and is her great dream), Robin Scherbatsky (Canadian, but I don't know why is it the first thing I say? I don't know why is the first thing I say, ah yes, in the series they don't let us forget it hahahaha, a fighter woman, independent, but with a huge heart) and Barney Stinson (the typical womanizer, wealthy where nobody knows where he works, always available to mess with his friends, and to help them because although at first it is hard to believe he does have feelings ah and loves suits, who doesn't wear suits? ). This mix of friends and their different ways of seeing things is excellent, its chapters are short, approximately 25 minutes each one, it has nine seasons, and its ending was very criticized, but I tell you the truth? I did like it, it has an alternative ending that is much talked about on the internet.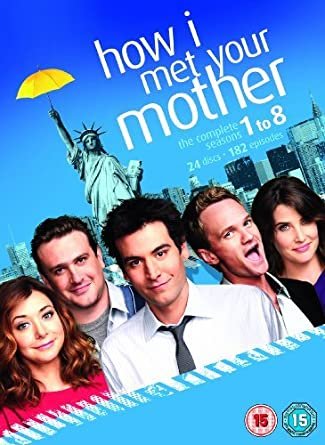 https://images-na.ssl-images-amazon.com/images/I/51xLWGWsF-L.SY445.jpg
3.Sense 8: lo primero que tengo que decir es: Gracias a Dios nos dieron un final, esta increíble serie estuvo a punto de quedarse inconclusa debido a motivos económicos, pues a mediados del 2017 anunciaron su cancelación, pero gracias a las peticiones de todos sus fans pudimos lograr que nos dieran un cierre digno. Al principio esta serie puede llegar a confundirte y tal vez no te atrape de una vez, pero a medida que vas viendo llegará el punto en el que no puedes parar de verla. En resumen corto y sin arruinarles datos importantes, se trata de un grupo de ocho (8) personas desconocidas y ubicadas en distintas partes del mundo, las cuales un día, comienzan a conectarse de forma telepática, sensorialmente y son capaces de sentir, ver y escuchar lo mismo que el otro. Cada uno de ellos poseen cualidades y personalidades súper distintas lo que les será de mucha ayuda a lo largo de la serie.
3.Sense 8: the first thing I have to say is: Thank God they gave us an ending, this incredible series was about to remain unfinished due to economic reasons, because in mid-2017 they announced its cancellation, but thanks to the requests of all its fans we were able to get them to give us a worthy closure. At first this series can get to confuse you and maybe not catch you at once, but as you go watching it will reach the point where you can't stop watching it. In short summary and without spoiling important facts, it is about a group of eight (8) unknown people located in different parts of the world, which one day, begin to connect telepathically, sensory and are able to feel, see and hear the same as the other. Each one of them has super different qualities and personalities that will be very helpful throughout the series.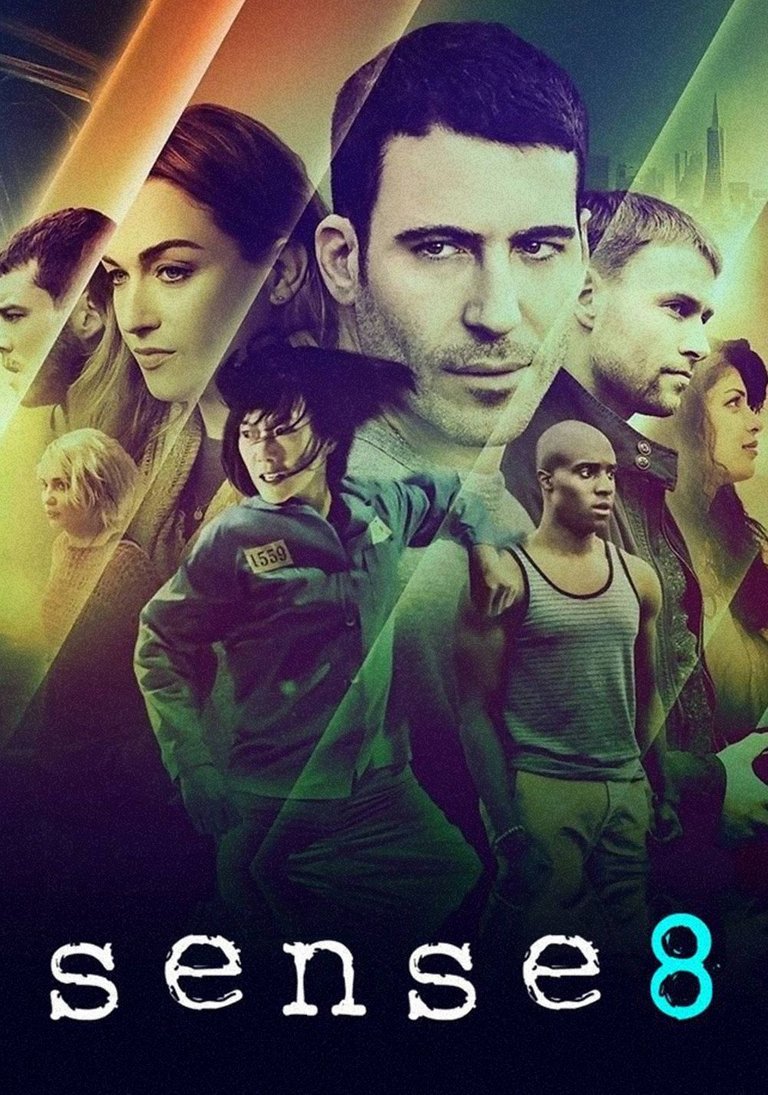 https://fanart.tv/fanart/tv/268156/tvposter/sense8-5bdb6e10a8a64.jpg
4.Friends: no iban a creer que no hablaría de esta grandiosa serie verdad? Si aún no han visto Friends la verdad no sé qué esperan, dejen de perder el tiempo, que esta serie es maravillosa, podríamos llegar a decir que es del mismo formato de HIMYM (How I Met Your Mother, de la que hablé arriba), ya que son capítulos cortos y se trata de un grupo de amigos, pero fuera de estas similitudes y puede que otras más, son diferentes, es más cada una de ellas es única a su manera. Cuenta con 10 temporadas, todas valen la pena ver, su capítulo final, cuando terminó no lo podía creer ni superar y eso que tan solo tenía 14 años en aquel momento, sus protagonistas robaron mi corazón y ahora 17 años después hemos sido escuchados con un especial único y nostálgico como lo ha sido Friends The Reunion, del cual hablo en mi post anterior (https://peakd.com/hive-166847/@stephytdh/friends-la-reunion-friends-the-reunion)
4. Friends: you didn't think I wouldn't talk about this great series, did you? If you haven't seen Friends yet, I really don't know what you are waiting for, stop wasting your time, this series is wonderful, we could say that it is the same format as HIMYM (How I Met Your Mother, which I talked about above), since they are short chapters and it is about a group of friends, but apart from these similarities and maybe others, they are different, moreover each one of them is unique in its own way. It has 10 seasons, all of them are worth watching, its final episode, when it ended I couldn't believe it or get over it and I was only 14 years old at the time, its protagonists stole my heart and now 17 years later we have been heard with a unique and nostalgic special as Friends The Reunion, which I talk about in my previous post (https://peakd.com/hive-166847/@stephytdh/friends-la-reunion-friends-the-reunion).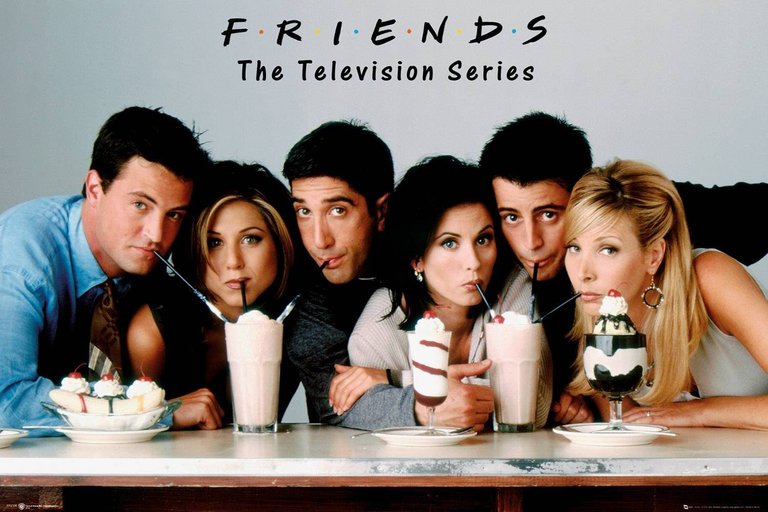 https://www.gbposters.com/media/catalog/product/cache/1/image/9df78eab33525d08d6e5fb8d27136e95/f/r/friends-milkshake-maxi-poster-1.16.jpg
5.How to Get Away with Murder: protagonizado por la grandísima y maravillosa Viola Davis (de verdad que merece todos y cada uno de sus premios y muchos más), es una serie donde ella es abogada y profesora, aquí debemos prestar mucha atención a los detalles, ya que la serie tiene la particularidad de comenzar mostrando escenas del final de la temporada o del futuro y luego retrocede para comenzar mostrándonos lo que nos llevó a eso. Esta serie lo tiene todo, asesinatos, drama, amor, amistad, sexo, momentos felices, todo menos aburrimiento, siempre te mantendrá atento.
5.How to Get Away with Murder: starring the great and wonderful Viola Davis (she really deserves each and every one of her awards and many more), is a series where she is a lawyer and teacher, here we must pay close attention to detail, as the series has the peculiarity of starting showing scenes from the end of the season or the future and then goes back to start showing us what led us to that. This series has it all, murders, drama, love, friendship, sex, happy moments, everything but boredom, it will always keep you attentive.
https://static.wikia.nocookie.net/howtogetawaywithmurderabc/images/5/59/1Poster.png/revision/latest?cb=20170506230223
6.Pretty Little Liars: siete (7) temporadas, enganchada con esta serie, con sus personajes y de verdad Marlene King (su escritora), nunca dejó de sorprenderme, que nostalgia cuando terminó. Es un grupo de amigas, que van a la escuela juntas, su amiga líder se desaparece y ellas se alejan, al año vuelven a juntarse por ser acosadas por alguien que se hace llamar –A, suena fácil, suena más de lo mismo, pero nooo, esta serie nos llevaba de teorías en teorías y siempre daba giros inesperados, gracias a esta serie conocí a muchas personas de diferentes países, ya que teníamos grupos donde discutíamos estas teorías a ver quién acertaba quien era –A.
6.Pretty Little Liars: seven (7) seasons, hooked with this series, with its characters and really Marlene King (its writer), never ceased to amaze me, what a nostalgia when it ended. It is a group of friends, who go to school together, their leader friend disappears and they move away, a year later they get together again because they are harassed by someone who calls herself -A, sounds easy, sounds more of the same, but nooo, this series took us from theories to theories and always gave unexpected twists, thanks to this series I met many people from different countries, since we had groups where we discussed these theories to see who guessed who was -A.
https://images-na.ssl-images-amazon.com/images/I/71nGC933bbL.jpg
7.Grey's Anatomy: y sí, sé que aquí tal vez muchos me juzgarán pero que les puedo decir, Shonda Rhimes tiene la peculiaridad de hacerme sufrir y que siempre termine volviendo. Debo confesar que tuvimos nuestras diferencias, no diré quien por si alguien no sabe y quiere verla, pero cuando un personaje importante se alejó, yo me aleje y cuando murió la dejé de ver, pero fue inevitable no retomarla, y la verdad es que aquí me encuentro, diecinueve (19) temporadas después esperando que aun salgan los capítulos en estreno y poder verlos. Drama, mucho drama, amor, escenas médicas que aunque no sean reales se ven muy reales y a lo largo de sus temporadas van a tener muchos momentos de amor / odio hacia sus personajes y hacia su escritora.
7. Grey's Anatomy: and yes, I know that here maybe many will judge me but what can I say, Shonda Rhimes has the peculiarity of making me suffer and always end up coming back. I must confess that we had our differences, I will not say who in case someone does not know and wants to watch it, but when an important character left, I left and when he died I stopped watching it, but it was inevitable not to take it up again, and the truth is that here I am, nineteen (19) seasons later waiting for the episodes to be released and to be able to watch them. Drama, lots of drama, love, medical scenes that even though they are not real, they look very real and throughout the seasons there will be many moments of love / hate towards the characters and their writer.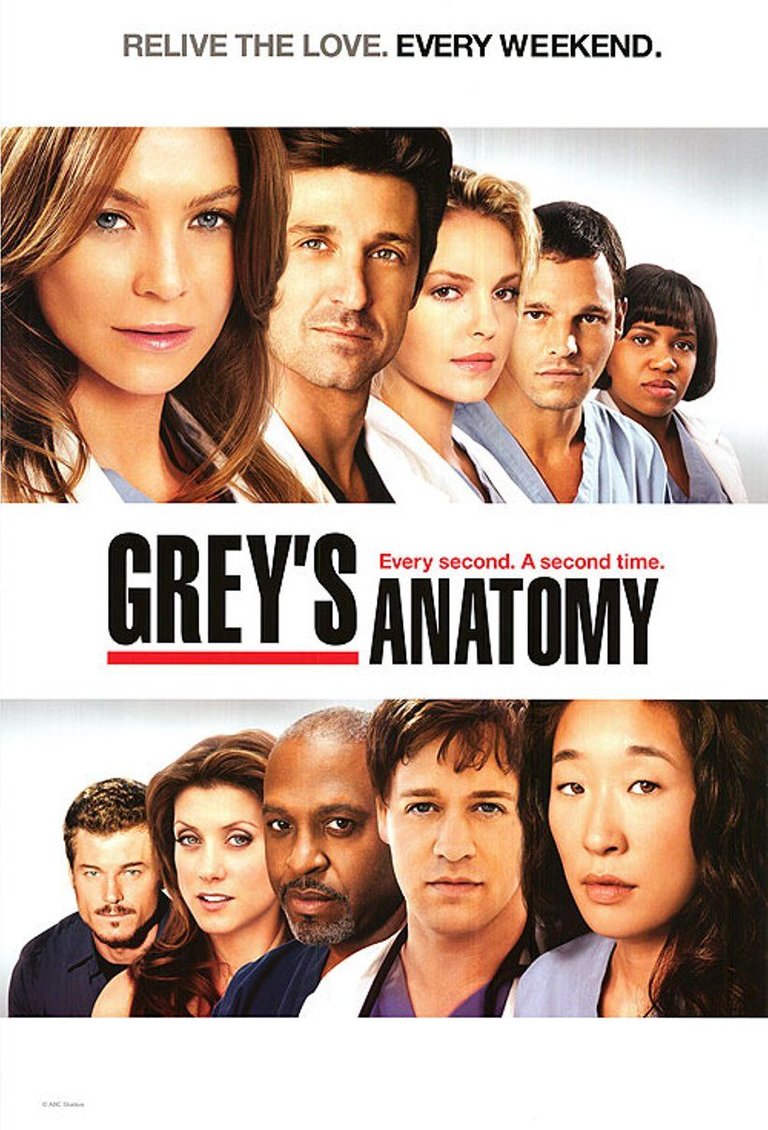 https://i.pinimg.com/originals/72/8e/1c/728e1c974a458dd59678d05053d24778.jpg
8.Orphan Black: cuando hablamos de excelentes actuaciones sin duda debemos hablar del excelente trabajo que hizo Tatiana Maslany, donde interpretó a catorce (14) personajes más o menos a lo largo de sus cinco (5) temporadas y en donde se olvidaba por completo que era la misma actriz. Comienza cuando Sarah presencia el suicidio de una mujer la cual luce idéntica a ella, por lo cual decide asumir su identidad y lo que hay detrás de todo eso. La serie es entretenida, tiene sus momentos divertidos, también hay romance, acción, siempre nos mantiene alertas, posee una temática original, cada personaje trae su historia, de verdad no se van a arrepentir de verla y la van a disfrutar al máximo.
8. Orphan Black: when we talk about excellent performances we must undoubtedly talk about the excellent work done by Tatiana Maslany, where she played fourteen (14) characters more or less throughout its five (5) seasons and where she completely forgot that she was the same actress. It begins when Sarah witnesses the suicide of a woman who looks identical to her, so she decides to assume her identity and what is behind it all. The series is entertaining, has its funny moments, there is also romance, action, always keeps us on our toes, has an original theme, each character brings his story, you really will not regret watching it and you will enjoy it to the fullest.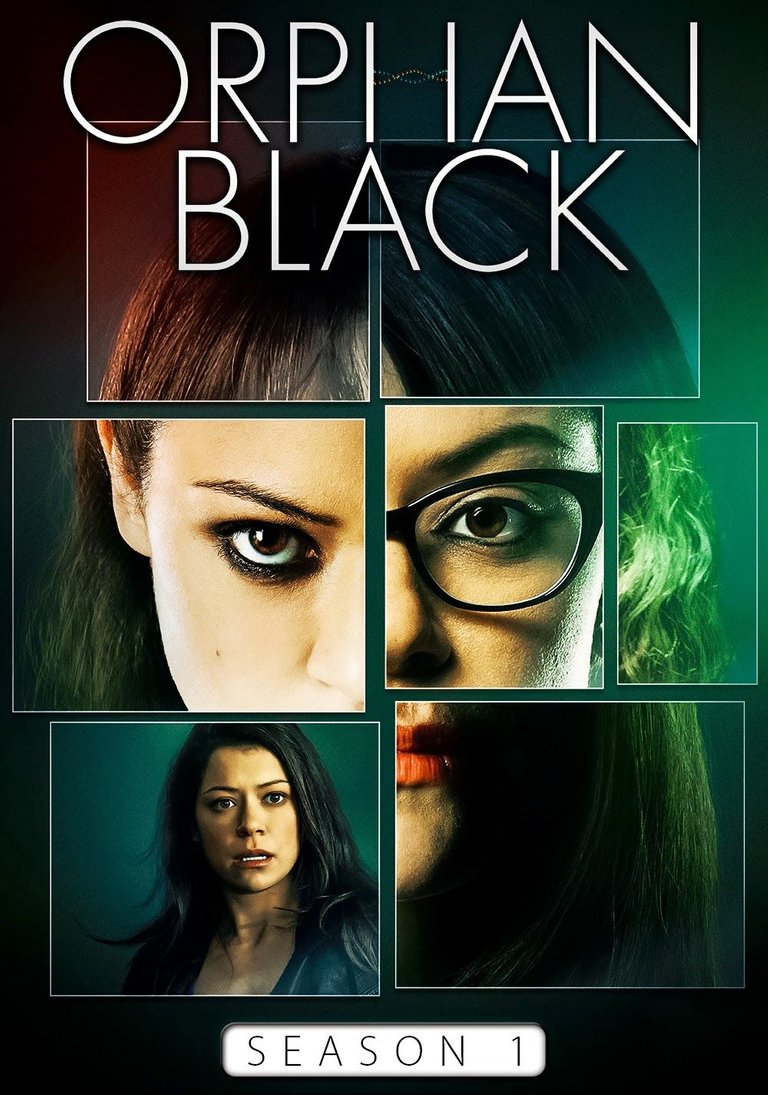 http://3.bp.blogspot.com/-VqJ7c9ghNSI/VTH1zuiAB8I/AAAAAAAADLc/dd8qTn0treM/s1600/orphan-black%2Btemporada%2B1.jpg
9. Reign: esta es una serie romántica, de historia la cual trata sobre la vida de Mary Stuart La reina de Escocia, las alianzas entre Escocia y Francia, al igual que posteriormente con otros países. Es interpretada por Adelaide Kane, si tienen conocimientos sobre historia ya sabrán como termina, pero de igual manera vale la pena verla, es emotiva, cautivadora, entretenida y como toda serie pues no todo lo que pasa allí es idéntico a lo que sucedió en la realidad pero aun así es muy buena y si no saben de historia por lo menos obtendrán algunos conocimientos mientras se entretienen.
9.Reign: this is a romantic, historical series which deals with the life of Mary Stuart, Queen of Scotland, the alliances between Scotland and France, as well as later with other countries. It is played by Adelaide Kane, if you know about history you will already know how it ends, but it is still worth watching, it is emotional, captivating, entertaining and like all series not everything that happens there is identical to what happened in reality but it is still very good and if you do not know about history at least you will get some knowledge while you are entertained.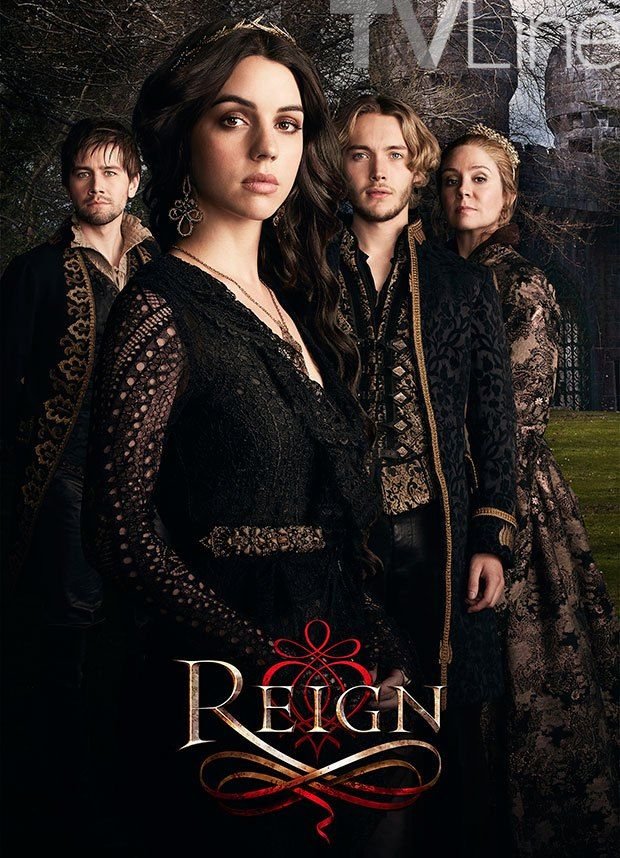 https://i.pinimg.com/originals/8b/75/78/8b7578f1737fc6d69d1dee07e46836c8.jpg
Cuéntenme aquí abajo 👇 si ¿ya han visto alguna de estas series? ¿les ha gustado? o ¿cual quisieran ver?
Tell me down here if you have already seen any of these series, if you liked them, or which one would you like to see?
Gracias una vez mas por leerme 😉
Thanks once again for reading me
Encuéntrame en / Follow Me 😁
Twitter https://twitter.com/Stephydth
Instagram https://www.instagram.com/stephydth