Hello everyone! Welcome to this new post.
Today, I came here to recommend you the Battle Angel Alita movie, released in 2019, which I consider to be one of the best adaptations of a manga in the cinema, produced by James Cameron and Jon Landau, and was directed by Robert Rodriguez.
This movie has amazing action scenes and a deep story about a cyborg girl who does not remember her past and is in search of her identity. Set in a world where technological supremacy has been achieved and a human-machine symbiosis has been achieved too.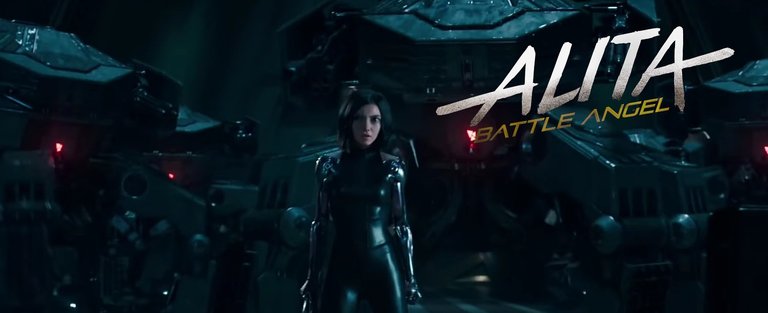 ¡Hola a todos! Bienvenidos a este nuevo post.
El día de hoy les vengo a recomendar la película de Battle Angel: la última guerrera, estrenada en el año 2019, la cual considero que es una de la mejores adaptaciones de un manga en el cine, producida por James Cameron y Jon Landau, y dirigida por Robert Rodriguez.
Una película que tiene grandiosas escenas de acción y una profunda historia sobre una chica cyborg que no recuerda su pasado y se encuentra en la búsqueda de su identidad. Ambientada en un mundo en donde se ha alcanzado una supremacía tecnológica y se ha logrado una simbiosis humano-máquina.
Battle Angel Alita is an adaptation of a manga created by Yukito Kishiro, which tells the story of Alita, a cyborg girl who was found in a scrapyard by Dr. Dyson Ido, who rebuilds her and establishes a father-daughter relationship with his creation and names her after his deceased daughter.
Battle Angel Alita es una adaptación de un manga creado por Yukito Kishiro, que nos cuenta la historia de Alita, una niña cyborg que fue encontrada en una pila de chatarra por el doctor Dyson Ido, quién la reconstruye y establece una relación de padre e hija con su creación y la nombra así en honor a su hija fallecida.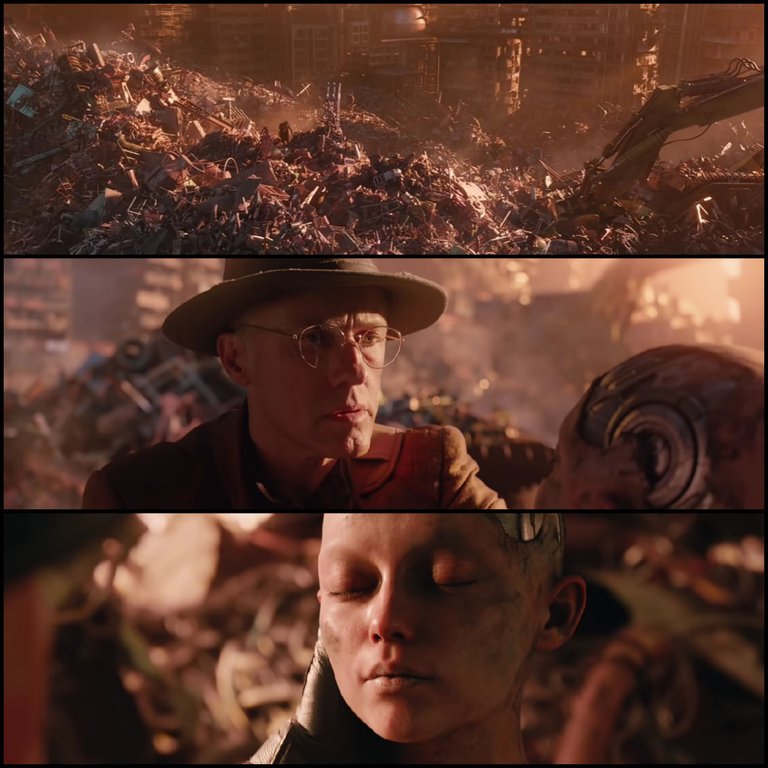 Collage made with screenshots taken from the trailer
Alita remembers nothing of her past and is unaware of her origins, but progressively, as she fights the worst criminals in the city she begins to get glimpses of her past and wants more answers.
Alita no recuerda nada de su pasado y desconoce sus orígenes, pero poco a poco, al luchar con los peores criminales de la ciudad empieza a tener vistazos de su pasado y desea obtener más respuestas.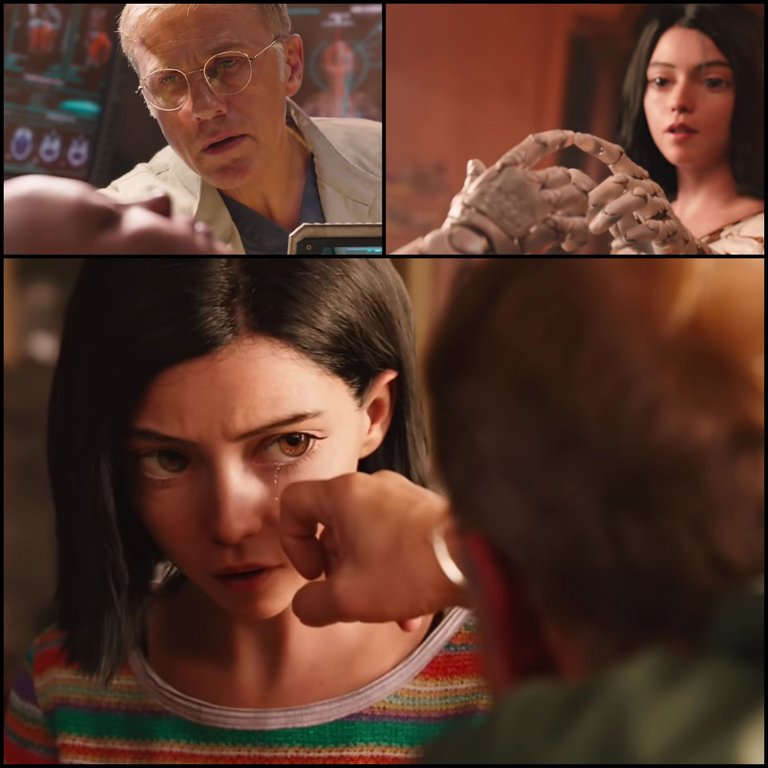 Collage made with screenshots taken from the trailer
The story is set in a place known as Iron City, which is located below, while above is a floating city known as Zalem.
La historia está ubicada en un lugar conocido como Iron City (La Ciudad de Hierro), que se encuentra abajo, mientras que arriba se encuentra una ciudad flotante conocida como Zalem.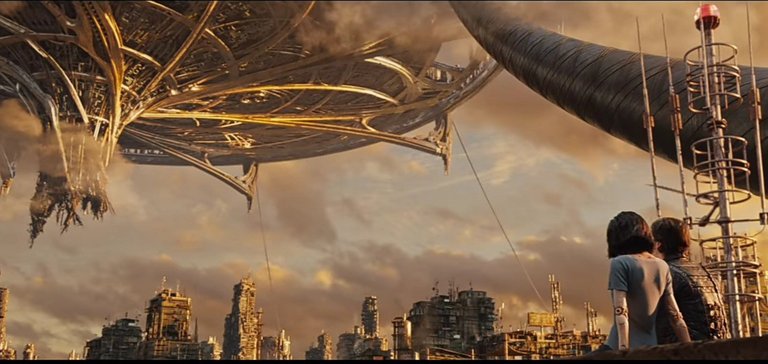 Screenshots taken from the trailer #1
Alita quickly befriends Hugo (Keean Johnson), a boy who wants to go to the floating city of Zalem. She also meets Dr. Chiren, Dr. Ido's ex-wife.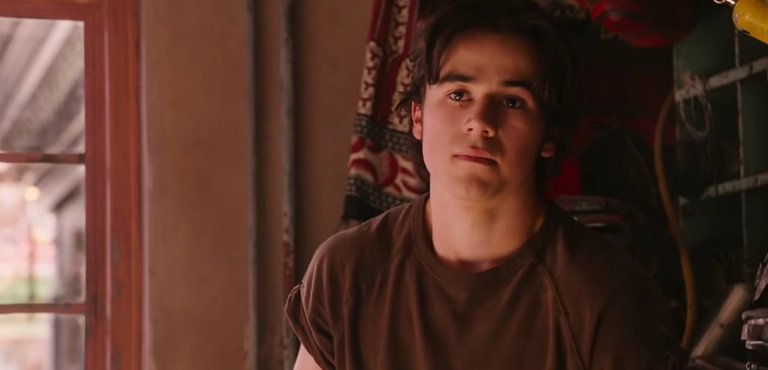 Hugo introduces Alita to "Motorball", a somewhat violent sport where cyborg gladiators have to survive and the champion is sent to Zalem. He also becomes Alita's love interest.
Alita rápidamente se vuelve amiga de Hugo (Keean Johnson), un chico que desea ir a la ciudad flotante de Zalem. También conoce a la doctora Chiren, la ex-esposa del doctor Ido.
Hugo le presenta a Alita el "Motorball", un deporte un poco violento en donde los gladiadores cyborgs tienen que sobrevivir y el campión lo envían a Zalem. También se convierte en el interés amoroso de Alita.
Doctor Ido (played by Christoph Waltz) has a clinic where he helps people with robotic parts, but at night he works as a Hunter Warrior, mercenaries who work for money and take out the worst criminals in town.
El Doctor Ido (interpretado por Christoph Waltz) tiene una clínica en donde ayuda a personas con partes robóticas, pero de noche trabaja como un Hunter Warrior, mercenarios que trabajan por dinero y se deshacen de los peores criminales de la ciudad.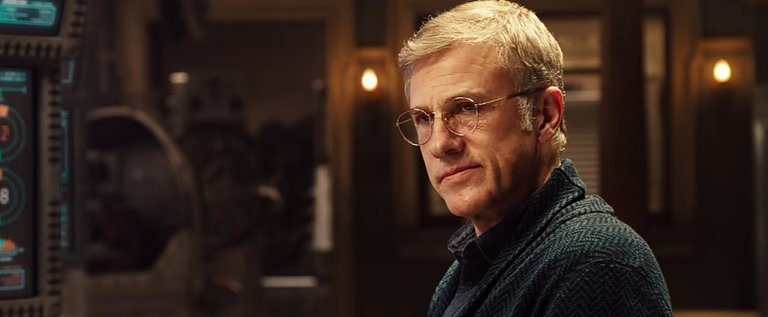 Screenshots taken from the trailer #1
Alita, in her desire to remember more about her past decides to register as a Hunter Warrior as well. Demonstrating great fighting skill, thanks to her Panzer Kunst fighting style.
Alita, en su deseo de recordar más sobre su pasado decide registrarse como Hunter Warrior también. Demostrando una gran habilidad de pelea, gracias a su estilo de combate Panzer Kunst.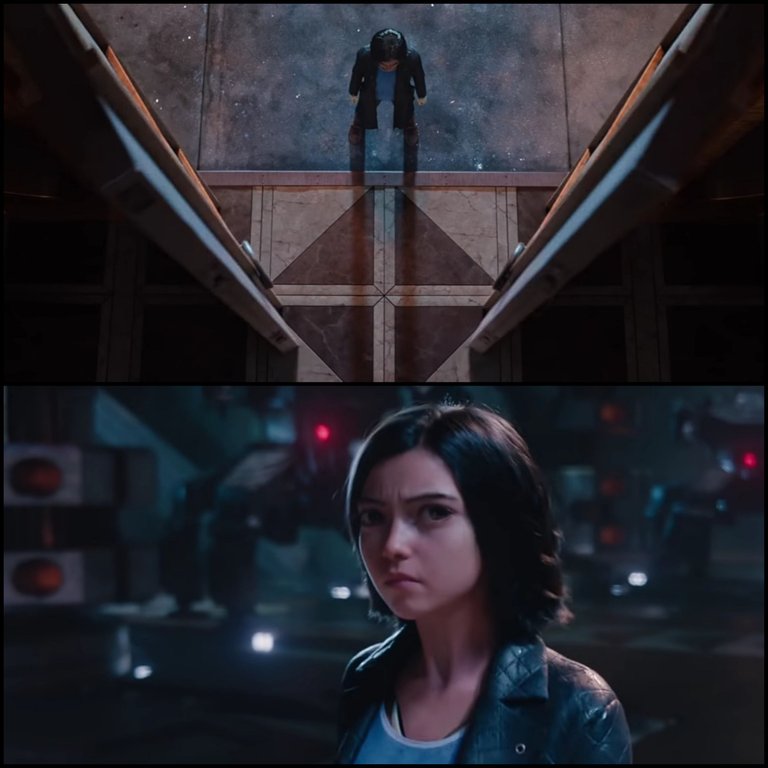 Collage made with screenshots taken from the trailer
Throughout the movie Alita will meet different characters such as:
A lo largo de la película Alita irá conociendo a diferentes personajes como:
Grewishka, a huge cyborg who works for Nova, the system is protecting him and wants to assassinate Alita.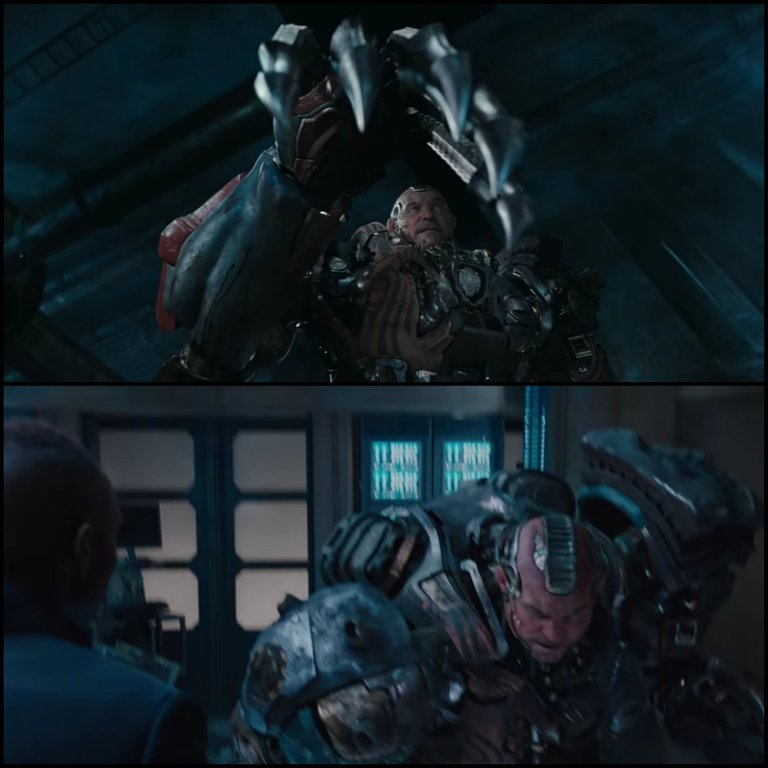 Screenshots taken from the trailer #1
Grewishka, un enorme cyborg que trabaja para Nova, el sistema lo está protegiendo y quiere asesinar a Alita.
Zapan, another bounty hunter, carrier of the Damascus sword, able to cut iron like butter, this weapon was forged by the RUMs, that's why it's so powerful.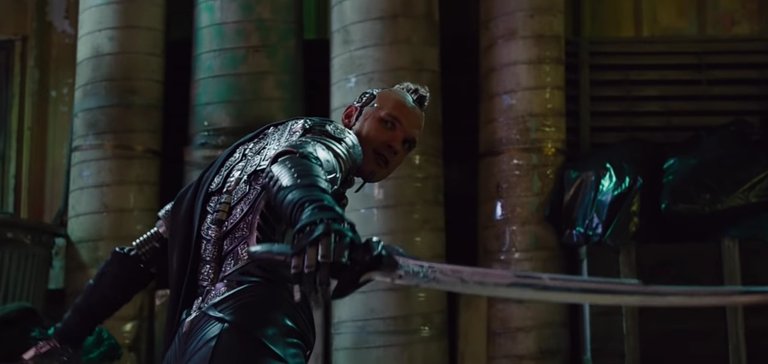 Screenshot taken from the trailer
Zapan, otro cazarrecompensas, portador de la espada de Damasco, capaz de cortar el hierro como mantequilla, esta arma fue forjada por las RUMs, por eso es tan poderosa.
Dr. Chiren, played by Jennifer Connelly, is a scientist who builds cyborgs and works for Vector. At first we are shown as an antagonist, but in reality she is a woman who wants to bury the pain she feels.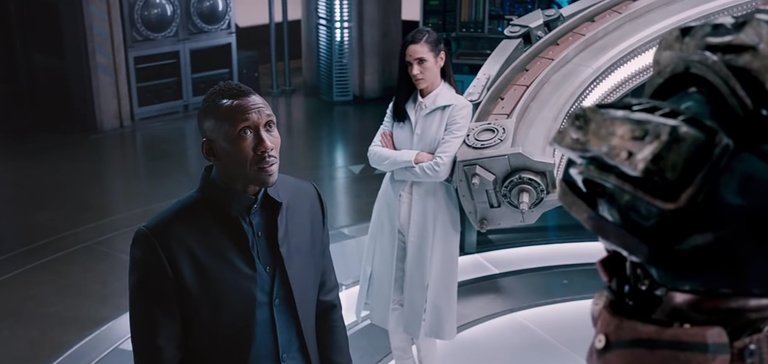 Screenshot taken from the trailer
La doctora Chiren, interpretada por Jennifer Connelly, es una científica que construye cyborgs y trabaja para Vector. Al principio se nos muestra como una antagonista, pero en realidad es una mujer que quiere enterrar el dolor que siente.
She abandoned Ido after the death of his daughter Alita.
Ido wanted to revive the memory of his daughter Alita and to do so he used the robotic body he had prepared for her that she was never able to use.
Abandonó a Ido después de la muerte de su hija Alita.
Ido quiso revivir el recuerdo de su hija Alita y para ello usó el cuerpo robótico que le tenía preparado a ella y que nunca pudo usar.
Nova (Edward Norton) is the one pulling the strings, the real enemy of the RUMs, the vigilante behind the eyes. He is a scientist expert in nanotechnology.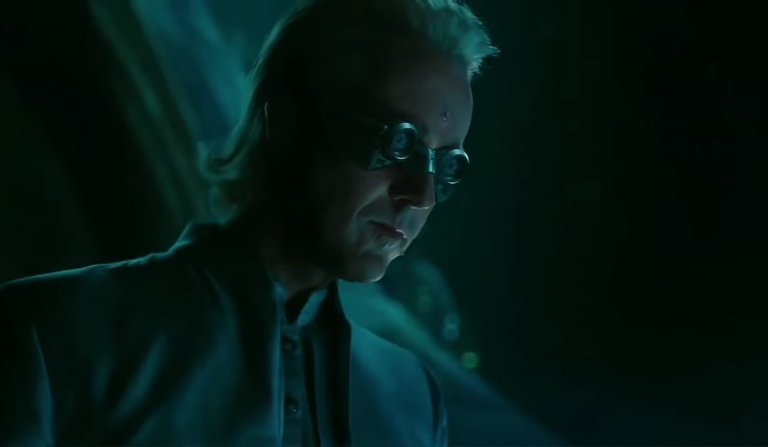 "I see everything".
Nova (Edward Norton) es el que maneja los hilos, el verdadero enemigo de las RUMs, el vigilante detrás de los ojos. Un científico experto en nanotecnología.
Vector (played by Mahershala Ali), owner of the Motorball tournament. This man is a "puppet" of Nova and promised Hugo to go to Zalem.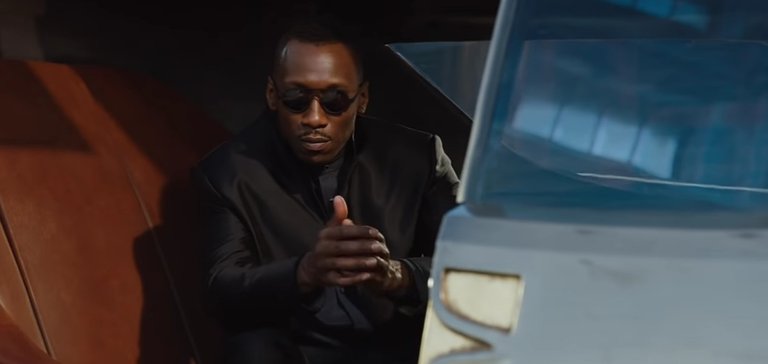 Screenshot taken from the trailer
Vector (interpretado por Mahershala Ali), propietario del torneo de Motorball. Este hombre es una "marioneta" de Nova y le prometió a Hugo ir a Zalem.
In this universe there was a war 300 years ago, an event known as "The Fall".
Alita used to be part of the RUMs, a group of super warriors with great strength and very agile, being number 99. They are the ones with the best technology featured in the movie.
En este universo hubo una guerra 300 años atrás, un evento conocido como "La Caída".
Alita solía ser parte de las RUMs, un grupo de super guerreras con una gran fuerza y muy ágiles, siendo la número 99. Ellas son las que poseen la mejor tecnología que aparece en la película.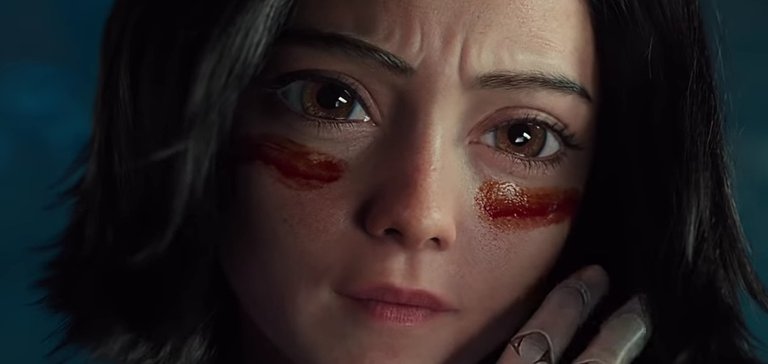 "I do not stand by in the presence of evil."
At night, Hugo dismantled other cyborgs and gave the best parts to Vector, who promised to take him to Zalem if he gave him 1 million credits. Not knowing that the parts he gave him would be used by villains who wanted to kill Alita, such as Grewishka.
At that moment Hugo realized that he was working for the wrong person, that the parts he stole made Grewishka almost indestructible and he detroyed Alita's robotic body.
Por las noches, Hugo desmantelaba a otros cyborgs y le entregaba la mejores partes a Vector, ya que éste le prometió llevarle hacía Zalem si éste le daba 1 millón de créditos. Sin saber que las partes que le daba serían utilizadas por villanos que desean asesinar a Alita, como Grewishka.
En ese momento Hugo se dio cuenta de que trabajaba para la persona equivocada, que las partes que robaba hicieron a Grewishka casi indestructible y detrozó el cuerpo robótico de Alita.
Ido reveals to Alita that he was born on Zalem and removed his mark on his forehead. After his daughter became ill, he and Chiren went down to Iron City and he tells her that no one can pay to go up and that Hugo is being cheated.
After Alita almost dies facing Grewishka for the second time, Ido tells her the truth, that she is the most advanced cyborg weapon ever created, coming from an ancient civilization. He then rebuilds her with the beserker body that Alita found and prepares her to participate in the "Motorball".
Ido le revela a Alita que él nació en Zalem y se quitó su marca en la frente. Después de que su hija enfermó, él y Chiren bajaron a la Ciudad de Hierro y le cuenta que nadie puede pagar para subir y que a Hugo lo están engañando.
Después que Alita casi muere enfrentándose por segunda vez a Grewishka, Ido le cuenta todos la verdad, que es la más avanzada arma cyborg jamás creada, proveniente de una antigua civilización. Luego de esto la reconstruyó con el cuerpo de beserker que Alita encontró y la prepara para que participe en el "Motorball".
With her body rebuilt, Alita is more than determined to put an end to Vector and Nova's plans, while all the gladiators want to destroy Alita. Something is going to happen to the floating city, as the mission of the RUMs and Alita is to destroy Zalem.
This is Alita's goal at the end of the movie, to become the final champion to be taken to Zalem, fulfill her mission and discover the rest of her story.
Con su cuerpo reconstruido, Alita está más que decidida a acabar con los planes de Vector y Nova, mientras que todos los gladiadores quieren destruir a Alita. Algo va a pasar con la ciudad flotante, ya que la misión de las RUMs y de Alita es destruir Zalem.
Este es el objetivo de Alita al final de la película, convertirse en campeona final para ser llevada hacia Zalem, cumplir su misión y descubrir el resto de su historia.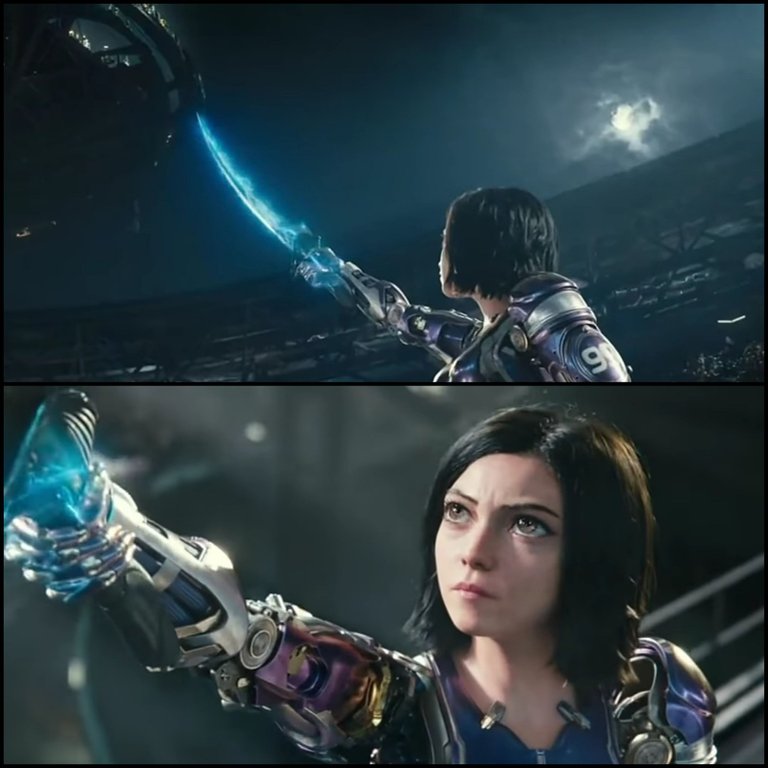 —"Termina la misión. Destruye Zalem."
---
This film is based on the GUNNM manga created between 1991 and 1995 and which had an anime adaptation in 1993, whose title changed when adapted to the occident as Battle Angel Alita.
The director of this film, Robert Rodriguez, is known for creating low-budget films with exaggerated special effects, which give it a special touch (The Mini-Spy Saga, The Adventures of Sharkboy and Lavagirl, etc.). However, in this film, a bigger project initially planned by James Cameron and that together they managed to make a correct adaptation and create realistic, natural and detailed special effects, thanks to the latest technologies.
Esta película está basada en el manga GUNNM creado entre 1991 y 1995 y que tuvo una adaptación al anime en 1993, cuyo título cambió al traladarse a occidente como Battle Angel Alita.
El director de esta cinta, Robert Rodríguez, se caracteriza por crear películas de bajo presupuesto y con efectos especiales exagerados, que le dan un toque especial (La saga de Mini-Espías, las Aventuras de Sharkboy y Lavagirl, etc.). Sin embargo, en esta película, un proyecto más grande inicialmente planeado por James Cameron y que juntos lograron realizar una correcta adaptación y crear efectos especiales realistas, naturales y detallados, gracias a las últimas tecnologías.
It is an extraordinary film, made with a lot of dedication, that keeps you excited with every scene.
Also, the actress Rosa Salazar did a great job giving life to Alita, who, through the motion-capture technique, was able to capture all her gestures and expressions. Turning Alita into a more human character.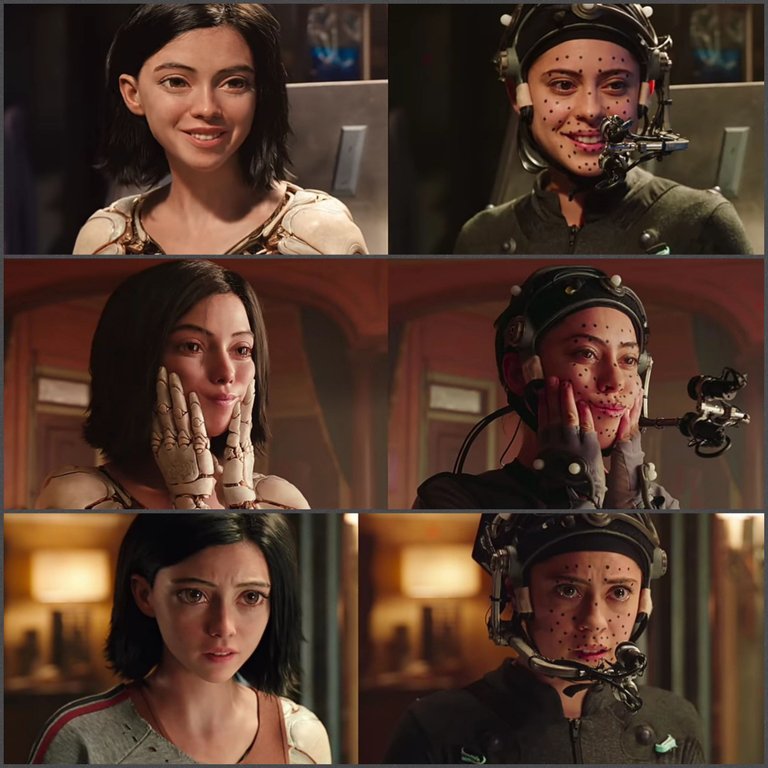 Screenshots taken from the Behid the Scenes
Es una película extraordinaria, hecha con bastante dedicación, que te mantiene emocionado con cada escena.
También, la actriz Rosa Salazar hizo un gran trabajo dándole vida a Alita, que, a través de la técnica del motion-capture, pudo captar todos sus gestos y expresiones. Convirtiendo a Alita en un personaje más humano.
One anime adaptation that does work, ehem.... Dragon ball Evolution, as it tries to be faithful to the story and does not over-simplify the deep plots that the original manga and anime possess.
Quite a promising project and deserves to have a sequel or a saga to continue its story. Loved by the public and underrated by the critics. If you want to support the movie you can use the hashtags #AlitaArmy #ReReleaseAlita 😁
Una adaptacion del anime que si funciona, ehem... Dragon ball Evolution, ya que trata de ser fiel a la historia y no sobre-simplifica las tramas profundas que posee el manga y el anime originales.
Un proyecto bastante prometedor y que merece que tenga una secuela o una saga que continúe su historia. Amada por el público y subvalorada por la crítica. Si quiere apoyar a la película pueden utilizar los hashtags #AlitaArmy #ReReleaseAlita
What did you think of this review of Battle Angel Alita? Have you seen it yet? What is the moment that surprised you the most? Let me know in the comments. 😁👇
¿Qué les ha parecido esta reseña de Battle Ángel: La Última Guerrera? ¿Ya la has visto? ¿Cuál es el momento que más te sorprendió? Déjamelo saber en los comentarios. 😁👇
Bye and I hope see you all soon!
¡Saludos y espero verlos pronto!
Disclaimer: All the images of this post were taken from the trailer presented before.