[ESP-ENG] Bulimia, autolesión y suicidio: 2 películas que los abordan en la adolescencia.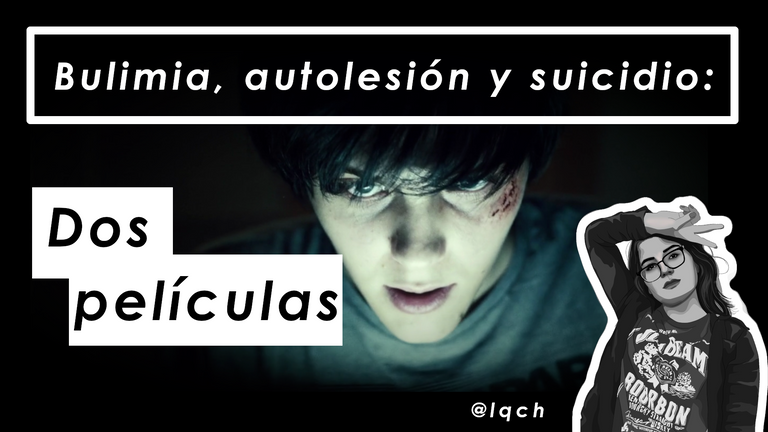 Image edited in Canva.
Source


La adolescencia es una etapa de nuestras vidas muy confusa. Para algunos, incluso, difícil. Los desordenes alimenticios y mentales pueden aparecer en este momento, por lo que, para un joven manejar una situación como esta, puede convertir lo que se supone, debería ser, "los mejores años de su vida" en todo lo contrario.
Por otra parte, las consecuencias en las que pueden repercutir los desordenes mentales como estos, en una persona, son muy peligrosas. Debido a esto, la otra cara de la moneda, es que quienes rodean al afectado sepan identificar las señales y trabajar para lograr medianamente la estabilidad.
Hoy quise traer a mi blog dos películas en las que se integran temas como; la autolesión, el suicidio y la anorexia.
Ahora, si más que decir, comencemos.
Adolescence is a very confusing time in our lives. For some, even difficult. Eating and mental disorders can appear at this time, so for a young person to handle a situation like this can turn what is supposed to be "the best years of their life" into the opposite.
On the other hand, the consequences that mental disorders like these can have on a person are very dangerous. Because of this, the other side of the coin is that those around the affected person know how to identify the signs and work to achieve some stability.
Today I wanted to bring to my blog two films that integrate issues such as self-harm, suicide and anorexia.
Now, if more to say, let's get started.

La solitudine dei numeri primi
Esta película estrenada en 2010, basada en un libro con el mismo nombre, y de origen Italiano, nos cuenta, según el portal web Wikipedia:
La historia de Mattia y Alice, dos seres únicos, marcados desde su infancia por una tragedia. Alice por un accidente de esquí que la dejará coja de por vida. Mattia por abandonar a su hermana melliza.
El nombre es basado en una teoría matemática que hace analogía a ambos personajes protagonicos:
El título se explica argumentando que Mattia y Alice son como primos gemelos: los dos solos, cerca uno del otro pero separados por un número par.
Source
Conforme la trama avance, iremos conociendo las secuelas de aquellos traumas que vivieron, y como les afecta en su vida adolescente, y adulta.
This film released in 2010, based on a book with the same name, and of Italian origin, tells us, according to the web portal Wikipedia:
The story of Mattia and Alice, two unique beings, marked since their childhood by a tragedy. Alice for a skiing accident that will leave her lame for life. Mattia for abandoning his twin sister.
The name is based on a mathematical theory that makes analogy to both main characters:
The title is explained by arguing that Mattia and Alice are like twin cousins: the two alone, close to each other but separated by an even number.
Source
As the plot progresses, we will learn the aftermath of those traumas they lived through, and how it affects them in their adolescent, and adult lives.

Sala Samobójców
Sala Samobójców es una película polaca del año 2011. Esta, según el portal web FilmAffinity, nos cuenta la historia de:
Dominik es un joven en apariencia normal, con dinero, éxito y amigos. Desde un punto de vista social bien adaptado; deportista y como todos los jóvenes de hoy día, adicto a las nuevas tecnologías. Su vida comienza a cambiar cuando en su búsqueda de su identidad sexual es marginado por familia y amigos, recluyéndose poco a poco en su particular mundo.
Esta película, en lo personal, me gusta mucho, y aborda los temas mencionados anteriormente. También da en un punto muy importante, y es como los padres de Dominik abordan los problemas que el chico presenta... Resultando en un final no tan satisfactorio.
Hasta aquí el post de hoy, espero les haya gustado, y quiero mencionarles que también pueden dejarme sus recomendaciones o sugerencias en la cajita de comentarios ¡saludos y se les quiere!
Sala Samobójców is a Polish film from 2011. This, according to the web portal FilmAffinity, tells us the story of:
Dominik is an apparently normal young man, with money, success and friends. From a social point of view, he is well-adjusted, a sportsman and like all young people today, addicted to new technologies. His life begins to change when in his search for his sexual identity he is marginalized by family and friends, gradually withdrawing into his particular world.
Personally, I like this film very much, and it addresses the issues mentioned above. It also hits on a very important point, and that is how Dominik's parents deal with the problems the boy presents.... Resulting in a not so satisfying ending.
So much for today's post, I hope you liked it, and I want to mention that you can also leave me your recommendations or suggestions in the comment box greetings and you are loved!

Traducción hecha en: DeepL
Imagenes editadas en Gimp y PhotoScape.
¡Se despide Laura QCh! / Laura QCh says goodbye!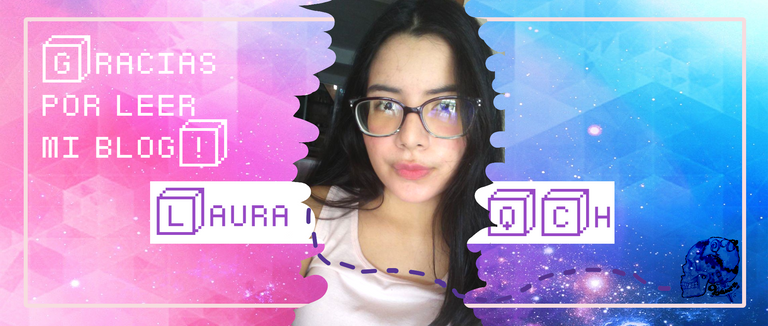 Si quieres saber más de mi, aquí te dejo mis redes sociales.
---
---