El efecto mariposa/The Butterfly Effect (Reseña/Review)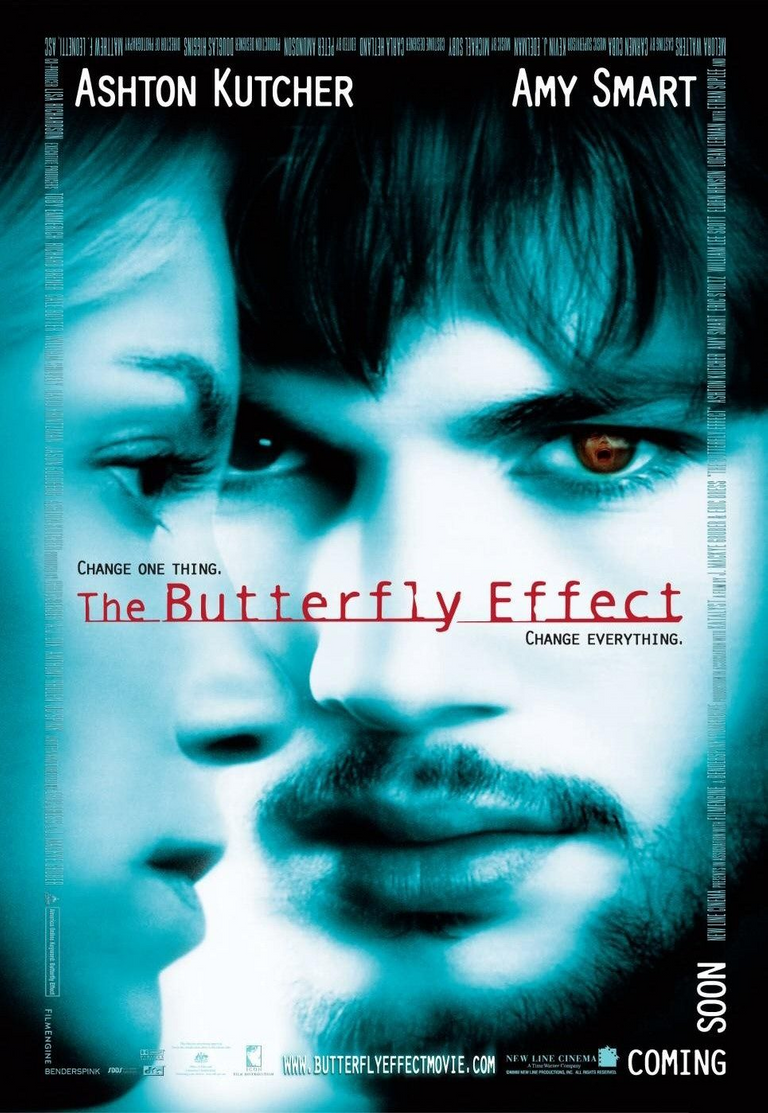 imdb.com
SINOPSIS
Evan Treborn es un niño con pequeñas lagunas mentales, olvida que es lo que hizo y lo que sucedió a su alrededor, como terapia debe llevar un diario que lo ayude a recordar un poco, llegando a armar un rompecabezas en su mente de los acontecimientos. Pero muchos años después, cuando creía que esas lagunas mentales desaparecieron, Evan consigue la razón de esos desmayos, comenzando un viaje que cambiara su vida repetidas veces.

SYNOPSIS
Evan Treborn is a child with small mental blackouts, he forgets what he did and what happened around him, as therapy he should keep a diary that helps him remember a little, getting to put together a puzzle in his mind of the events. But many years later, when he believed that those blackouts disappeared, Evan gets the reason for those blackouts, beginning a journey that will change his life over and over again.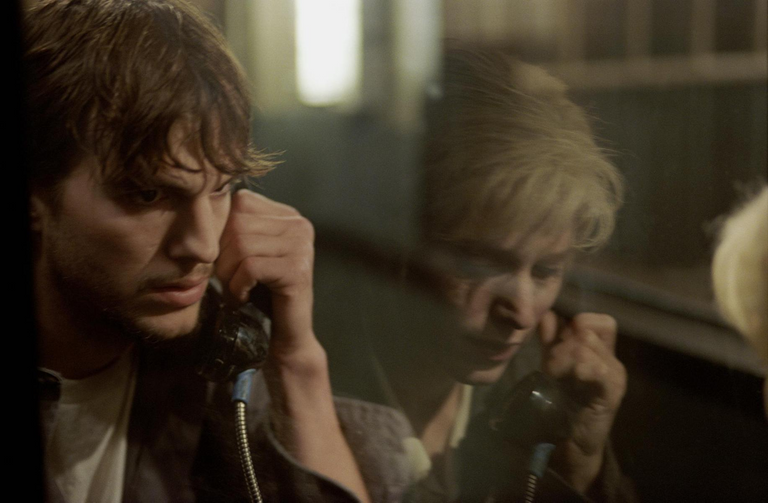 filmaffinity.com
PERSONAJES
Evan: Estudiante de psicología con una maldición (o don)
Kayleigh: Primer amor de Evan.
Tommy: Hermano de Kayleigh.
Lenny: Chico aficionado a los aviones.
Thumper: Compañero de cuarto de Evan en la universidad.

CHARACTERS
Evan: Psychology student with a curse (or gift)
Kayleigh: Evan's first love.
Tommy: Kayleigh's brother.
Lenny: Airplane guy.
Thumper: Evan's roommate in college.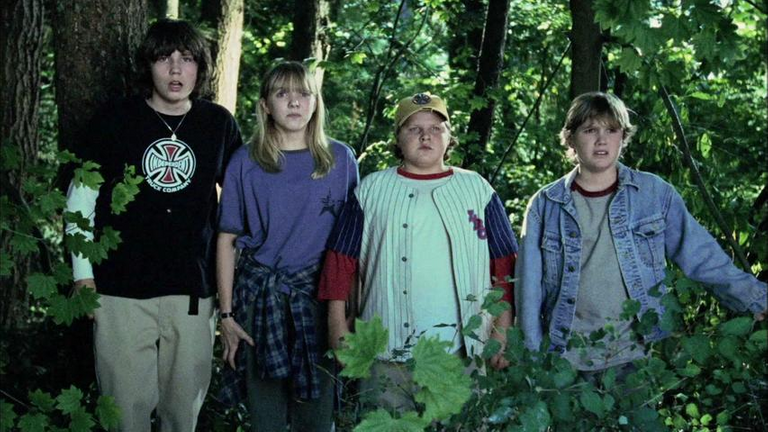 phancaohoainam.com
OPINIÓN
El efecto mariposa se estreno en el 2004, no puedo recordar si la vi en ese año o en el siguiente, pero si recuerdo que fue mi primera película que vi en un DVD, así que estoy seguro que fue cercano a su estreno. Recordando aquel entonces, me dio miedo la película, por todo lo que sucede y algunas escenas fuertes para un niño de cinco o seis años, a mis padres no les importo que la viera, porque sabían que me iría por el miedo.
Termine de ver toda la película de igual forma, no entendía algunas cosas pero no me importaba, a mi mamá le encanto y en los años siguientes vimos el efecto mariposa 2 y 3; no nos gustaron para nada y preferimos la primera. Ahora, en la actualidad, con veintidós años veo la misma película que me causo terror en mi niñez, viéndola de una forma más madura y acorde a mi edad.
La película es una aventura de viaje en el tiempo más siniestra, desde su inicio se da a entender que ira por un camino empinado, con consecuencias fatales, no como los viajes en el tiempo infinitos que nos muestra como podemos volver cuando queramos. Aunque en algunos casos no tiene sentido su viaje en el tiempo y sus consecuencias, es bastante bueno el camino que eligen seguir, pero deja algunas preguntas de como funciona su viaje en el tiempo.
El final de película es medianamente un final feliz, aunque puede no tener tanto sentido dado los hechos que nos dan, como que su cerebro se va dañando y podría quedar en estado vegetal, viaja por ultima vez encontrándose bien, no volviendo a intentar sus viajes en el tiempo. Pero en Youtube se puede conseguir el corte del director donde nos muestran un final alterno, uno con más sentido con los datos que nos dan.
Ashton Kutcher siempre lo ven como un actor de comedia, pero mi primera película que vi de él fue esta, siempre quedo en mi, no pude verlo como un tonto en That 70's Show o en otro lugar, lo vi como alguien con un potencial para el drama aunque puede tener una cara sencilla para la comedia. Ahora es un empresario que dejo a un lado el cine y las series, aunque aun trabaje en algunas como The Ranch, tenia entendido que dejaría todo eso, pero aun sigue haciendo proyectos que lo harán más visto. Sin duda alguna, recomiendo el efecto mariposa (No tanto la segunda ni la tercera, pero tendré que verla ahora para recordar que tan malas eran).

OPINION
The butterfly effect was released in 2004, I can't remember if I saw it that year or the next, but I do remember that it was my first movie I saw on DVD, so I'm sure it was close to its release. Remembering back then, I was scared of the movie, because of everything that happens and some strong scenes for a five or six-year-old child, my parents did not care if I saw it, because they knew that I would leave because of fear.
I finished watching the whole movie in the same way, I didn't understand some things but I didn't care, my mother loved it and in the following years we saw the butterfly effect 2 and 3; We didn't like them at all and we preferred the first one. Nowadays, at the age of twenty-two, I watch the same movie that terrified me in my childhood, seeing it in a more mature way and according to my age.
The film is a most sinister time travel adventure, from the beginning it is implied that it will go down a steep path, with fatal consequences, not like the infinite time travel that shows us how we can return whenever we want. Although in some cases their time travel and its consequences do not make sense, the path they choose to follow is quite good, but it does leave some questions of how it time travel works.
The ending of the film is moderately a happy ending, although it may not make as much sense given the facts that they give us, such as his brain is damaged and could remain in a vegetable state, he travels for the last time finding himself well, not trying his trips again in the time. But on YouTube you can get the director's cut where it show us an alternate ending, one with more meaning with the information they give us.
Ashton Kutcher is always seen as a comedy actor, but my first movie I saw of him was this, I always stay with me, I couldn't see him as a fool on That 70's Show or elsewhere, I saw him as someone with potential to drama although it may have a simple face for comedy. Now he is an entrepreneur who left cinema and series aside, although he still works in some such as The Ranch, I understood that he would leave all that, but he still continues to do projects that will make him more seen. I definitely recommend the butterfly effect (not so much the second or the third, but I'll have to watch it now to remember how bad they were).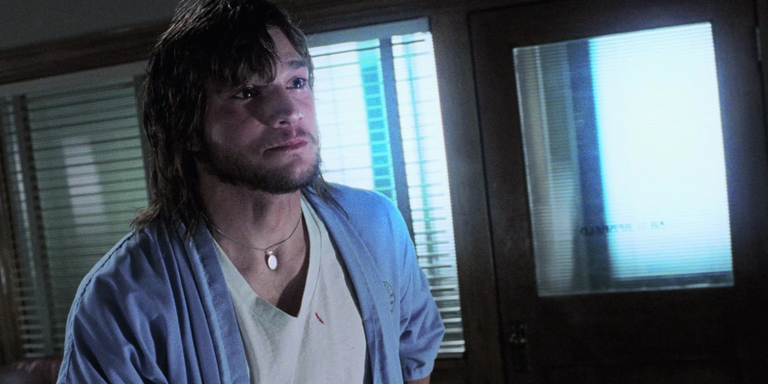 screenrant.com
Espero les haya gustado el post, sin más que decir, nos leemos en el siguiente post.
I hope you liked the post, without more to say, we read in the next post.
SÍGUEME/FOLLOW ME
Instagram
Hive
Twitter
---
---