(ESP-ENG) Es Shang-Chi de las mejores películas de Marvel? // Is Shang-Chi one of Marvel's best movies?
Hola amigos, buenas vibras para todos.
Hello friends, good vibes to all.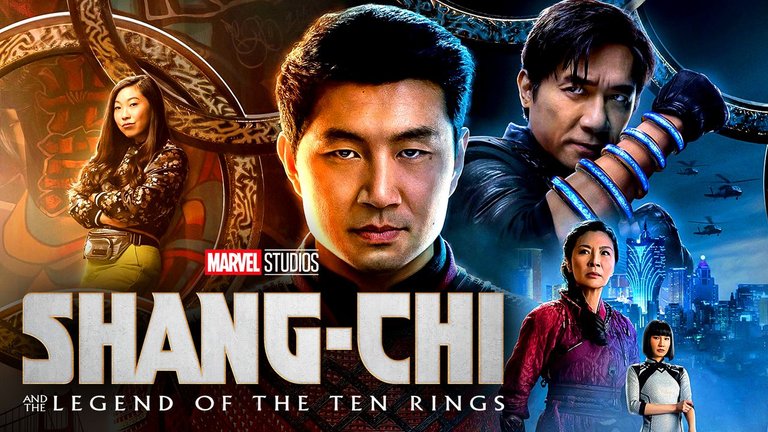 Aquí estamos de nuevo hablando sobre el universo cinematográfico de Marvel y es que hace un par de meses se estrenó una de las películas que conforman la fase 4 de este nuevo recorrido que van a llevar los superhéroes de Marvel. Este film lo tenía pendiente por ver y es que si hay alguien fanático de este mundo soy yo además de que todo aquel que la ha visto me ha hablado bastante bien de ella la verdad.
Here we are again talking about the Marvel Cinematic Universe and a couple of months ago was released one of the films that make up phase 4 of this new journey that will take the Marvel superheroes. I had this film pending to see and if there is someone who is a fan of this world is me plus everyone who has seen it has spoken quite well of it the truth.
Marvel nos tiene acostumbrado a películas muy buenas y que por lejos son superiores a las de DC Comics por ejemplo y quería comprobar si con ésta esa premisa se mantenía y pues luego de haberla visto se puede decir que si, esa regla se sigue manteniendo. Shang-Chi fue una muy grata sorpresa ya que para mi es una de las mejores películas que explican el origen de un superhéroe de Marvel así que entonces hablemos un poco de que va esta historia.
Marvel has accustomed us to very good movies that are by far superior to those of DC Comics for example and I wanted to check if this one maintained that premise and after having seen it we can say that yes, that rule is still maintained. Shang-Chi was a very pleasant surprise since for me it is one of the best movies that explain the origin of a Marvel superhero so let's talk a little bit about what this story is about.
Esta cinta comienza con Xu Wenwu (Tony Leung) quien es una mente criminal de China el cual se hace con los diez poderosos anillos y con todo el poder que conlleva poseerlos, todo con la finalidad de aumentar sus dominios, fuerza y autoridad en el mundo entero. Ese poder del que les hablo además de ser uno sobrenatural y místico está protegido por una vasta organización dedicada enteramente al mal y al caos.
This film begins with Xu Wenwu (Tony Leung) who is a criminal mind from China who gets hold of the ten powerful rings and all the power that comes with possessing them, all with the purpose of increasing his domain, strength and authority in the whole world. This power I am talking about, besides being a supernatural and mystical one, is protected by a vast organization entirely dedicated to evil and chaos.
Es entonces cuando aparece Shang-Chi, hijo de Wenwu, quien estando muy lejos de sus orígenes es encontrado por su padre a través de esta nefasta organización para buscar que se uniera a él. En este punto hay muchas cosas que nuestro protagonista no entiende y es por eso que decide irse a buscar a su hermana ya que teme que su padre vaya tras ella y así también comprender un poco que es lo que realmente está pasando.
It is then when Shang-Chi appears, Wenwu's son, who being far away from his origins is found by his father through this nefarious organization to find him to join him. At this point there are many things that our protagonist does not understand and that is why he decides to go to look for his sister because he fears that his father is after her and also understand a little of what is really happening.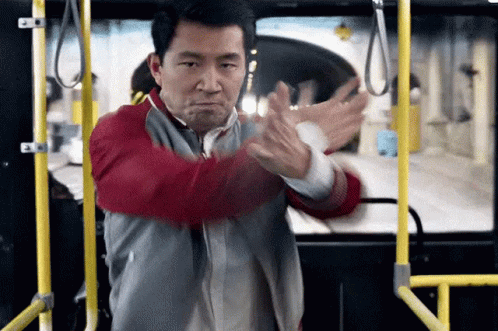 A esta altura de la película ya hemos presenciado unas buenas dosis de combate cuerpo a cuerpo, hemos entrado en contexto con la parte histórica y mágica de estos diez anillos y hemos logrado entender un poco como las ansías de poder y el amor más puro pueden ser un gran motor para que una persona haga el bien o el mal dependiendo lo que esta escoja como motivación de vida. Y es que mucho del trasfondo de este film es darse cuenta que siempre va a existir un lado bueno y uno malo y por más que las razones en el fondo sean las adecuadas hay que saber diferenciar cual es cual.
At this point in the film we have already witnessed a good dose of hand-to-hand combat, we have entered into context with the historical and magical part of these ten rings and we have managed to understand a little how the desire for power and pure love can be a great engine for a person to do good or evil depending on what he chooses as a motivation for life. And much of the background of this film is to realize that there will always be a good side and a bad one and even if the reasons are the right ones, you have to know how to differentiate which is which.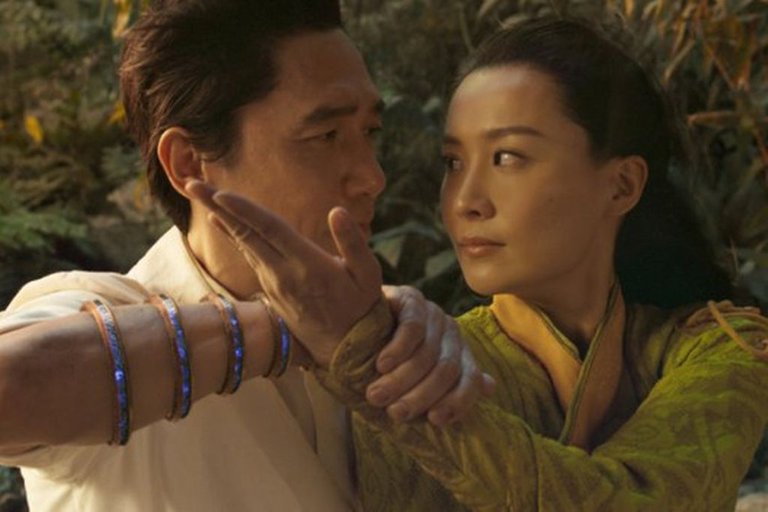 De las coas que más me gustaron es la profundidad de la historia y de como todo tiene un sentido, es decir, no es un simple relato sino que te van llevando poco a poco a través de flashbacks para que así vayamos entendiendo. Las historias orientales siempre tienen un atractivo diferente que por alguna razón, cuando son bien abordadas, logran atrapar al espectador y Shang-Chi es prueba de ello. Sin duda estamos ante un nuevo superhéroe que junto al Doctor Strange son los más interesantes hasta ahora.
One of the things I liked the most is the depth of the story and how everything has a sense, that is, it is not a simple story but they take you little by little through flashbacks so that we can understand. Oriental stories always have a different appeal that for some reason, when they are well approached, manage to catch the viewer and Shang-Chi is proof of this. Undoubtedly we are facing a new superhero who, together with Doctor Strange, are the most interesting ones so far.
Shang-Chi es protagonizado por Simu Liu y hay que decir que su nivel en las artes marciales es bastante sorprendente, sabía que era bueno pero no tanto. Porque si, esto es una película netamente de acción donde lo que predomina son las MUY BUENAS escenas de peleas, de lo más top que he visto y es que Marvel no se ha caracterizado mucho por este tipo de contenido pero sinceramente con esta adaptación lo hizo en grande.
Shang-Chi is starred by Simu Liu and I must say that his level in martial arts is quite surprising, I knew he was good but not that good. Because yes, this is a purely action movie where what predominates are the VERY GOOD fight scenes, the top I've seen and Marvel has not been characterized much by this type of content but honestly with this adaptation did it big.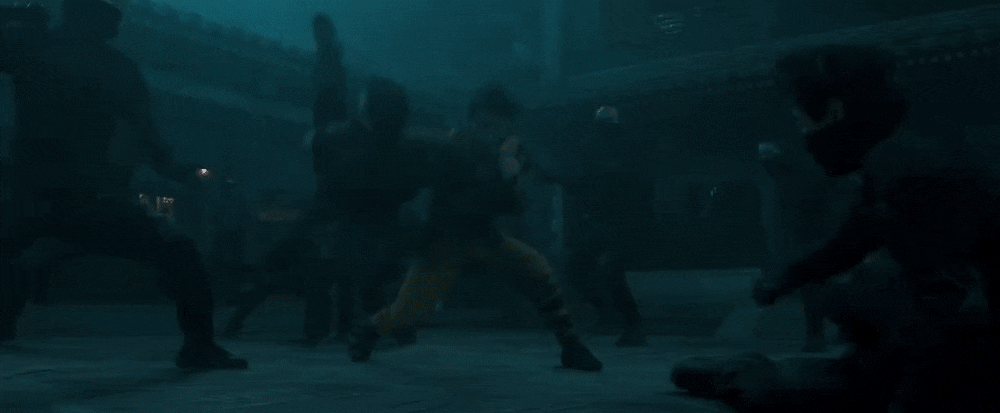 El elenco lo completan Katy (Awkwafina) y la hermana de nuestro héroe, Xialing (Meng'er Zhang). Una de las marcas de Marvel es la comedia en sus guiones y eso también lo vemos acá por parte de Katy, amiga de Shang-Chi, quien es el personaje fresco de la historia y la encargada de relajar el ambiente cuando la tensión se hace presente. Si me lo preguntan es un buen elenco, no hubo un personaje que me defraudara o me quedara a deber un poco más de la cuenta.
The cast is completed by Katy (Awkwafina) and our hero's sister, Xialing (Meng'er Zhang). One of Marvel's trademarks is the comedy in their scripts and we also see that here from Katy, Shang-Chi's friend, who is the fresh character of the story and the one in charge of relaxing the atmosphere when the tension is present. If you ask me, it's a good cast, there wasn't a character that let me down or left me wanting a little more than I should have.
El "villano" es Wenwu. Lo pongo entre comillas porque cuando la vean serán ustedes los que decidan si realmente era una persona mala. La cosa es que sea cual sea la visión que cada uno tenga sobre este personaje fueron sus matices y dualidades, para bien o para mal, lo que hicieron que esta historia sea la que es.
The "villain" is Wenwu. I put it in quotes because when you see it you will be the ones to decide if he was really a bad person. The thing is that whatever view everyone has of this character it was his nuances and dualities, for better or worse, that made this story what it is.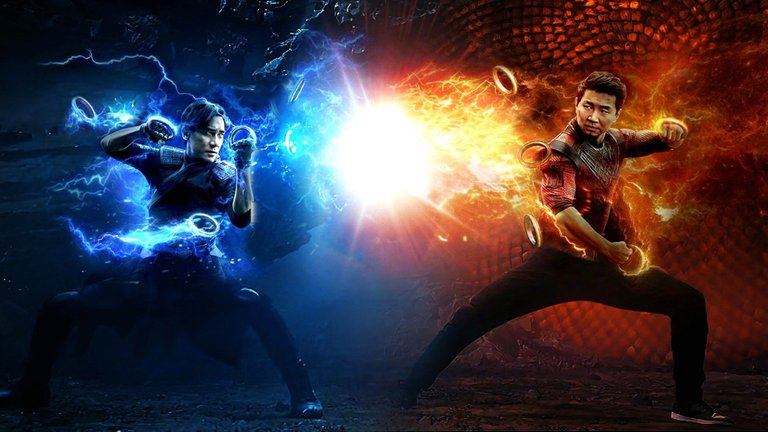 Para ir finalizando y solo por hacerle el apartado correspondiente los efectos y animaciones son un 10/10 rotundo, Marvel casi nunca defrauda en este departamento. Hay muchas escenas que uno da por sentado porque aparentemente no tienen un trabajo por detrás y son en esas especialmente donde se aprecia la limpieza increíble trabajo visual de esta cinta.
To finish and just to make the corresponding section the effects and animations are a resounding 10/10, Marvel almost never disappoints in this department. There are many scenes that one takes for granted because they apparently have no work behind them and it is especially in those scenes where you can appreciate the incredible visual cleanliness of this film.
Habiéndolo dicho casi todo y tal y como le expreso en el titulo de esta publicación, en mi muy humilde opinión estamos ante una de las mejores películas que ha producido Marvel. Por qué? - porque es simplemente diferente a lo visto anteriormente, tiene una historia atractiva, es brutalmente entretenida y es evidente que existe un buen arte marcial.
Having said almost everything and as I express in the title of this publication, in my humble opinion we are facing one of the best movies Marvel has ever produced. Why? - Because it is simply different from what has been seen before, it has an attractive story, it is brutally entertaining and it is evident that there is a good martial art.
La recomiendo? - SIN DUDAS. Es que no es la típica historia del superhéroe, en lo personal lo que me atrapó es todo el fondo que hay detrás del origen y todo lo que se le puede explotar en un futuro. Tiene una duración de un poco más de dos horas y está disponible en Disney Plus. Le doy un 9/10 y porque como siempre he dicho, la perfección no existe. Les dejo el tráiler para que se sumerjan en esta asombrosa historia.
Do I recommend it? - WITHOUT A DOUBT. It's not the typical superhero story, personally what got me is all the background behind the origin and everything that can be exploited in the future. It has a duration of a little over two hours and is available on Disney Plus. I give it a 9/10 and because as I have always said, perfection does not exist. I leave you with the trailer to immerse yourself in this amazing story.
Bueno mi gente por hoy es todo, espero que les haya gustado.
¡Un abrazo a todos, nos leemos en la próxima!<.center>
Well my people that's all for today, I hope you liked it.
Hugs to all, see you next time!
---
---