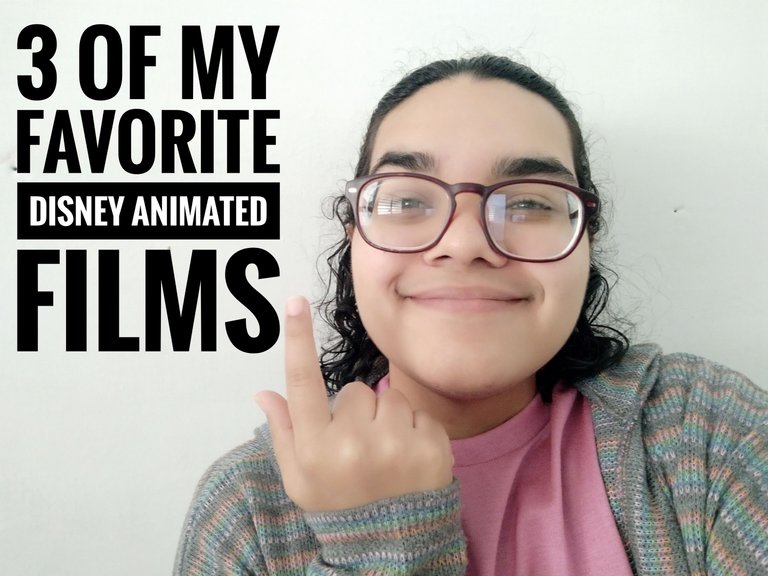 Saludos a todos los miembros de la comunidad, ¿cómo están? En esta oportunidad quise compartirles algunas de mis películas animadas favoritas de Disney, una tarea titánica para mí considerando que he sido fanática de ellas desde que tengo uso de razón. Debo decir entonces que en un principio quise hacer una selección de tres películas con un formato de ranking, pero ¿cómo puedes hacer algo así cuando prácticamente todas son tus favoritas? La películas animadas de Disney han sido parte de la vida de muchos como yo que hemos crecido a su lado, no sólo en nuestra infancia sino inclusive ahora siendo adultos, y es que si algo tienen esta clase de películas es que aunque su público objetivo sean niños sus mensajes van más allá de la edad, nos sirven a todos los que las vemos.
Greetings to all the members of the community, how are you? This time I wanted to share with you some of my favorite Disney animated movies, a titanic task for me considering that I have been a fan of them since I can remember. I must say then that at first I wanted to make a selection of three movies with a ranking format, but how can you do something like that when practically all of them are your favorites? Disney animated films have been part of the lives of many like me who have grown up with them, not only in our childhood but even now as adults, and if there is something about this kind of movies is that although their target audience is children, their messages go beyond age, they serve all of us who watch them.
Están organizadas en razón de la fecha en que se estrenaron y no a ninguna preferencia de una sobre la otra, aunque reconozco que la película de 'El Jorobado de Notre Dame' ha sido la única a la que he hecho referencia como mi favorita entre todas por muchos años y dudo que eso vaya a cambiar algún día aunque nunca se sabe, sin embargo con las demás me ha resultado imposible establecer un orden, por eso ni siquiera voy a intentarlo, sería como mentirme a mí misma. Como siempre, advertiré que en esta publicación podrán encontrarse una serie de spoilers por lo que si alguien no ha visto las películas y tiene pensado verla, pueden evitarse el mal trago.
They are organized according to the date they were released and not to any preference of one over the other, although I recognize that the film 'The Hunchback of Notre Dame' has been the only one I have referred to as my favorite among all for many years and I doubt that will change someday but you never know, however with the others it has been impossible for me to establish an order, so I'm not even going to try, it would be like lying to myself. As always, I will warn that a number of spoilers can be found in this post so if anyone has not seen the movies and plans to see it, you can avoid the bad taste.
The Hunchback of Notre Dame – El Jorobado de Notre Dame (1996)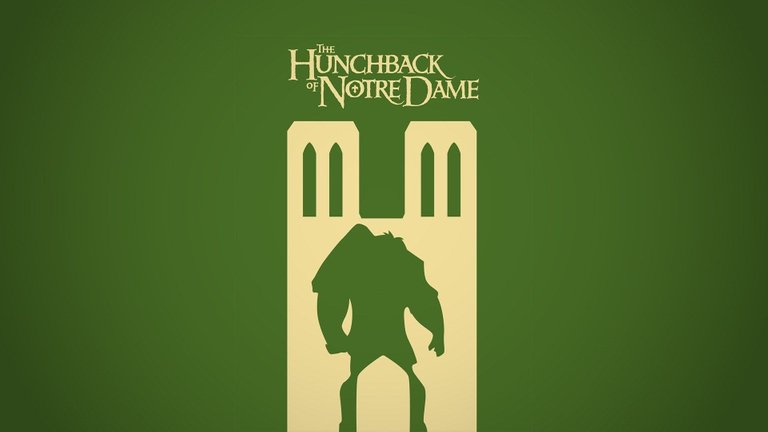 Fuente
Una película que cautivó mi corazón para siempre desde la primera vez que la vi a través de su historia a mi parecer maravillosamente contada, con un sentido de la estética magnífico, un concepto artístico precioso y una banda sonora de los cuales todavía sigo enamorada hasta el día de hoy. Nos cuenta la trágica historia de Cuasimodo, a quien conoceremos técnicamente desde que era un bebé pese a que no nos lo muestran a detalle. Este para su desgracia ha caído en las garras del juez Frollo, un hombre perverso que odia a todos los gitanos y por ello ha hecho de eliminarlos uno de sus objetivos de vida, incluyendo a la madre de Cuasimodo, quien era gitana. En un principio Frollo también quiere acabar con Cuasimodo, pero no por gitano sino porque nació siendo deforme, sin embargo es detenido y al final decide perdonarle la vida, una que se verá obligado a vivir en secreto, confinado entre las paredes de la catedral de Notre Dame escondido del resto del mundo.
A film that captivated my heart forever from the first time I saw it through its story, in my opinion wonderfully told, with a magnificent sense of aesthetics, a beautiful artistic concept and a soundtrack that I am still in love with to this day. It tells the tragic story of Quasimodo, who we technically know since he was a baby, although he is not shown in detail. He has unfortunately fallen into the clutches of Judge Frollo, a perverse man who hates all gypsies and has made it one of his life's goals to eliminate them, including Quasimodo's mother, who was a gypsy. At first Frollo also wants to do away with Quasimodo, but not because he is a gypsy but because he was born deformed, however he is arrested and in the end decides to spare his life, one that he will be forced to live in secret, confined within the walls of the cathedral of Notre Dame hidden from the rest of the world.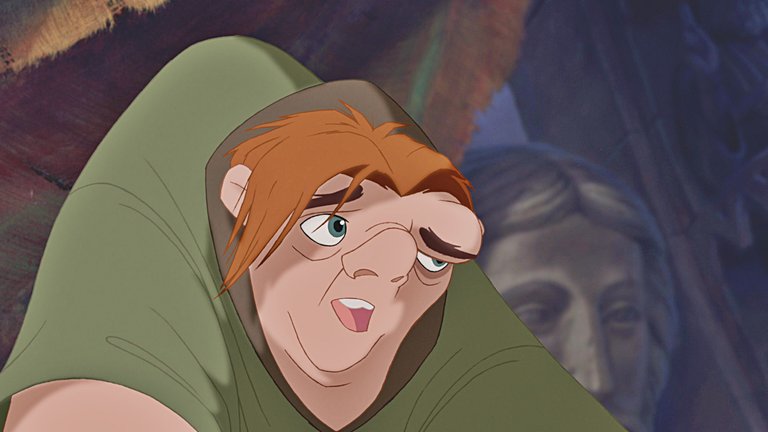 Fuente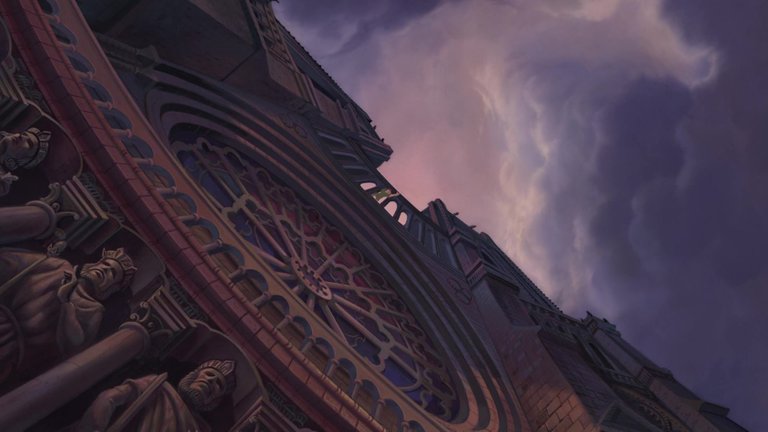 Fuente
Es así como Cuasimodo crece atraído por la idea de salir, ver lo que se encuentra más allá de ese sitio que le ha servido como una cárcel, sin embargo el juez Frollo ha hecho un excelente trabajo de manipulación, haciendo que crezca como alguien sumiso, preocupado de ir en contra de los deseos de aquel que considera incluso su 'amo' y deja entonces entrever la clase de relación existente entre ambos, Cuasimodo ha sido criado cual sirviente, alguien con obediencia ciega. Esta es una de las cosas que a mi modo de verlo llaman más la atención, y es que la película toca temas que no son lo que consideraría precisamente para niños, nos muestra a un verdadero villano, cruel, manipulativo y despiadado desde el principio sin ningún tipo de intención de suavizarlo, alguien que se aprovecha de su posición de poder para hacer su voluntad aunque atente contra la vida de los demás, uno que entra dentro de la lista de peores antagonistas y en mi opinión se lleva el primer puesto por los actos atroces que comete, así como el hecho de que tiene la audacia de hacerlo ver como si fuese el bueno de la historia.
This is how Quasimodo grows up attracted by the idea of going out, seeing what lies beyond that place that has served as a prison, however, Judge Frollo has done an excellent job of manipulation, making him grow as someone submissive, worried about going against the wishes of the one he even considers his 'master' and then lets then glimpse the kind of relationship between the two, Quasimodo has been raised as a servant, someone with blind obedience. This is one of the things that I find most striking, and that is that the film touches on themes that are not what I would consider precisely for children, it shows us a real villain, cruel, manipulative and ruthless from the beginning without any intention of softening it, someone who takes advantage of his position of power to do his will even if it threatens the lives of others, one who enters the list of worst antagonists and in my opinion takes first place for the heinous acts he commits, as well as the fact that he has the audacity to make him look as if he were the good guy in the story.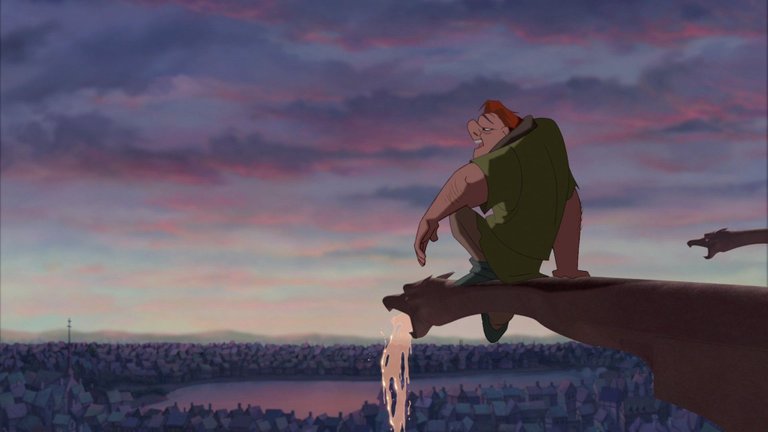 Fuente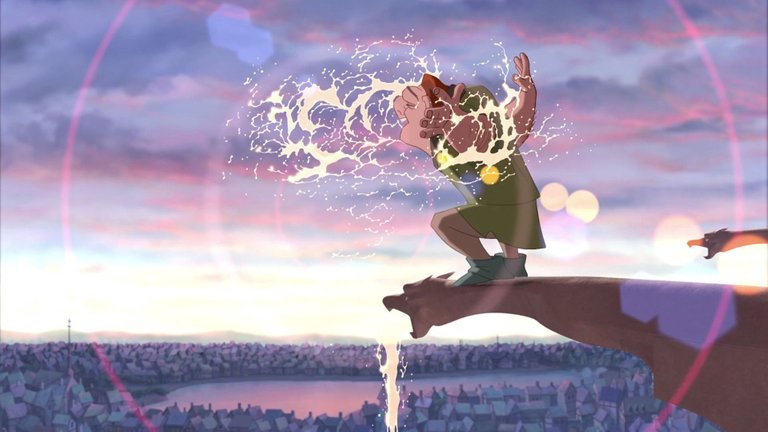 Fuente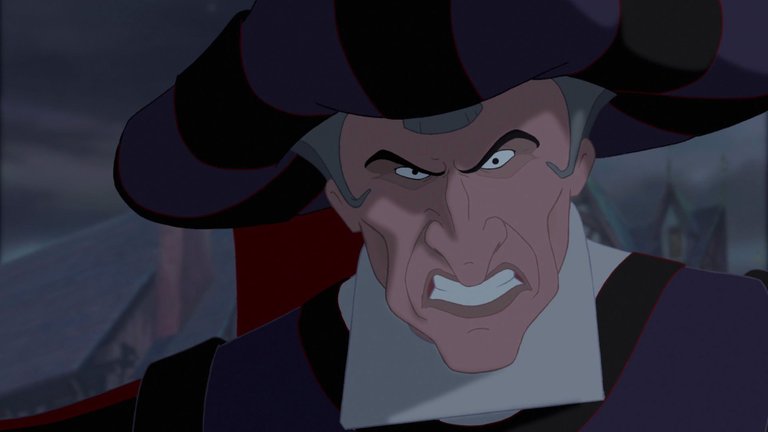 Fuente
En el fondo nos enseñan sobre dónde podremos encontrar la verdadera belleza y de qué se trata en realidad ser un monstruo, rompiendo los estigmas. Muestra el valor de la libertad, de seguir nuestras convicciones para defender lo correcto a pesar de que nos hayan enseñado lo contrario, y en definitiva que nuestras diferencias no tienen que significar algo malo, que simplemente no todos somos iguales. Todo esto de una manera que para su época podía ser considerado arriesgado y lo fue, pero se vio recompensada siendo recordada como una joya dentro de los clásicos —para mí de las películas animadas en general, pero tampoco voy a ponerme intensa— cuyas enseñanzas siguen vigentes.
Deep down they teach us about where we can find true beauty and what being a monster is really about, breaking down stigmas. It shows the value of freedom, of following our convictions to stand up for what is right even though we have been taught otherwise, and ultimately that our differences don't have to mean something bad, that we are simply not all the same. All this in a way that for its time could have been considered risky, and it was, but it was rewarded by being remembered as a jewel among the classics -for me of animated films in general, but I'm not going to get intense- whose teachings are still valid.
Zootopia (2016)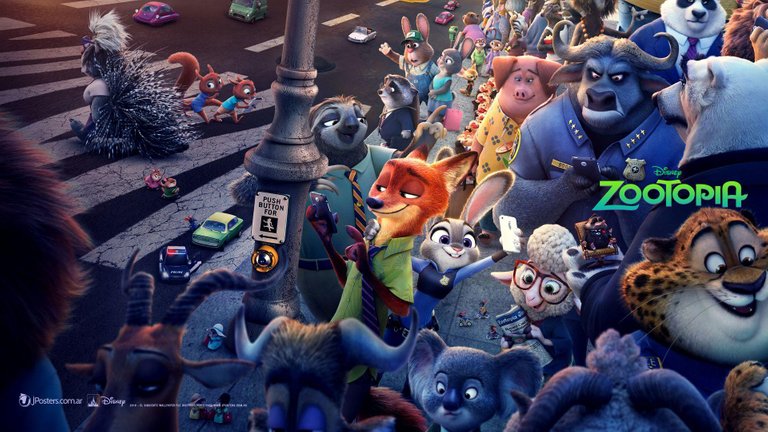 Fuente
¿A qué niño no le han desinflado alguna vez sus sueños? Nos han dicho en algún momento que seamos realistas, que lo que queremos probablemente no se nos cumplirá. Eso es precisamente la historia de Judy Hopps, una coneja que tiene desde pequeña el sueño de ser una oficial de policía para hacer un mundo mejor, pero es constantemente subestimada, incluso por sus propios padres. Pese a las críticas de todos los demás, decide seguir con su idea, superando los obstáculos hasta convertirse en una oficial de policía, y no sólo eso, en la primera coneja en ser oficial de policía… para que después su jefe no la quiera tomar en serio tampoco y sea asignada para monitorear los parquímetros.
What child hasn't had his or her dreams deflated at some point? We have been told at some point to be realistic, that what we want probably won't come true. That is precisely the story of Judy Hopps, a rabbit who has had a dream since she was a little girl to be a police officer to make the world a better place, but is constantly underestimated, even by her own parents. Despite the criticism of everyone else, she decides to follow through with her idea, overcoming the obstacles until she becomes a police officer, and not only that, the first rabbit to become a police officer... only for her boss to not want to take her seriously either and she is assigned to monitor the parking meters.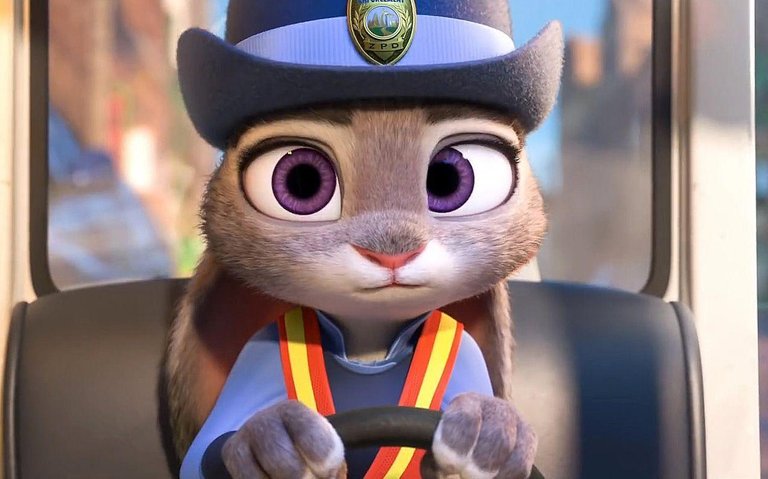 Fuente
Judy decide que de cualquier manera y en contra de su jefe se abrirá paso para ser una verdadera oficial de policía, pero como desobedecer las órdenes de tu superior por mucho que sean injustas nunca es una buena opción, se coloca en una difícil posición que pudo haber sido mucho peor de no ser por una ayuda fortuita que le cayó de maravilla. Debiendo cumplir con una misión sin ningún tipo de recursos ni de ayuda por parte del cuerpo policial al que se supone que pertenece, dejando claro que no tenían ninguna intención porque tuviese éxito, Judy tendrá que usar todo su ingenio para arreglárselas sola dentro del tiempo establecido y resolver el caso si quiere conservar su amado trabajo.
Judy decides that in any way and against her boss she will make her way to become a real police officer, but as disobeying your superior's orders, no matter how unfair they are, is never a good option, she puts herself in a difficult position that could have been much worse if it wasn't for a fortuitous help that fell into her hands. Having to accomplish a mission without any resources or help from the police force she is supposed to belong to, making it clear that they had no intention of making it succeed, Judy will have to use all her ingenuity to manage on her own within the established time frame and solve the case if she wants to keep her beloved job.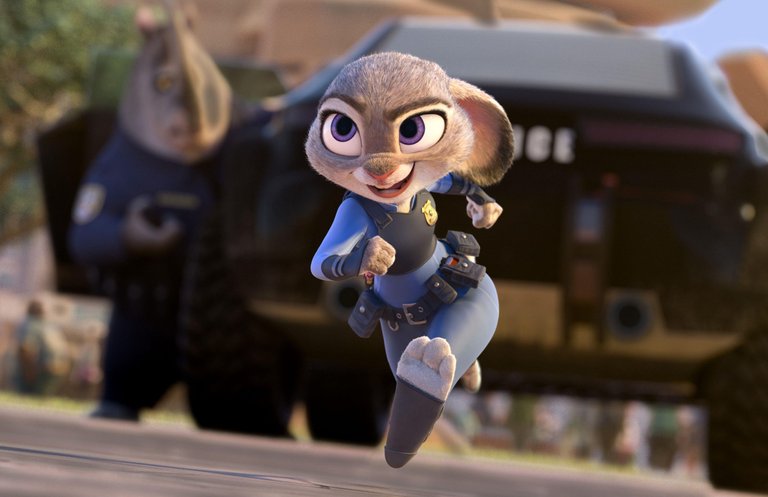 Fuente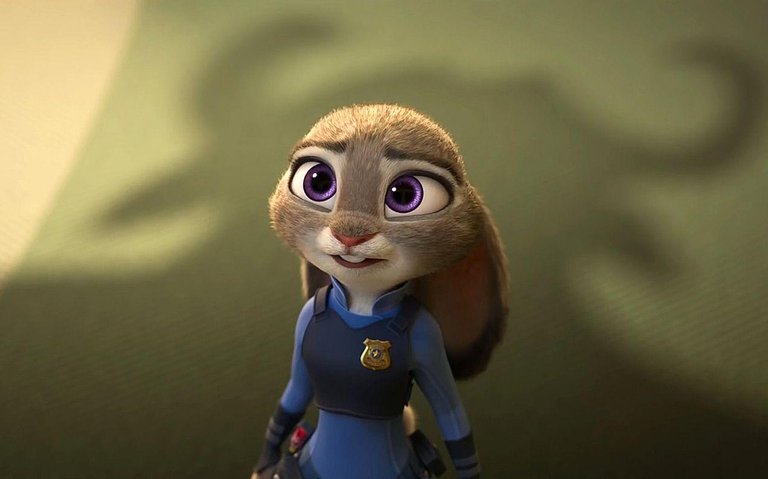 Fuente
Desde un principio se nos muestra lo que es ser discriminado, estigmatizando y estereotipado, primero con Judy y después con Nick, quien entra como refuerzo obligado, y por eso es que me encanta esta película. No solamente se trata de la superación personal en contra de todo pronóstico aunque representa gran parte del todo, sino también el daño que le ocasionan los prejuicios a la sociedad, de cómo a través del miedo que estos generan puede controlarse a las masas. Nos enseña que romper con los moldes previamente establecidos por la sociedad es importante, que si queremos algo es posible conseguirlo con perseverancia, sin desanimarnos por los comentarios maliciosos de aquellos que no creen en nosotros, y este es un mensaje importante tanto para niños como para adultos, aunque en nuestro caso sea un poco más difícil de creer sabiendo lo dura que puede ser la vida.
From the beginning we are shown what it is like to be discriminated against, stigmatized and stereotyped, first with Judy and then with Nick, who enters as a forced reinforcement, and that is why I love this film. It's not only about self-improvement against all odds even though it represents a large part of the whole, but also the damage that prejudice does to society, how through the fear it generates, the masses can be controlled. It teaches us that breaking with the molds previously established by society is important, that if we want something it is possible to achieve it with perseverance, without being discouraged by the malicious comments of those who do not believe in us, and this is an important message for both children and adults, although in our case it is a little harder to believe knowing how hard life can be.
La ambientación me parece maravillosa, cada detalle de ese universo que se ha creado para la posibilidad de convivencia entre un sinfín de especies diferentes en una misma ciudad hacen que la historia se sienta muy bien integrada, parte de algo más grande, y amaría ver más en una próxima entrega. Además, considero que a decir verdad la banda sonora le queda muy bien, contando con artistas de gran categoría como Shakira con su canción 'Try Everything' que me pareció genial.
The setting seems wonderful to me, every detail of this universe that has been created for the possibility of coexistence between a myriad of different species in the same city makes the story feel very well integrated, part of something bigger, and I would love to see more in a next installment. Also, I think that the soundtrack fits very well, with great artists such as Shakira with her song 'Try Everything', which I thought was great.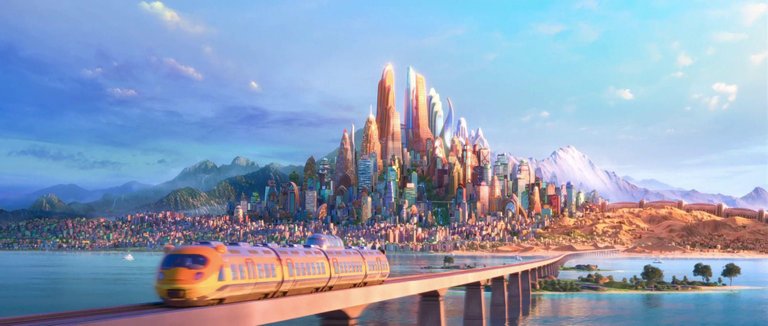 Fuente
Coco (2017)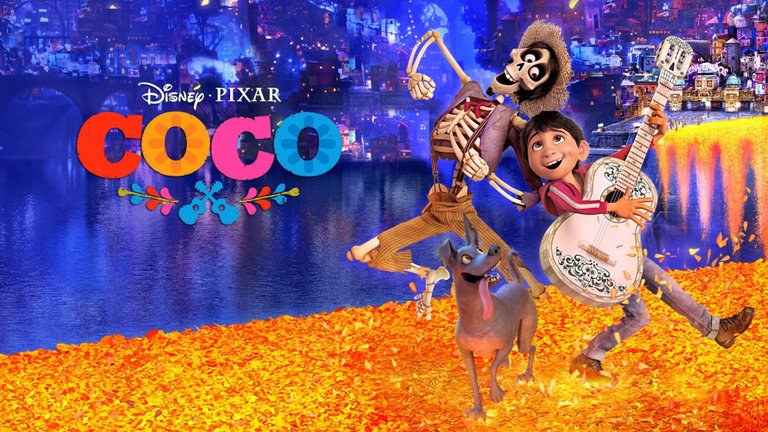 Fuente
En mi país tradicionalmente no somos de hacer celebraciones a razón del Día de los Muertos como en México, sino que se acostumbra a ir con flores a las tumbas de nuestros seres queridos para visitarlos, nada más. La película se centra en esta celebración y en la familia Rivera, específicamente en Miguel, un niño que se ha enamorado perdidamente de la música a pesar de que su familia está en contra de ella a consecuencia de una vieja problemática familiar que viene desde su tatarabuela, incluso llegándole a prohibir que se relacione con cualquier cosa que tenga que ver con música. Este ha tenido que vivir su pasión a escondidas de su familia, porque sabe que si se enteran de que ha estado haciendo música, viendo música y respirando música en secreto, estará en muchos problemas, es por ello que crea un pequeño escondite en donde guarda una serie de artículos alusivos a Ernesto de la Cruz, uno de los más grandes cantantes del mundo y su ídolo, llegando hasta a hacerse una guitarra como la suya.
In my country we don't traditionally celebrate the Day of the Dead as we do in Mexico, but we are used to going with flowers to the graves of our loved ones to visit them, that's all. The film focuses on this celebration and the Rivera family, specifically Miguel, a boy who has fallen madly in love with music despite the fact that his family is against it as a result of an old family problem that goes back to his great-great-grandmother, even forbidding him to relate to anything that has to do with music. He has had to live his passion in secret from his family, because he knows that if they find out that he has been making music, watching music and breathing music in secret, he will be in a lot of trouble, that is why he creates a small hideout where he keeps a series of articles alluding to Ernesto de la Cruz, one of the greatest singers in the world and his idol, even making a guitar like his.
Fuente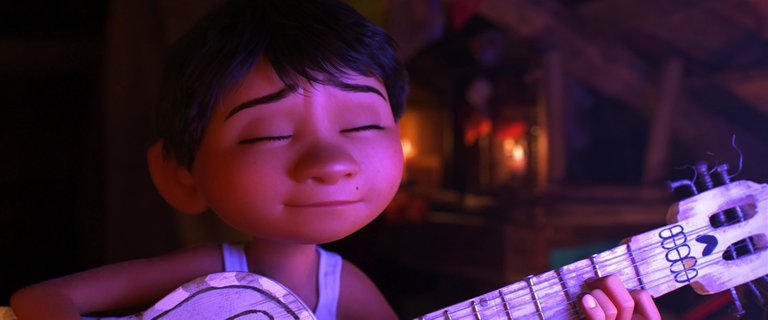 Fuente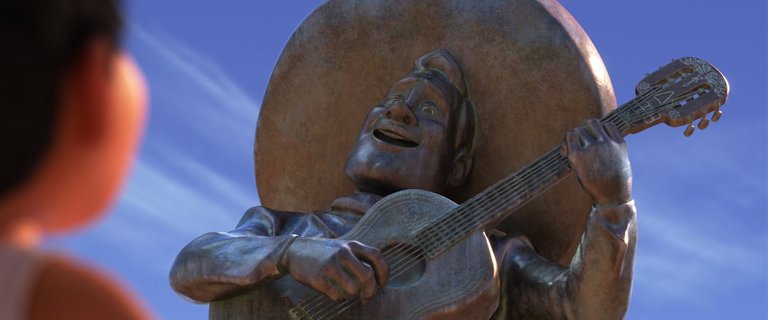 Fuente
Me encanta el hecho de que muestren una tradición que pese a no ser mía es parte de la cultura latinoamericana y eso es suficiente. Lo hacen además de una forma que da gusto verlo gracias a su espectacular arte y banda sonora que van de la mano, por sí solos representando gran parte de la esencia de la película que al final te toca directo en el corazón. Y es que para nosotros los latinoamericanos en su mayoría la familia será siempre una de las bases fundamentales de nuestra vida, es un vínculo del cual nunca nos olvidamos y siempre sigue presente sin importar distancia ni tiempo, así que al reflejar esto nos están representando a muchos.
I love the fact that they show a tradition that despite not being mine is part of Latin American culture and that's enough. They also do it in a way that is a pleasure to watch thanks to its spectacular art and soundtrack that go hand in hand, by themselves representing much of the essence of the film that in the end touches you right in the heart. And for most of us Latin Americans, family will always be one of the fundamental bases of our lives, it is a bond that we never forget and always remains present regardless of distance or time, so by reflecting this they are representing many of us.
La aparición de un concurso de talentos inevitablemente hace que Miguel entre en conflicto con su familia, porque quiere participar, y a consecuencia de una serie de eventos imprevistos, este termina llegando a la tierra de los muertos. De esta manera empezará una travesía por poder regresar sin tener que renunciar a lo que él más ama, es decir, la música, aprendiendo al mismo tiempo la importancia de la familia y tradición. Una parte de la línea argumentativa podría ser similar a la de Zootopia en el sentido de seguir luchando por tus sueños independientemente de los demás, pero esto va más allá de eso añadiéndole el fundamento importantísimo de la familia y cómo esta afecta nuestro ambiente, haciéndote llorar —en mi caso mucho— con el mensaje que se intenta transmitir y que consigue a la perfección. En lo personal me parece hermoso que se haga énfasis también en ese mantener vivo el recuerdo de esos seres queridos que ya no se encuentran con nosotros.
The appearance of a talent contest inevitably brings Miguel into conflict with his family, because he wants to participate, and as a result of a series of unforeseen events, he ends up arriving in the land of the dead. In this way he will begin a journey to be able to return without having to give up what he loves most, that is, music, while learning the importance of family and tradition. Part of the story line could be similar to that of Zootopia in the sense of continuing to fight for your dreams regardless of others, but this goes beyond that by adding the very important foundation of family and how it affects our environment, making you cry -in my case a lot- with the message it tries to convey and achieves it to perfection. Personally, I think it is beautiful that emphasis is also placed on keeping alive the memory of those loved ones who are no longer with us.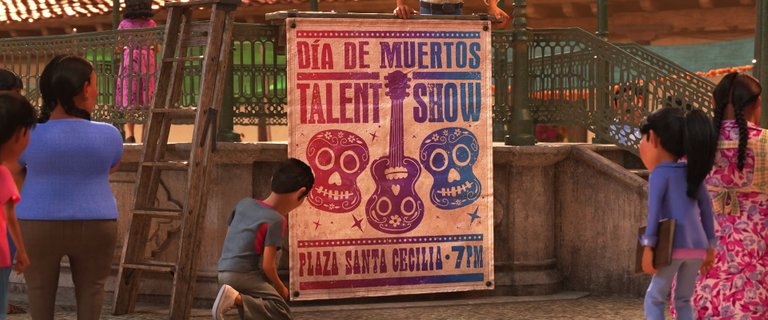 Fuente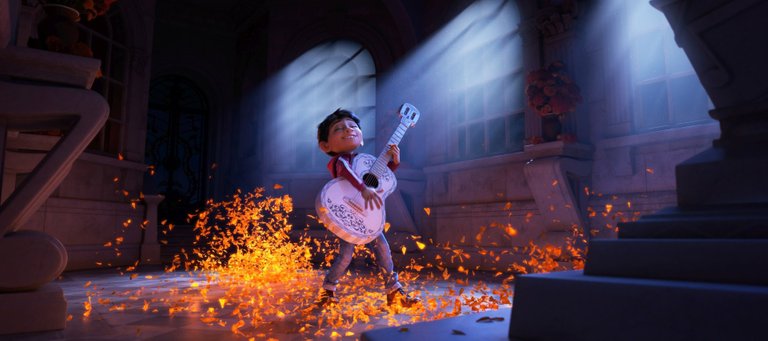 Fuente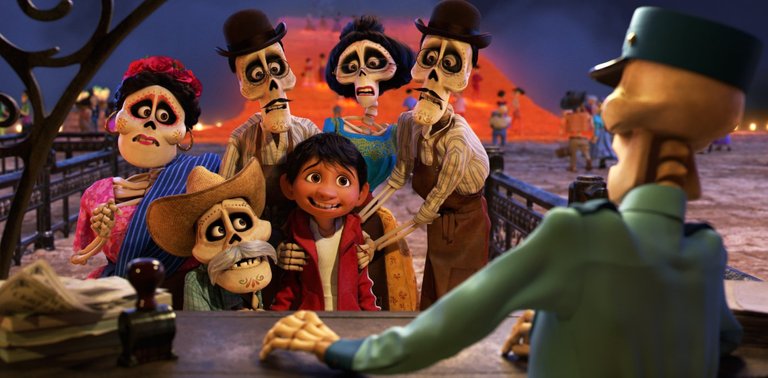 Fuente
Muchas gracias por leer, espero que tanto ustedes como sus familiares se encuentren muy bien de salud.
Thank you very much for reading, I hope you and your family are in good health.
La portada fue tomada desde mi teléfono Redmi Note 5 y editada en Snapseed.
The cover was taken from my Redmi Note 5 phone and edited in Snapseed.