Film Review: Night Shift (1982)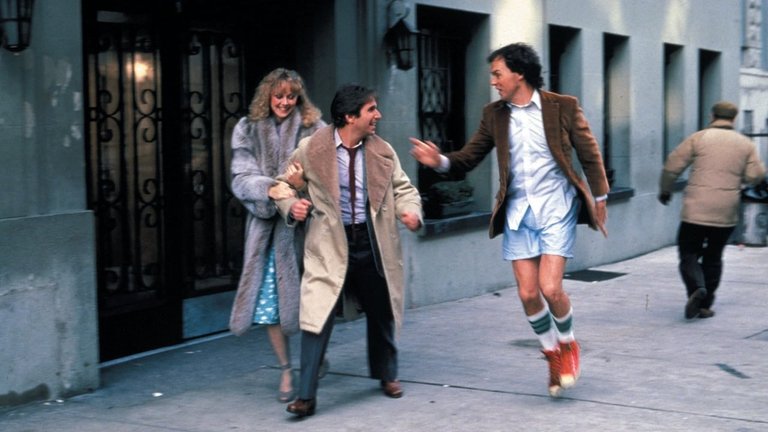 Prostitution is a theme that was relatively often dealt by Hollywood, even in the dark decades of infamous Hays Production Code. Mainstream films that portray that phenomenon sympathetically or, at least with the less hostility than religious conservatives and "woke" progressives do, are, however, rare. One of such examples is Night Shift, 1982 comedy directed by Ron Howard.
Prostitution is business that brings a lot of risks to those involved in it, which becomes apparent in the opening scenes, during which New York street pimp gets killed by two mobsters. Belinda Keaton (played by Shelley Long), one of his "working girls", is called to identify the body, which introduces her to the film's protagonist, morgue attendant Chuck Lumley (played by Henry Winkler). He is quiet, mild-mannered man, a former Wall Street stock broker who deliberately switched to this job in order to evade stress. When he is transferred to the night shift he gets a new partner in the form of manic, fast-talking Bill "Blaze" Blazejowski (played by Michael Keaton) who has all sorts of ideas how to get rich. Chuck later discovers that Belinda is his next-door neighbour and that, having to work without pimp's protection, suffers all kinds of abuses from her clients. Chuck and Bill decide to help her and set up prostitution ring which would be headquartered in the morgue. Chuck's financial expertise and Bill's business skill prove to be success and them and the girls begin to earn large amounts of money. Chuck, however, begins to have second thoughts because he has fallen in love with Belinda and want her to quit the business.
Night Shift was devised by producer Brian Grazer, based on the real events that had occurred in New York few years earlier. The script by Lowell Ganz and Babaloo Mandel has put the seemingly outrageous plot concept in the context of 1980s New York, where prostitution ring run from city morgue looked rather innocent compared with street violence, graffiti and rampant corruption within public administration – issues directly or indirectly portrayed in the film. Despite this seemingly grim setting, Night Shift is firmly in the comedic genre territory and this must be attributed to Ron Howard, actor-turned-director who, even in his early career, showed that such films were his forte. Howard also could rely on the very good cast. This included his Happy Days co-star Henry Winkler who perfectly played straight man, a character completely different from Fonzie. Shelley Long in one of her early roles perfectly dealt with seemingly cliched and potentially thankless role of the hooker with the heart of gold and this allowed to later become successful comedienne both in films and on television. But the biggest discovery was Michael Keaton who outshone everyone in his manic role and broke out to become one of the biggest stars of 1980s and 1990s. Quality of humour is not very high, but it is solid enough to provide entertainment for most of the audiences. Apart from bad language and occasional nudity, general tone of the film is very positive and almost family-friendly. However, there are issues with pacing, especially in the second part of the film and the finale seems somewhat rushed and confusing. However, for most of its running time Night Shift works well, partially aided by very good songs by famed composer Burt Bacharach which make the soundtrack.
RATING: 6/10 (++)
Blog in Croatian https://draxblog.com
Blog in English https://draxreview.wordpress.com/
Leofinance blog https://leofinance.io/@drax.leo
Cent profile https://beta.cent.co/@drax
Minds profile https://www.minds.com/drax_rp_nc
Uptrennd profile https://www.uptrennd.com/user/MTYzNA
Hiveonboard: https://hiveonboard.com?ref=drax
Rising Star game: https://www.risingstargame.com?referrer=drax
1Inch: https://1inch.exchange/#/r/0x83823d8CCB74F828148258BB4457642124b1328e
BTC donations: 1EWxiMiP6iiG9rger3NuUSd6HByaxQWafG
ETH donations: 0xB305F144323b99e6f8b1d66f5D7DE78B498C32A7

---
---