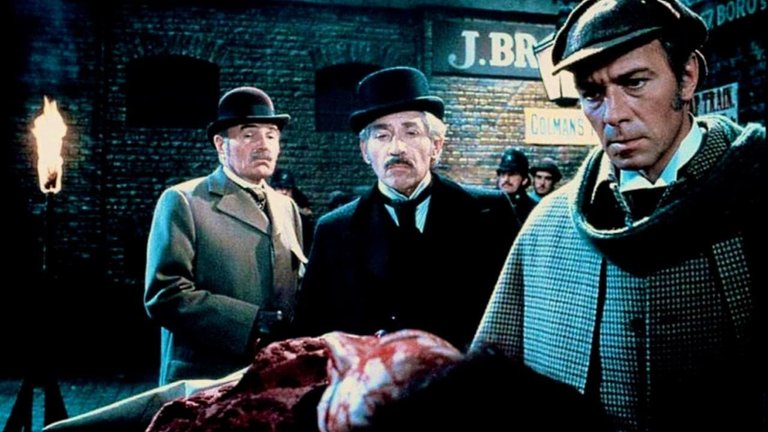 Unsolved murders of five prostitutes in 1888 London are the world's greatest crime mystery and the source of inspiration for countless novels, plays, comic books, films, TV shows and even video games. The identity of unknown killer, nicknamed "Jack the Ripper", has been subject of intense speculation including some really bizarre theories, including a rather disappointing episode of Star Trek in which he was portrayed as malevolent extraterrestrial. It was inevitable that the decades of Ripper-themed works produce the films in which Ripper was pitted against Sherlock Holmes, his most famous fictional contemporary. First of those two films was A Study in Terror, 1965 British film starring John Neville. World's most famous detective faced the world's most infamous killer fourteen years later in Murder by Decree, British-Canadian co-production directed by Bob Clark.
The plot shows how Sherlock Holmes (played by Christopher Plummer), London's best known detective, becomes intrigued with series of brutal murders of prostitutes in city's impoverished section of East End. He is even more intrigued with the fact that Scotland Yard, led by fumbling Sir Charles Warren (played by Anthony Quayle), appears not only incapable of catching the killer and ending the reign of terror, but refuses Holmes' attempts to help. Holmes and his friend Dr. Watson (played by James Mason) decide to investigate on their own and gradually discover that the victims were all connected to Annie Crook (played by Genevieve Bujold), young woman committed to mental asylum. Killer's apparent familiarity with Masonic rituals and connection with highest levels of government lead Holmes to believe that the whole affair began as an attempt to cover up scandal threatening to bring down British monarchy.
The script for Murder by Decree was loosely based on the book Ripper File by John Lloyd and Elwyn Jones, but the greatest inspiration for screenwriter John Hopkins came from Jack Ripper: The Final Solution, best-selling 1976 book by Steven Knight which presented theory about murders being part of vast conspiracy involving the government and British royal family. This explanation for Ripper never being caught or identified, which was, like many other conspiracy theories, quite popular in 1970s due to anti-establishment sentiments, and later used by Alan Moore for his celebrated graphic novel From Hell and its disappointing Hollywood adaptation. Bob Clark in his interpretation of events was less ambitious than Moore, but Murder by Decree nevertheless puts the murders in socio-economic and political context of late Victorian Britain. Despite the high budget and late 19th Century city being recreated in Shepperton studios, most of the film takes part in its seedier parts, and Ripper's victims (with exception of the last, played by Canadian star Susan Clark) look just as unremarkable as the women who would risk their lives on the dark streets of East End in order to make ends meet.
This approach, which is both realistic and revisionist, is followed even in portrayal of fictional Holmes. Christopher Plummer, one of the greatest Canadian actors of his time, tries to give new dimension to the world's iconic detective. His Holmes is far from "iceberg with a brain" and allows himself to be emotional, especially at the end when faced with the realisation that he failed to save some of the victims and that the truth would never be known. Revisionist view of Holmes is followed by Dr. Watson being something more than Holmes' intellectually inferior sidekick; he is portrayed more as Holmes' equal and quite able to come to his friend's rescue. Watson is played by James Mason in one of the last great roles of his career, and that performance is accompanied by numerous Canadian and British stars in supporting roles. Murder by Decree has some issues with pacing, and the ending might be somewhat weak and predictable, especially those familiar with history and conspiracy theories. However, it is still well-produced, well-directed, well-acted film that gives interesting and thought-provoking mix of fiction and historical facts.
RATING: 7/10 (++)
Blog in Croatian https://draxblog.com
Blog in English https://draxreview.wordpress.com/
Leofinance blog https://leofinance.io/@drax.leo
Cent profile https://beta.cent.co/@drax
Minds profile https://www.minds.com/drax_rp_nc
Uptrennd profile https://www.uptrennd.com/user/MTYzNA
Hiveonboard: https://hiveonboard.com?ref=drax
Rising Star game: https://www.risingstargame.com?referrer=drax
1Inch: https://1inch.exchange/#/r/0x83823d8CCB74F828148258BB4457642124b1328e
BTC donations: 1EWxiMiP6iiG9rger3NuUSd6HByaxQWafG
ETH donations: 0xB305F144323b99e6f8b1d66f5D7DE78B498C32A7