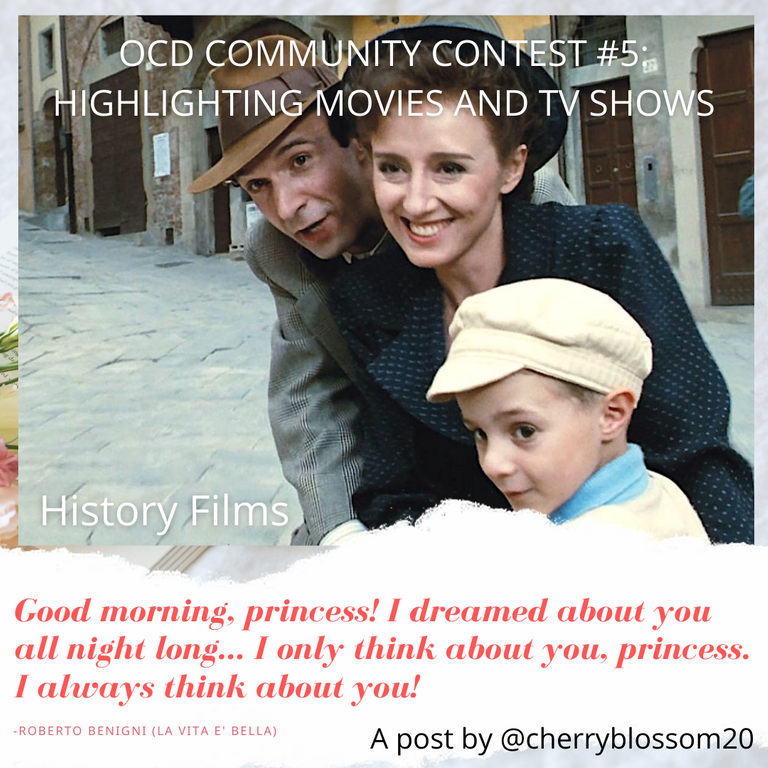 There's nothing like a good movie to introduce you to places, times and worlds you wouldn't have known otherwise.
No hay nada como una buena película para presentarte lugares, tiempos y mundos que de otra manera no hubieras conocido.
I think we all agree on that this week. Hello, everyone! Ever since I met this community I've been excited about posting something of my own.
Pienso que todos estaremos de acuerdo en eso esta semana. Hola a todos! Desde que conocí esta comunidad he estado emocionada acerca de postear algo propio.

I know that for some, more than just an artistic expression, the world of cinema is a sort of scape.
Sé que para algunos, más que una simple expresión artística, el mundo del cine es una especie de escape.

As I like history, comedy, drama and romance, it feels good thinking about this idea of scaping and traveling every time I watch a movie.
Como me gusta la historia, la comedia, el drama y el romance, pensar sobre esta idea de escapar y viajar cada vez que observo una película se siente bien.
Historical films have always ignited in me the spark of curiosity, for relating to those cultures that I would like to know in depth and for empathizing with human feelings that transcend eras.
El cine histórico siempre ha encendido en mí la chispa de la curiosidad, para relacionarme con aquellas culturas que desearía conocer a profundidad y para empatizar con sentimientos humanos que transcienden épocas.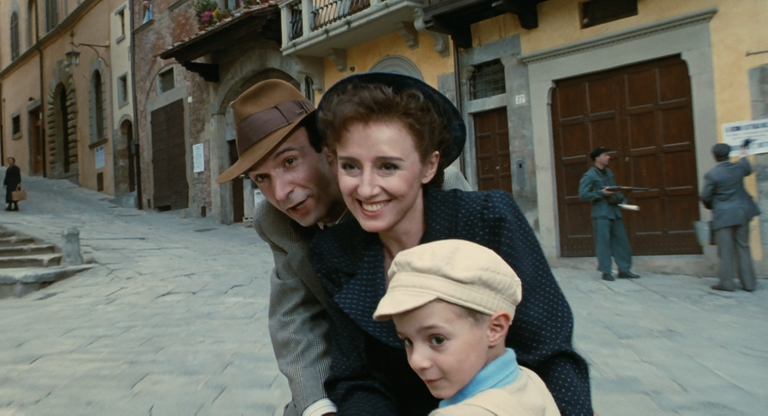 One of my favorite historical and dramatic films is Life is Beautiful (La Vita e' Bella), from the Italian director Roberto Benigni. Besides being inspired by a concrete scenario in history, the director partially showed the real experience of one of the survivors of the Holocaust and writer, Rubino Romeo Salmoni.
Una de mis películas históricas y dramáticas favoritas es La Vida es Bella (La Vita e' Bella), del director italiano Roberto Benigni. Además de inspirarse en un escenario concreto de la historia, el director mostró parcialmente la experiencia real de uno de los sobrevivientes del Holocausto y escritor, Rubino Romeo Salmoni.

Rubino's book (Spanish edition)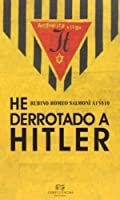 It was released in 1997 and tells the story of an italo-jewish family during the fascist government of Benito Mussolini in Italy, during World War II.
Fue estrenada en 1997 y cuenta la historia de una familia italo-judía durante el gobierno fascista de Benito Mussolini en Italia, durante la Segunda Guerra Mundial.
At first it wraps the viewer through comedy and the romance that occurs between our main character Guido (Roberto Benigni) and Dora (Nicoletta Braschi). He's the joyful and charismatic future owner of a book store and she's a gorgeous teacher.
En un principio envuelve al espectador a través de la comedia y el romance que ocurre entre nuestro protagonista Guido (Roberto Benigni) y Dora (Nicoletta Braschi). Él es el alegre y carismático futuro dueño de una librería y ella es una preciosa maestra.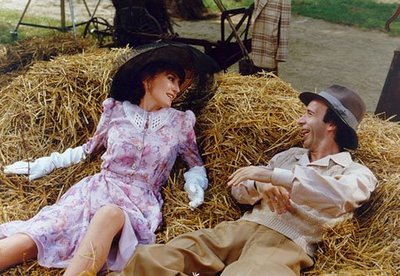 What might have become into a family history, about the love of two people towards his son Giosuè (Giorgio Cantarini), is firstly affected by the xenophobic fascist ideology and then by the cruelty inside the concentration camps.
Lo que podría haberse convertido en una historia familiar, acerca del amor de dos personas hacia su hijo Giosuè (Giorgio Cantarini), se ve primero afectado por la xenofóbica ideología fascista y luego por la crueldad dentro de los campos de concentración.
Among all this cruelty, it will be our main character's priority to make of that deranged world an innocent and competitive game for his little son, in which nothing bad really happens.
Entre toda esta crueldad, será la prioridad de nuestro protagonista hacer de ese mundo trastornado un juego inocente y competitivo para su pequeño hijo, en donde nada malo pasa realmente.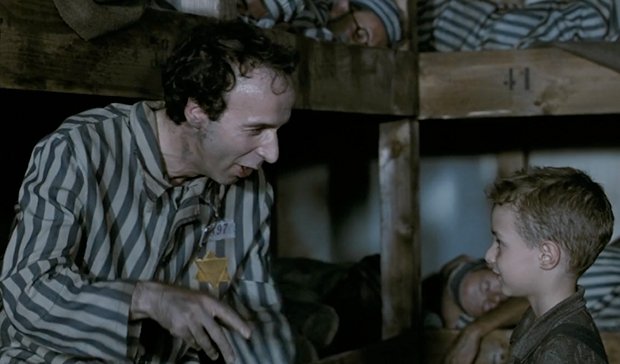 What I like the most about this film are all the human feelings of resilience that this family experiments in this horrifying period of history.
Lo que más me gusta sobre este film son todos los sentimientos humanos de resiliencia que esta familia experimenta en este horroroso período de la historia.
Dora, denying to leave her husband and son while they're being taken to the concentration camps and desperately looking for them. Guido's sorrow being purposely hide to make his son's life
easier.
Dora negándose a dejar a su esposo e hijo mientras son llevados a los campos de concentración y desesperadamente buscándolos. La pena de Guido siendo ocultada a propósito para hacer la vida de su hijo más fácil.
By far, I consider it one of the best historical films set in WWII. It is impossible not to feel overwhelmed by all the emotions that this film makes you feel under the very cruel historical context in which it is set.
Por mucho, la considero una de las mejores películas históricas ambientadas en la Segunda Guerra Mundial. Es imposible no sentirse abrumado por todas las emociones que esta película te hace sentir, bajo el contexto histórico tan cruel en el que está ambientada.

It makes me think about the difference between reading about this period and immersing yourself in it for a few hours, through the eyes of a character who makes us deeply empathize with those people who lived it.
Me hace pensar en la diferencia entre leer acerca de este período y sumergirse dentro del mismo durante unas pocas horas, a través de los ojos de un personaje que nos hace empatizar profundamente con aquellas personas que lo vivieron.
Later I discovered that Roberto Benigni also used his father's experience in the concentration camps as inspiration for this film. It's definitely worth seeing.
Después descubrí que Roberto Benigni también utilizó la experiencia de su padre en los campos de concentración como inspiración para esta filme. En definitiva,vale la pena verla.

If you like this film, it is likely that you have also seen and loved like me some of the following, which I also consider very good within the genre.
Si te gusta este género, es probable que también hayas visto y amado como yo algunas de las siguientes, a las cuales también considero buenísimas dentro del género.
12 years a slave/ 12 años de esclavitud
War Horse/ Caballo de Guerra
The Patriot/ El Patriota
The pianist/ El Pianista
(2013)/Historical, drama/ Steve McQueen
(2011)/Historical, drama/ Steven Spielberg
(2000)/Historical, action/ Ronald Emmerich
(2002)/ Historical, drama/ Roman Polanski

Cover and farewell edited with Canva
Portada y despedida editadas con Canva
Text partially translated by Google Translate.
Texto parcialmente traducido por Google Translate.