Welcome back to another of my movie reviews, this time it's a family-friendly, animated genre movie. They are the Croods, this is a cave family where we can see that the father of the family is the leader of the pack, where he must keep the family together and safe.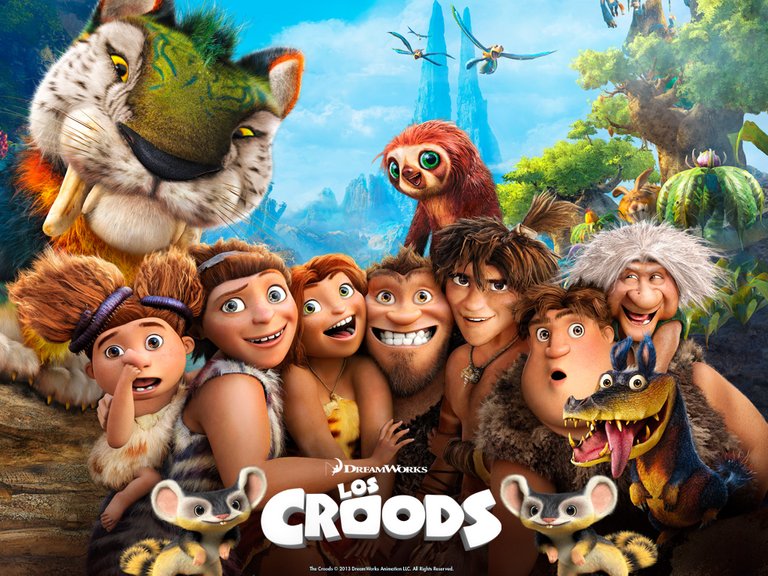 Source
---
Review
This is a film that begins in the prehistoric era, where the introduction reflects us how the family have become extinct for not having the worry or fear of new things. Right here is the Croods family, where it is led by an overprotective father named Grug (where he feels safe from the known), mother Ugga supports the decisions of her husband that he makes to lead a better life and be safe, they have three children named Eep (daughter) is a teenager who is starting life and wants to be like her father, but unlike him she is a very curious young woman and wants to experience new things (things that the father does not accept) , his son Tonk he is just a little innocent and a little stupid, his youngest daughter Sandy is a baby who at the same time looks like a hunting dog, because of his way of being, with this family lives the mother of Ugga, Grug's mother-in-law always questioning him in his decisions.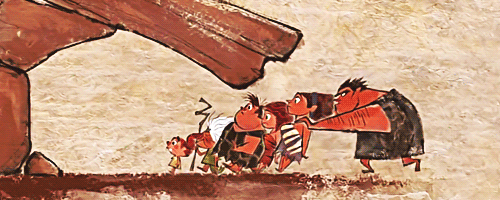 SOURCE
This family is always hidden in a cave to continue living, it goes out every two days to hunt, then it is in its cave sharing as a family listening to the story of Father Grug, but one night Eep sees a bright light outside his cave to which He is curious and leaves his family in secret, in that he sees another person with a torch he tells him how he can have the sun in his hands, to which Guy replies that this is not the sun, it is fire, but that he should not touch it , in that Guy tells her that they have to flee from there to walk towards tomorrow, because everything is going to be destroyed, Eep tells her that she cannot go without her family, to which Guy gives her a shell that when she is in danger with only she would blow he would come to rescue her. In another scene inside the cave, Grug realizes that his daughter is not in bed so everyone goes out to look for her, when she finds Eep, her father scolds her, she only says what Guy told her, she shows him the object that When the gift is blown, his father takes it from him among the whole family, destroys it and says "that new is bad."

When they go to enter the cave again, a strong earthquake destroys the cave, leaving the family homeless unprotected, it starts a long road but this dusk the darkness causes nature to transform, some carnivorous birds begin to eat all around them this family gathers between his back but Eep sees another shell on the ground, he takes it he begins to sound, to which Guy hears he returns when he observes the situation takes the torch he takes Eep he raises the fire the birds pass by but he does not devour it, from that moment Guy the Croods family begins to live new experiences and adventures, but another part of Grug does not want him to take away the affection of his daughter, wanting to continue being a patriarch but in this adventure his whole life will change.
---
Details
This is a film that was released in 2013, produced by Dreamworks Animation studios and distributed by 20th Century Fox, of animation, adventure and comedy genre. Written and directed by Kirk DeMicco and Chris Sanders and produced by Kristine Belson and Jan Hartwell. Motto of the movie "New is bad"
The voices were for the actors:
• Grug (Nicolas Cage)
The father and leader of the family, is overprotective, and insecure everything he does is for the good of his family.
• Ugga (Catherine Keener)
She is the wife of Grug and the mother of the family, although she supports the decisions of her husband, she is open to new things if it is for the good of the family.
• Eep (Emma Stone)
is the oldest of the Grug family, a young teenage girl who is in a time of curiosity and desire for adventure. Her father is her greatest hero.
• Tonk (Clark Duke)
is the second child and only son. He's a bit silly, but he has a good heart, he likes animals even though his father won't let him have a pet.
• Sandy (Randy Thom)
is a baby that has a very cave-like and hunting dog appearance as its prominent appearance that bites and growls.
• Gran (Cloris Leachman)
is Grug's mother-in-law, she's an old caveman who makes him criticize all of Grug's decisions apart from being a long-lived and fierce one.
• Guy (Ryan Reynolds)
He is a smart boy who uses his knowledge to invent things to keep himself safe. He lost his family and now he flees from the destruction of the world, he knows there is a tomorrow. He is always accompanied by a sloth named Belt, whose ideas end up saving the Croods.
---
Analysis
This is a cute movie that is aimed so many for children and adults, because in it there is comedy, drama and Adventure. Among the teaching is
Live life do not survive:
All this family did was survive a life full of fear, in Enclosed in a cave for protection, he did not live a life full of adventures and thrills of stepping out of his comfort zone. Just for believing that all good things are bad.
Family value:
Grug always kept his family together and protected, for him the only important thing was them nothing else.
Being an overprotective father:
Grug was an overprotective father and did not want to realize that his daughter was already a teenager who wanted to live her life and adventure.
Get out of our comfort zone:
Knowing new things, adventures are sometimes good because we can find new learnings. Until a new world full of opportunities and a better life.
The end of this film is beautiful to see how her daughter admires and loves her father, for her he is her greatest hero.