Hi Hiveamigos
A special hello to those who make life in the Movies & TV Shows community. Yesterday after finishing making dinner and leaving the house in order, my daughter and I took a bath, and then went to bed to enjoy an animated film that was a hit in theaters such as Finding Nemo, a movie to enjoy with the family, to laugh and spend pleasant moments.
Synthesis
This story takes us to the deepest part of the ocean, where a happy couple of clownfish live in an anemone, they are waiting to be parents of 400 fish eggs, in which they are choosing the names of their children, Coral's wife wants one of their children to be called Nemo, to which Marlin (Husband) accepts says that if one were called that way. Suddenly the happy couple hears a silence on the reef (meaning that something is happening), when a large fish appears (barracuda, a carnivorous fish that devours fish, they attack very quickly) threatening their lives and that of their children. Marlin asks Coral to hide, the children will be fine. But the mother's fear feels no, to what makes her swim to where her children are, in that the barracuda seeks to attack the mother, but Marlin goes to her defense to what they give her a strong blow that makes her faint . Hours later, Marlin wakes up and starts looking for his family to which he realizes that the fish devoured him, sad and heartbroken he begins to cry at what he observes, one of his children goes looking for him, you take him on his fin, he tells him that he always he will protect him, that nothing and nobody will harm him, you will be called Nemo (name chosen by his mother).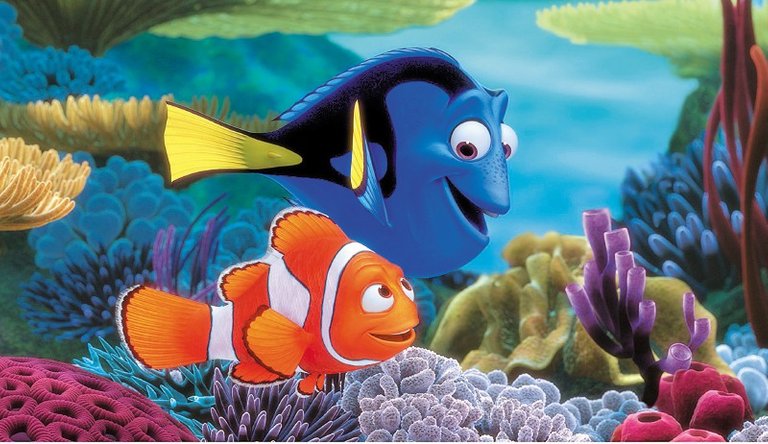 Source
Time passes Nemo is no longer an egg if not a fish that is on time to go to school, he is an outgoing and curious child, but Marlin to what he lived with the loss of his family is now a super protective father, who cares every step Nemo takes. But her son is very happy because he will be able to get out of the anemone and go to school, meet friends, live new adventures. Nemo has a problem with his fins that have a shorter one, due to the great blow he received when he was an egg, he has a little trouble moving. Both arrive at school, Nemo begins to make friends, while Marlin instead of leaving is hidden to take care of his son from afar without him noticing.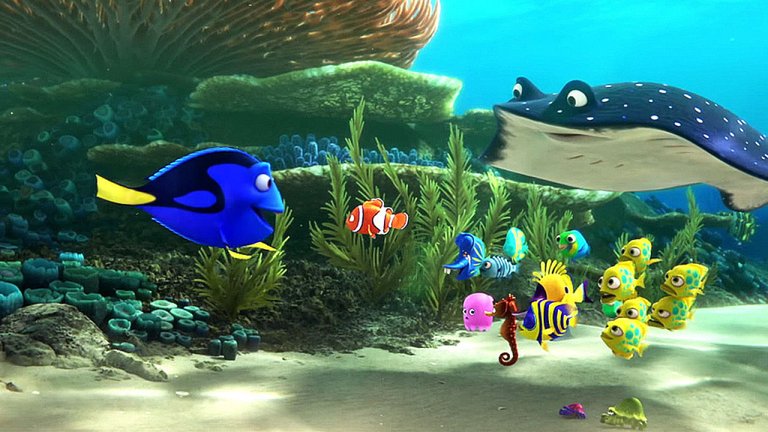 Source
On the first day of classes the teacher takes his students on an excursion to see life in the ocean, but in that Nemo two of his friends move away from the teacher, but Marlin, hidden, observes that they are wanting to bring the reef closer to the place where they can find the danger, in that he comes out of his hiding place calls his son, Nemo felt ashamed and angrily challenges his father to go where he wants, challenging his father Nemo goes to the closest to the reef, from Suddenly some divers see him and he begins to take pictures, and they put Nemo in a bag, taking him away.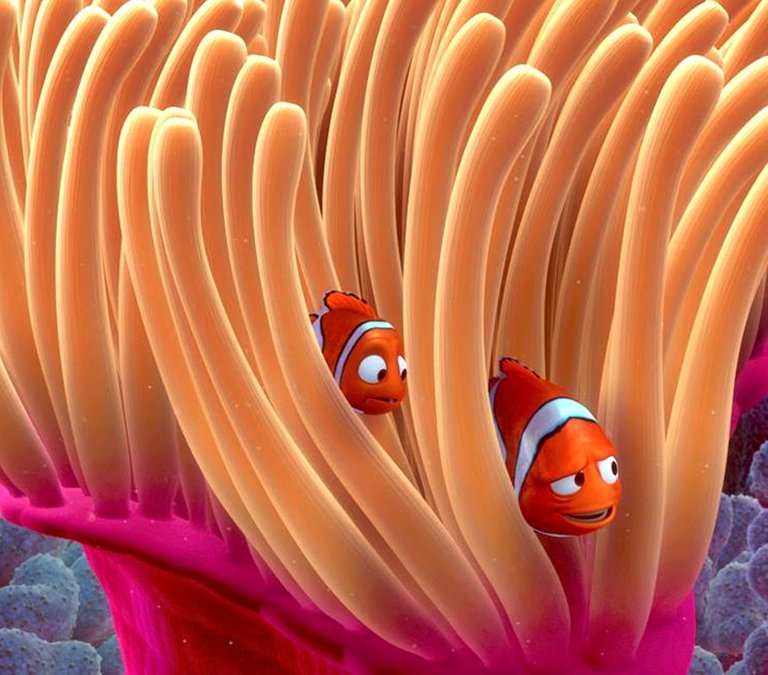 Source
Marlin this time will not allow him to take away his family, and begins a search for his son to travel the ocean, regardless of the dangers that exist in the oceans. In the middle of her search she finds a blue fish named Doris (but she suffers from short-term memory, forgetting things very quickly in less than 5 minutes), which she joins in the search with Marlin, despite Doris. Having that difficulty helps Marlin at various times, in that he meets three sharks (Bruce, a white shark, Anchor a hammerhead shark and Chum a mako shark) they are in a joint-stock company not to eat fish, this they meet in an ancient minefield, in therapy that day they must bring a fish to show that they have advanced in therapy. But since Doris is a very clueless fish, she thinks that sharks are friends, so she wants to go with them, even though Marlin didn't want to. In the old mines, each member that makes up Doris and Marlin begins to speak, when Doris without wanting to hit and expels blood through her nose, causing one of the sharks to smell blood and despair at the sensation of eating a fish. As two other sharks try to control him, Marlin and Doris try to escape.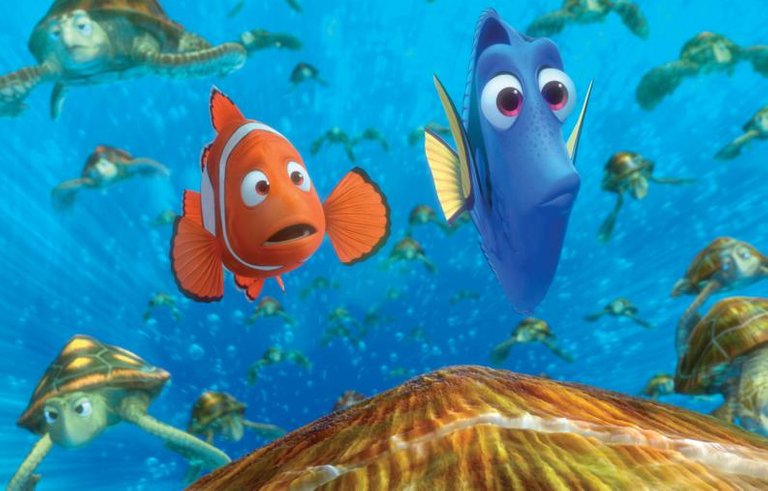 Source
In the next scene he shows us that Nemo is in a dentist's office that has an aquarium that is located in Sydney, together with other fish (a puffer fish, a yellow tang, a starfish, a real grass) that have been captured. , but these fish have tried to escape several times but have not been able. But one of them approaches Nemo and offers him his friendship and tries to escape, but for that he must join his clan, to which Nemo accepts, he performs a ceremony that changes his name to Tiburocin.
On the other side of the ocean, his father Marlin is still looking for his daughter together with Doris, but now far from the sharks, Marlin finds one of the masks that one of the divers carried, the address is specified in it, at least Since these two fish have an address, he begins to ask go to a group of sardines that tells you where to go. From this moment Marlin and Doris are going to go through many obstacles that with their friendship and perseverance one by one they advance without stopping anything. On the other hand, Nemo finds out about the things his father has done from there, he also begins to execute the escape plan with his friends.
Details
This is an animated genre movie to share with your little ones at home. This was released in 2003, produced by Pixar Animation, dedicated to director and supervisor Glenn McQueen, who died of cancer while this film was being produced. Its producers were Walt Disney Pictures, Pixar Animation Studios and distributed by Walt Disney Studios Motion Pictures.
The inspiration for this movie comes from Andrew Stanton and Pixar learned that when he was a kid; he liked going to the dentist to see the fish tank, to parts of conducting inspections in the underwater world. From there the essence of this beautiful story.
Learnings
I have always said that each movie, animated or series teaches that we can put it into practice and if we enjoy it with our children, explain its meaning. In the teaching of this movie they stand out.
Being overprotective parents
There are times that we are parents over protectors, we do not give our children a vote of confidence or the freedom to live their own experiences, I know that as parents, what we most wish that our children does not happen to them, or hurt them, even limiting of experiences that we went through in the past but since it was not bad, we prevent them from going through the same thing. We as parents must be guides, that we sit with them and advise but not limit them to live their own experiences and mistakes, we cannot solve their problems, but we can guide them. In this part it is observed how Marlin protected his son, to such an extent that he defies him, but in the end Marlin changes he gives a vote of confidence to his son, making their coexistence different.
Obey your parents
This part emphasizes that children must obey their parents, as serious consequences can occur. In the story we can detail it when Nemo defies his father, disobeys him, meets great danger that is captivated by a human.
Father's love is greater than any danger.
The love of parents is always great, for our children we do everyone, without being afraid of dangers or anything, just because our children are well. This is detailed in the movie when Marlin begins the search for his sons Nemo, overcoming obstacle and danger.
Sorry.
That father does not forgive his children for their mistakes, we must be together with them to advise them to be on the right path, but if they do something wrong, forgive them and guide what is the best decision for them. This part is seen when Marlin forgives his children, he changes his way from being an overprotective father to a father who trusts his son gives him freedom.
Friendship
Friendship is a very important feeling in the life of human beings, it is a person who is with you through thick and thin, in any adversity. Here we can detail how Doris's friendship is always with her (Marlin), until she finds her son Nemo.
Important phrases in this movie
"If life defeats you, what should be done? Nothing, nothing ... "We must not pause our life, we just have to keep fighting ...