Fungi Friday. Small fingi communities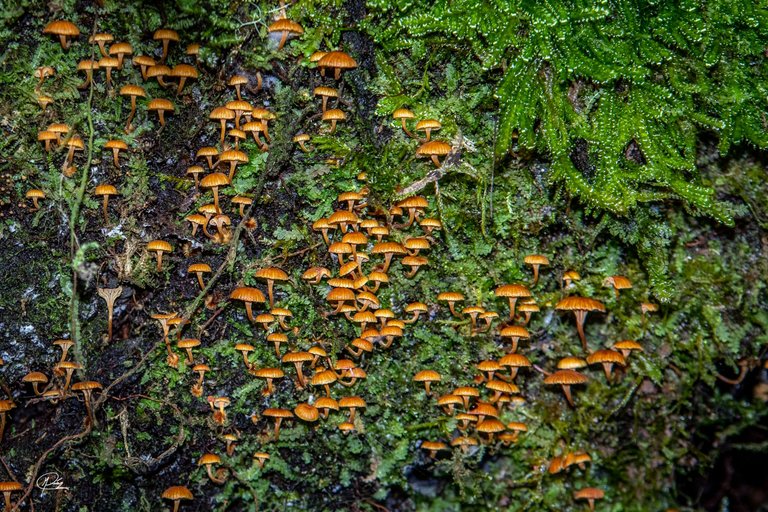 Hi community of fungi lovers, happy Friday. For today I want to share with you another couple of species that I found together with my children in San Gerardo de Dota in Costa Rica.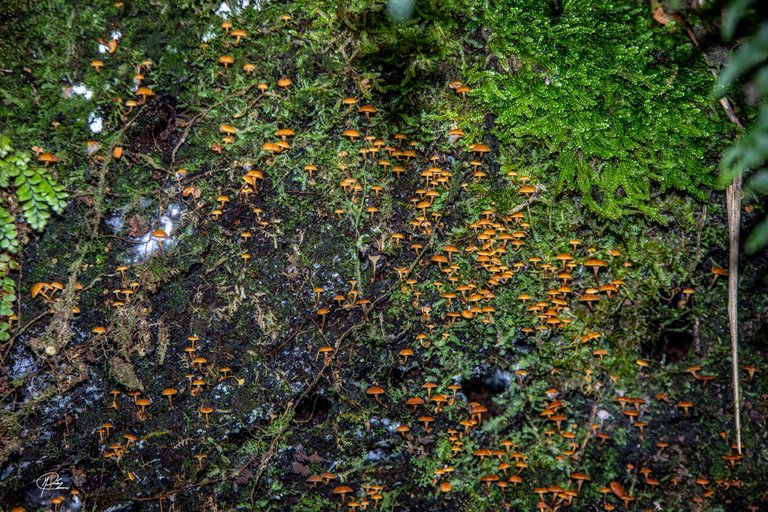 A couple of weeks ago we discovered a new trail near our property and although it was somewhat abandoned, it was still easily walkable. Thanks to that we were able to find a great variety of mushrooms of all sizes, colors and I think flavors too 😂🤷‍♂.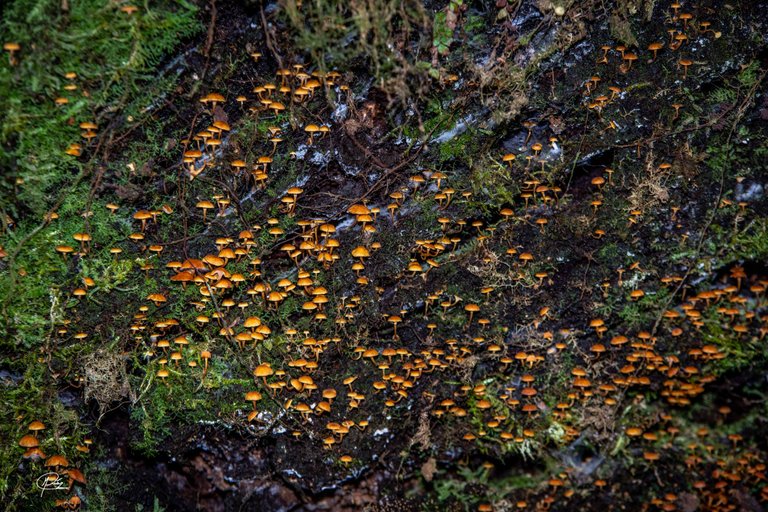 The first of them is an Agarical that I could not identify, in fact it is a small colony of a tiny fungus, no larger than one centimeter, with a beautiful orange color that contrasts with the mosses that grow around it. I believe that this group of fungi could have about 400 individuals, all distributed on the side of an old oak trunk that must have fallen many years ago.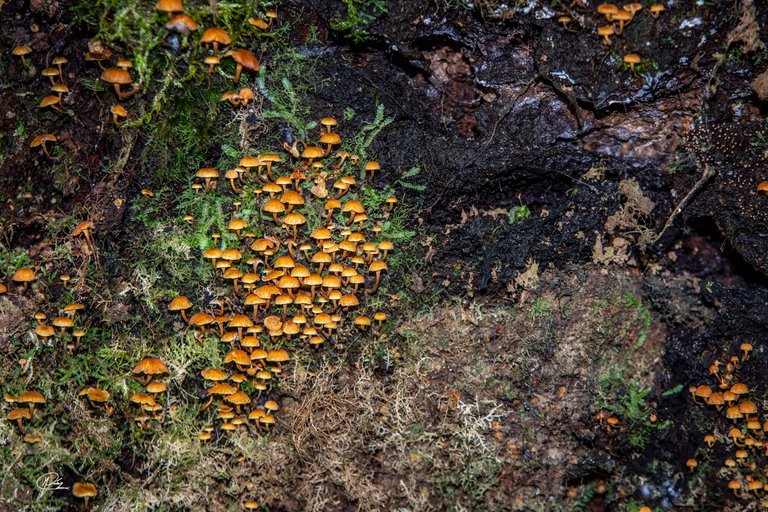 The second group of fungi was easier to identify, at least up to their genus, I think it is Marasmius tropalis. It grows in groups on the litter and has been reported as edible in several articles.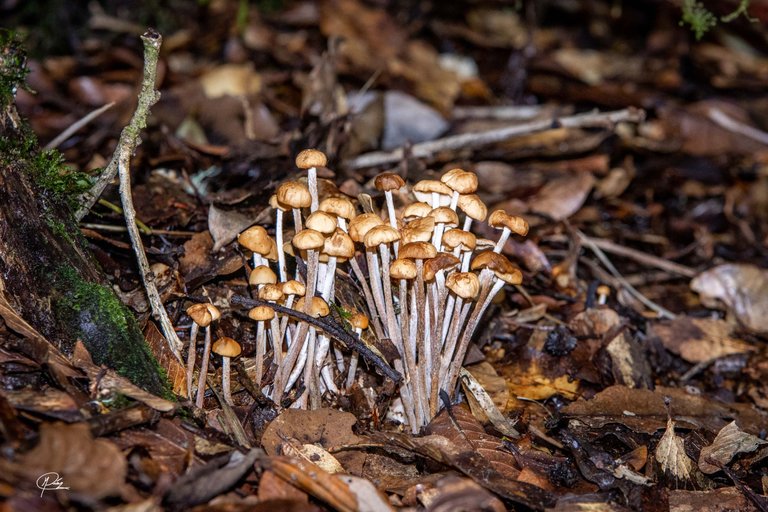 Versión en Español
Hola comunidad de fungi lovers, feliz viernes. Para hoy les quiero compartir otra par de especies de encontré junto con mis hijos en san Gerardo de Dota en Costa Rica. La semana hace un par de semanas descubrimos un nuevo sendero cerca de nuestra propiedad y aunque estaba algo abandonado, aún se podía caminar fácilmente. Gracias a eso pudimos encontrar una gran variedad de hongos de todos los tamaños, colores e imagino que también sabores.
El primero de ellos es un Agarical que no pude identificar, de hecho es una pequeñas colonia de un diminuto hongo, no mayores a un centímetro, con un bello color anaranjado que contrasta hermosamente con los musgos que crecen a su alrededor. Creo que este grupo de hongos podía tener unos 400 individuos, todos distribuidos sobre un costado de un viejo tronco de roble que debió caer hace muchos años.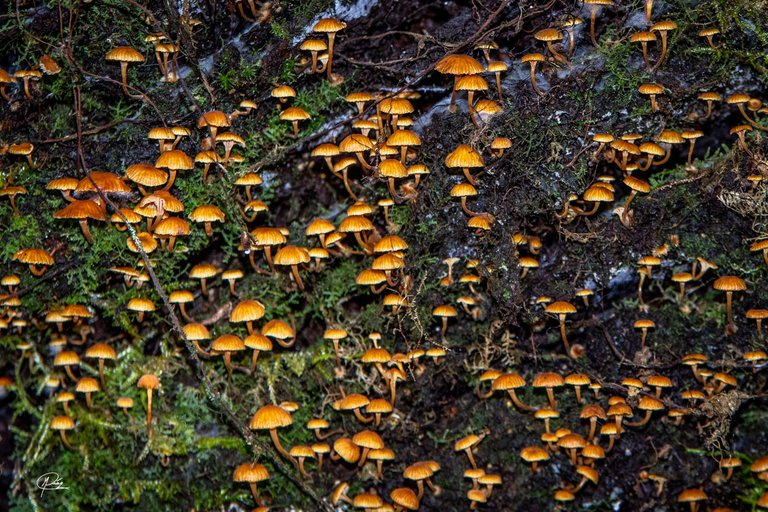 El segundo grupo de hongos fue más sencillo de identificar, al menos hasta su género, creo que se trata de Marasmius tropalis. Este crece en grupos sobre la hojarasca y en varios artículos se ha reportado como comestible.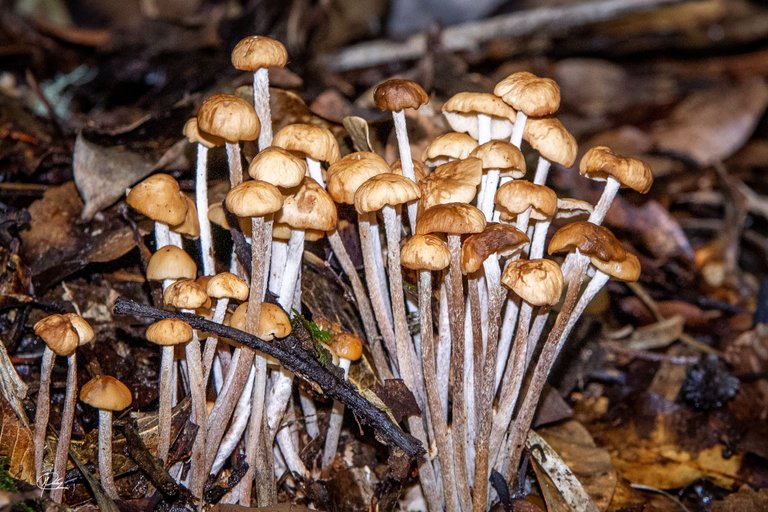 ---
---