This is a post for the #fungirelay initiative, by @bambuka
Back in the old days ... in the year 2019, I think it was spring of that year ... I published my first Fungi Friday post ...
... and it was my 69th post on the platform ... the place was still called Steemit, I was some kind of plankton, the blogging life seemed hard and the future didn't look very promising ... but the challenge was also fun and exciting, that's why I endured, and I'm still here on HIVE now.
The language was the main difficulty back then, I never learned English before, never wrote anything in that strange language from movies and TV, so in those old post I didn't talk too much ... they were even more about pictures than current posts. Today, early in the morning I went scrolling through my blogging history, way down till those ancient layers ... and here's what I brought back on the surface - my very first Fungi Friday post :
FUNGI FRIDAY - CHLATRUS RUBER
Here where I live this thing is called Vještičje srce ... and that means - Heart of the witch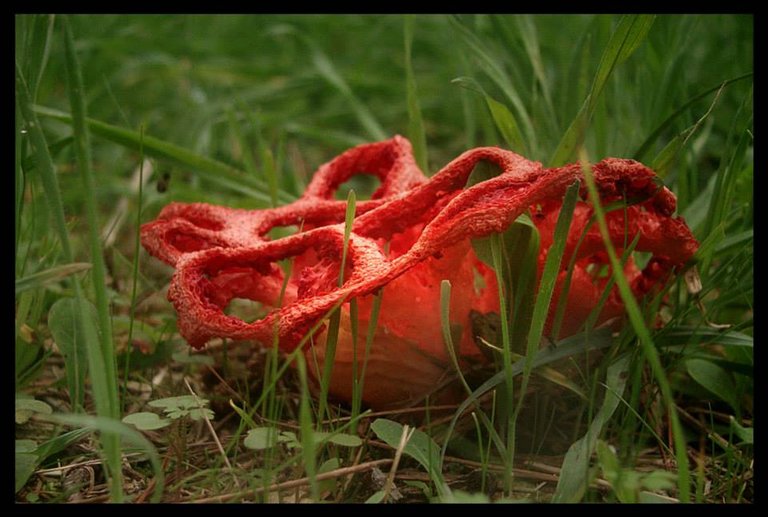 It's a lovely looking fungus, very colorful, in most cases is red like a red poppy but can be also more orange in color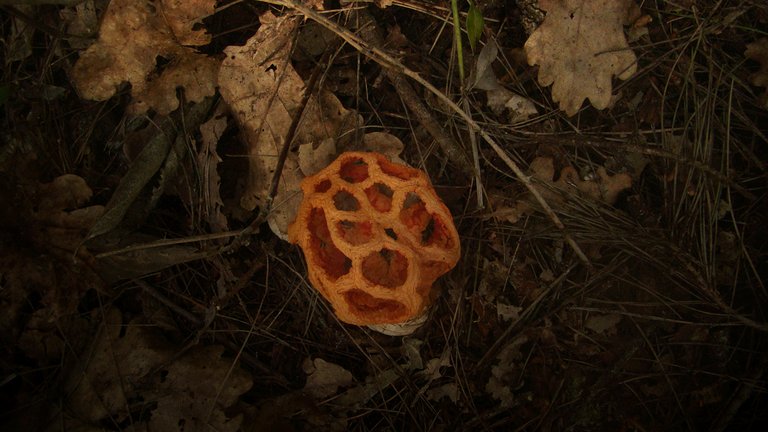 It's very beautiful and peculiar ... but is a bit smelly


With that unpleasant smell, fungus attracts the flies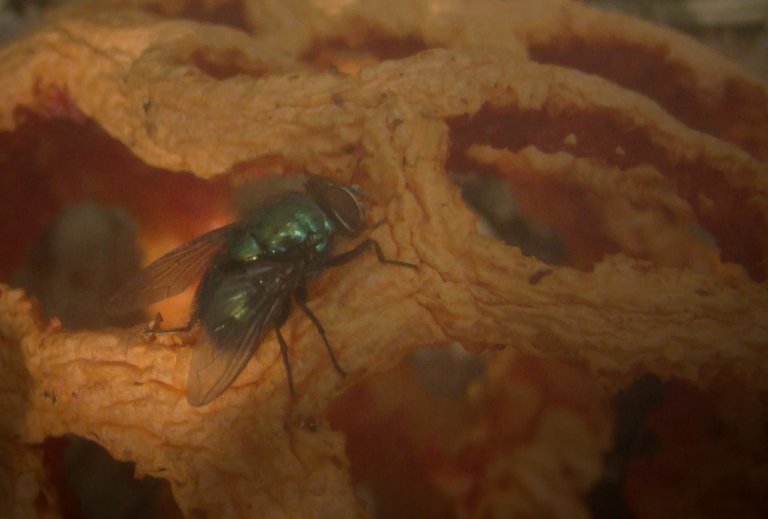 Ad flies help to spread the spores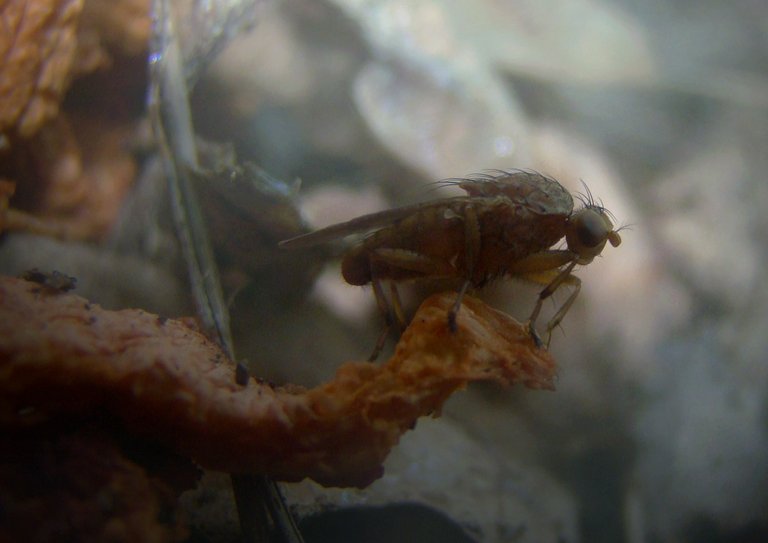 Usually, you can see a wide array of fly species on these fungi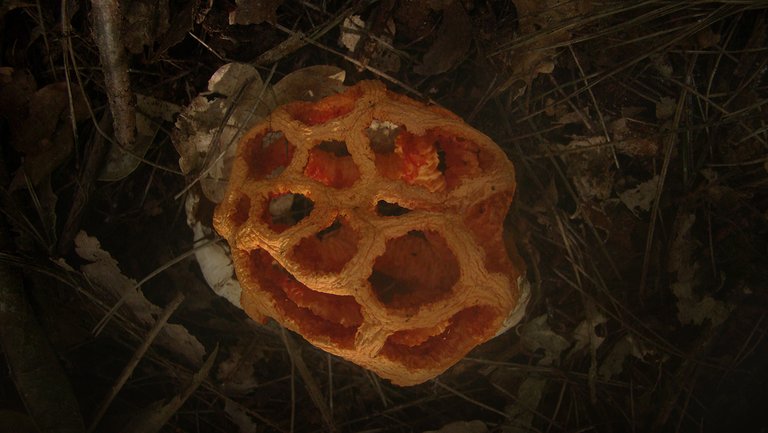 :) And this was my first fungifriday post. Hello to all the fungifriday people.
( As always on these posts on Steemit, all the photographs are my work. )
And now, after this short walk down the memory lane ... or more like a dive, down the memory pit ... is time for the newest Fungi Friday post, the one that wasn't published before:
#### **** MUSHROOMS AND ACORNS IN THE LAST DAYS OF NOVEMBER
I had to do a few things in the city that day ... the 25. November 2020 ... and when all was done ...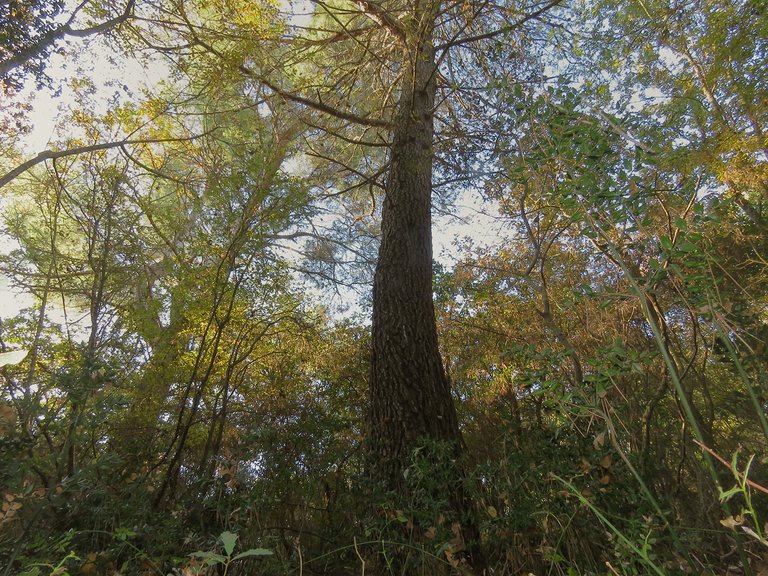 ... I continued driving through the suburbs and out of the city ... always north, in the opposite direction of my hometown ... to the nearest woods where I could relax a bit and catch a mushroom or two if I'm lucky.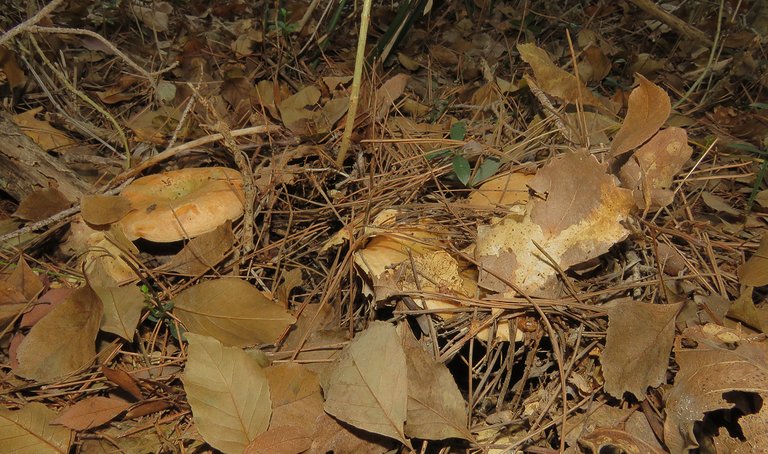 When I entered the forest, it looked like there was no fungi of any kind there, just plenty of fallen leaves ...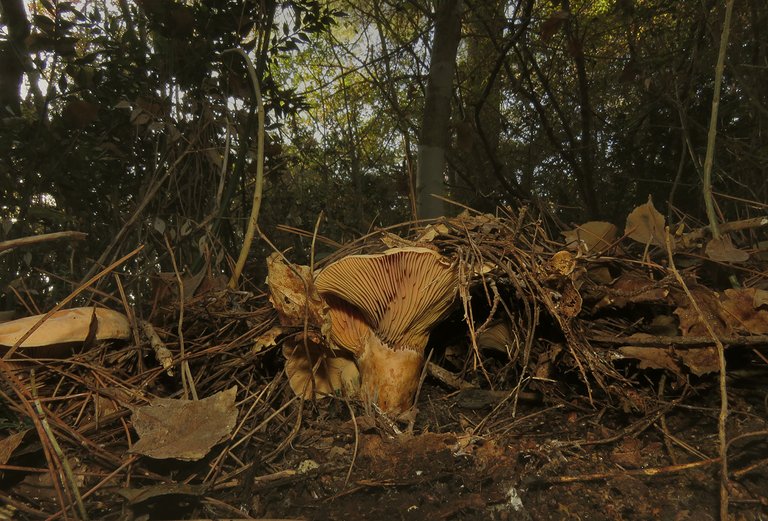 ... but when I looked better and removed some of those leaves ...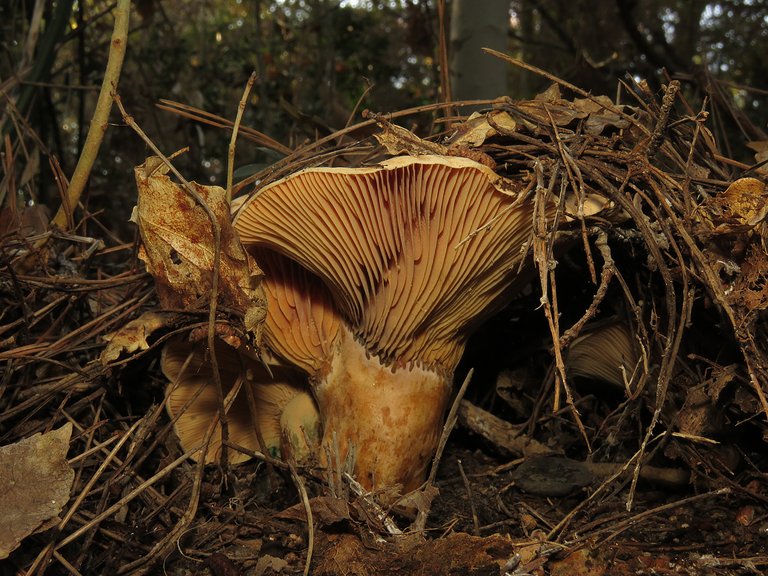 ... I found some Lactarius sanguifluus ...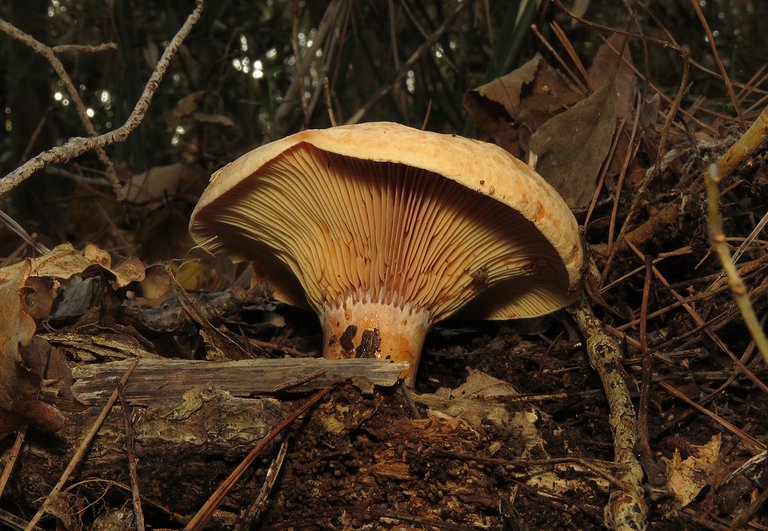 ... very tasty edible mushrooms that I always pick when I find them.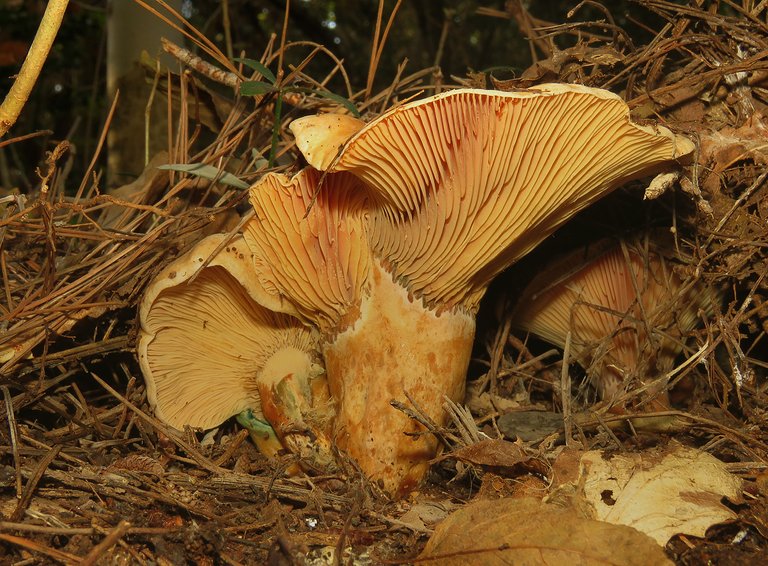 They look very generic at first sight, like many similar Lactarius and Russula, but are easily recognizable by the red fluid that comes out if the mushroom is scratched or broken.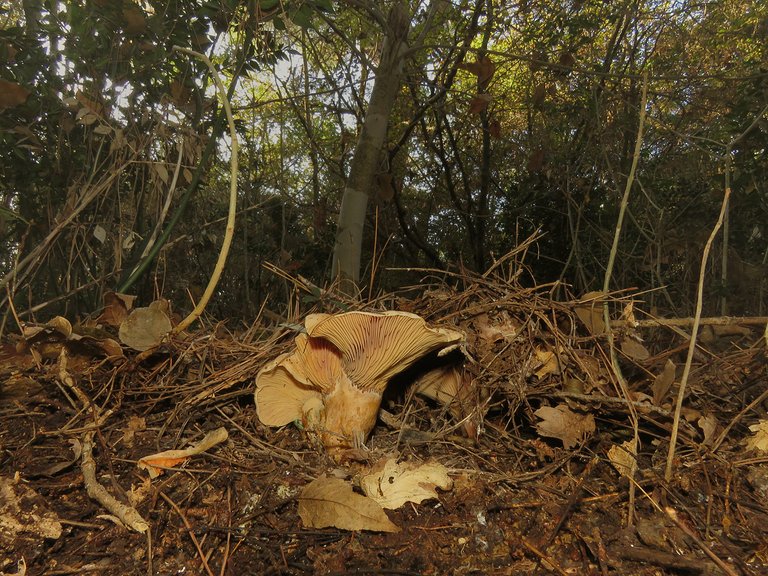 To pick and photograph these mushrooms I had to remove plenty of fallen foliage ...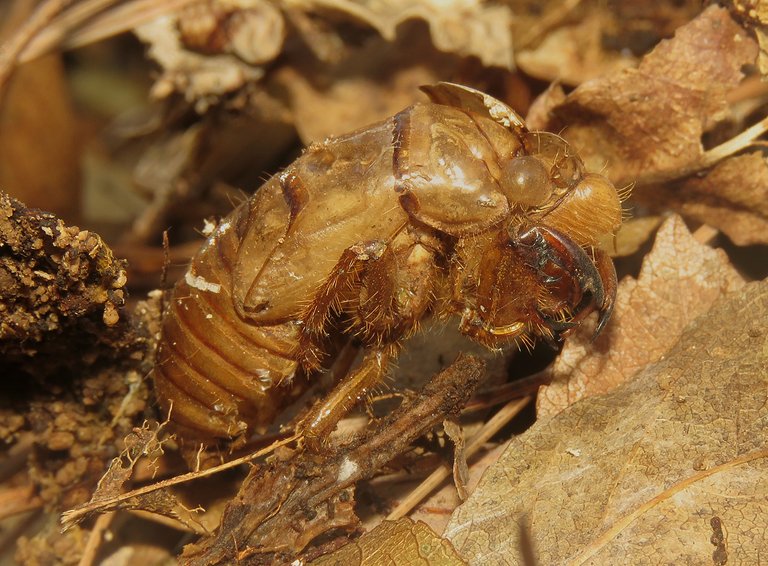 ... and so, I uncovered some interesting details along with the fungi ... this is an old molt of some cicada that came out in summer. The insect is long gone, but the resilient molt is still here, preserved under the carpet of rotting leaves. It's a bit hard to see in this light, when photographed with flash on ... on the following photograph ...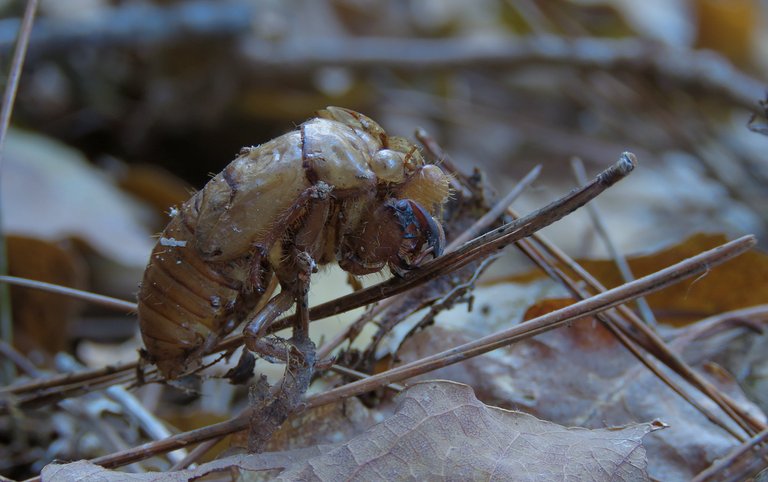 ... you can see the same scene in natural light, on this shot that I took with longer exposure and camera still on some piece of wood. Now the thing is a bit less merged with the background.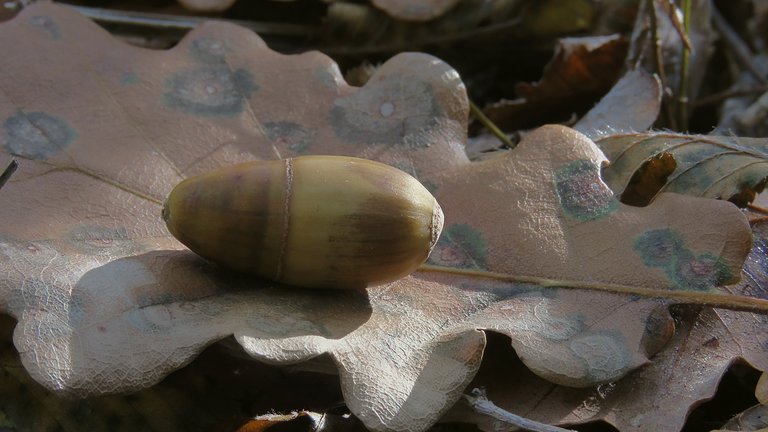 Many acorns came on the surface, as I was digging through the leaves.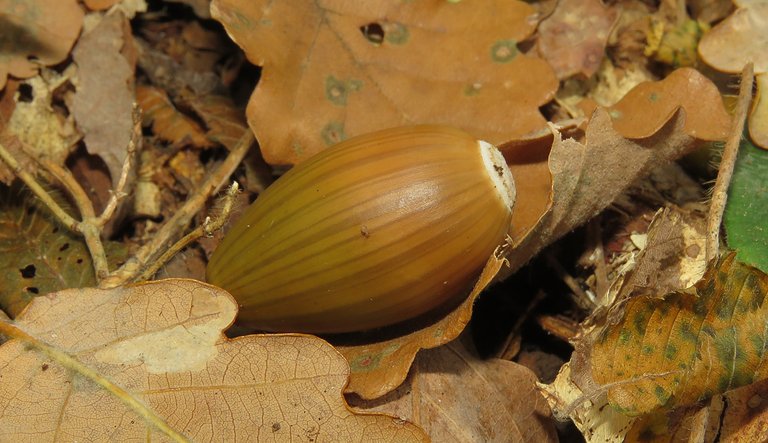 I found quite a few different types ...
... and took quite a few shots ...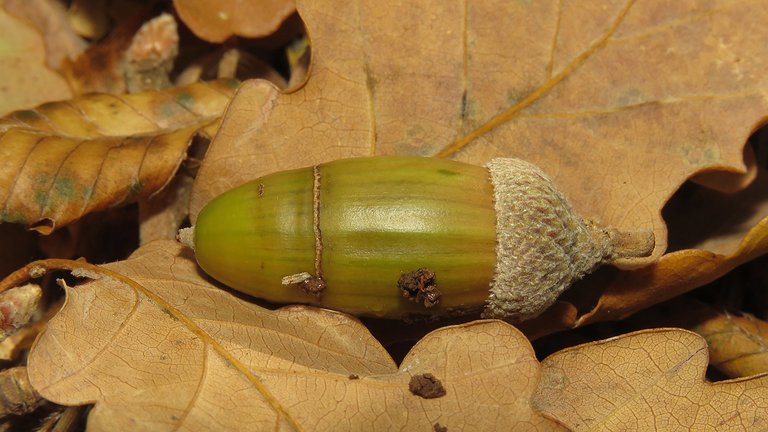 ... because those acorns looked like some nice collectables ...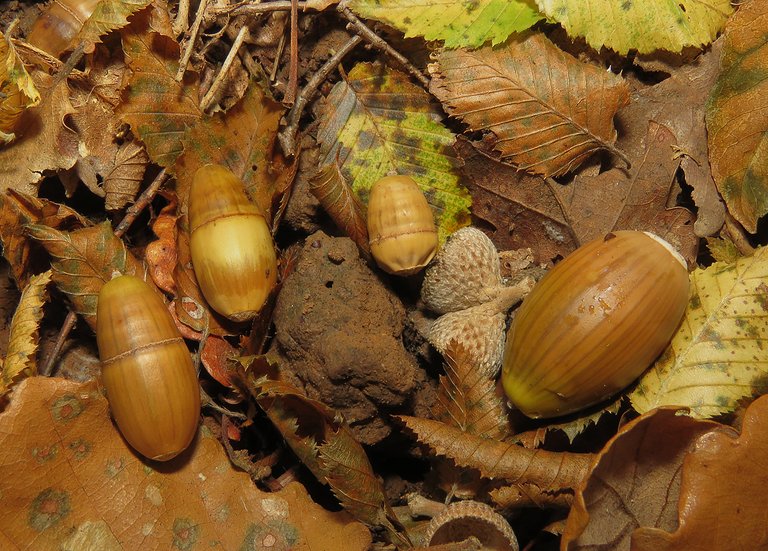 ... here is a little collection with various shapes and sizes, all in one picture.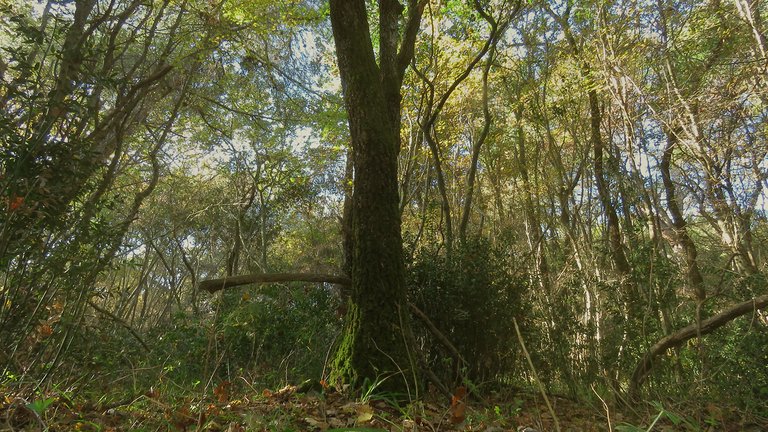 This is a mixed forest made of small elms and oaks, with some tall, old pines scattered around ...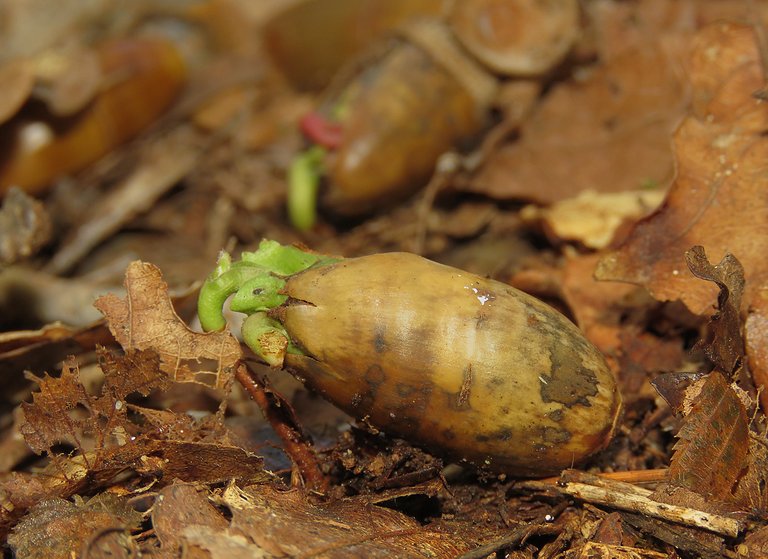 ... and some oak trees were right at the start of their lives in that period ...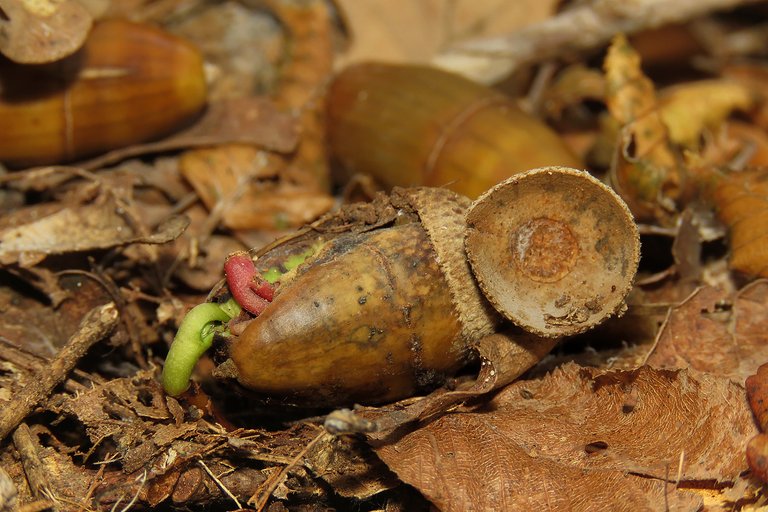 ... gentle roots and stems were coming out of some acorns ...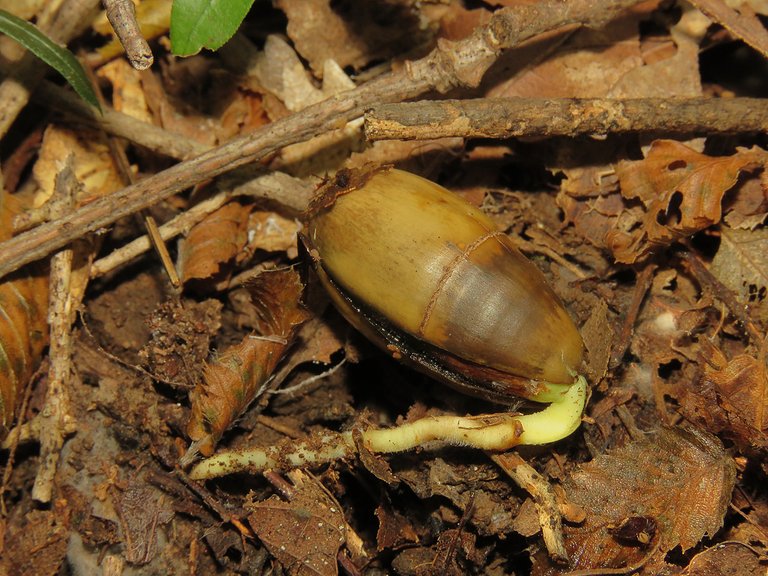 ... so I had the opportunity to witness the birth of the tree.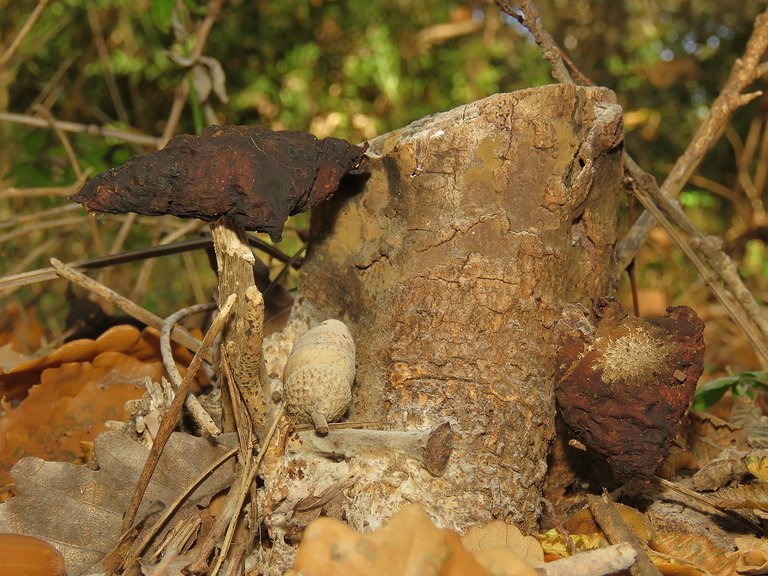 I found these old, desiccated mushrooms on the remains of some small elm tree ...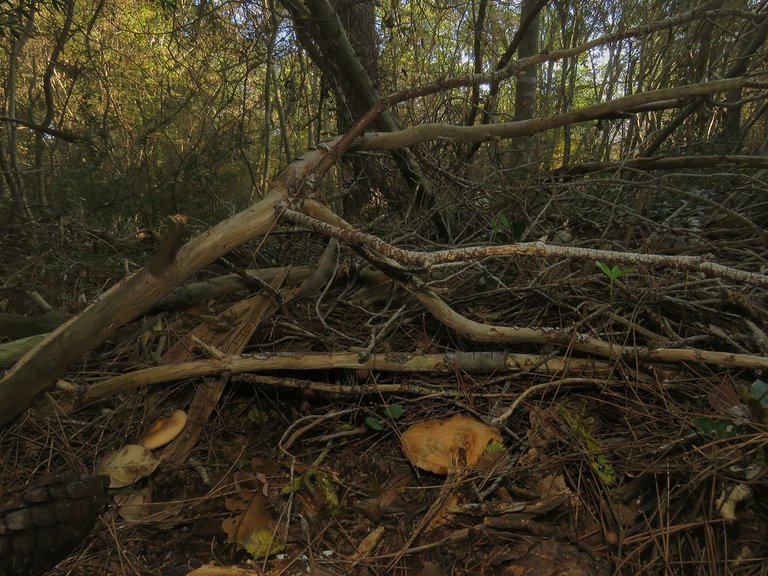 ... and I uncover more Lactarius sanguifluus along the way ... they were mostly growing in small groups ...
... but sometimes, some of them ...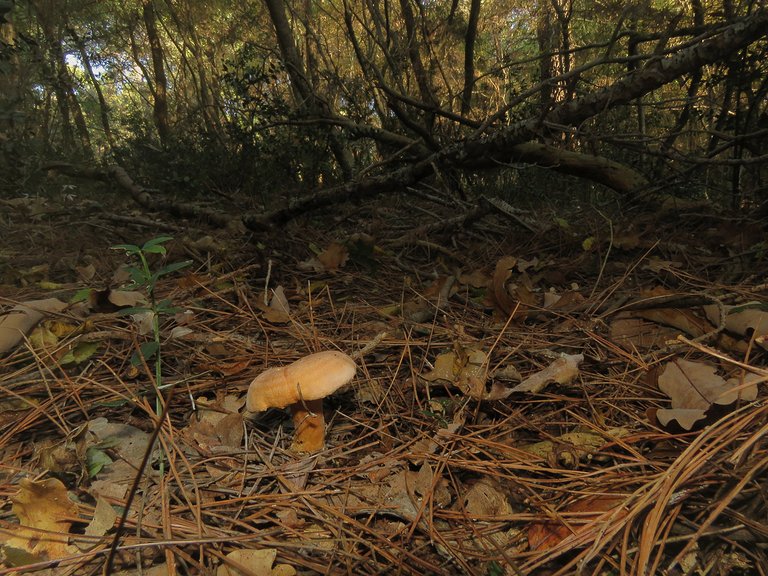 ... were growing alone.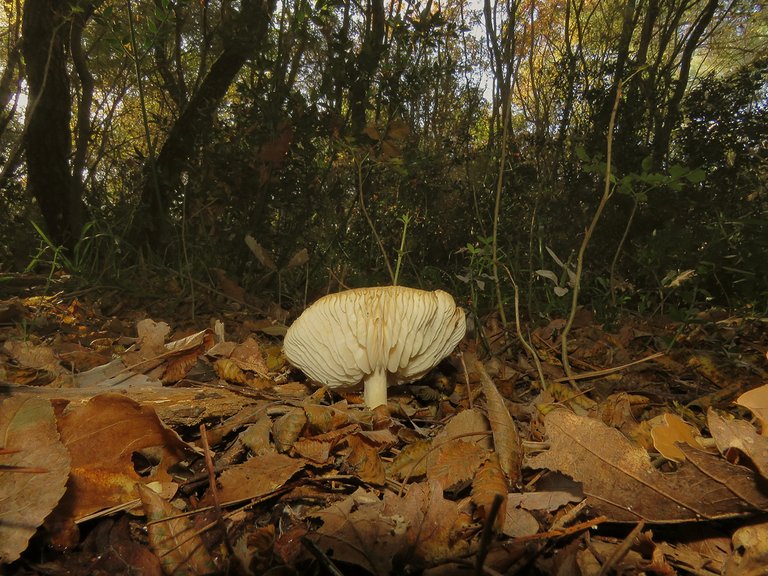 I found also some mushrooms that I wasn't, and I'm still not able to identify ... like this one, ad example.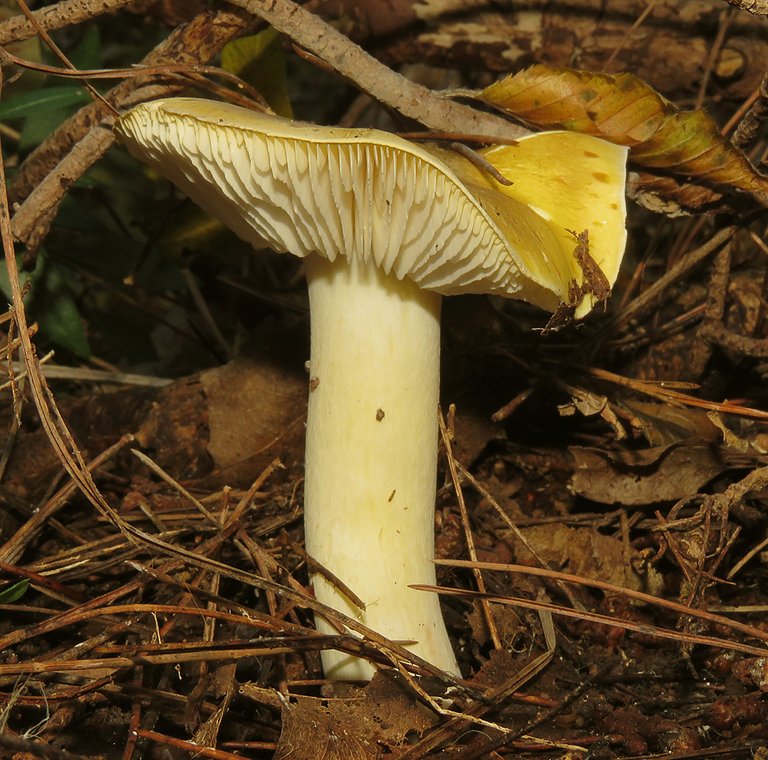 This could be the Tricholoma sejunctum ...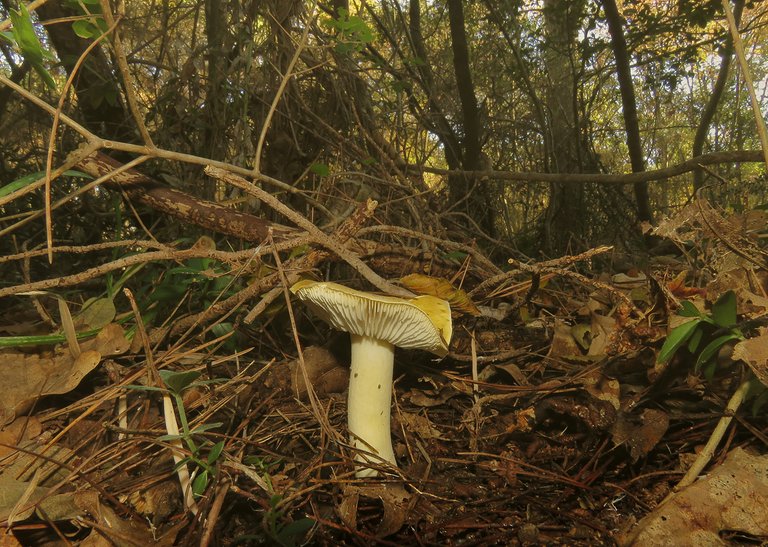 ... or some other similar Tricholoma ...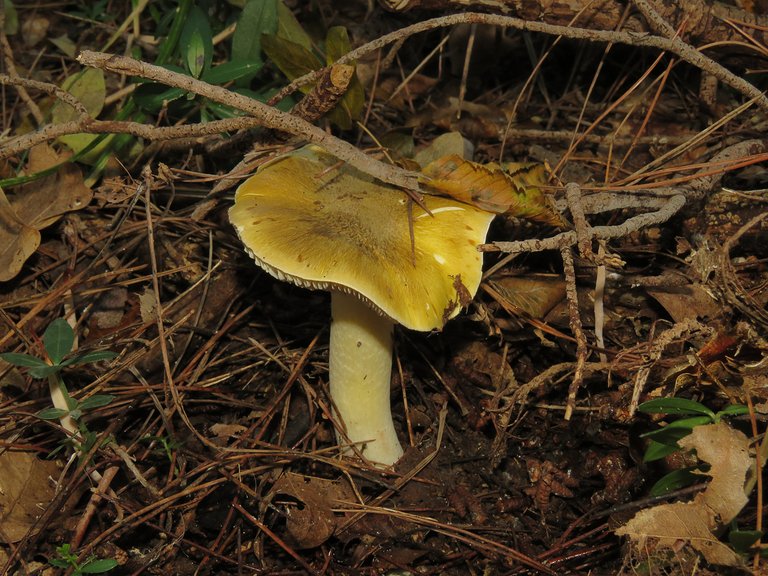 ... but I'm far from being sure about that.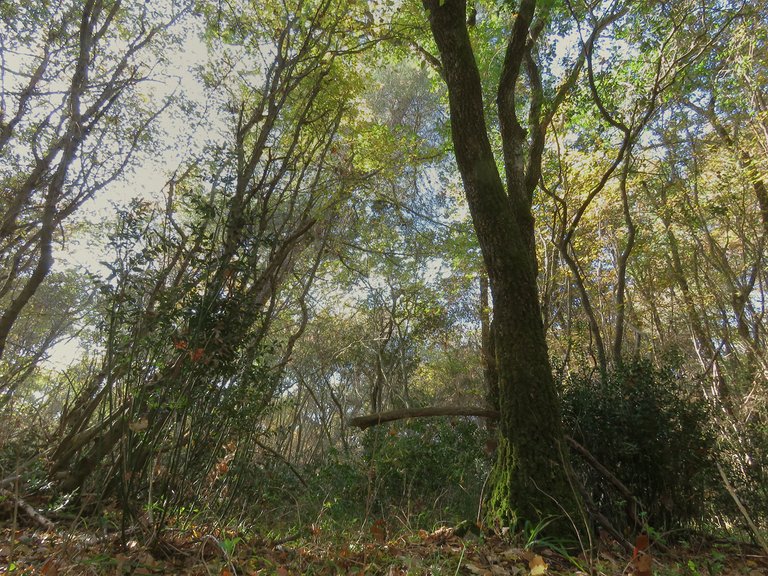 And that's it ... it was just a short walk around the woods, not far from the country lane where I parked my car ... after an hour or so, I was driving back home ... and now ...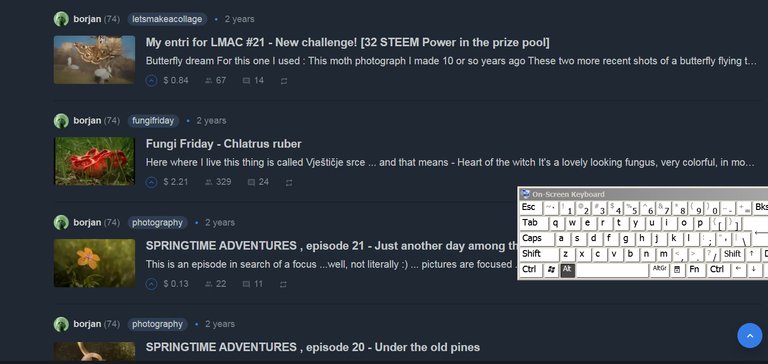 ... with this screenshot of my ancient blogging history, it's time to end this double - post.
As always in these posts on HIVE, both then and now, all the photographs are my work - THE END.