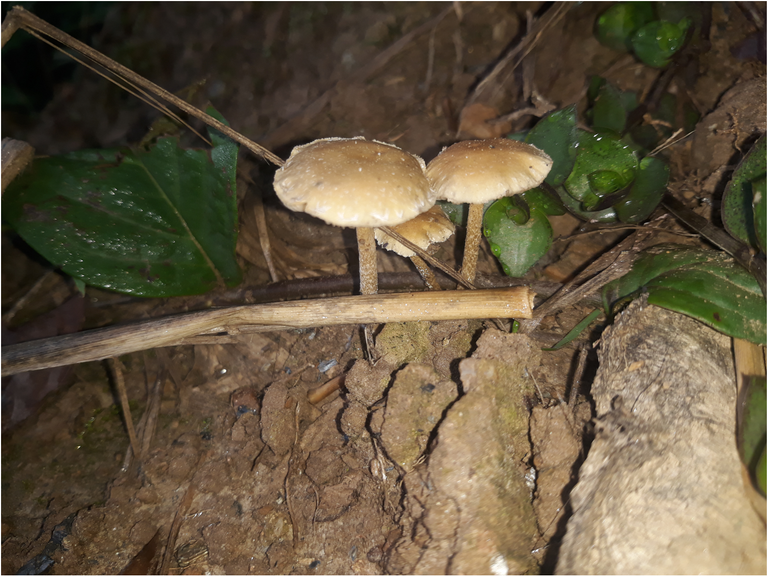 Deberías notar en la primera foto lo oscuro que es el espacio donde se encuentran los hongos. Se dice que nacen y se reproducen en cualquier tipo de ambiente. Pueden estar libremente expuestos o también muy escondidos entre hojas secas, rocas, tallos de árboles, entre otros.
You should notice in the first picture how dark the space where the mushrooms are located is. It is said that they are born and reproduce in any kind of environment. They can be freely exposed or also very hidden among dry leaves, rocks, tree stems, among others.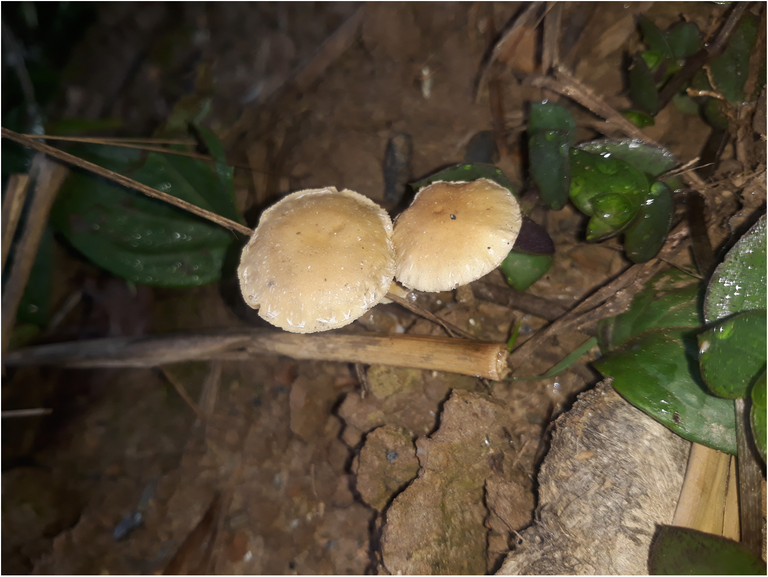 ¿Qué estimula el crecimiento de los hongos? Definitivamente, las condiciones climáticas, tanto en las zonas cálidas como en las húmedas, pueden estimular su crecimiento.
What stimulates the growth of fungi? Definitely, climatic conditions, both hot and humid areas, can stimulate their growth.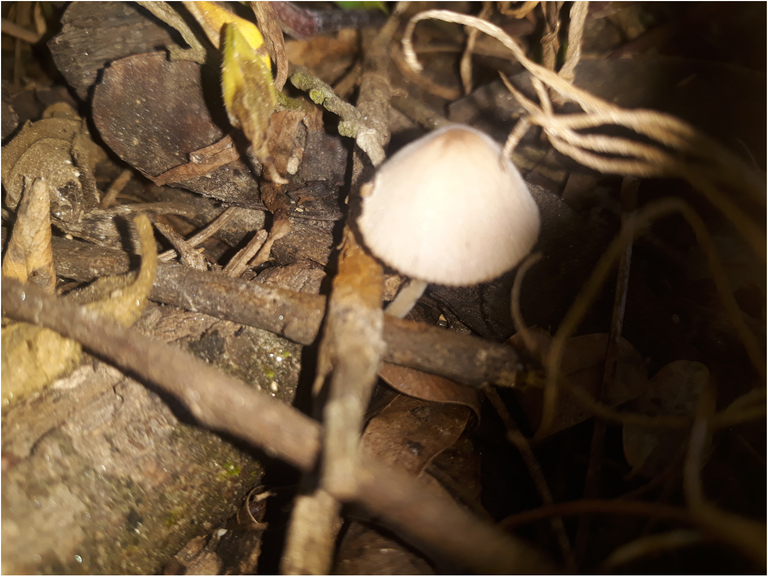 En los lugares donde las hojas se descomponen siempre hay humedad, allí se puede observar el crecimiento de los hongos. Si vamos a zonas más profundas donde la humedad es mucho mayor, los hongos forman esporas, allí se secan y comienzan un nuevo ciclo de vida.
In those places where leaves decompose there is always humidity, there it is possible to observe the growth of fungi. If we go to deeper areas where the humidity is much higher, the fungi form spores, there they dry out and start a new life cycle.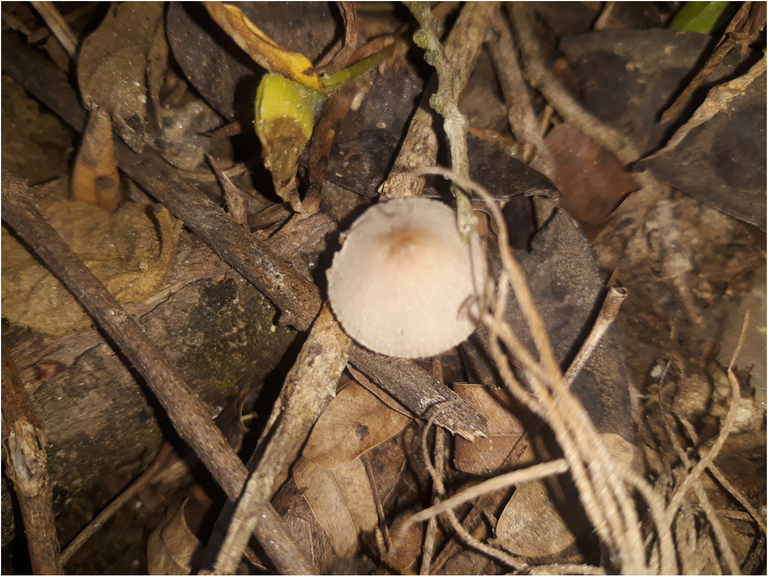 Quitando hojas y palos secos en un lugar frío y húmedo conseguí estos pequeños hongos con pequeños capuchones. Son extremadamente frágiles, tanto que tan pronto como los toqué se desmayaron, los fracturé sin ninguna mala intención. Será una buena experiencia para mí, la próxima vez, los tocaré con los ojos.
Removing leaves and dry sticks in a cold and wet place I got these little mushrooms with little caps. They are extremely fragile, so much so that as soon as I touched them they fainted, I fractured them without any bad intention. It will be a good experience for me, next time, I will touch them with my eyes.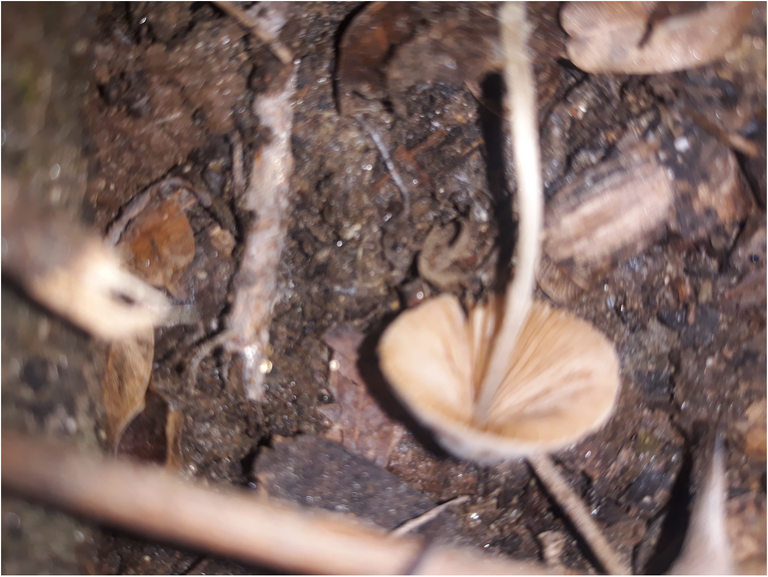 Después de que dañé el hongo, fue difícil para mí tomar una foto. El lugar no sólo era oscuro, húmedo y frío, sino también incómodo.
After I damaged the fungus, it was hard for me to take a picture. The place was not only dark, damp and cold, but also uncomfortable.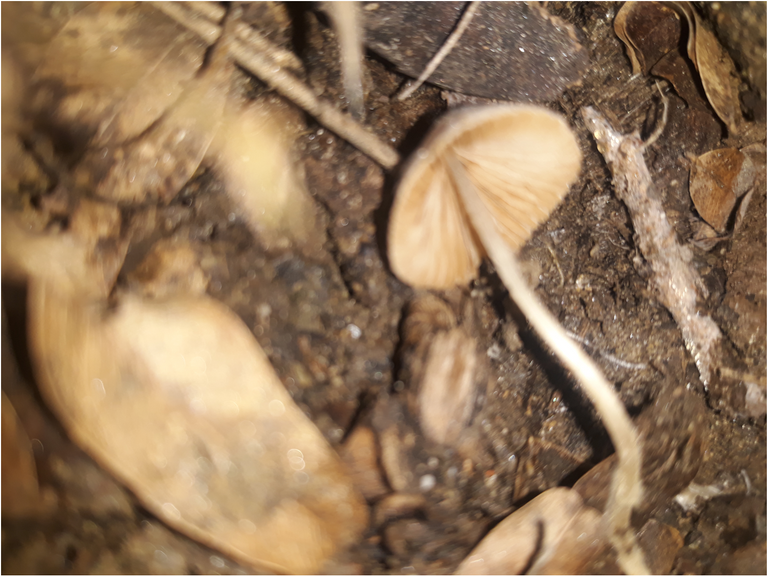 Puedo decir que el tallo donde se sujeta la capucha del hongo es frágil, parece uno de esos brotes chinos que comemos en el arroz. No quiero decir con esto que el hongo sea comestible porque no lo sé, sólo hago la comparación para denotar lo débil que es el tallo.
I can say that the stem where the fungus hood is held is fragile, it looks like one of those Chinese sprouts that we eat in rice. I do not mean by this that the fungus is edible because I do not know it, I just make the comparison to denote how weak the stem is.
Los dos hongos de las primeras fotos son diferentes de los siguientes, sólo se comparan el color y la fragilidad de ambos. En cuanto a la forma de la capucha son diferentes.
The two mushrooms in the first photos are different from the following ones, only the color and the fragility of both are compared. As for the shape of the hood they are different.
¡Gracias por leer, comentar y votar!


@belkisa758. Fotos de mi propiedad, tomadas desde mi teléfono Samsung J7 en Caracas-Venezuela