Germany Part 3: E-Bike Tour Krün-Walchensee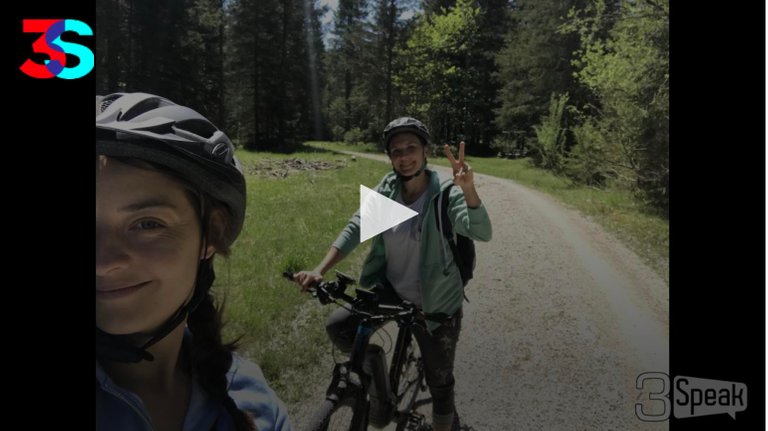 Since last week for the first time since the lockdown we were able to visit our family members and friends. Restaurants in our city still remain closed though and I have home office anyways, so Elena and I decided to go visit my mum and her husband in Krün, Germany.
Krün is a municipality in the Upper Bavarian district of Garmisch-Partenkirchen. It belongs to the Werdenfelser Land and the Bavarian Oberland region. The German-Austrian border runs a few kilometers south.
Together with Mittenwald and Wallgau, Krün forms the Alpenwelt Karwendel tourism association, which markets the region all year round as a starting point for sports and leisure activities such as hiking and cross-country skiing.
Basically the little town is surrounded by little really beautiful lakes and mountains. - So perfect to be in nature, far away from people & in total peace.
As tourism also is down right now, we figured that this might be the time to explore the area by hiking or using their E-bikes. Sadly the last few days we had bad weather, but today the perfect day had finally arrived!
For the first time in my life I used an E-bike and we went on a trip together!
For those who don't know what I am talking about: An e-bike or electric bicycle or pedelec (acronym for Pedal Electric Cycle) is a bicycle with an electric auxiliary motor. So you can use it just like an usual bike or use the function for Eco/standard/high support of the electric motor, which is extremely convenient especially if you drive uphill.
So far so good! So we decided to first do a little round around the blog and then head to the Walchensee. A really nice large lake about 14 km away from Krün.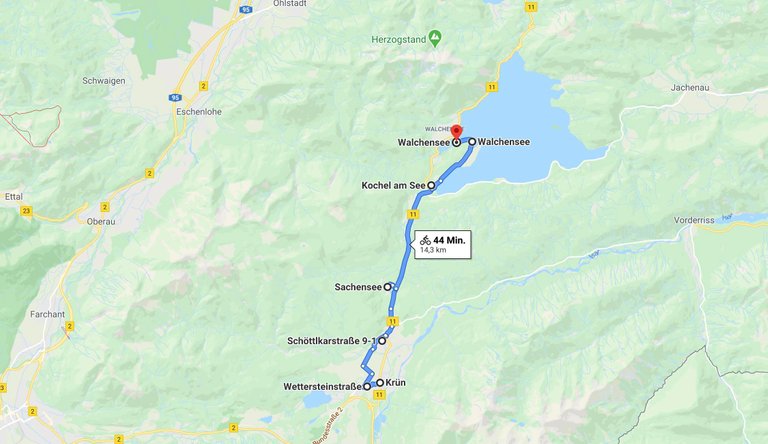 So after breakfast we got our backpacks and the bikes ready for take off!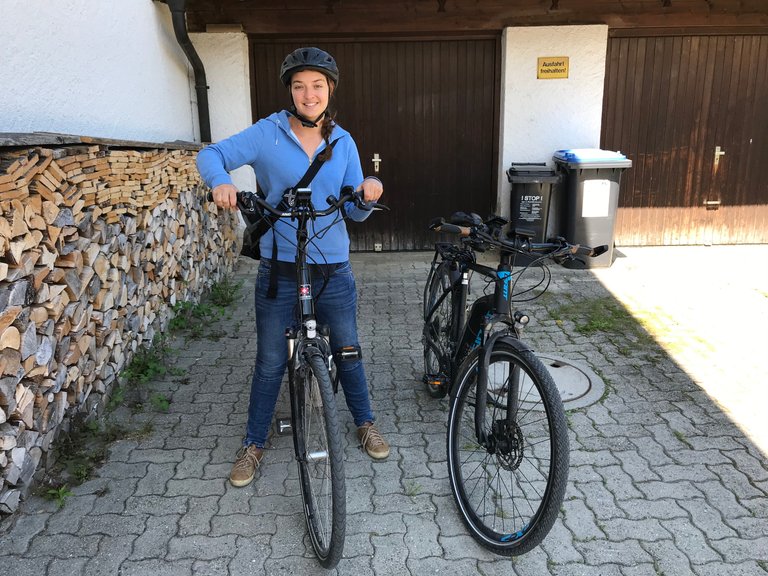 Already around the corner the view was stunning! We just had picked the perfect day for this!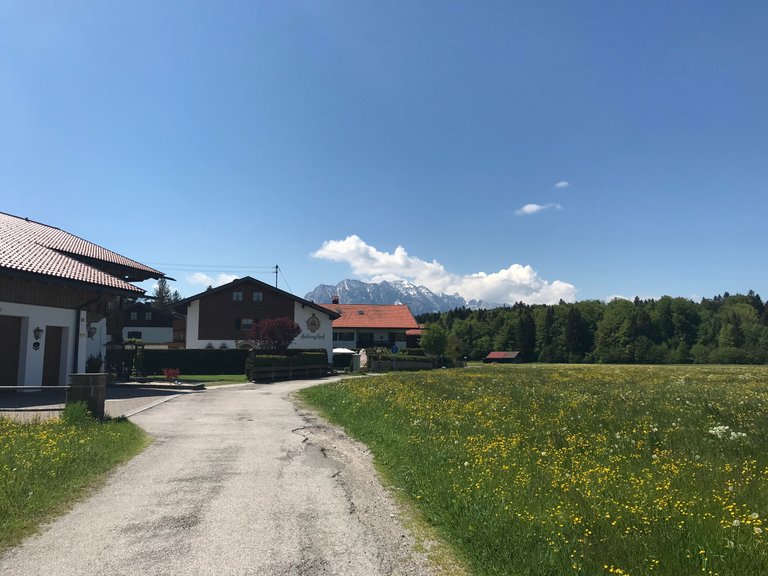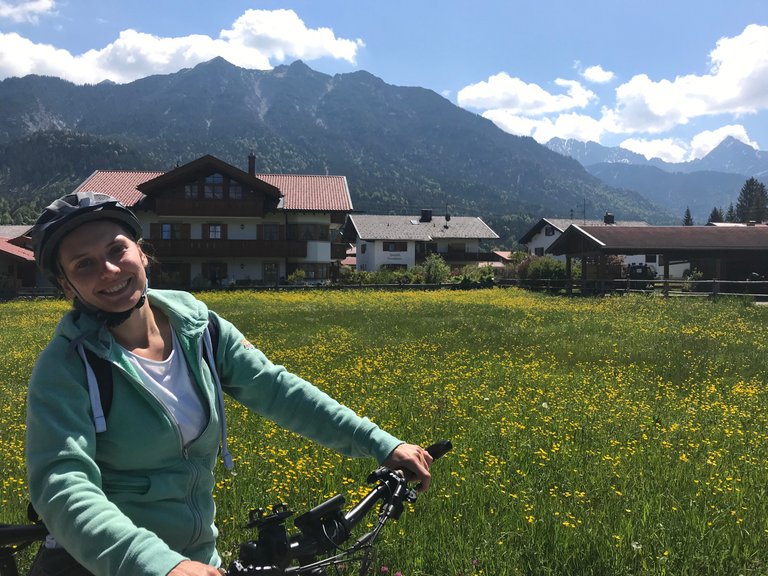 The first 10 minutes was easy going. I didn't need the electro motor at all driving over small paths and crossing the forest.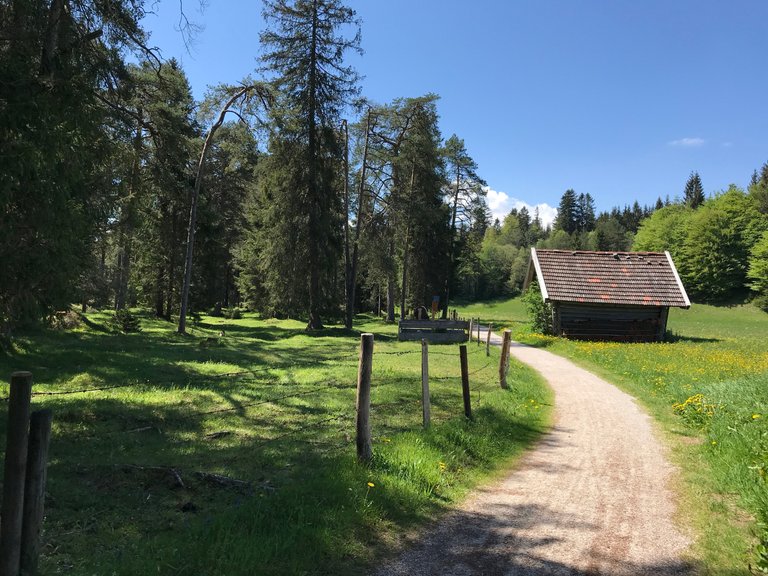 After that we drove along the street, through Krün towards Wallgau and then up the hill (with a little bit of motor..)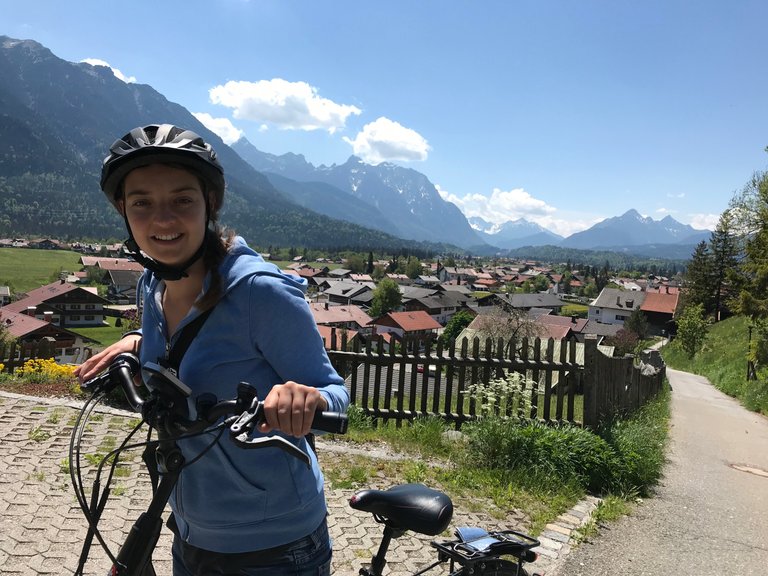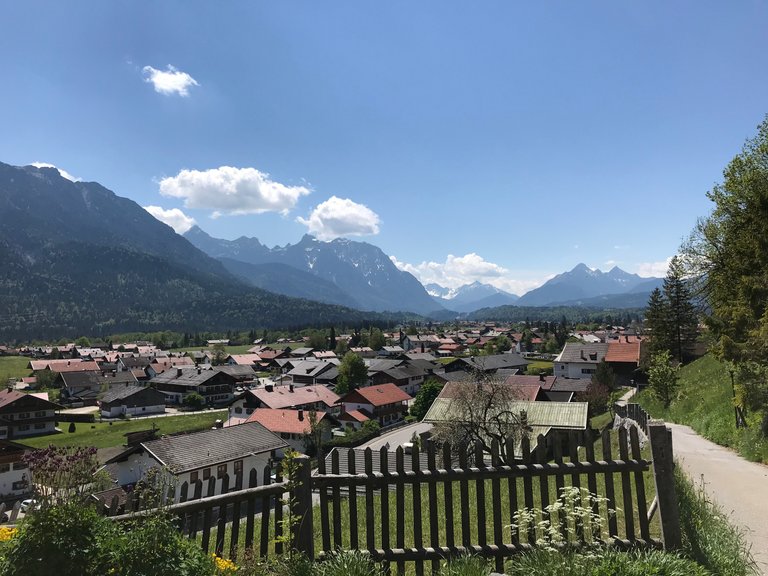 From there we drove downhill to the street again and another path between cars and river for about 10 minutes until we could cross a bridge over the river and were back in the forest enjoying the sounds of nature!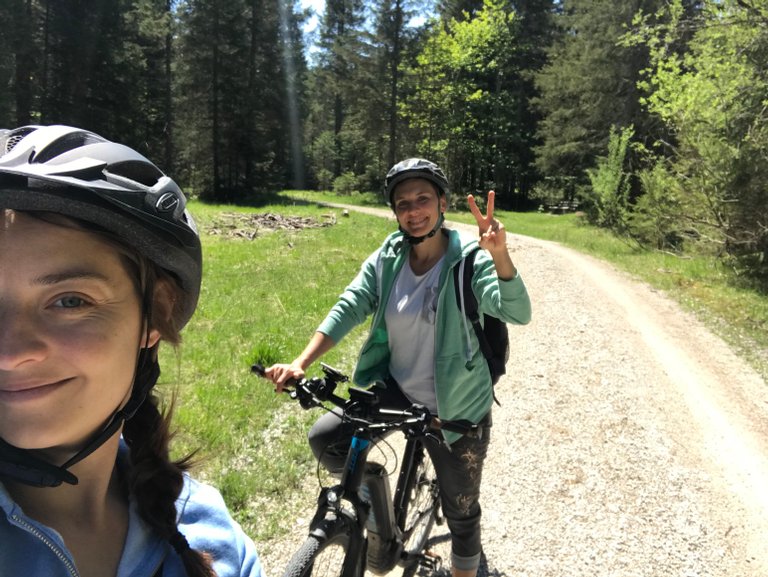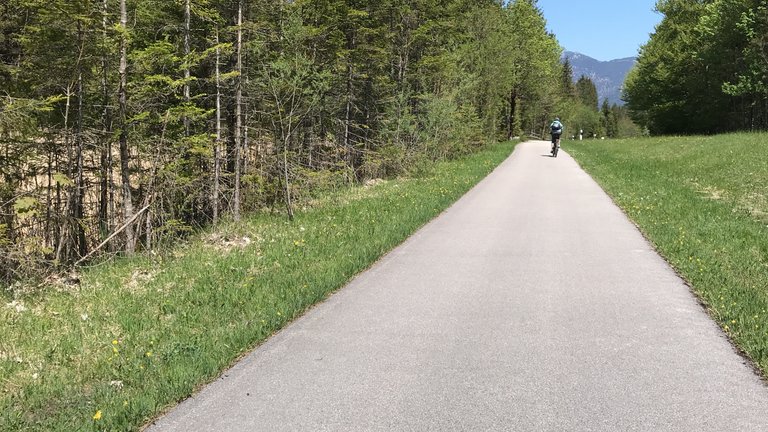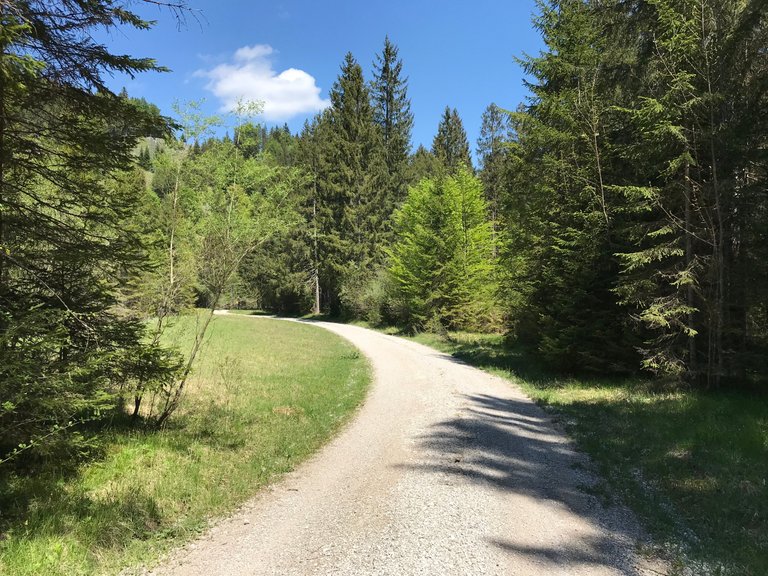 Almost all the way we had the river next to us left or right crossing bridges again and again. At a very special place we did our first break drinking some water and eating cookies.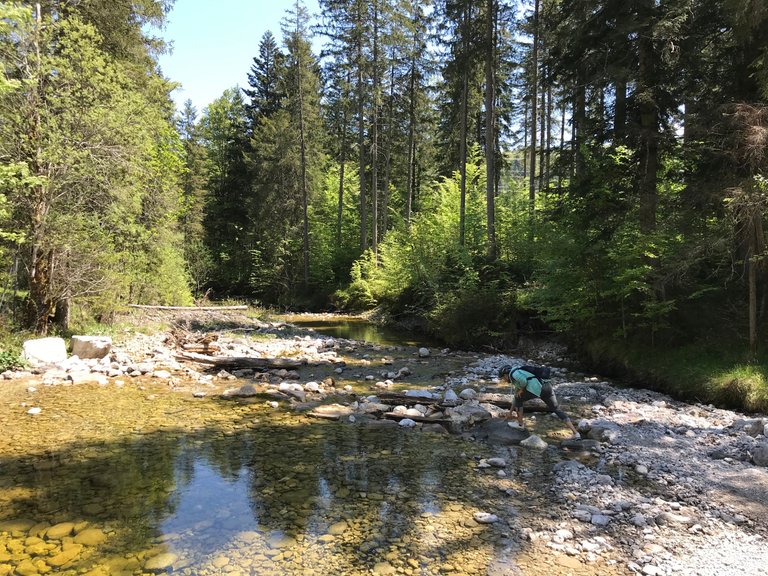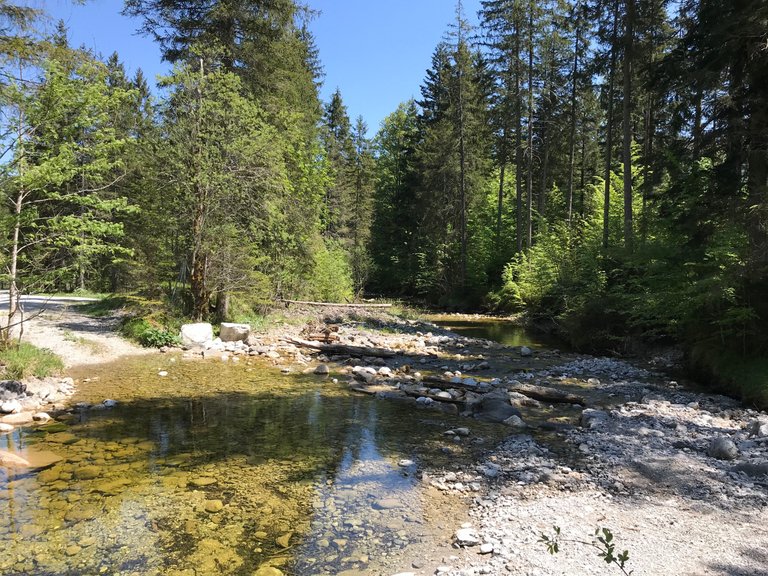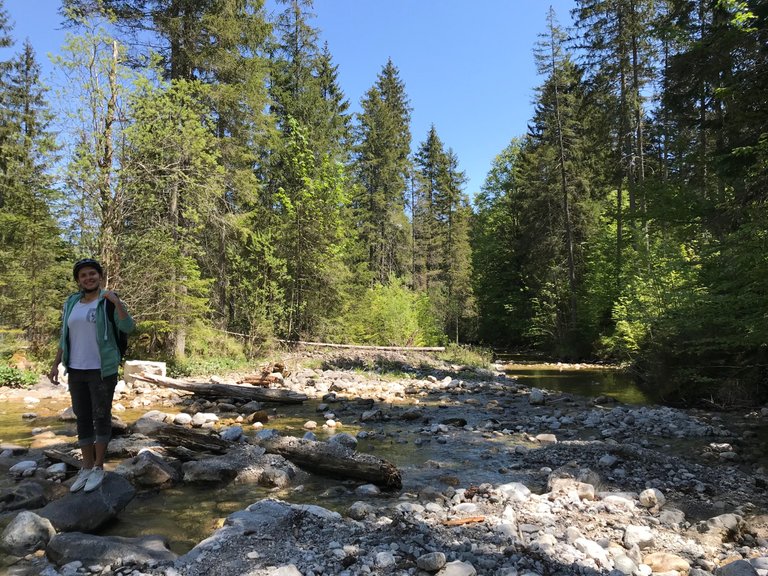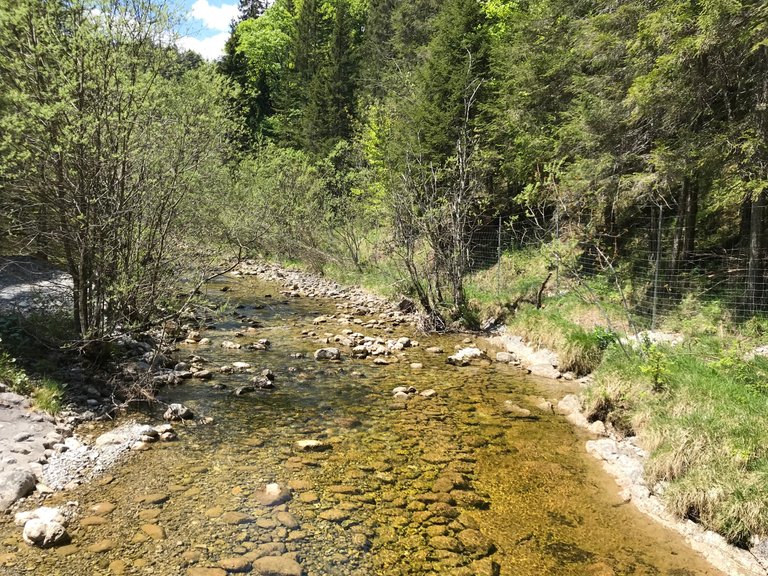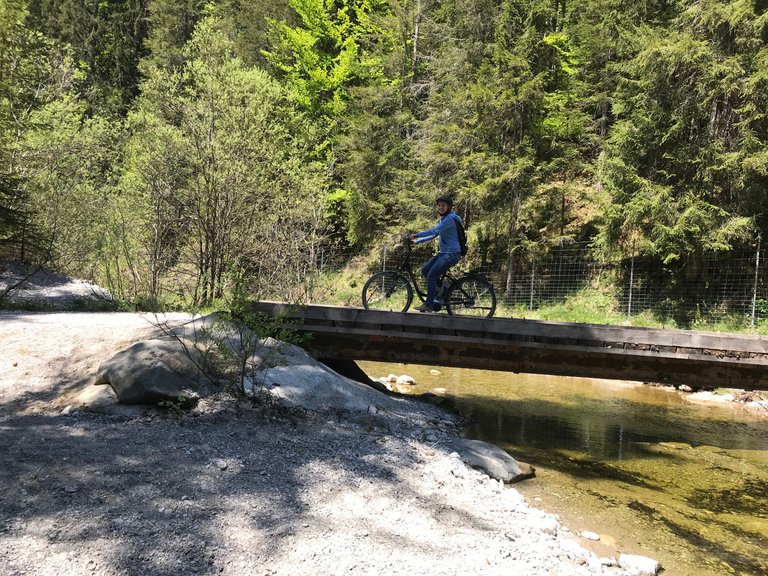 As it was downhill still it was really easy going, no need of electro motor support! But I was glad that for the way back it would be helpful! For about another 15 minutes we enjoyed the shadow of the forest path.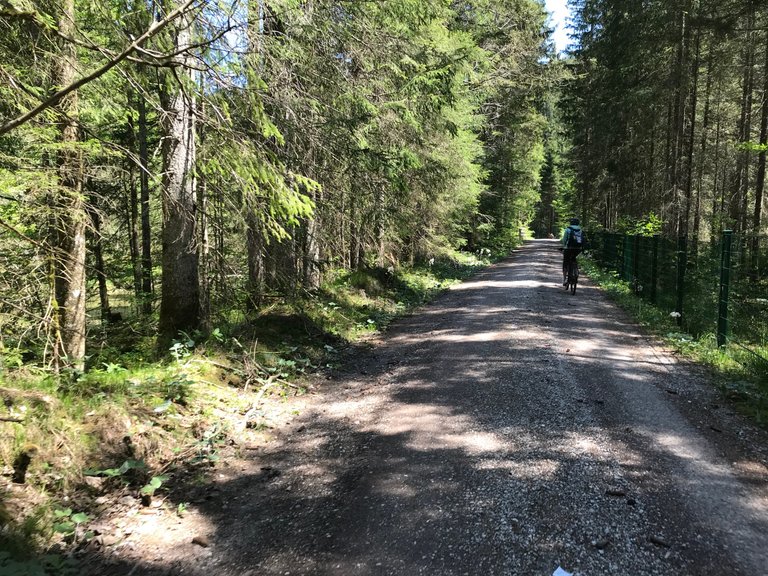 After that we crossed another little bavarian village, where the first restaurants had opened again after lockdown and people were sitting outside enjoying the sun (with distance of course).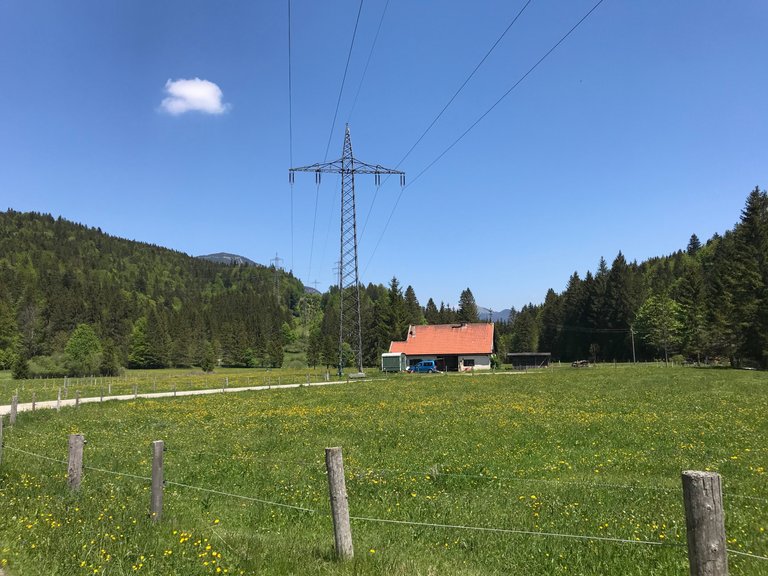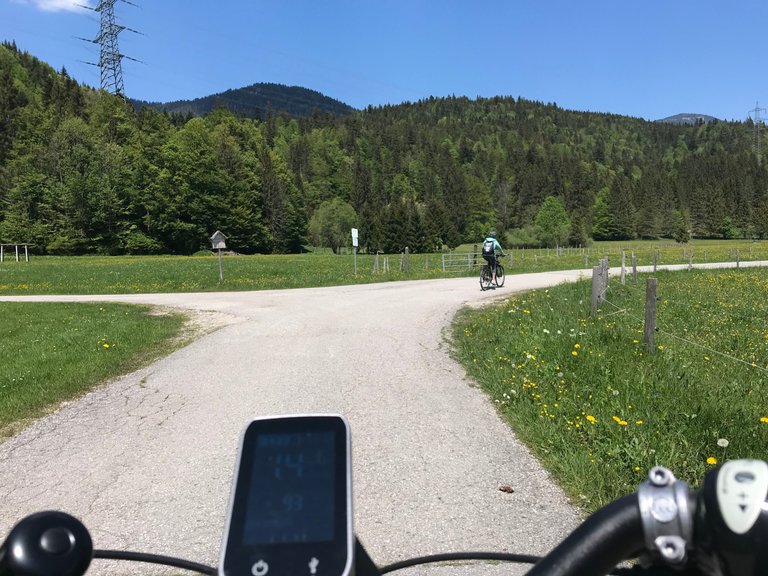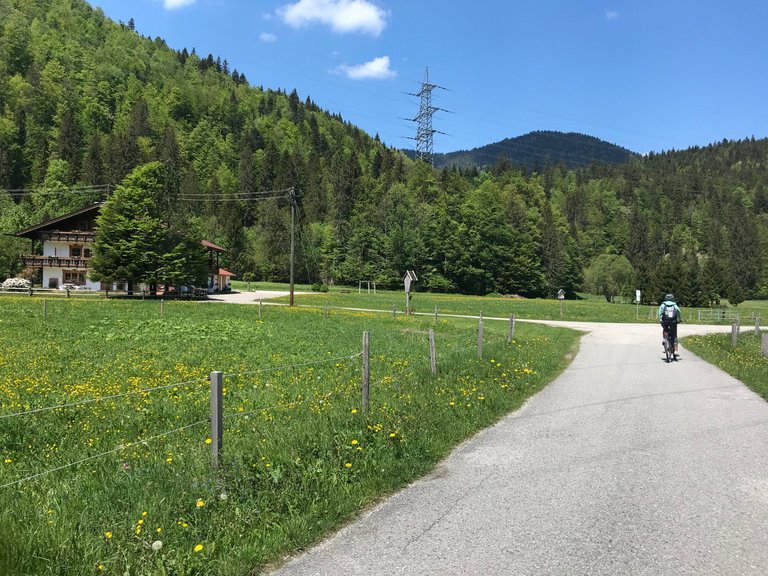 Crossing the main road we finally arrived at lake Walchensee! One of my favorite lakes in Bavaria because of the view and the cristal clear water!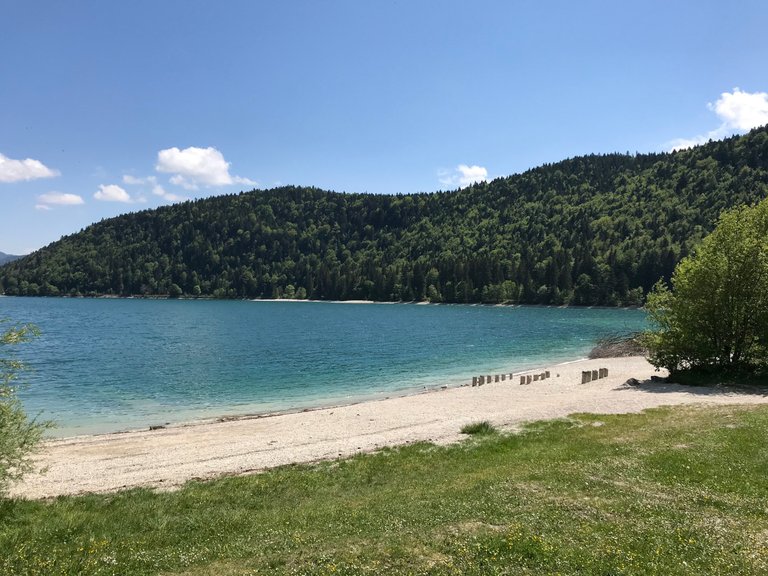 The Walchensee is one of the deepest (maximum depth: 190 m) and at the same time one of the largest (16.40 km²) alpine lakes in Germany. It is located 75 km south of Munich in the Bavarian Prealps, at 800 m above sea level and with its entire area including the island of Sassau in the municipality of Kochel am See.
In the east and south, its bank borders the community of Jachenau. The landowner of the lake and island area is the Bavarian State (managed by the Bavarian State Forests in contrast to most other larger lakes in Bavaria, which are subject to the administration of state castles, gardens and lakes).
As an originally natural lake, it has served as a water reservoir for the Walchensee power station 200m below at Kochelsee since 1924.
It was great to see that some of the installations had already opened again! The boat rental was stil closed but the kiosk was open and we met a few people biking or hiking there. (of course all with distance).
Just being out in nature and see some new faces gave us back a little bit of normality that we had missed a lot over the past 9 weeks of lockdown.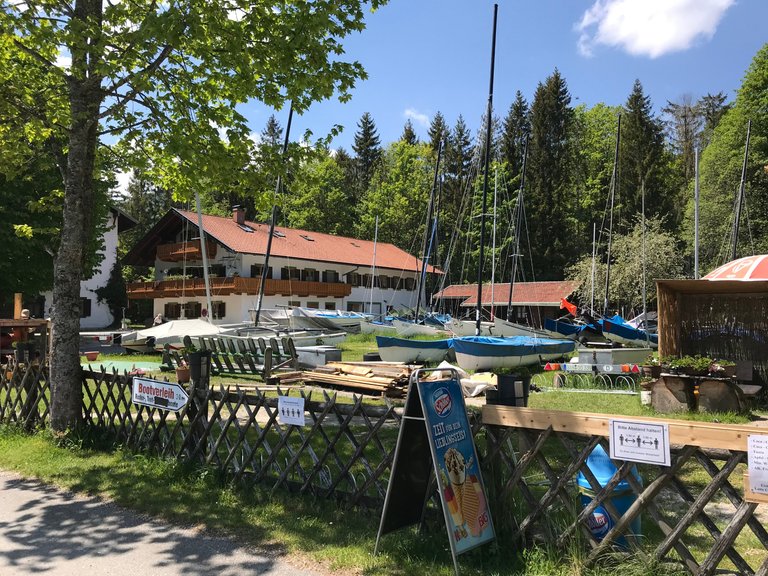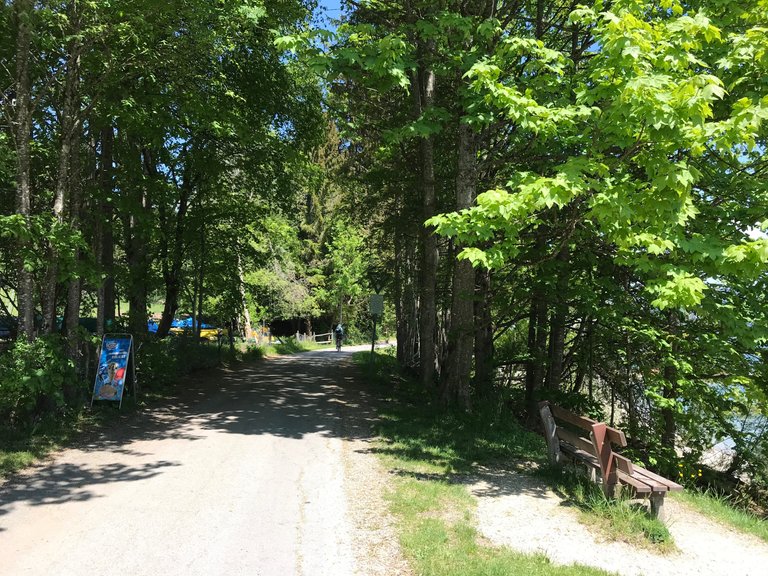 To avoid gathering, we drove along the little forest bath right next to the lake until we found a little stone beach to have a break.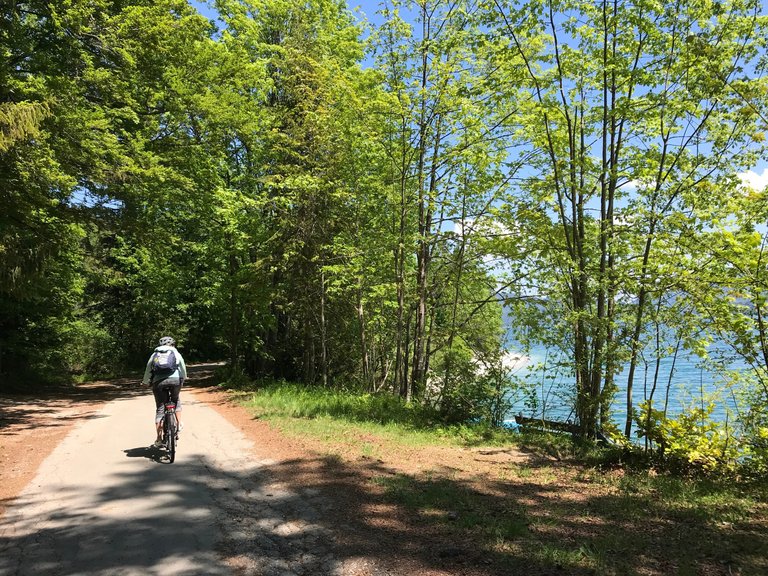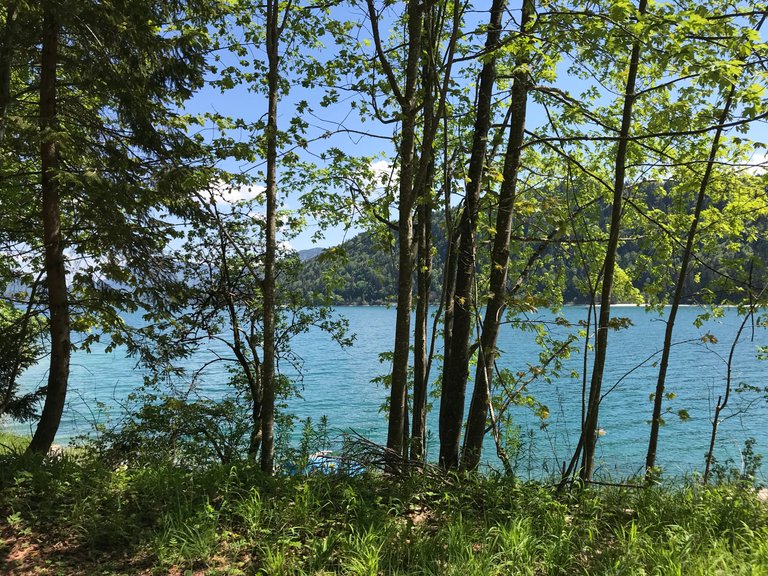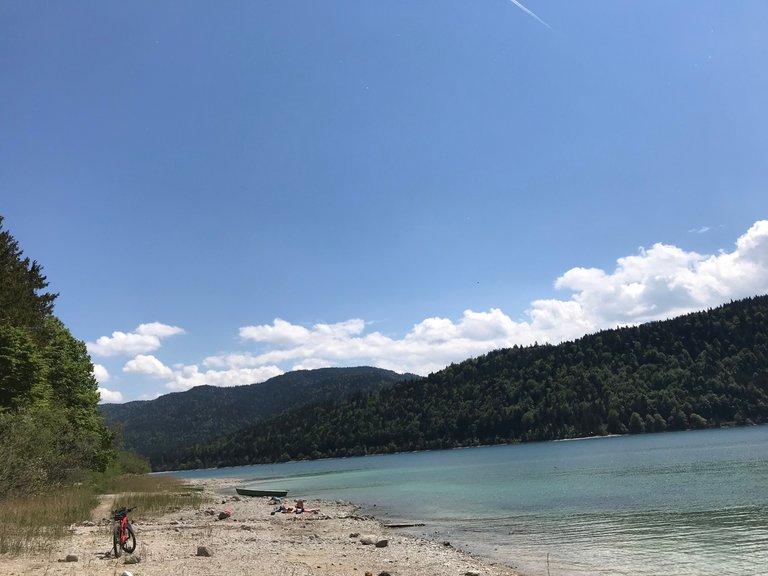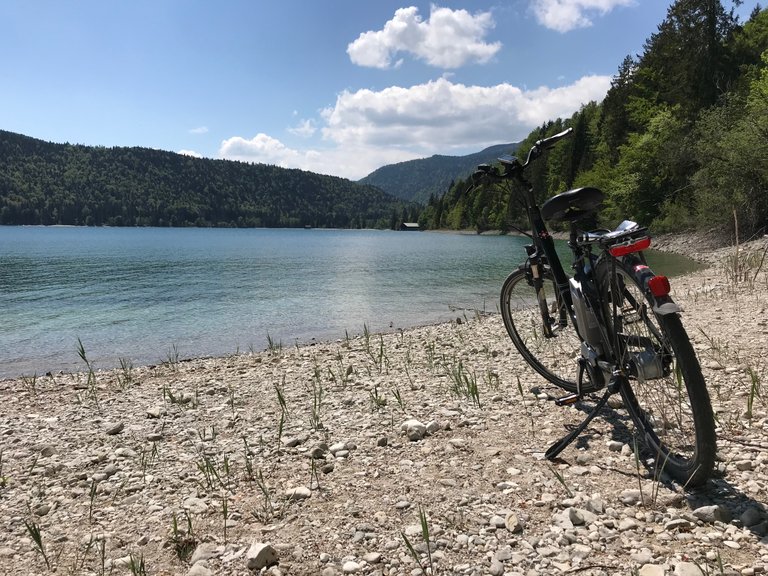 The water was even more clear then usual, I guess also because nobody had been swimming there for a while and no boats were allowed still to make it dirty.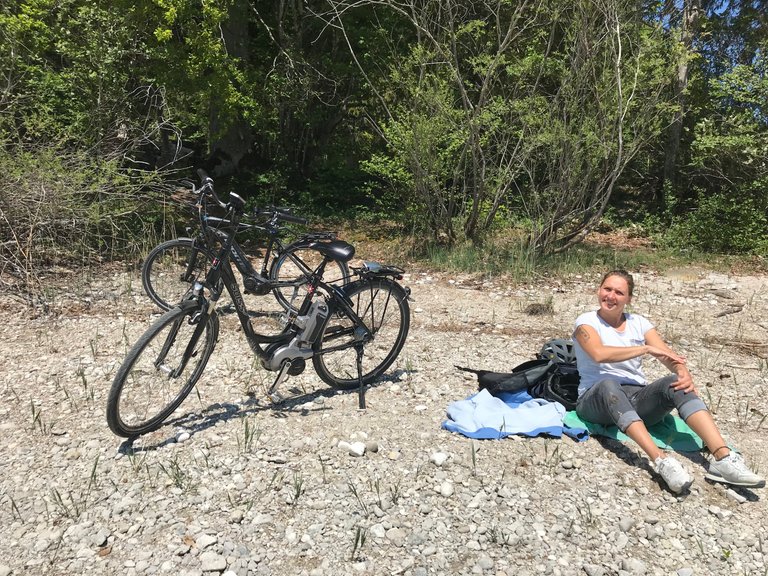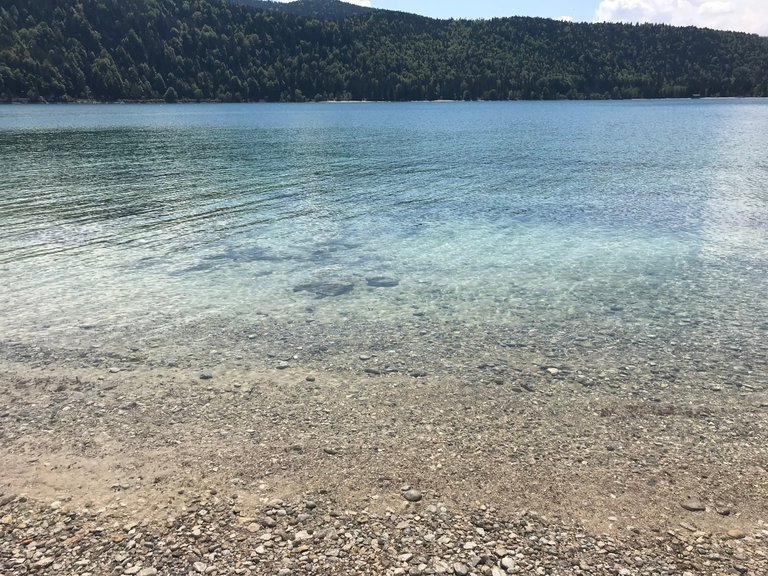 As it was really easy to drive along the lake and we had time plus great weather we decided to even go a bit further and were surprised to see kitesurfers and windsurfers in the water!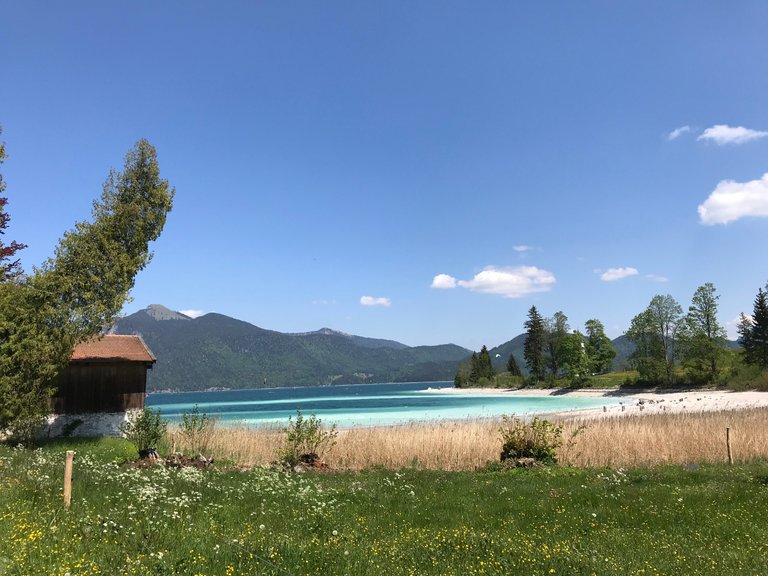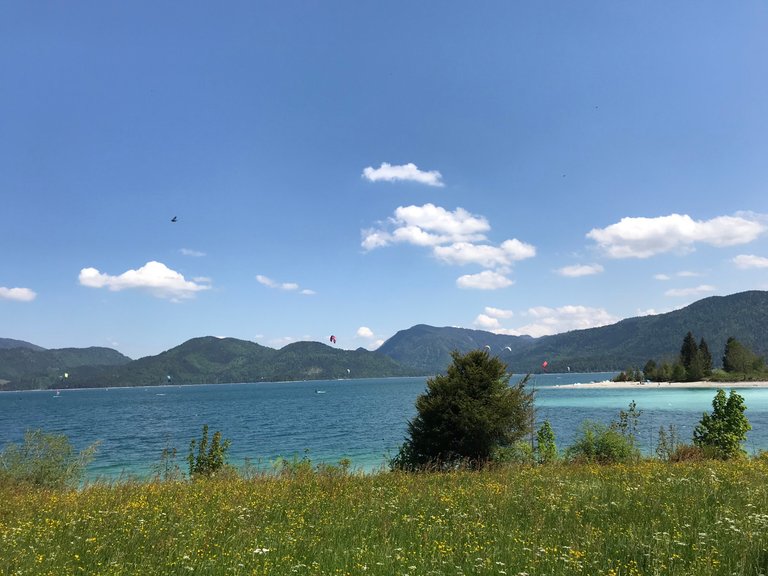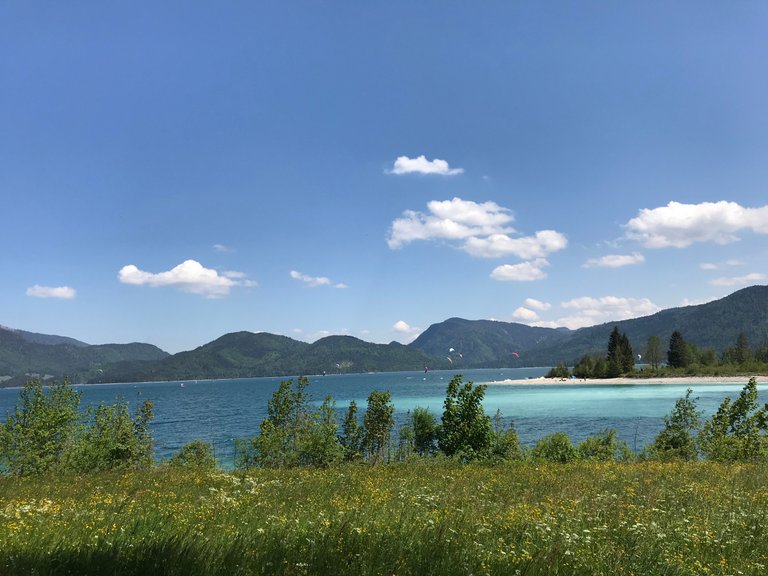 We decided to take another small break and watch them for a while, enjoying the sun, fresh air and sound of birds, water and wind.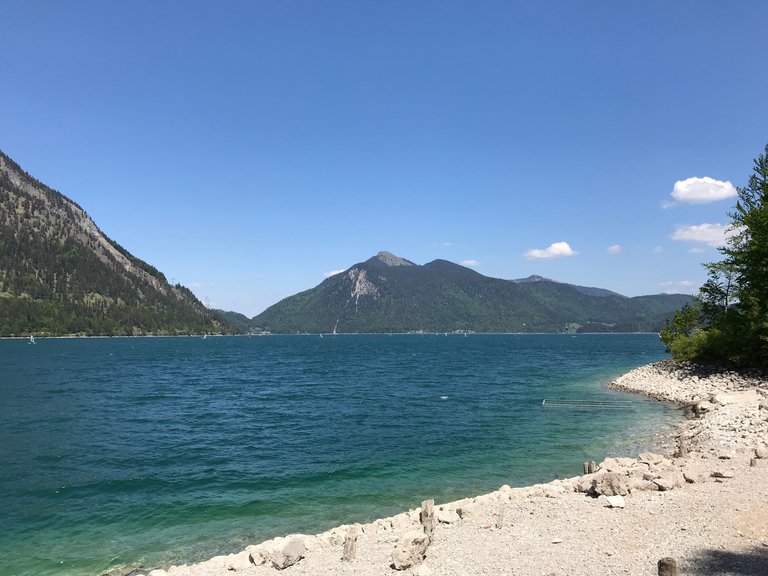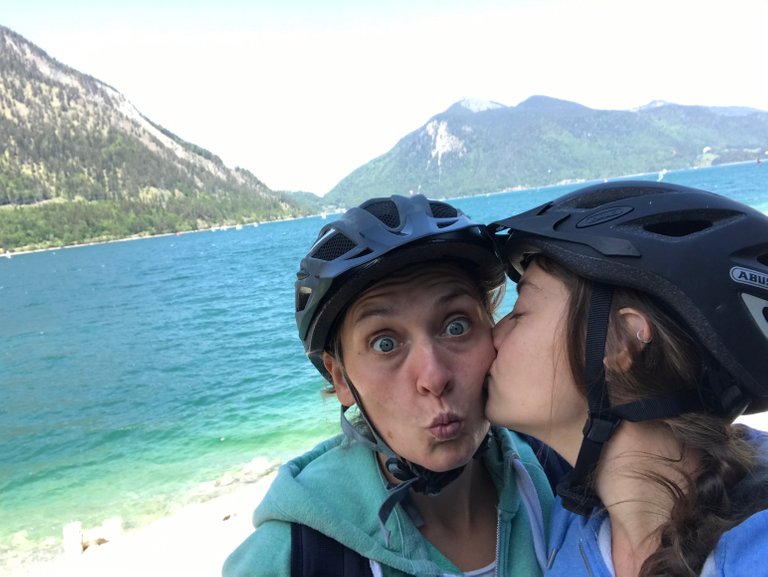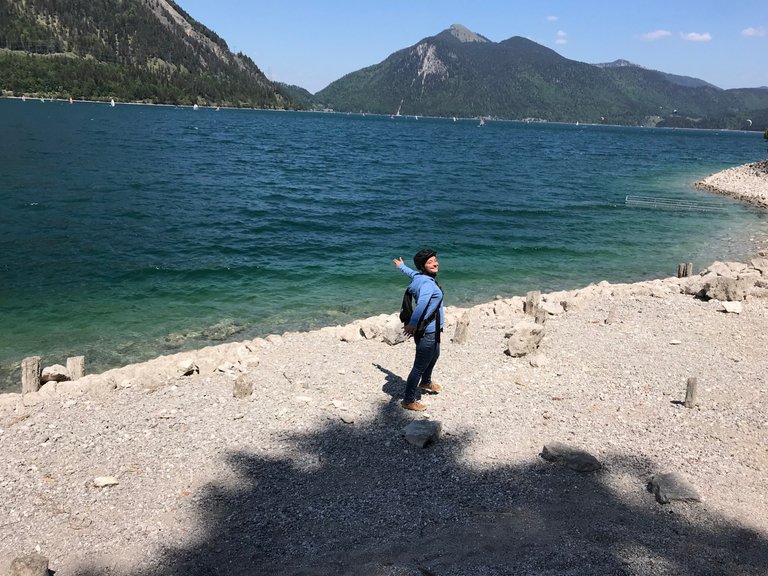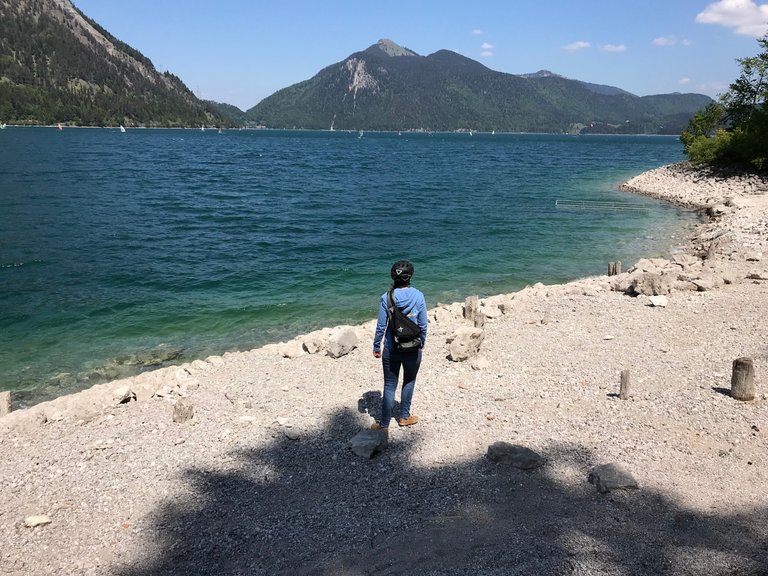 On our way back it was still warm and nice to have a fresh wind in our face while driving.
Once we crossed the main road we started to drive uphill! There I started to be really glad that we had an electro motor on our bike! - It was amazingly easy to drive back along the street, through the forest, through the village and along the street again, so that we even were faster then before!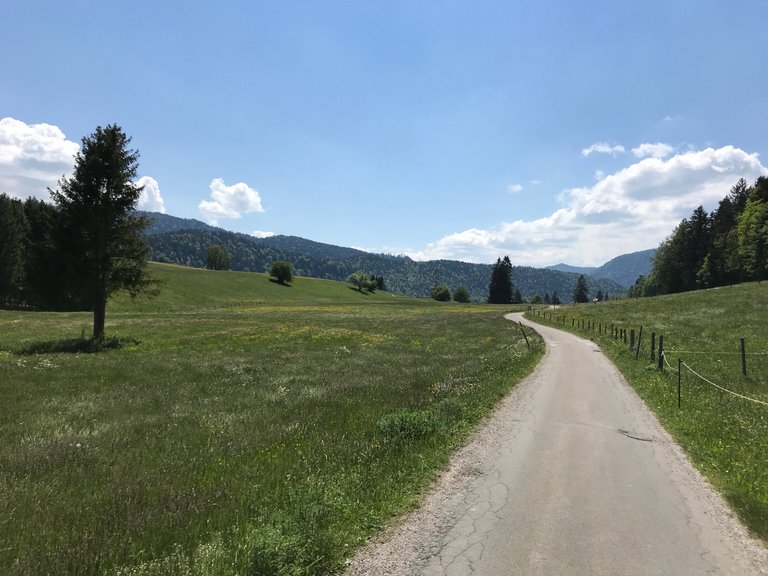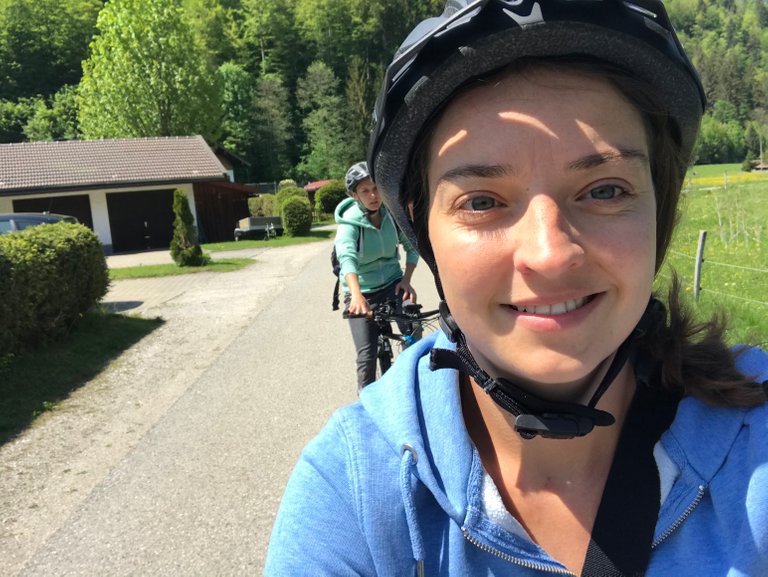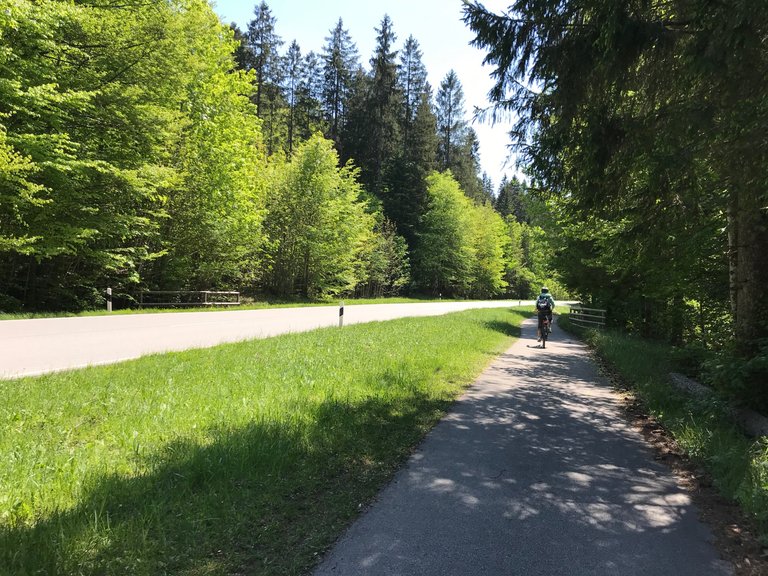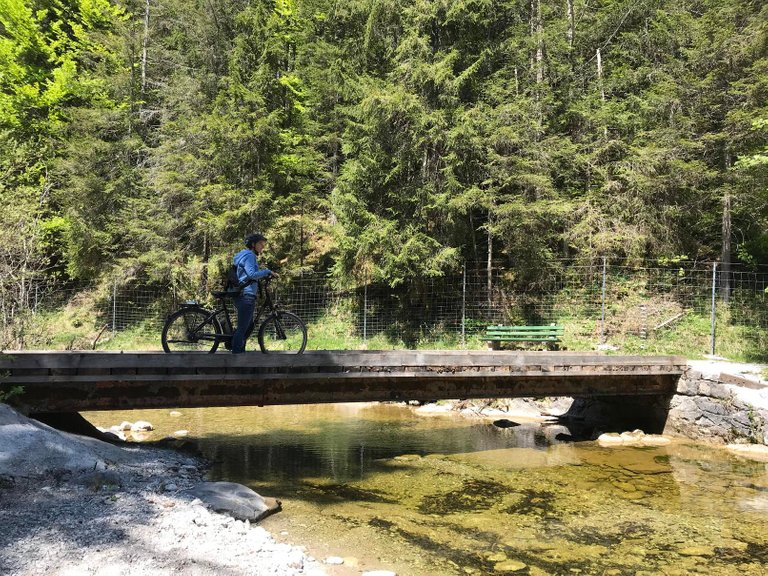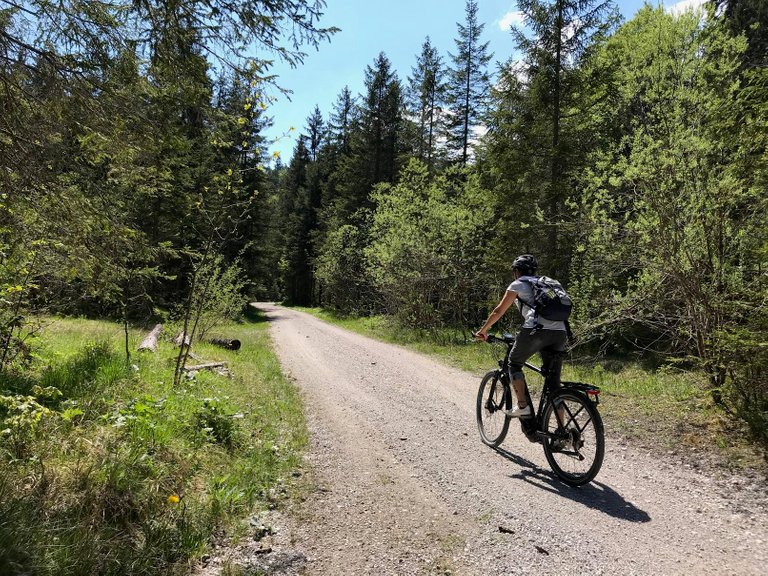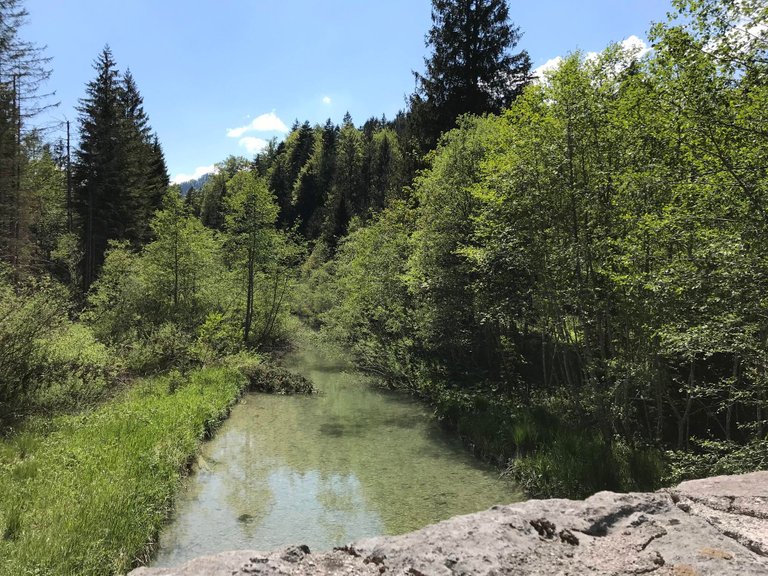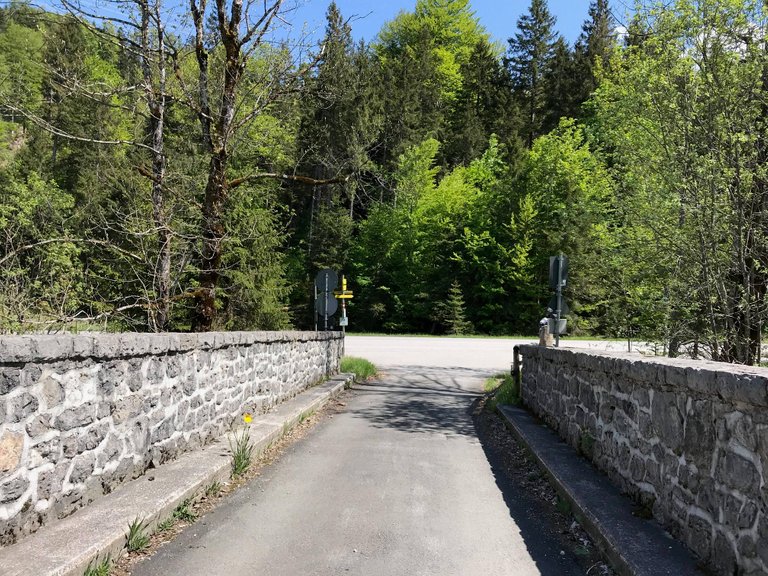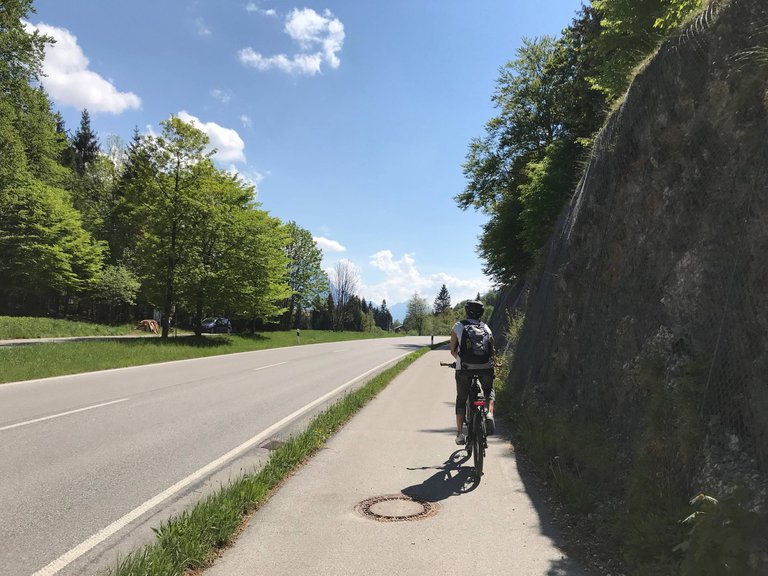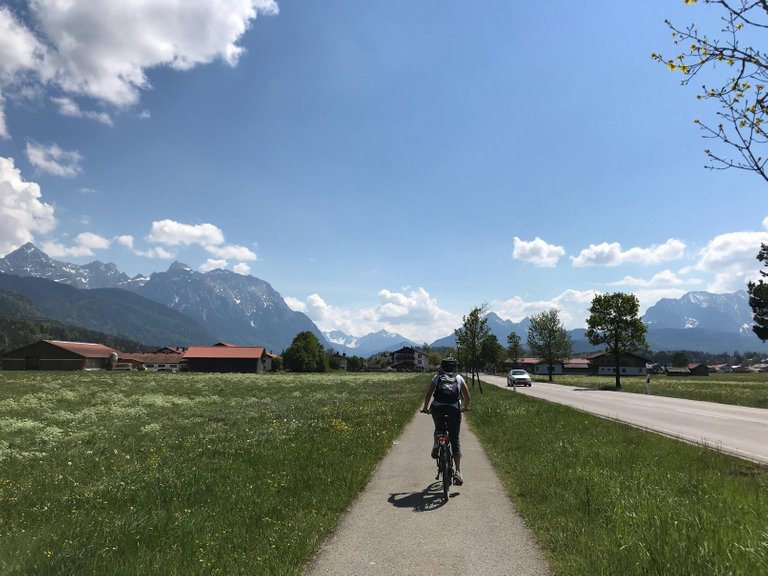 When we finally got home around 5 hours later we were supper happy about the great experience!
Of course our asses were hurting (this is something that happens no matter which bike you use I guess!) and we were tired. But finally we could use the great weather even in times of corona!
Sadly I forgot to bring the go pro so pictures are not the best quality. Also for the very first time I edited the videos making one film to put it on 3speak for the very first time;instead of putting them in between with the pictures, so I hope you forgive me that I didn't do it too professionally to put music on it ;) - Enjoy!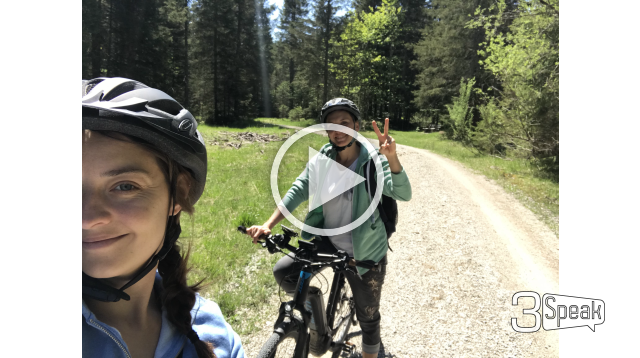 cheers, Liz
▶️ 3Speak
---
---