(ESP/ENG) Daily Challenge: #MomLife ||| Semana 27 - Día 5, Una canción que describa tu maternidad | Week 27 - Day 5, A song that describes your motherhood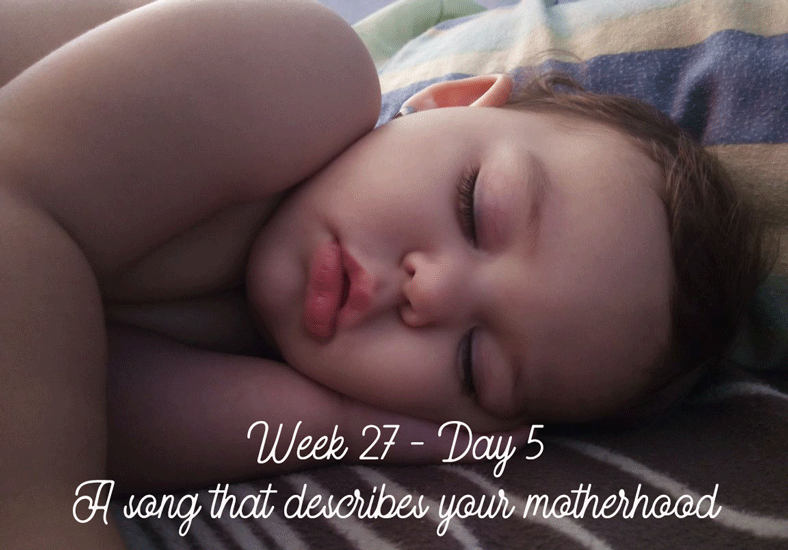 Hola mi querida comunidad de mamás y ahora también papás, en esta semana 27, día 5 me corresponden hablar sobre una canción que describa mi maternidad, me trae muchos recuerdos porque cuando tenía 25 años de edad escuché está canción de Thalia que me hizo pensar que yo no quiera estar sola toda la vida ese vacío que sentía en mi corazón, tendría que ser ocupado, que en algún momento yo si quería tener un hijo, ya tenía mis títulos, mi trabajo y una relación de tantos años y aún no llegaban los bebés, ya el tema nos empezaba a preocupar.
Hello my dear community of moms and now also dads, in this week 27, day 5 corresponds to me to talk about a song that describes my motherhood, it brings back many memories because when I was 25 years old I heard this song by Thalia that made me think that I do not want to be alone all my life that emptiness I felt in my heart, would have to be filled, that at some point if I wanted to have a child, I already had my degrees, my job and a relationship of many years and still no babies were coming, and the subject was beginning to worry us.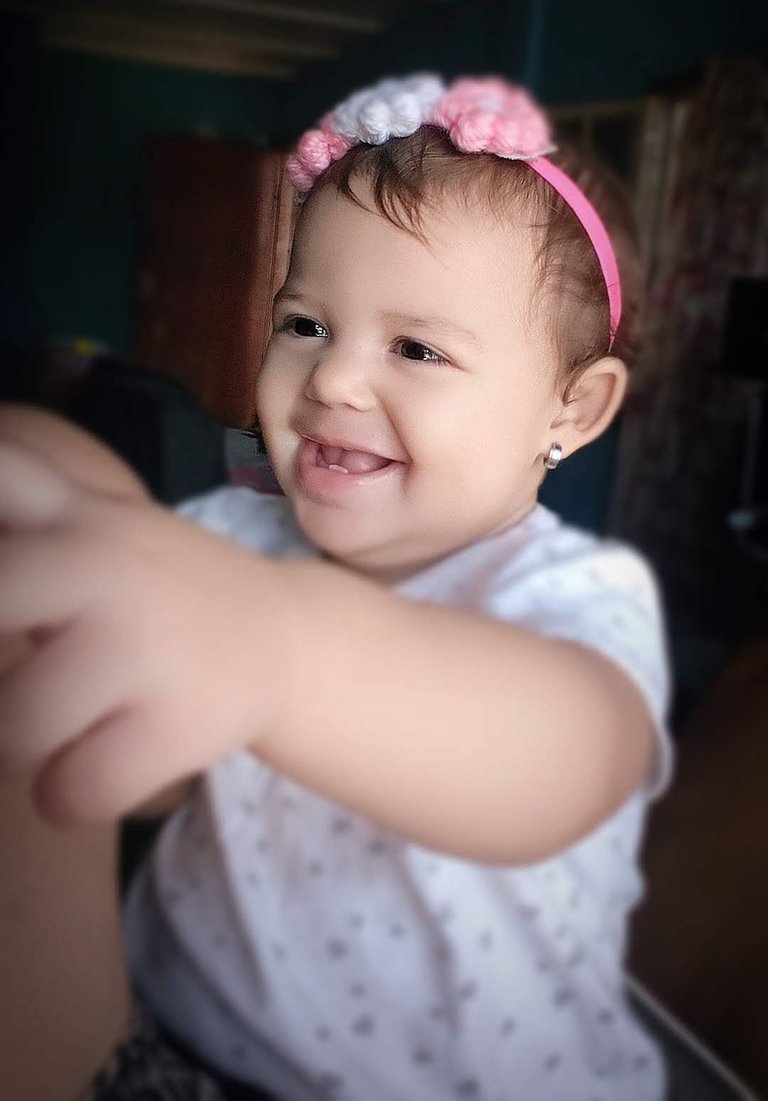 Un día un amigo de mi papá que es taxista me llevo hasta mi casa y él siempre escuchaba la radio y Thalia había anunciado su embarazo y saco ese sencillo, yo estaba escuchando el estreno en la radio y cada palabra que decía la sentía en mi corazón, porque de verdad siempre soñé con tener una familia y no cualquier familia, una familia con Douglas con mi esposo, yo siempre le dije que sería la mamá de sus hijos y me lo tomé muy enserio y pues tras 14 años juntos aquí tenemos a nuestra bebé de 1 año.
One day a friend of my dad's who is a cab driver took me home and he always listened to the radio and Thalia had announced her pregnancy and released that single, I was listening to the premiere on the radio and every word she said I felt it in my heart, because I really always dreamed of having a family and not just any family, a family with Douglas and my husband, I always told him that I would be the mother of his children and I took it very seriously and after 14 years together here we have our 1 year old baby.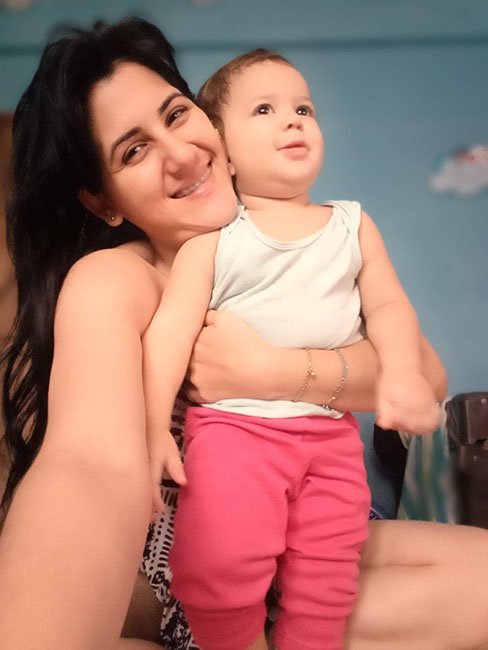 Hace días le puse la canción a mi bebé y se puso triste y llegué a pensar que quizás la canción le trasmite algo, es que yo la escucho y lloro porque cada pedacito me llega al alma, ella llego para cambiar mi mundo, dios si me escucho, porque me dio lo más grande que pueda pedir un madre, cada sonrisa, cada llanto, cada beso, cada carita triste, cuando duerme y mueve su boquita como si estuviese tomando pecho, como pone sus ojitos de tremenda, ella es el resumen de un amor puro y real, ella es la bendición de amor de dos personas que se han dedicado cada minuto, yo la amo profundamente, porque la espere demasiado y la amaremos el resto de nuestras vidas, mi hija Alissandra Sophia me cambio la vida en todos los aspectos y sentidos. Ya no me imagino un segundo sin ella.
A few days ago I played the song to my baby and she became sad and I thought that maybe the song transmits something to her, I listen to it and I cry because every little piece touches my soul, she came to change my world, God heard me, because she gave me the greatest thing a mother can ask for, every smile, every cry, every kiss, every sad little face, when she sleeps and moves her little mouth as if she was breastfeeding, how she makes her little eyes of tremendous, she is the summary of a pure and real love, she is the blessing of love of two people who have dedicated every minute, I love her deeply, because I waited for her too much and we will love her for the rest of our lives, my daughter Alissandra Sophia changed my life in all aspects and senses. I can't imagine a second without her.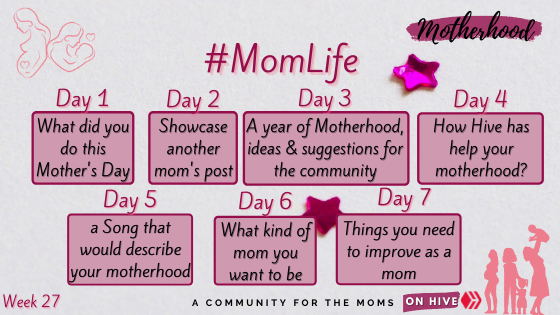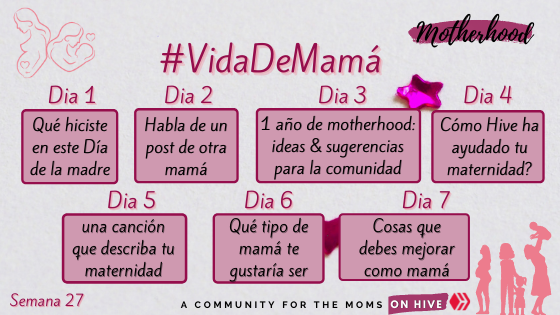 Recursos Utilizados | Resources Used
La imagen del banner fue editada con la aplicación Photoshop CS6| The image of the banner was edited with the Photoshop CS6 application

Las imágenes del divisor y semanario de preguntas, fueron tomadas de la comunidad Motherhood | The images of the divider and weekly questionnaire were taken from the Motherhood

Traducido con www.DeepL.com | Translated with www.DeepL.com/Translator





---
---