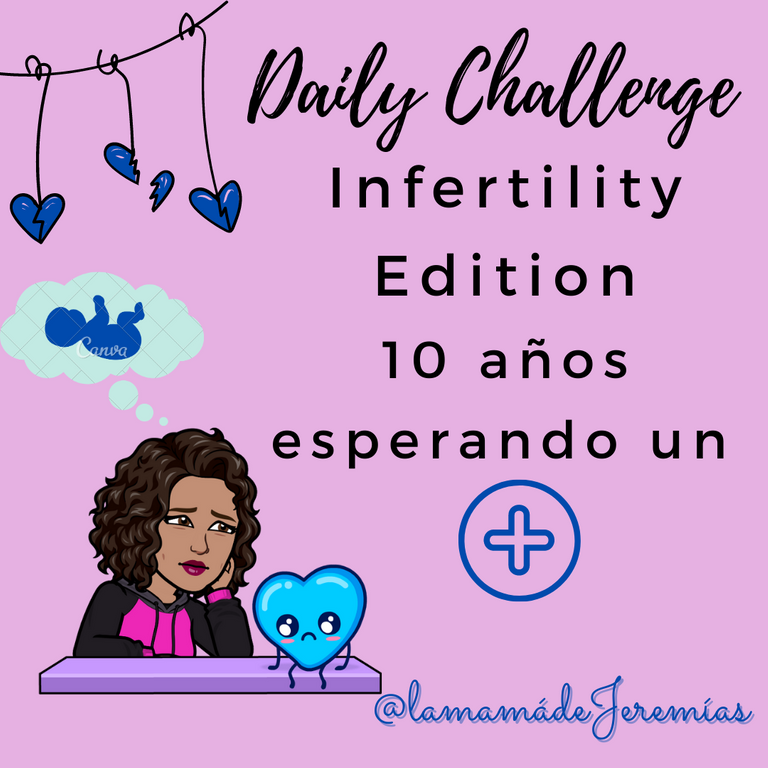 Saludos querida comunidad @motherhood, quiero participar del reto diario pero haciendo una sola publicación respondiendo cada pregunta, quiero hacerlo de esta manera porque la verdad mi cuento no es tan largo, solo 10 años de intentos fallidos, pero con final feliz.
Largo camino para quedar embarazada: si, fueron 10 años. tengo SOP: Síndrome de Ovarios Poliquísticos e Hiperinsulismo, tenía sobre peso, y el periodo menstrual me duraba hasta un año sin venirme. Además de todo esto luchaba con la depresión al ver que amigas y familiares quedaban embarazadas de manera muy fácil, no entendía que estaba mal en mí hasta que supe las consecuencias de esos 15 kilos de mas.
Negativos y Falsos Positivos: en mi caso siempre fueron negativos, pero sufría de embarazos psicológicos. No me bajaba la regla, se me hinchaba el abdomen, tenía síntomas evidentes de embarazo, sentía que algo dentro de mi se movía. y luego la tristeza profunda que me invadía al ver el gran NEGATIVO, lloraba y me sentía incomprendida. A esto se le sumaba el bulling que me hacía mi suegra, me decía que yo era una mula.
Cómo hablar con tu pareja de la infertilidad: Lamentablemente el me decía que era yo, no aceptaba que había la posibilidad de que el fuera infértil, después de tanto rogarle logré que se hiciera unos exámenes. Efectivamente era yo la del problema. Me hice unos exámenes muy dolorosos, el nombre de uno era Salpingografía, consiste en introducir un líquido de contraste en el útero para que pase por las trompas de falopio y con rayos X ver si había una obstrucción. El dolor fue insoportable. Este examen comprobó que mi problema era hormonal.
Invitro y Otras Opciones a Considerar: en el país donde vivo es sumamente costoso la fertilización in-vitro y la inseminación artificial. Además mi doctora me dijo que primero debía atender mi sistema endocrino y hormonal. Así que debía hacer dieta, tomar hormonas, mucho clomifeno, etc.
Remedios Locos que tomaste para quedar embarazada: Un concentrado de None, es lo mas horrible y desagradable y asqueroso que en mi vida he probado, este remedio consiste en dejar que el fruto del none se descomponga, le añaden unas plantas y hay que beberlo en ayunas todos los días durante un mes. El problema es que el sabor quedaba durante el día, y al mínimo eructo se sentía ese tufo desagradable. Otro remedio es un Quemado consiste en una combinación de plantas, papelón panela y aguardiente.
Posiciones sexuales que ayudan a quedar embarazada No sé... Probamos varias las mas locas, para que todos los renacuajitos llegaran al lugar indicado, nada funcionó, aunque fue divertido.
Adopción, la otra opción para ser padres: Lo conversamos, sabíamos que en la maternidad siempre dejan niños abandonados, pero nunca llegamos a una decisión final, eramos jóvenes todavía, podíamos seguir intentado tener uno propio.
Al final de todo esto, en el año 2016 hubo una gran decadencia económica en mi país, empece a bajar de peso... En 2017 fuimos a prestar ayuda social todas las semanas a una localidad relativamente lejana, eran largos viajes, transbordos, cansancio, mucho en que pensar y planificar. En este punto ya me había dado por vencida y toda esa actividad hizo que dejara de pensar en tener un bebé, al contrario empecé a cuidarme por miedo a quedar embarazada y tener que interrumpir todo ese proyecto. Es contradictorio, lo sé.
Al final de ese año me enfermé, y tomé unos antibióticos que suprimieron el efecto de las pastillas anticonceptivas, y bingo... 7 semanas después me hice una prueba de embarazo en sangre, salió el gran positivo.
Llore mucho, tenía sentimientos encontrados, sabía con mucha tristeza que debía dejar el proyecto en el que estaba participando y me encantaba, pero al mismo tiempo estaba muy feliz, mi sueño se había hecho realidad.
A los dos días de saber de mi embarazo elegí el nombre de mi hijo, Jeremías: significa Dios afloja la matriz.
Me cuidé muchísimo, y por fin el 11 de septiembre de 2018 tuve entre mis brazos al hombre de mi vida, mi gran amor.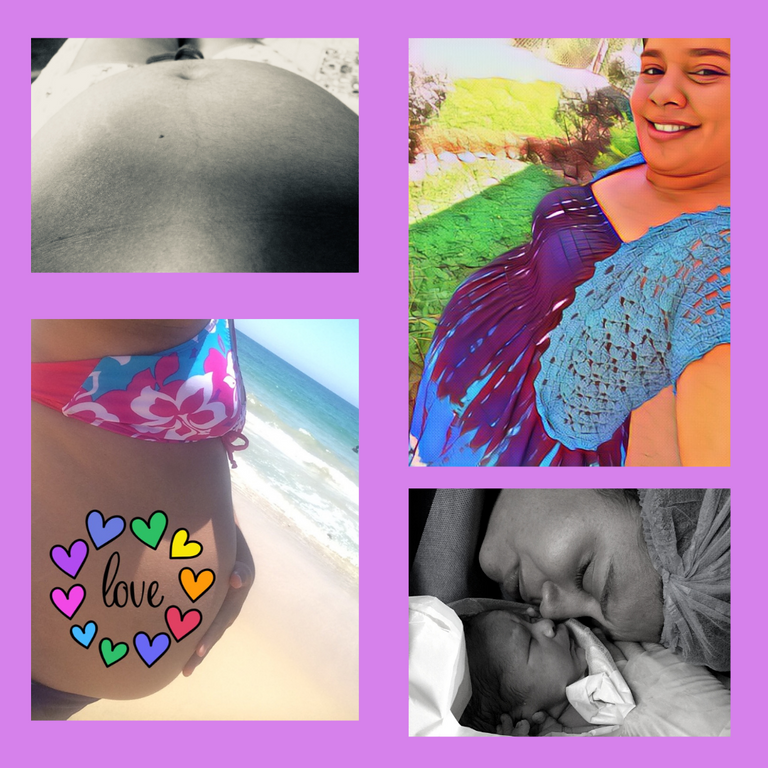 Fotos de mi propiedad editadas en Canva.

Greetings dear community @motherhood , I want to participate in the daily challenge but making a single post answering each question, I want to do it this way because the truth is that my story is not so long, just 10 years of failed attempts, but with a happy ending.
Long road to get pregnant: yes, it was 10 years. I have PCOS: Polycystic Ovarian Syndrome and Hyperinsulism, I was overweight, and my menstrual period lasted up to a year without coming. On top of all this I struggled with depression when I saw friends and family members getting pregnant so easily, I didn't understand what was wrong with me until I learned the consequences of those 15 extra kilos.
Negatives and False Positives: in my case they were always negative, but I suffered from psychological pregnancies. I didn't get my period, my abdomen swelled, I had obvious symptoms of pregnancy, I felt that something inside me was moving, and then the deep sadness that invaded me when I saw the big NEGATIVE, I cried and I felt misunderstood. On top of this, I was bullied by my mother-in-law, who told me I was a mule.
How to talk to your partner about infertility: Unfortunately he told me that it was me, he did not accept that there was a possibility that he was infertile, after so much begging I managed to get him to take some tests. Indeed, I was the one with the problem. I had some very painful tests, the name of one of them was Salpingography, it consists of introducing a contrast liquid in the uterus so that it passes through the fallopian tubes and with X-rays to see if there was an obstruction. The pain was unbearable. This test proved that my problem was hormonal.
Invitro and Other Options to Consider: In the country where I live, in vitro fertilization and artificial insemination are extremely expensive. In addition, my doctor told me that I had to take care of my endocrine and hormonal system first. So I had to go on a diet, take hormones, lots of clomiphene, etc.
Crazy remedies that you took to get pregnant: A concentrate of None, is the most horrible and disgusting and disgusting thing I have ever tried in my life, this remedy consists of letting the fruit of None decompose, they add some plants and you have to drink it on an empty stomach every day for a month. The problem is that the taste remained during the day, and at the slightest burp you felt that unpleasant stench. Another remedy is a Quemado, which consists of a combination of plants, papelón panela and aguardiente.
Sexual positions that help to get pregnant: I do not know ... We tried some of the craziest ones, so that all the little tadpoles would get to the right place, nothing worked, although it was fun.
Adoption, the other option to be parents: We talked about it, we knew that motherhood always leaves children abandoned, but we never reached a final decision, we were still young, we could still try to have one of our own.
At the end of all this, in 2016 there was a big economic decline in my country, I started to lose weight .... In 2017 we went to provide social aid every week to a relatively distant location, it was long trips, transfers, tiredness , a lot to think about and plan. At this point I had already given up and all that activity made me stop thinking about having a baby, on the contrary I started to take care of myself for fear of getting pregnant and having to interrupt all that project. It is contradictory, I know.
At the end of that year I got sick, and I took some antibiotics that suppressed the effect of the contraceptive pills, and bingo .... 7 weeks later I took a blood pregnancy test, it came out the big positive.
I cried a lot, I had mixed feelings, I knew with great sadness that I had to leave the project in which I was participating and I loved it, but at the same time I was very happy, my dream had come true.
Two days after I found out about my pregnancy I chose the name of my son, Jeremias: it means God loosens the womb.
I took great care of myself, and finally on September 11, 2018 I had in my arms the man of my life, my great love.
Photos of my property edited in Canva.
Translated with www.DeepL.com/Translator (free version)