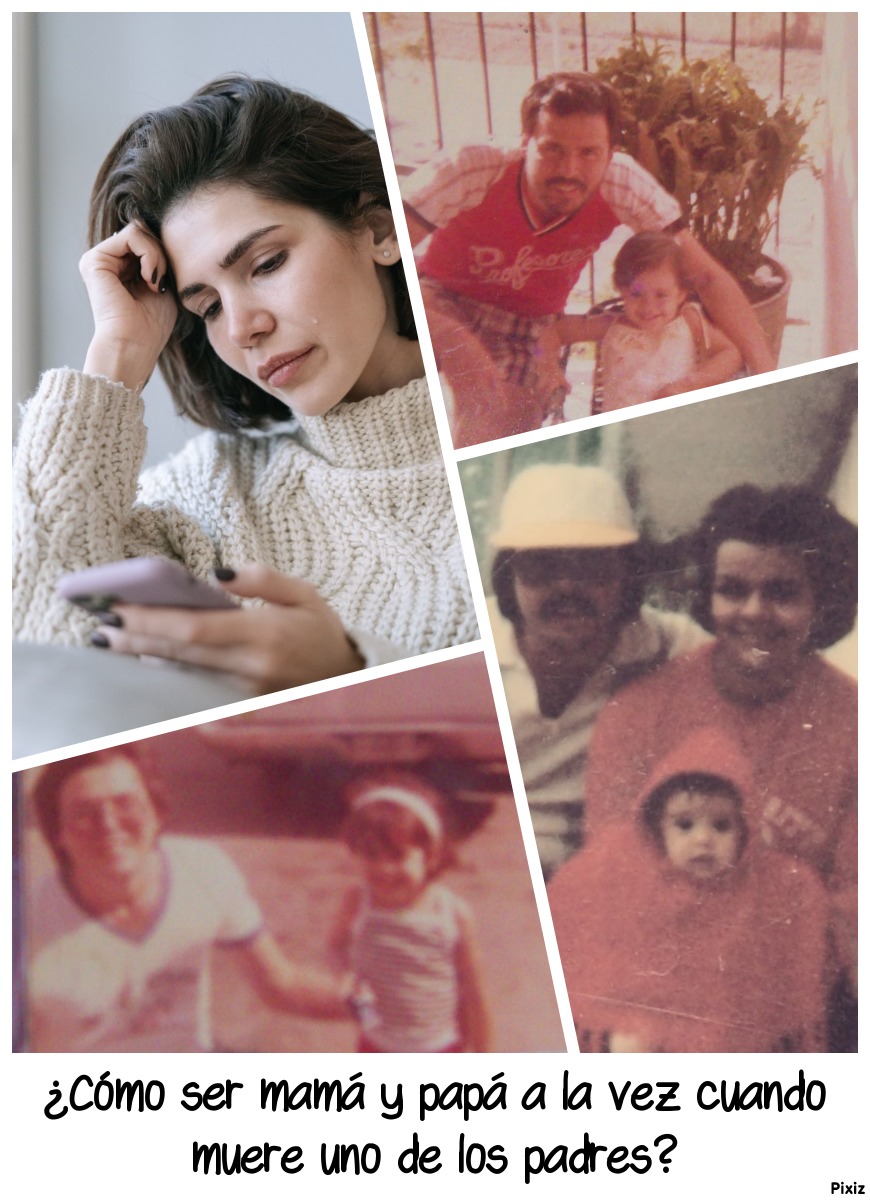 Hello dear friends of Hive, today I greet you as always wishing you success in all your projects, may your life be full of joy and love, but above all of faith and strength to face those hard moments that sometimes we have to live.
One of these terrible hard moments, without a doubt, is death, the death of a parent or a spouse. I believe that we can never prepare ourselves for something like this, but it is a reality that we cannot avoid and today I want to share with you, to articulate my mind with single mothers, very intimate memories of my childhood, painful moments, but also experiences that made me admire my mother and that I am sure can be a great help for women, for young mothers of today who for one reason or another have had to be father and mother at the some time.
Hola queridos amigos de Hive, hoy les saludo como siempre deseándoles éxito en todos sus proyectos, que su vida esté llena de alegría y amor, pero sobre todo de fe y fortaleza para enfrentar esos momentos duros que a veces nos toca vivir.
Uno de estos momentos terribles, sin duda, es la muerte, la muerte de un padre o de un cónyuge. Creo que nunca podremos prepararnos para algo así, pero es una realidad que no podemos evadir y hoy quiero compartir con ustedes, particularmente con las madres solas, recuerdos muy íntimos de mi infancia, momentos dolorosos, pero también vivencias que me hicieron admirar a mi madre y que estoy segura pueden ser una gran ayuda para las mujeres, para las madres jóvenes de la actualidad que por una u otra razón han tenido que ser padre y madre a la vez.
You see, I was an only child until I was six years old, when I was the center of attention and care - in case you are wondering at this point, yes, I am the child of the carrier. After those six years my parents gave me a gift that I had been asking for some time: a little sister, who came to add joy to our life, who shared with me and fully enjoyed the love of our parents for some years, until one fateful day when my father, just forty years old, was taken from us by death when I was ten and my little sister was four years old.
I have no words to express how heartbreaking it is for a child to lose a parent, especially when he or she has been, as in my case, a loving father, an accomplice in mischief and above all, brimming with health, joy and life.
This was the last picture we took together, that day he took me to a work meeting with my mother where I recited a poem written by him to liven up the occasion (one of his witticisms). (One of his witticisms) Shortly after he passed away of a fulminant heart attack.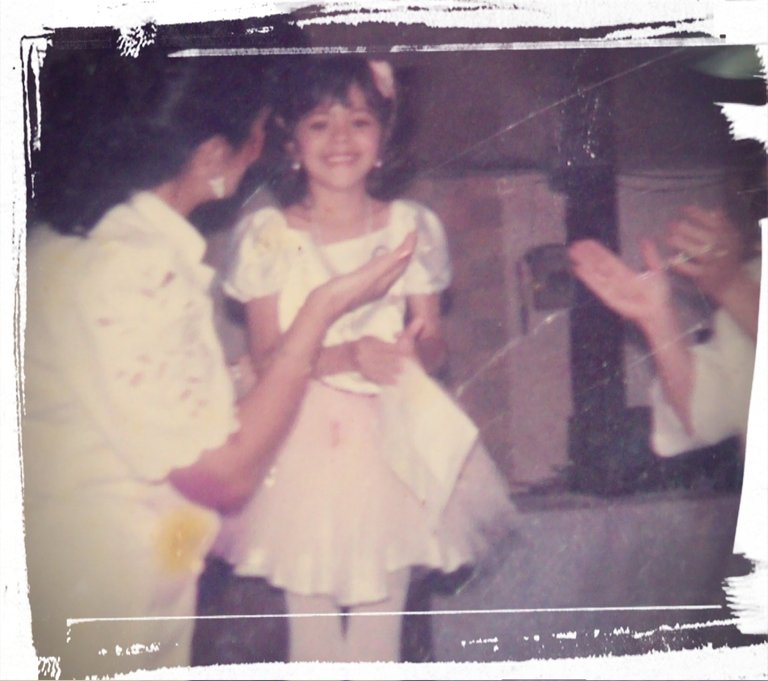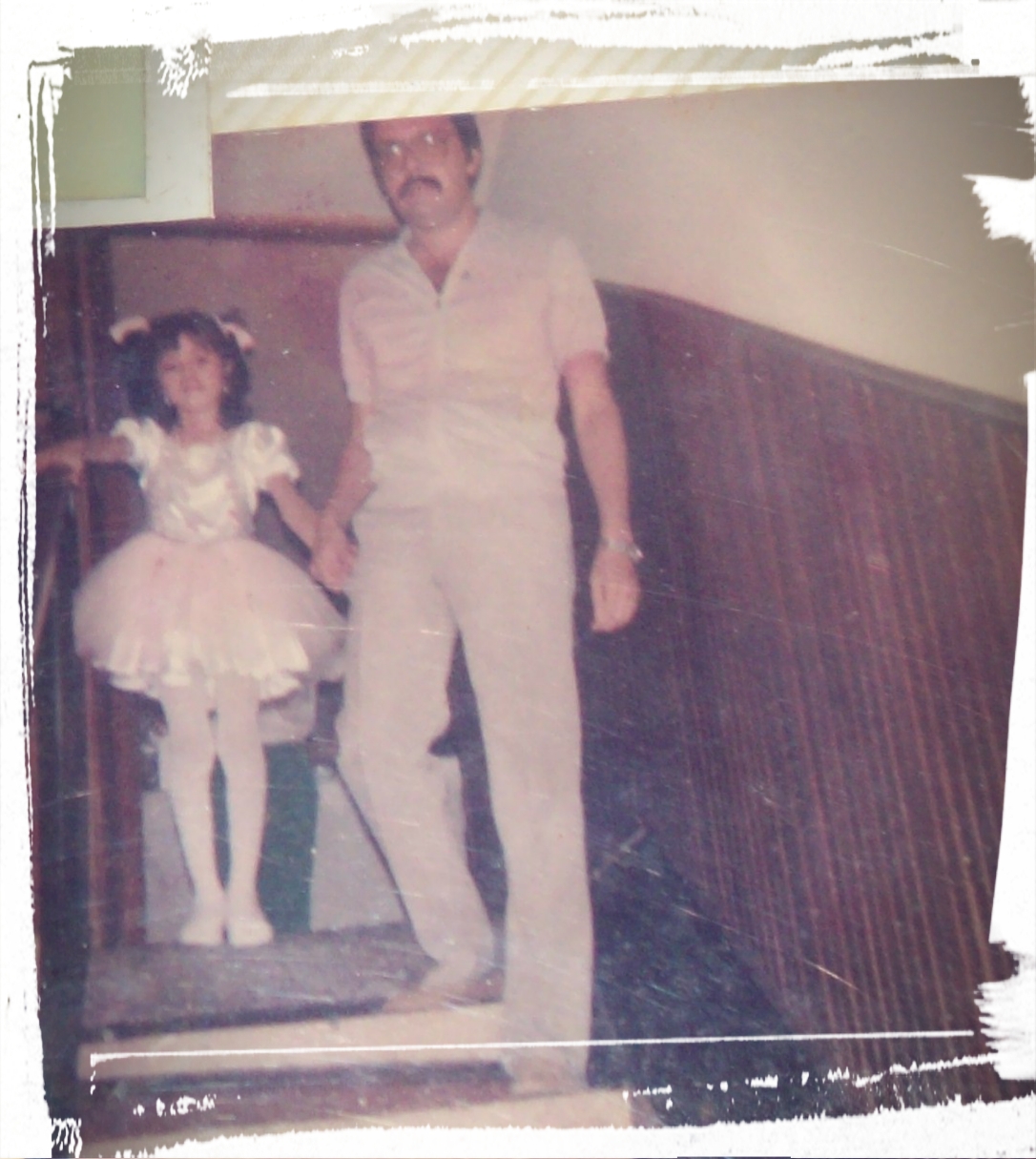 Verán, fui hija única hasta los seis años, en los que fui el centro de atenciones y cuidados- por si se lo están preguntando en éste punto, sí soy la niña de la porta-. Pasados esos seis años mis padres me dieron un regalo que venía pidiendo desde hacía un tiempo: una hermanita, quien vino a sumar alegrías a nuestra vida, que compartió conmigo y disfrutó plenamente del amor de nuestros padres por algunos años, hasta que un nefasto día mi padre con apenas cuarenta años recién cumplidos, nos fue arrebatado por la muerte cuando yo tenía diez y mi hermanita cuatro años.
No tengo palabras para expresar lo desgarrador que es para un niño perder a un padre, menos cuando ha sido como en mi caso, un padre amoroso, cómplice en travesuras y sobre todo rebosante de salud, alegría y vida.
Ésta fotografía fue la última que nos tomamos juntos, ese día me llevó a una reunión de trabajo de mi madre donde para amenizar la ocasión les recité un poema escrito por él. (Una de sus ocurrencias) Poco tiempo después falleció de un infarto fulminante.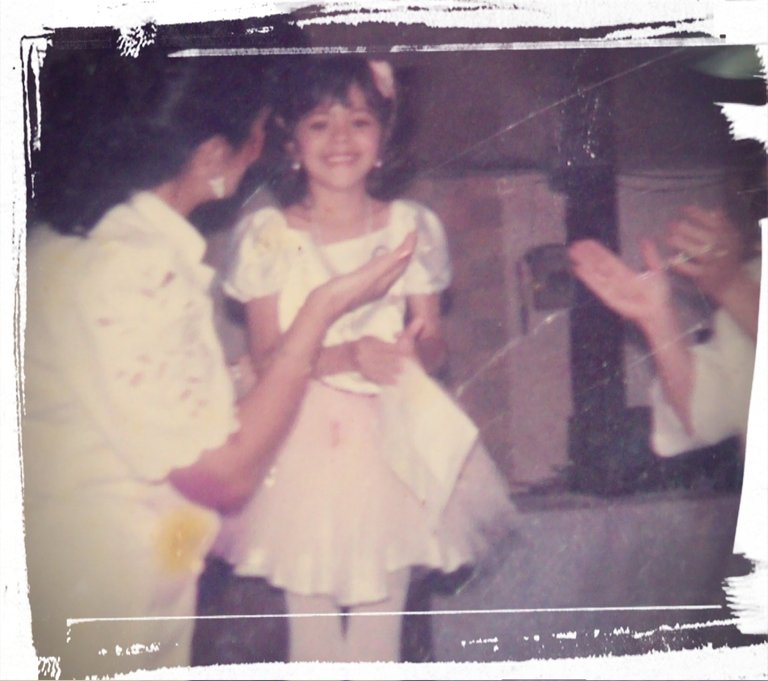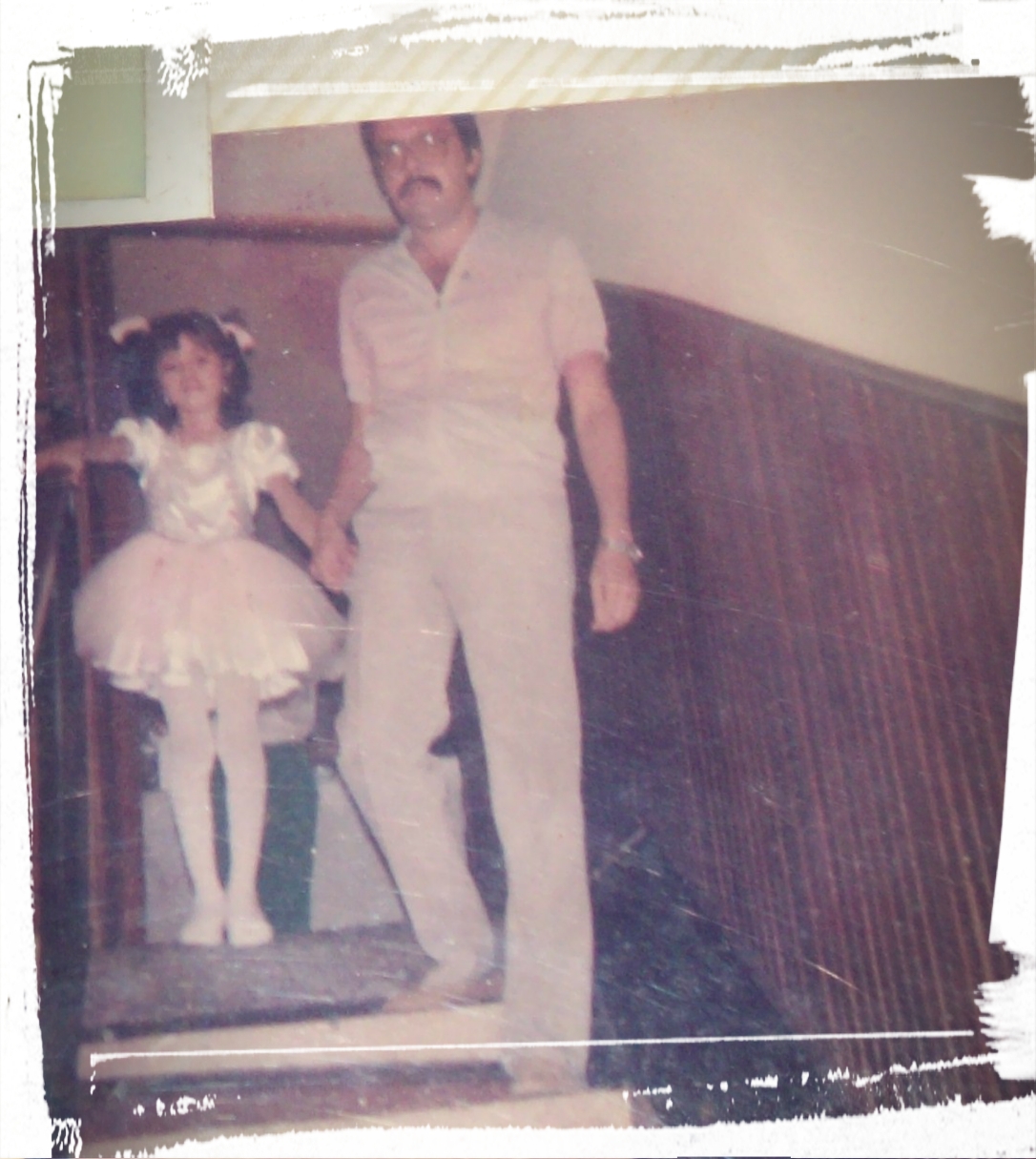 My mother was widowed at the age of thirty-five with two girls. They were very difficult times, but she managed to get ahead, holding God's hand, so although I am not a psychopedagogue, nor a specialist in the subject, today I would like to give some advice to those mothers who have been victims of death, divorce, abandonment, from my experience as a daughter.
First we must understand that there are situations that are out of our hands, that no matter how hard the situation is, life goes on and even more if you have children, children who depend on you, you must fight for and for them. Because if you are a mother, you are home, protection, security, because a smile from you illuminates their world, you must be strong for them.
Remember that if your partner is gone, you are not alone, you have your family who loves you, who cares about you and to whom you can tell how you feel. If you do not have family nearby, I repeat, you are not alone, God will always, always be with you, talk to him, tell him your sorrows, but talk, do not keep your feelings, your sadness (do it where your children do not hear you) Prayer is not a simple emotional help, it is really communicating with God and as his word says he can give you true comfort.
Let your children know that you love them immensely and that even though circumstances have changed, tell them that it will never change.
Please don't ask your child to cry if they don't want to. Although it is not right to repress feelings, it is important to understand that everyone grieves in their own way and that children do not yet have a complete concept of death. I remember that at my father's funeral a woman told me: "cry, why don't you cry? you have to cry" she said it to a ten year old girl, who three days ago was eating ice cream with her father, who did not understand what was happening and who was made to feel guilty for not crying at that moment, it was really very cruel, because today so many years later, let me tell you there is not a day in which I do not think of my father without crying for his absence. So mothers, let your child live his grief in his own way.
In our particular case, my mother, who was very young, did not remarry and consecrated herself to us, because as she herself has always said, she did not want to put our emotional and physical integrity at risk, so she assumed to be father and mother in every sense, she gave us a lot of love; but also discipline, she worked to give us our studies, our food and she made a great effort to forge in our little minds and infant hearts a close relationship with God, she made an effort so that we would see Him as a real being, as a loving father. An immense sacrifice for which I will always admire her and my sister. My advice at this point is not to stay alone, no, that is a very personal decision, my advice is: let your children assimilate the process of abandonment, give them the emotional and spiritual security they need to know that whether or not there is a man in the house, they will never be alone, because you are with them, but above all, because if God is with you, you will never need anything or anyone else. Then, if you wish, form a new home, but make sure you have a good foundation on which to build it.
Finally I want to tell you, that although I love and miss my father deeply, my mom managed successfully to be for us father and mother at the same time, because she did it with the help of God, so I am sure that if you want it and rely on him you will also achieve it.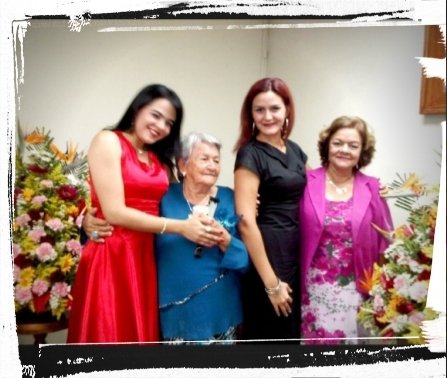 In this picture from right to left: my mom, my little sister, my grandma and me
.
Mi madre quedó viuda a los treinta y cinco años y con dos niñas. Fueron tiempos muy difíciles, pero logró salir adelante, tomada de la mano de Dios, por eso aunque no soy psicopedagoga, ni especialista en el tema, hoy quisiera dar algunos consejos a esas madres que han sido víctimas de la muerte, un divorcio, un abandono, hacerlo desde mi experiencia como hija.
Primero, debemos entender que hay situaciones que escapan de nuestras manos, que por muy dura que sea, la vida continúa y más si tienes hijos, niños que dependen de ti, debes luchar por y para ellos. Porque si eres madre, eres hogar, protección, seguridad, porque una sonrisa tuya ilumina su mundo, por ellos debes ser fuerte.
Recuerda que si tu pareja ya no está, no estás sola, tienes a tu familia que te ama, que se preocupa por ti y a la que le puedes contar cómo te sientes. Si no tienes a familiares cerca, te repito, no estás sola, Dios siempre, siempre estará contigo, habla con él, cuéntale tus penas, pero habla, no te guardes tus sentimientos, tus tristezas ( hazlo donde tus hijos no te escuchen) La oración, no es una simple ayuda emocional, en verdad es comunicarse con Dios y como dice su palabra él puede darte verdadero consuelo.
Hazle saber a tus hijos que los amas inmensamente y que aunque las circunstancias hayan cambiado, diles que eso nunca cambiará.
Por favor no le pidas a tu hijo que llore si no quiere hacerlo. Aunque no está bien reprimir los sentimientos hay que entender que cada quien vive su duelo a su manera y que los niños aún no tienen un concepto cabal de la muerte. Recuerdo que en el funeral de mi padre una mujer me dijo: "llora, ¿por qué no lloras? tienes que llorar" se lo dijo a una niña de diez años, que hacía tres días estaba comiendo helados con su padre, que no entendía qué estaba pasando y a la que hizo sentír culpable por no llorar en ese momento, realmente fue muy cruel, pues hoy tantos años después, déjenme decirles no hay un día en el que no piense en mi padre sin llorar su ausencia. Por eso madres, dejen que su niño viva su duelo a su modo.
En nuestro caso particular, mi mamá que era muy joven no volvió a casarse y se consagró a nosotras, pues como ella misma ha dicho siempre, no quiso poner en riesgo nuestra integridad emocional y física, por lo que asumió ser padre y madre en todo sentido, nos dio mucho amor; pero también disciplina, trabajó para darnos nuestros estudios, nuestros alimentos y se esforzó muchísimo para forjar en nuestras pequeñas mentes y corazones infantiles una estrecha relación con Dios, se esforzó para que lo viéramos como un ser real, como un padre amoroso. Un sacrificio inmenso por la cual siempre la admiraré al igual que mi hermana. Mi consejo en éste punto no es quedarse solas, no, eso es una decisión muy personal, mi consejo es: deja que tus niños asimilen el proceso de abandono, dale la seguridad emocional y espiritual que necesitan para saber que haya o no haya un hombre en la casa, nunca estarán sólos, porque tú madre sola guerrera y luchadora, estás con ellos, pero sobre todo, porque si Dios está con ustedes, no necesitarán nunca de nada ni de nadie más. Después, si lo deseas forma un nuevo hogar, pero asegúrate antes de tener unas buenas bases sobre las cuales construirlo.
Finalmente quiero decirles, que aunque amo y extraño profundamente a mi padre, mi mamá logró con éxito ser para nosotras padre y madre a la vez, porque lo hizo con la ayuda de Dios, por eso estoy segura que ustedes si lo desean y se apoyan en él también lo lograrán.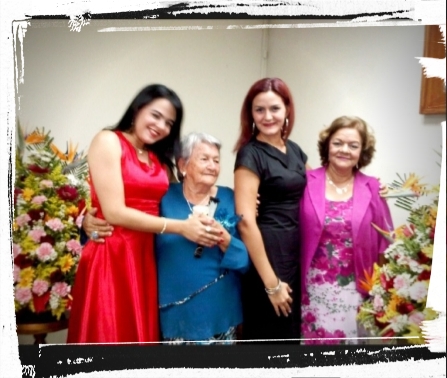 En ésta fotografía de derecha a izquierda: mi mamá, mi hermanita menor, mi abuelita y yo

All photographs are my own, edited with the applications that my Alcatel phone comes with and the Pixy application, which I used in the cover image, to make the collage, which has a single photograph taken from.

Todas las fotografías son de mi propiedad, editadas con las aplicaciones que trae mi teléfono Alcatel y la aplicación Pixy, la cual utilice en la imagen de portada, para realizar el collage, qué tiene una sola fotografía tomada de

Pixabay