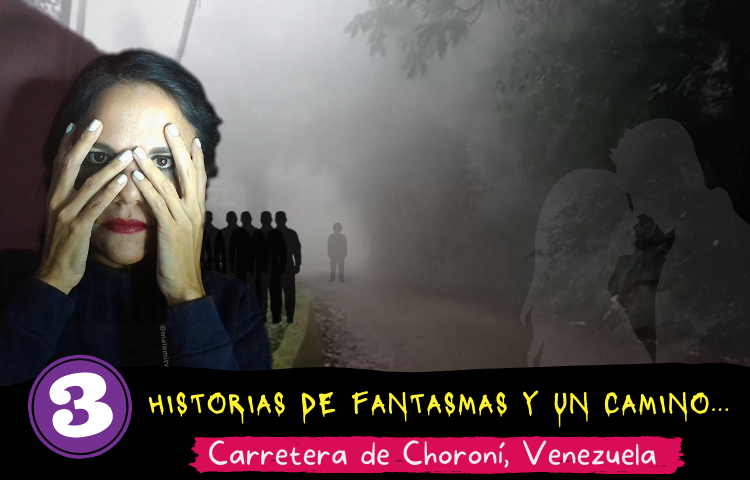 Fotografía Propia, editada con programa de edición Canva/
Own photography, edited with Canva editing program**

░░░ VERSION ESPAÑOL ░░░
░░░ ENGLISH VERSION ░░░

Holaa, Peladiente. 🙂👻🌴
¡BOO! Te advierto que si tú corazón es sensible a las historias de misterio, mejor es que no leas este post 😅
Por cierto, ¿Trajiste traje de baño? Porque si logras ser valiente y aguantas el recorrido de la carretera, luego de las 3 Historias de fantasmas que te voy a contar, vamos a la playa para recompensarte con un rico baño de agua salada en Puerto Colombia, además de conocer el pueblo de Choroní que es genial y vale la pena verlo...
🤓 Por cultura general, me gustaría que supieras que Choroní fue fundado en 1622 y junto a Puerto Colombia, son localidades con mucha historia y tambores, que quedan en la costa del Edo. Aragua, de la República de Venezuela. Se puede llegar desde la ciudad de Maracay, a través de la Av. Las Delicias, por una carretera muy estrecha, construída en la época Gomecista y que además atraviesa el Parque Nacional Henri Pittier, lo que hace un clima y un paisaje hermoso...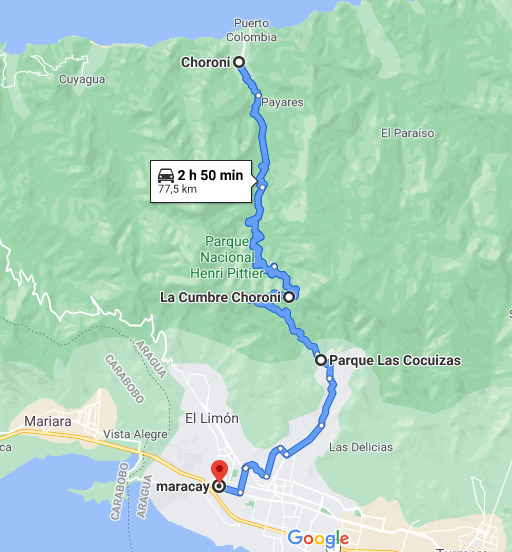 Fotografía obtenida de Google Maps/
Photo taken from Google Maps
¡Ey! No te pongas cómodo que estamos entrando a las curvas y te voy a relatar la primera historia...
👻La pareja de la curva: Un día bajando de Choroní alrededor de las 9:40pm, veniamos desde una fiesta del papá de un amigo, entre cuentos y diversión, se nos hizo tarde para regresar a nuestros hogares. Al adentrarnos en la montaña, a mitad de camino nos agarró una neblina muy densa que era imposible avanzar con facilidad y me tocó ir avisando poco a poco si veía roca ó vacío, algo altamente riesgoso y de miedo....
😅 Por fín, cuando llegamos a la cumbre empezó a lloviznar, subimos los vidrios y empezamos a bajar con más tranquilidad, a poner música y en la curva de lado izquierdo, que vamos a pasar justo ahorita, mira allí.. allí... 😖
Estaba sentado un muchacho en el borde de la curva y parada de espalda estaba una chica, en el momento que giramos a la izquierda quedó la muchacha en mí ventana y entre el vidrio empañado observo que sonrió y le digo a mi amigo... ¿Que hacen esos muchachos allí bajo la lluvia?😳... Y me responde... ¿Que muchachos? Yo no ví nada...
Miré hacia atrás y se me perdió la curva de vista, así que, pensé dentro de mí.. ¡Wow!... ¡Que amor! Estar allí con ese frío y mojándose...🙃 Me quedó la sonrisa de la chica en la mente y hasta este momento aún la recuerdo...
!Ah no! Si vas a poner esa cara de asustado, creo que ese baño de playa lo veo bien lejos, te sigo contando y deja de comerte las uñas, porque vas a llegar sin manos... 🤣
La segunda historia, sucede en plena vía antes de llegar a la cumbre....
💀El hombre de negro: Una noche subiendo a Choroní con un grupo de amigos, nos paramos a mitad del camino para estirar las piernas, escuchar música y disfrutar del clima un rato...
Estaba hablado con dos amigas, mientras los chicos limpiaban los vidrios de los carros, yo veía hacia la carretera y ellas de espalda a la vía, de pronto veo entre la gente que estaba parada, un hombre vestido de traje negro, en la mitad de la vía con los brazos abajo recto, en eso le digo a una amiga, mira ese chico, está en la mitad de la vida y cuando volteo para caminar hacia él, de pronto ya no estaba...😅
😂 Deja de brincar... ¡Que miedoso! Eso solo fue una rama que rozó la ventana 🤣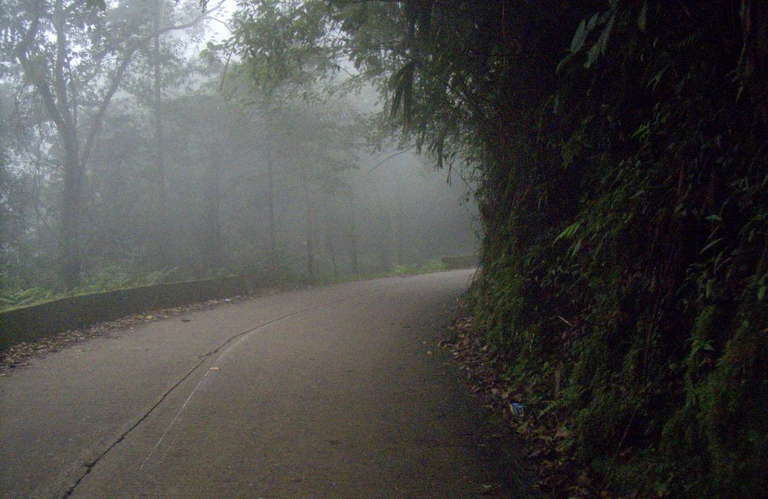 Fotografía obtenida de Venezuelatuya.com /
Photo obtained from Venezuelatuya.com
Ya que nos vamos adentrar en plena montaña, quiero contarte que en la próxima defensa de la carretera que nos vamos a encontrar del lado izquierdo, se observan 6 jóvenes sentados en el borde pero de espalda con los pies hacia el vacío...😖
Las personas que los han visto, dicen que era un grupo de muchachos que bajando de Choroní perdieron el control y se fueron por el voladero, se mataron y ahora se le aparecen a las personas... 💔
¡Ey! ¿Te dormiste? 🙂 Ya que me preguntas ¿Si esas historias son verdad?, pues un día bajando de Choroní en un taxi de allí, el señor le contaba a unos turistas extranjeros y a mí, todos las apariciones que habian en el camino, lo más cumbre de todo, es que el relató lo del hombre de negro, dijo que se le atravesó en el medio de la carretera, cuando el paró el carro y se intentó acercar, el hombre con la mano le hizo 🤚 Stop y no quiso cruzar palabras, situación que le dió demasiado temor y se fue... 🚕
Y por último, cuando llegó a las últimas curvas hacia Maracay nos dijo, aquí se ve una pareja, ellos se fueron por el voladero, se mataron y les aparecen a las personas... Juro que me dió MUCHISIMO temor escuchar eso, no le dije nada al señor, solo escuché sus cuentos, pero aún me sorprende que en dos relatos coincidimos prácticamente, que los vimos en los mismos sitios...
¿Te dormiste? 😂 A bueno, pensaba que sí... Mejor ¡Despiertate! ¡Despiertate!... 😁 Vamos llegando al pueblo de Choroní, no te puedes perder, cada rincón de este hermoso lugar... 😍💚

Gracias por leerme… ❤️ Nos vemos en el próximo post de Malomi TV 🤗
Oyeee!! antes que se me olvide, próximamente en Blogger y otras plataforma pendiente 😃
BOO! I warn you that if your heart is sensitive to mystery stories, you better not read this post 😅.
By the way, did you bring a bathing suit? Because if you manage to be brave and endure the road trip, after the 3 Ghost Stories I'm going to tell you, we're going to the beach to reward you with a rich salt water bath in Puerto Colombia, besides getting to know the town of Choroní which is great and worth seeing....
🤓 For general culture, I would like you to know that Choroní was founded in 1622 and together with Puerto Colombia, are towns with a lot of history and drums, which are on the coast of Aragua State, in the Republic of Venezuela. It can be reached from the city of Maracay, through Las Delicias Avenue, through a very narrow road, built in the Gomecista era and that also crosses the Henri Pittier National Park, which makes a beautiful climate and landscape...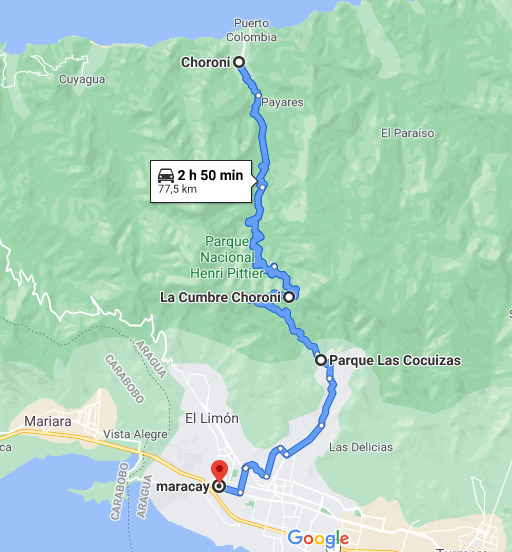 Fotografía obtenida de Google Maps/
Photo taken from Google Maps
Hey! Don't get comfortable because we are entering the curves and I'm going to tell you the first story....
👻The couple of the curve: One day coming down from Choroní around 9:40pm, we were coming from a party of a friend's dad, between stories and fun,we were late getting back to our homes. When we got into the mountain, halfway we were caught in a very dense fog that made it impossible to move forward easily and I had to go slowly warning if I saw a rock or a void, something highly risky and scary....
😅 Finally, when we reached the summit it began to drizzle, we raised the windows and began to descend more calmly, to play music and just at the curve on the left side, which we are going to pass just now, look there ... there ... there ....
A boy was sitting on the edge of the curve and standing with his back to me was a girl, at the moment we turned left, the girl was in my window and between the fogged glass I noticed that she smiled and I said to my friend.... **What are those guys doing there in the rain...? And he answers me... What boys? I didn't see anything....
I looked back and I lost the curve of sight, so, I thought inside me... Wow!.... What a love! Being there with that cold and getting wet...🙃 I kept the girl's smile in my mind and until this moment I remember it....
OH! If you're going to make that scared face, I think that beach bath is far away, I'll keep telling you and stop biting your nails, because you'll arrive without hands.... 🤣
The second story, happens in the middle of the track before reaching the summit....
💀The man in black: One night going up to Choroní with a group of friends, we stopped halfway to stretch our legs, listen to music and enjoy the weather for a while....
I was talking with two friends, while the guys were cleaning the windows of the cars, I was looking towards the road and they with their backs to the road, suddenly I see among the people who were standing, a man dressed in black suit, in the middle of the road with his arms down straight, at that I tell a friend, look at that guy, he is in the middle of life and when I turn to walk towards him, suddenly he was gone....
😂 Stop jumping.... What a scaredy-cat! That was just a branch that brushed against the window 🤣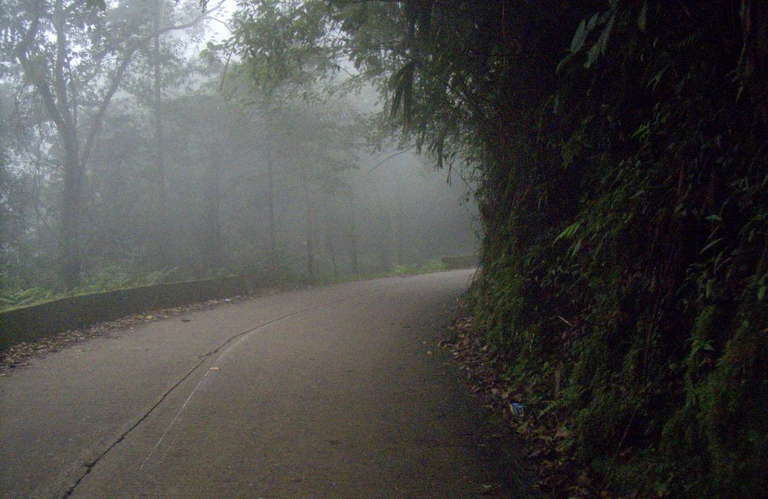 Fotografía obtenida de Venezuelatuya.com /
Photo obtained from Venezuelatuya.com
Since we are going into the middle of the mountain, I want to tell you that in the next defense of the road that we are going to find on the left side, there are 6 young people sitting on the edge but with their backs with their feet facing the void...😖
The people who have seen them, say that it was a group of boys that coming down from Choroní lost control and went down the overhang, they killed themselves and now they appear to people.... 💔
Hey! Did you fall asleep? 🙂 Since you ask me if those stories are true...? Well, one day coming down from Choroní in a cab from there, the gentleman was telling some foreign tourists and me, all the apparitions that were on the road, the most important of all, is that he told about the man in black, he said that he crossed in the middle of the street, when he stopped the car and tried to approach, the man with his hand made him 🤚 Stop and did not want to cross words, situation that gave him too much fear and left.... 🚕
And finally, when he got to the last curves towards Maracay he told us, here you see a couple, they went down the voladero, they killed each other and they appear to people..... I swear I was VERY scared to hear that, I didn't say anything to the gentleman, I just listened to his stories, but I am still surprised that in two stories we practically coincide, that we saw them in the same places....
Did you fall asleep? 😂 A well, I thought so.... You better wake up! Wake up!.... 😁 We are coming to the town of Choroní, you can't miss, every corner of this beautiful place.... 😍💚

Thank you for reading me... ❤️ See you in the next post of Malomi TV 🤗
Oyeee!!! before I forget, coming soon on Blogger and other platform pending 😃
---
---
BOOOO.... 👻 Mi post es la entrada al 2da Encuentro paranormal con @tarot911 y la comunidad @laradio. Si quieres conocer más acerca de esta iniciativa entra AQUÍ y animate a participar 😃✨
---
---
➕ "Me gustaría acotar, que las historias han sido vivencias personales en la carretera de Choroní, desconozco que representan los apariciones fantasmales que hicieron presencia, así como sus historias ó familias en vida, sin embargo, envio luz para sus almas y mantengo mí respecto ante ellos y su nucleo familiar si existe actualmente"
---
---
Note:
⭐️ Fotografía principal tomada con teléfono ASUS 3X Optical ZOOM with Oi5, 13 megapixel, dualflash.
**Fondo obtenido del video de la siguiente página y los elementos tomados del programa de diseño Canva.
2da. Foto interna pertenece a Venezuelatuya.com
Aparte del conocimiento personal de Choroni, se utilizarón dos páginas como referencias bibliográficas Página 1 y Pagina 2 y Google Maps
⭐️ Translated with www.DeepL.com/Translator (free version)
⭐️Si quieres leer la historia detallada de la pareja en la carretera de Choroní, puedes entrar Aquí
⭐️ La redacción y diseños son propiedad exclusivamente de @malomitv, cualquier uso externo, debe ser notificado a mi persona.
---
---
❤️ Conoce mis otras publicaciones/Get to know my other posts:
✔️⭐️⭐️⭐️Tenemos GANADORES del especial de Carnaval & San Valentin [ESP-ENG] ⭐️⭐️⭐️
✔️⭐️ WOMAN'S SPECIAL 💓// Feel like a Queen... 👑 from 08.03 to 13.03.21 [ESP-ENG]⭐️
✔️⭐️HELLO! 😁 Do you know how to participate in the MALOMI TV specials? ESP-ENG
✔️POETRY ❤️// What's behind the door?😌🚪 ///¿Qué hay detrás de la puerta?😌🚪ESP-ENG
✔️POETRY ❤️// What's behind your white coat?😇///¿Qué hay detrás de tu bata blanca?😇 ESP-ENG
✔️POETRY ❤️// ¿Quién vive la vida de forma más alocada? 😗/ Who lives life the craziest? 😗// ESP-ENG
---
---
😀 Si quieres conocer más sobre mí, visítame en mis otras publicaciones en HIVE BLOG, en TWITTER, en Instagram como MALOMI TV y próximamente en Blogger
😀 If you want to know more about me, visit me on my other posts on HIVE BLOG, on TWITTER, on Instagram as MALOMI TV and soon on Blogger.