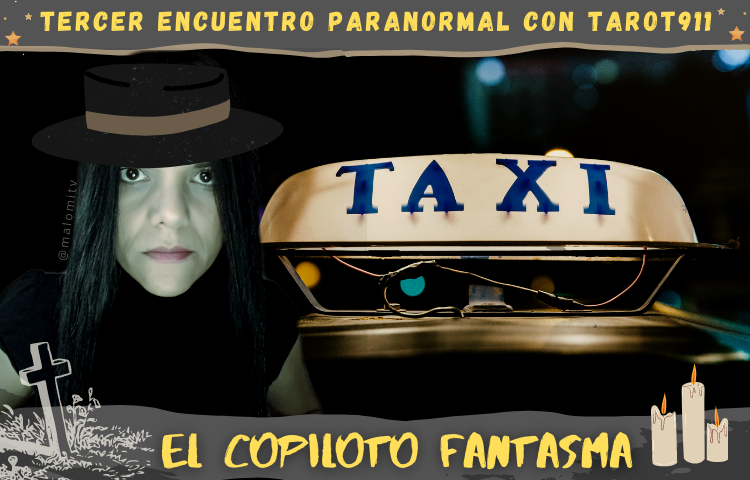 Fotografía Propia, editada con programa de edición Canva/
Own photography, edited with Canva editing program

░░░ VERSION ESPAÑOL ░░░
░░░ ENGLISH VERSION ░░░

Hola, Peladiente. 🙍‍♂🚖💀👻
Lo que parecía un tarde normal de diversión entre amigas, terminó en una aparicón fantasmal...👻
Hace muchos años, salia de un centro comercial hacia una avenida concurrida de la ciudad, a agarrar con toda la tranquilidad del mundo, un taxi... 🚖
Luego de un largo rato de estar paradas en la acera, ya que todo los taxis pasaban ocupados, de pronto a lo lejos logramos ver que venia uno, es cuando mi amiga decide pararlo, pero justo cuando alzamos la mano para detenerlo, en el reflejo me percato que el taxi traía una persona de copiloto y decido bajar rápido la mano... 👍
Para nuestra sorpresa el taxista nos paso por al frente, se paró más adelante e inmediatamente retrocedio hacia nosotras y bajó el vidrio, percatandonos que no habia nadie de copiloto... No parecía nada extraño, podiamos equivocarnos por el reflejo. En eso señor de unos 50 años aproximadamente nos dice ¿Qué a donde vamos? y sin mucho conflicto nos montamos...🚕
Luego de romper el hielo, el taxista nos pregunta ¿Por qué bajamos de golpe la mano?, ¿Qué paso que no queriamos montarnos en el taxi? Entre risas, le explicamos que vimos que el carro veía ocupado... 🙄
El señor nos preguntó ¿Cómo así? Le explico que cuando fui a subir la mano para detenerlo me percate que venía con una persona de franela azul, de pronto hubo un silencio sepulcral... 😶
El señor nos vuelve a preguntar ¿Un señor mayor? y le digo: Bueno, solo vi el reflejo pero parecia un muchacho joven, tal vez no llegaría a 30 años por su contestura, mi amiga acentaba la cabeza y ¿Qué mas detallaron? Me contesta el taxista, entre risas le contesto: Bueno señor tampoco le vimos la cedula, solo vi una persona con franela azul a su lado, pero me sorprendió que cuando se paro no habia nadie... 😅
El señor hizo silencio, silencio que lo vi normal como si estaba pensando, además veniamos alegres riendonos del paseo, de pronto el taxista rompio en llanto y empezo a contarnos que ya le ha pasado varias veces, que la gente no se montan en el taxi y ya le parecia extraño y que su hijo se habia muerto hace 2 meses, tenia 26 años y estaba vestido con una franela azul. 🙍‍♂
No recuerdo si la muerte fue porque lo habian matado ó en un accidente, pero lo que si recuerdo fue que era una muerte inesperada... Y que le habiamos confirmado que sucedía cuando la gente hacia eso, de bajar la mano de golpe...😧
Ok! Casi me infarto en 3...2...1... ¿Que le dices a alguien que ha perdido su hijo? y por lo que el explica, viaja a su lado como copiloto mientras el señor trabaja de taxista...
Solo me quedo decirle que le prendiera una velita para darle luz y que definitivamente su hijo lo amaba y estaba cuidandolo... 😇
Dicen que las personas que mueren de golpe, quedan atrapadas entre el mundo material y espiritual, porque no logran entender ¿Qué paso? y les cuesta hallar la puerta para subir a otro plano, es por esto que colocarle luz y no llorarlos (Situación dificil de entender) los ayuda a transcender más rapido...🙍‍♂🙏
Espero que esas palabras lo hayan reconfortado... Juro que fué un momento extraño y único, de esos que no te los esperas luego de una tarde de paseo...😟
Gracias por leerme… ❤️ Nos vemos en el próximo post de Malomi TV 🤗
What seemed like a normal afternoon of fun with friends, ended in a ghostly apparition... 👻
Many years ago, I was leaving a shopping mall towards a busy avenue in the city, to grab a cab with all the tranquility in the world.... 🚖
After a long time of standing on the sidewalk, since all the cabs were busy, suddenly in the distance we could see one coming, that's when my friend decided to stop it, but just when we raised our hand to stop it, in the reflex I realized that the cab had a passenger in the passenger seat and I decided to lower my hand quickly...
To our surprise the cab driver passed in front of us, stopped further ahead and immediately went back towards us and lowered the window, realizing that there was no one in the passenger seat... It didn't seem strange at all, we could be mistaken by the reflection. In that moment, a man of about 50 years old told us: "Where are we going? and without much conflict we got in... 🚕 🚕 After breaking the ice, the taxi driver told us: "Where are we going?
After breaking the ice, the cab driver asks us why we suddenly lowered our hand, what happened that we didn't want to get in the cab? Laughing, we explained that we saw that the car looked busy.... 🙄
The gentleman asked us how come? I explained to him that when I went to raise my hand to stop him I noticed that he was with a person in blue flannel, suddenly there was a sepulchral silence.... 😶
The gentleman asked us again an older man? and I said: Well, I only saw the reflection but he looked like a young man, maybe not even 30 years old because of his age, my friend nodded her head and what else did they detail? The cab driver answered me, I laughed and replied: "Well, sir, we didn't see his ID either, I only saw a person with a blue flannel next to him, but I was surprised that when he stopped there was no one there...". 😅
The gentleman was silent, silence that I saw as normal as if he was thinking, besides we were laughing about the ride, suddenly the cab driver burst into tears and began to tell us that it had already happened several times, that people do not get in the cab and it seemed strange and that his son had died 2 months ago, he was 26 years old and was dressed in a blue flannel. 🙍‍♂
I don't remember if the death was because he had been killed or in an accident, but what I do remember was that it was an unexpected death.... And that we had confirmed to him what happened when people did that, to drop their hand all of a sudden....🙁
Ok! I almost had a heart attack in 3....2...1.... What do you say to someone who has lost his son? and from what he explains, he travels next to him as a co-pilot while he works as a cab driver?🚕
I was only left to tell him to light a candle to give him light and that definitely his son loved him and was taking care of him..... 😇
They say that people who die suddenly, are trapped between the material and spiritual world, because they can't understand what happened and it's hard for them to find the door to go up to another plane, that's why placing light on them and not crying (difficult situation to understand) helps them to transcend faster...🙍‍♂🙏
I hope those words comforted you.... I swear it was a strange and unique moment, one of those that you don't expect after an afternoon walk...😟
Thank you for reading me... ❤️ See you in the next post of Malomi TV 🤗
---
---
Este relato es la entrada de participación al 3er encuentro paranormal de @Tarot911 del programa dimensión cuántica junto a la comunidad @laradio, si quieres conocer más sobre él, entra AQUI
---
Note:
Fotografía principal tomada con teléfono ASUS 3X Optical ZOOM with Oi5, 13 megapixel, dualflash.
⭐️🌼 Translated with www.DeepL.com/Translator (free version)
La redacción y diseños son propiedad exclusivamente de @malomitv, cualquier uso externo, debe ser notificado a mi persona.
---
❤️ Conoce mis otras publicaciones/Get to know my other posts:
✔️https://peakd.com/hive-186377/@malomi/esp-eng-especial-de-cumpleanos-ya-tenemos-el-dia-ven-a-disfrutar-con-nosotros-la-malomi-party#comments
---
---
😀 Si quieres conocer más sobre mí, visítame en mis otras publicaciones en HIVE BLOG, en TWITTER, en Instagram como MALOMI TV y próximamente en Blogger
😀 If you want to know more about me, visit me on my other posts on HIVE BLOG, on TWITTER, on Instagram as MALOMI TV and soon on Blogger.