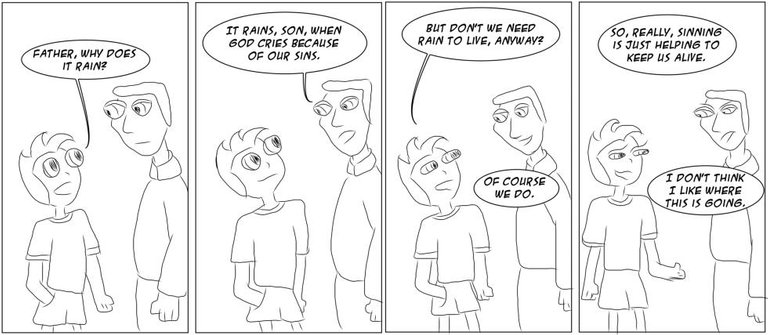 Have you ever found yourself spinning a story when no story needs to be spun? I understand, thousands, or even just "hundreds," of years ago when human scientific knowledge was in it's infancy and revolved around watching the stars and the moon, we would create stories to explain the world around us.
These stories were great! They brought us Thor, slayer of giants and frenemy of Loki; Heracles and his wondrous labours; Macuiltochtli and drunkenness, and Horus the avenger and forever arch-enemy of Seth. To the people that made these stories, these stories were more than just entertainment; they were explanations of the unknown and teachings of how to live.
Interestingly, there are a large number of ancient deities of drunkenness. Beer has played a huge part in the growth of human civilisation. This apparently needs to be another few comic strips!
---

Visit Stanley Tidwick and the Tidwick family at their online home:
https://tidwick.com/