Vintage comic review: Willy the Kid (1976)
As a kid I loved comics, but these were mainly British publications such as the Beano and Dandy rather than US superhero comics. I do not have any of the old weekly editions, but I do have a number of annuals that I would generally get for Christmas. I also used to buy them in second hand shops and jumble sales to feed my habit. One that has stuck in my memory is Willy the Kid by Leo Baxedale. He had worked for the Beano drawing the Bash Street Kids amongst others. Willy was an even more anarchic extension of that. I think the character may only have appeared in the annuals. There were at least three, but I only had the first one that I must have got when I was about ten years old.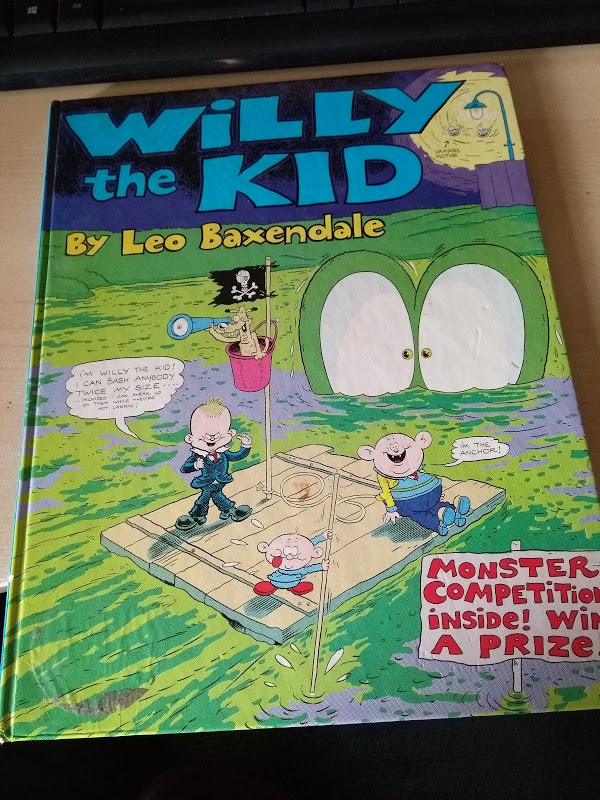 It was rare for an artist to get prominent billing on such books. My copy is in fairly good condition, although the glue is failing on the spine a bit. There is the remains of a price sticker on the front.
What stands out with this book is the density of detail and jokes on every page. It is full of puns and secondary plots going on in the background as well as some surreal elements. The style is otherwise fairly typical of the time. It is mostly just black an white with the odd slab of colour.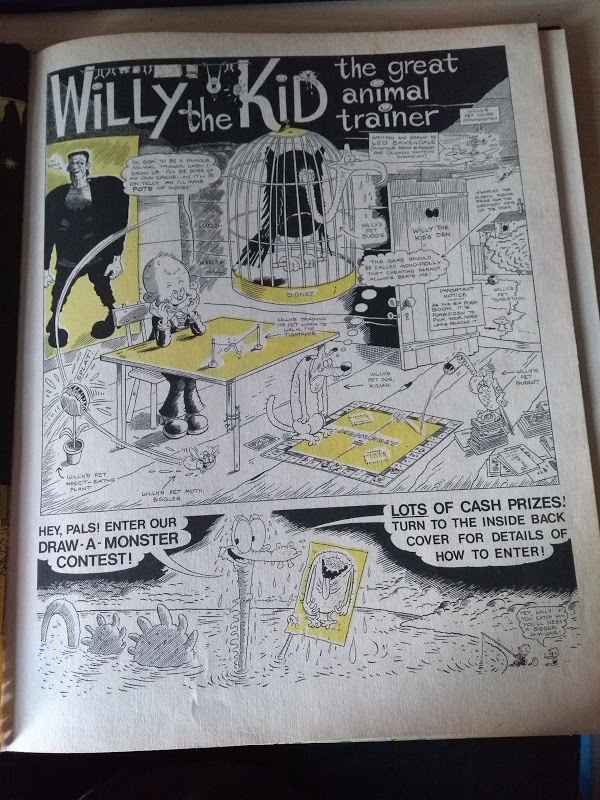 You have to rotate the book sometimes as the pages go to landscape to fit in more. There is a lot of violence in this book, some of it fatal. I am not sure if you would still get that in current books aimed at pre-teen kids. There are supplemental jokes and riddles on some pages. There is a whole series based on soccer teams.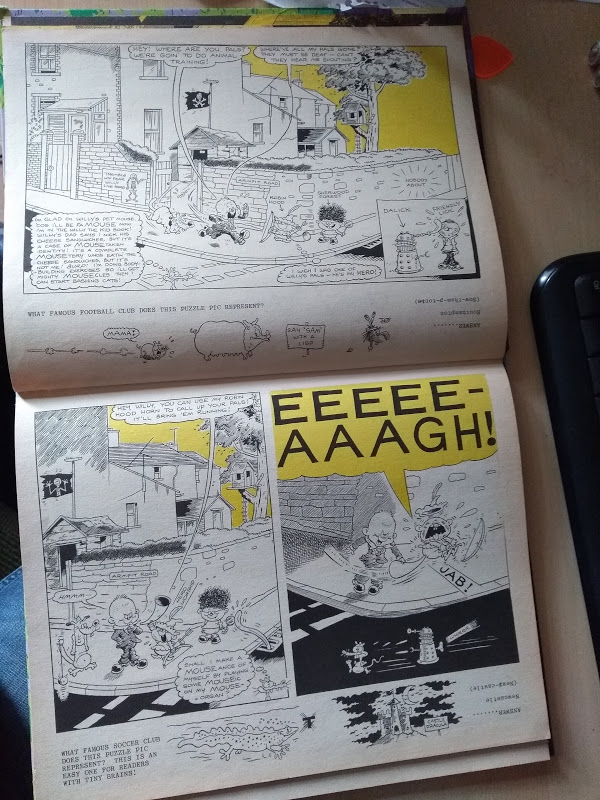 There is quite a lot of dialogue and one story has sections told just in text. This story features various 'accidental' ink blots for more puns. It also includes a black kid called Henry. His colour is used to comic effect, but he is shown in a positive light as one of Willy's friends. Obviously current comics have to be much more sensitive about race issues, but having grown up in a culturally mixed town this portrayal seemed natural to me at the time.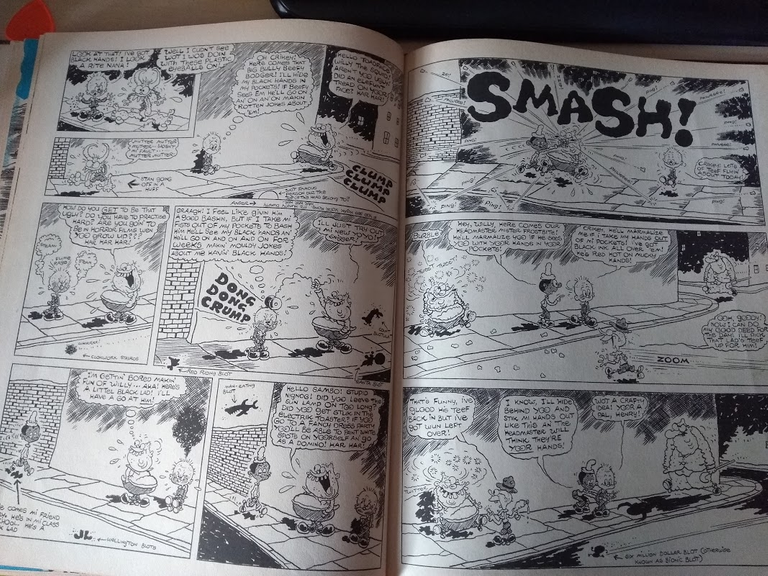 There are several Willy stories in the book plus one about a dim character called Spotty Dick who gets promoted at the zoo after other staff meet sticky ends thanks to his incompetence.
The humour of this book is fairly timeless, but there are cultural references to things like Daleks (from Doctor Who) and Kojak. The Daleks have made a comeback recently, so kids would know who they are.
I had not looked at this book for many years, but some of the stories had stuck in my mind and it was fun to revisit them. I think I need to look at some of the other annuals I still have and I will report on those too. I have found copies selling online for £40 or more, but I will keep mine for now.
I found this review that seems quite recent and matches pretty well with my opinions. Leo Baxendale died three years ago at 86. He left a great legacy of fun for millions of kids.
---
---