[ENG/SPA] Nuestra historia de amor | @revivemyheart & @natflower 4ever.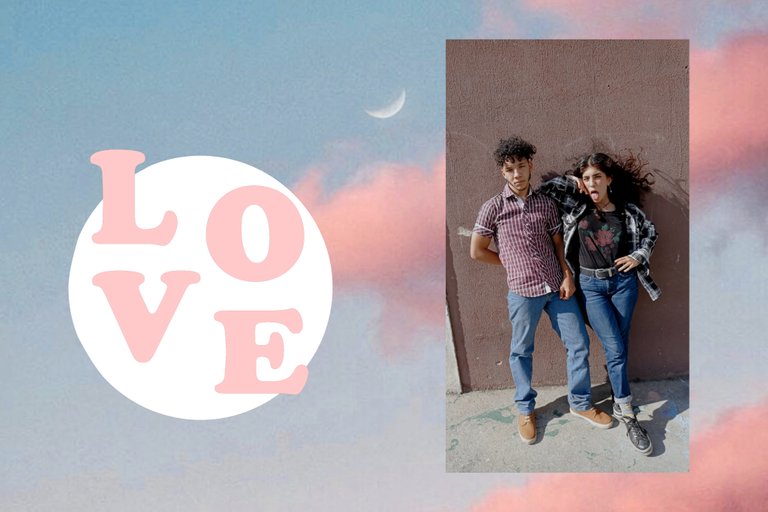 Photo from my personal gallery. Edited in PicsArt, Valentine's Day template.

Él me mira como mirarías a las estrellas.
Me toca como tocarías a la más suave tela.
Me huele como si estuviera en campo de rosas.
No le digan que está con una humana loca.
Verso que escribí hace unos días.
---
He looks at me as you would look at the stars.
He touches me as you would touch the softest fabric.
He smells me like I'm in a field of roses.
Don't tell him he's with a crazy human.
Verses I wrote a few days ago.
---

---
.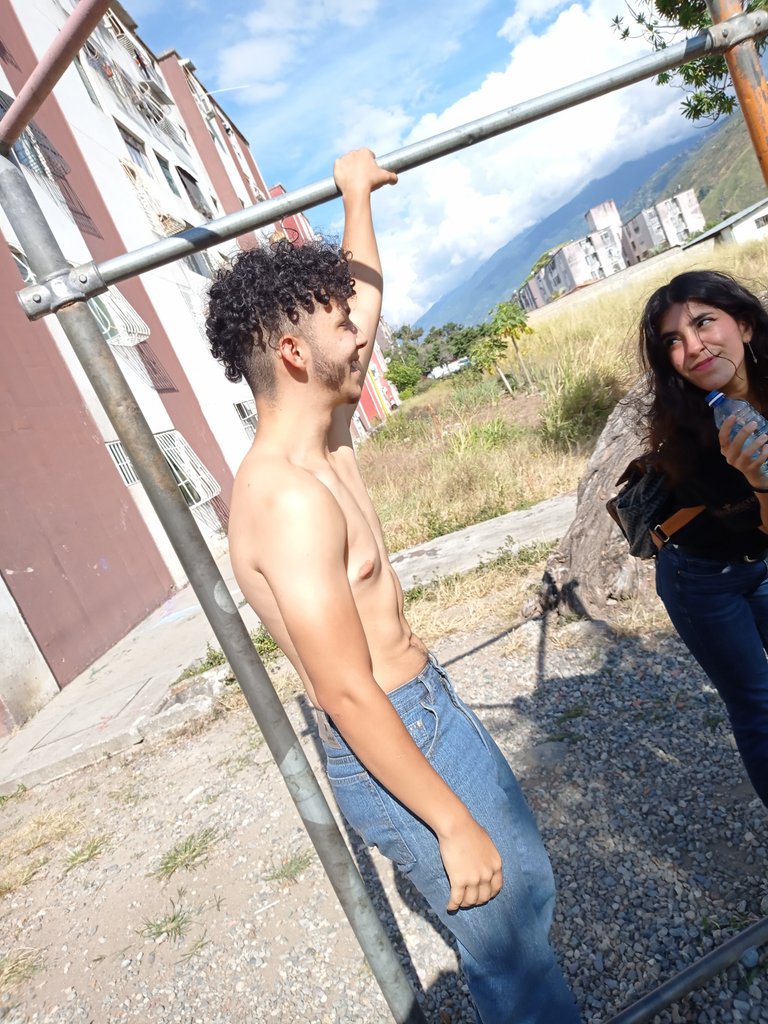 Photo never developed to the public, only in Hive.
Nuestras almas se encontraron donde muchos encuentran su destino ahora: en Internet. Específicamente, Facebook, que sigue siendo una red social bastante usada en estos lados.
Our souls met where many find their destiny now: online. Specifically, on Facebook, still a widely used social network in these parts.
Era mayo de 2019. No recuerdo de cuándo o quién envió la solicitud de amistad (él dice que la envió él), pero sí me acuerdo que me respondió uno de mis estados tontos, de los que escribía en la madrugada. Por ese mismo post, él me escribió al privado.
It was May 2019. I don't remember when or who sent the friend request from (he says he sent it), but I do remember that he responded to one of my silly statuses, the kind I wrote in the wee hours of the morning. For that same post, he wrote me to DM.
En ese momento, yo sentí algo especial, pero no pude descifrar qué. No lo dejé "en visto" como hago con muchos desconocidos. Era interesante ese chico, a pesar de que tuviera una foto de perfil de gato, unos quince años (y yo tuviera dieciocho) y me hablara de cosas fuera de mi entendimiento. Como todas las almas que se encuentran, él sentía que ya me había visto, según las fotos que podía ver en mi Facebook. Yo le dije que tal vez nos habíamos cruzado por la ciudad, en especial porque estudiábamos al frente, él en un liceo y yo en la Universidad que queda al frente.
At that moment, I felt something special, but I couldn't figure out what. I didn't leave him "in sight" as I do with many strangers. He was interesting, even though he had a profile picture of a cat, was about fifteen (and I was eighteen) and talked to me about things beyond my understanding. Like all souls who meet, he felt he had already seen me, based on the pictures he could see on my Facebook. I told him that maybe we had crossed paths in the city, especially because we studied across the street, he at a high school and I at the university across the street.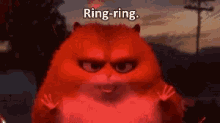 Source: Giphy.
Le revelé que ese día, en la mañana, (prácticamente en unas horas), iba a trotar con mis amigas y él me preguntó si podía ir. Yo le dije que sí porque realmente necesitaba conocer personas.
I revealed to him that I was going jogging with my friends that morning (practically in a few hours) and he asked me if I could go. I said yes because I really needed to meet people.
Nuestro primer encuentro fue raro. Cuando por fin lo reconocí entre toda la gente, lo invité a unirse a mi grupo de amigas. En ese me momento me dispuse a estirar y, haciendo la pose de mariposa, él sin previo aviso se montó encima de mí y colocó cada uno de sus pies en mis piernas, haciendo que me partiera. Lo aprendió en su entrenamiento de Karate. Yo no me incomodé para nada, claro, no me gustaba que me invadieran mi espacio personal, pero no sentí que él me estuviera invadiendo, sino ayudando. Ni si quiera sentí tanto dolor porque yo ya había trabajado ese ejercicio mucho tiempo. Mis amigas, en cambio se asustaron, y se pusieron, de una, a trotar.
Our first meeting was awkward. When I finally recognized him in the crowd, I invited him to join my group of friends. At that moment I got ready to stretch and, doing the butterfly pose, he without warning mounted on top of me and placed each of his feet on my legs, causing me to split. He learned this in his Karate training. I didn't get uncomfortable at all, sure, I didn't like having my personal space invaded, but I didn't feel like he was invading me, just helping. I didn't even feel that much pain because I had been working on that exercise for a long time. My friends, on the other hand, got scared and started jogging all at once.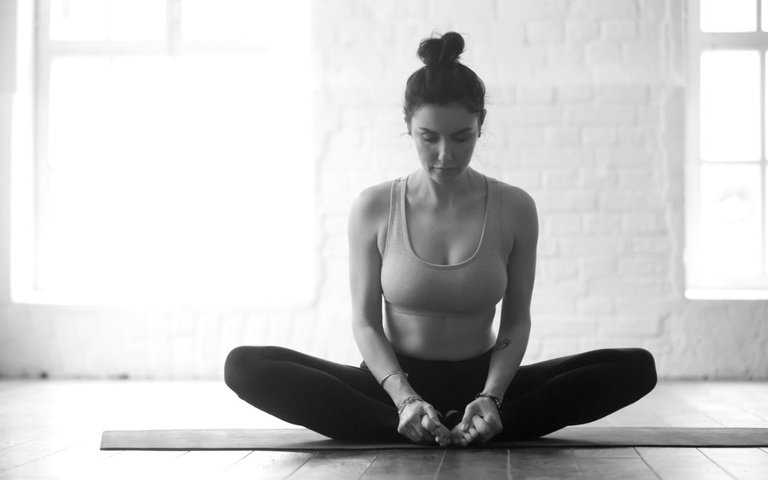 Source. Butterfly pose.
Era un chico que no parecía tener quince años, pero al mismo tiempo parecía muy joven. Tenía rasgos muy hermosos físicamente para mí, pero yo no le presté atención porque sabía que era menor de edad. Sin embargo, mi personalidad es muy coqueta y animada, lo que hizo que mis amigas pensaran que realmente le estaba coqueteando. Le preguntaron su edad y si tenía novia, él dijo su edad y respondió afirmativo. Mis amigas me miraron como:
He was a boy who didn't look fifteen years old, but at the same time he looked very young. He had very beautiful features physically to me, but I didn't pay attention to him because I knew he was underage. However, my personality is very flirtatious and lively, which made my friends think that I was really hitting on him. They asked him his age and if he had a girlfriend, he said his age and answered affirmative. My friends looked at me like: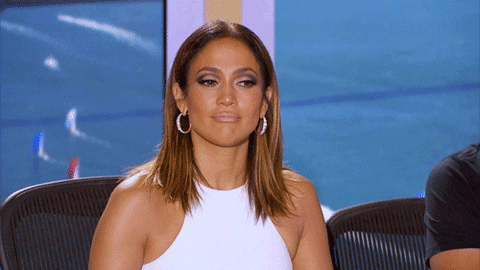 Source: Giphy.
Así que para mí, Natanael se hizo invisible, sólo sabía que íbamos a llegar a ser buenos amigos. Las pocas veces que hablamos por chat a partir de ahí, me hicieron llorar por la increíble conexión que sentía con él, pues me daba muy buenos concejos y me hacía dudar de mi existencia, eso era suficiente.
So for me, Natanael became invisible, I only knew that we were going to become good friends. The few times we talked by chat from then on, made me cry because of the incredible connection I felt with him, as he gave me very good advice and made me doubt my existence, that was enough.
---
Amigo incondicional.
Unconditional friend.
Source: Giphy.
Ese mismo año, en agosto, me iban a realizar una cirugía para extraerme unos bultos (pólipos) gigantes que tenía en la nariz. No es para nada grave, eran benignos, pero en Venezuela es difícil el área de salud, así que para lograr operarme en salud pública, tuve que pasar por muchas malas situaciones. Unos días antes de que me operaran, me faltaba un donante de sangre, a la mayoría de los que se ofrecieron, los rechazaron, así que no sabía a quien acudir. Escribí en un grupo de Facebook mi situación, y la novia de Natanael de ese momento, lo leyó. Ella le dijo y entonces él se apareció una mañana en la entrada del Hospital. Cuando lo vi, lo abracé muy fuerte porque significaba mucho que él estuviera ahí. Fue duro de convencer a muchos de mis amigos para que fueran a donar sangre, pero él simplemente apareció.
That same year, in August, I was going to have surgery to remove some giant lumps (polyps) that I had in my nose. It is not serious at all, they were benign, but in Venezuela the health area is difficult, so in order to get the surgery in public health, I had to go through many bad situations. A few days before the operation, I lacked a blood donor, most of those who offered, were rejected, so I did not know who to turn to. I wrote in a Facebook group my situation, and Nathanael's girlfriend at the time, read it. She told him and then he showed up one morning at the entrance of the Hospital. When I saw him, I hugged him very tightly because it meant a lot that he was there. It was hard to convince many of my friends to go and donate blood, but he just showed up.
Claro, no lo dejaron donar sangre porque era menor de edad, pero él invitó a su hermano mayor…Y creo que tampoco lo dejaron donar por otra especificación, sin embargo, quedó anotado que él me donó sangre y aprobaron mi solicitud para operarme.
Of course, they wouldn't let him donate blood because he was a minor, but he invited his older brother...And I think they wouldn't let him donate either because of another specification, however, it was noted that he donated blood to me and they approved my request for surgery.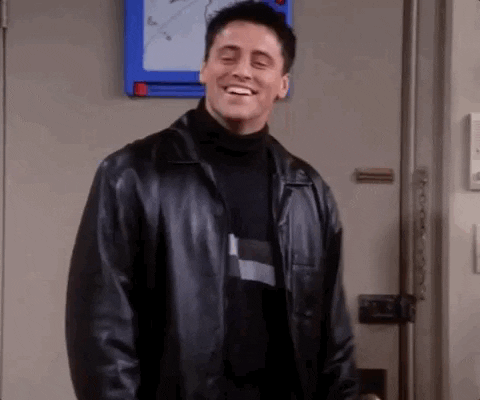 Source: Giphy.
Empezó el año escolar y él seguía en el liceo. Para ese año, mi madre entra como docente en esa institución y, ¡oh, destino! Termina siendo su profesora de Física. Yo le dije a mamá que uno de sus alumnos era mi amigo y que lo mantuviera vigilado. Sin embargo, él no asistió a clases en esos momentos y no se llegaron a cruzar.
The school year began and he was still in high school. That year, my mother became a teacher in that institution and, oh, fate! She ended up being his physics teacher. I told mom that one of her students was my friend and to keep an eye on him. However, he did not attend classes at that time and they never crossed paths.
La ex novia de Natanael y él, habían cortado. Así que se sentía muy despechado, y yo quería apoyarlo porque realmente se veía muy mal. Él se mantuvo así por unos meses, entre eso, pasó diciembre, una de las mejores épocas del año. Nuestros amigos en común nos invitaron a pasar 25 de diciembre y 01 de enero juntos, a partir de las 12 a.m, toda la madrugada. Era la primera vez, para ambos, que pasábamos navidades y año nuevo con nuestros amigos. Esas noches fueron especiales, sentí lo que era la verdadera amistad y apoyo, por parte de Natanael y nuestros amigos. Nos hicimos más allegados esas noches, en especial, porque nuestro camino a la casa de la reunión era largo, y él tan solo vivía a unas cuadras de mi casa, nos íbamos juntos, así que en esos caminos de silencio y también, de mucha charla, nos hicimos mejores amigos…En esas madrugadas de sueño.
He and Natanael's ex-girlfriend had broken up. So he felt very disappointed, and I wanted to support him because he looked really bad. He stayed that way for a few months, between that, December passed, one of the best times of the year. Our mutual friends invited us to spend December 25th and January 1st together, starting at 12 a.m., all morning. It was the first time, for both of us, that we spent Christmas and New Year's with our friends. Those nights were special, I felt what true friendship and support was, from Nathanael and our friends. We became closer those nights, especially because our way to the reunion house was long, and he only lived a few blocks from my house, we would go together, so in those roads of silence and also, of lots of talking, we became best friends... In those sleepy, early mornings.
---
¿Recuerdan que mi madre era su profesora?
Do you remember that my mother was his teacher?
Search on PeakD by Tenor.
A veces él me visitaba, y mi madre lo interrogaba por las tareas. A veces mi mamá seguía dándole clases en casa a petición mía, o le exigía que hiciera la tarea ahí en la visita, para aprobarlo. Así comenzamos el año 2020, quería que le fuera bien en clases.
Sometimes he would visit me, and my mother would question him about homework. Sometimes my mom would still tutor him at home at my request, or require him to do the homework there on the visit, to pass it. That's how we started the year 2020, I wanted him to do well in class.
Para esos momentos yo era organizadora de eventos. Ese trabajo me estaba consumiendo, también las amistades con las que me rodeaba, me estaban consumiendo. En febrero de 2020, estaba preparando uno de los eventos más importantes para mí, uno de mis sueños, el que siempre imaginé desde niña. Sin embargo, no pudo ser, todo se volvió contra mí, le quedé mal a mucha gente, mucha gente también me quedó mal y lo tuve que cancelar. Tuve una gran depresión laboral, no quería estudiar, ni postear.
By that time I was an event organizer. That job was consuming me, also the friendships I was surrounded by were consuming me. In February 2020, I was preparing one of the most important events for me, one of my dreams, the one I had always imagined since I was a child. However, it could not be, everything turned against me, I looked bad to many people, many people also looked bad to me and I had to cancel it. I had a great depression at work, I didn't want to study or post.
Entre febrero y marzo, a pesar de que Natanael estaba muy ocupado con la orquesta (él es músico), pasaba por mi casa para saber cómo estaba y también, se quedaba viendo conmigo presentaciones de mi grupo favorito, BTS. Siempre ha sido uno de los mejores acompañantes. Para esos días le conté lo que me había pasado y fue el único que me acompañó incondicionalmente, mientras muchos me daban la espalda.
Between February and March, even though Nathanael was very busy with the orchestra (he is a musician), he would stop by my house to see how I was doing and also, he would stay with me to watch performances of my favorite group, BTS. He has always been one of the best companions. In those days, I told him what had happened to me and he was the only one who accompanied me unconditionally, while many people turned their backs on me.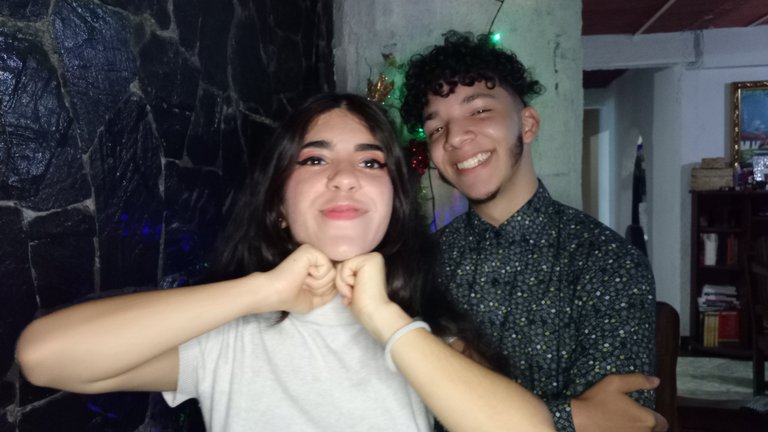 Photo from my personal gallery. 31/12/2020.
---
Empezó la cuarentena.
Quarantine began.
Los primeros meses, Natanael y yo no nos vimos, nos escribíamos esporádicamente. Sin embargo, lo tenía muy presente. Para mayo de 2020, él cumplía sus inocentes diecisiete años, y esta vez sí me había invitado a su cumpleaños (el año pasado no, y me enojé). Yo le escribí uno de mis mejores poemas, y se lo llevé a su casa. Fue la primera vez que salí en cuarentena, fuera de hacer compras para la casa. Cuando lo visité, me encontré con un Natanael triste, se había lesionado el brazo cargando agua, y así estaba pasando su cumpleaños. Hicimos un poco de conversación y le entregué el poema, se alegró mucho por eso y creo que así lo conquisté. Su celebración de cumpleaños fue unos días después, y fue muy chévere, su familia siempre hace ricas tortas, tocan instrumentos y cantan en los cumpleaños, así que me alegró la cuarentena.
For the first few months, Nathanael and I did not see each other, we wrote to each other sporadically. However, I had him very much in mind. By May 2020, he was an innocent seventeen years old, and this time he had invited me to his birthday (last year he hadn't, and I got angry). I wrote him one of my best poems, and took it home with me. It was the first time I went out in quarantine, outside of shopping for the house. When I visited him, I found a sad Nathanael, he had injured his arm carrying water, and so he was spending his birthday. We made some conversation and I gave him the poem, he was very happy about it and I think that's how I won him over. His birthday celebration was a few days later, and it was very cool, his family always makes delicious cakes, plays instruments and sings on birthdays.
Para esos momentos, noté que quería estar muy cerca de él, como abrazarlo, que se sentara a mi lado, que nuestros cuerpos se tocaran. Sentía esa necesidad. Siempre hemos sido muy respetuosos con nuestro espacio personal, pero nos dábamos los mejores abrazos al despedirnos.
By that time, I noticed that I wanted to be very close to him, like hugging him, having him sit next to me, our bodies touching. I felt that need. We have always been very respectful of our personal space, but we would give each other the best hugs as we said goodbye.
Unos días después él confesó que yo le gustaba, sin más, "me gustas". Yo lo rechacé porque seguía pensando en nuestra diferencia de edad, en que todavía le faltaba madurar, y en que yo estaba hablando con otro chico que también me gustaba y era mayor que yo. Solo le dije que, tal vez, más adelante podría suceder algo, porque no podía ignorar mi atracción hacia él.
A few days later he confessed that he liked me, just like that, "I like you". I turned him down because I kept thinking about our age difference, that he still lacked maturity, and that I was talking to another guy who I also liked and was older than me. I just told him that maybe something could happen later, because I couldn't ignore my attraction to him.
A pesar de todo, las cosas no se pusieron tensas entre nosotros. Él seguía trayéndome animes y series, para que las viera y me entretuviera en cuarentena. También yo le compraba galletas, panes y tortas que él y su hermana vendían.
In spite of everything, things didn't get tense between us. He kept bringing me anime and series, for me to watch and entertain myself in quarantine. I would also buy him cookies, breads and cakes that he and his sister sold.
Llegó el día de mi cumpleaños, él me trajo torta y nos abrazamos muchísimo. Fue en un momento en el que nos separamos, que él hizo el amague de besarme, pero yo tenía tapabocas. De los nervios, me despedí de él, le di las gracias y entré a mi casa. Me sentía como una colegiala enamorada.
My birthday came, he brought me cake and we hugged a lot. It was at a moment when we parted that he pretended to kiss me, but I was wearing a mask. Nervously, I said goodbye to him, thanked him and went home. I felt like a schoolgirl in love.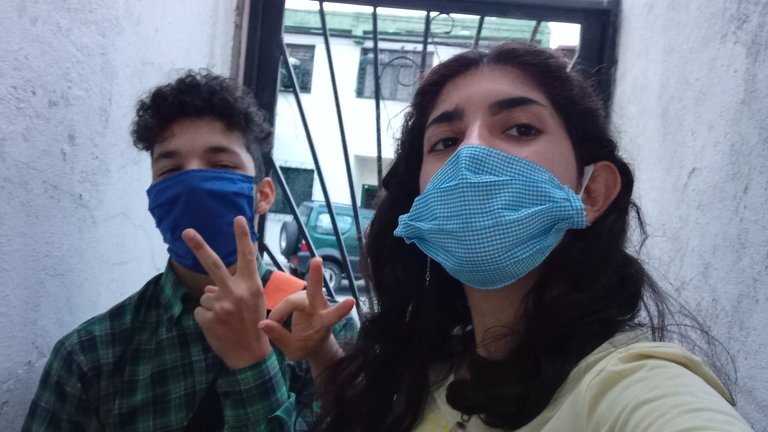 Photo take on my birthday. 22/09/2020.
---
Todo lo que pasó después.
Everything that followed.
En octubre, intenté salir con el chico con el que me estaba escribiendo desde que había comenzado la cuarentena, en marzo, pero todo fue un fallo. Él no parecía realmente interesado en mí. Entonces lo llegué a comparar con Natanael, que siempre estaba muy pendiente de mí, salía conmigo y me visitaba a pesar de la pandemia, teníamos conversaciones profundas, y que para su edad, Natanael era un chico muy activo, trabajador, que tenía determinación y nada de miedo a decir lo que sentía.
In October, I tried to date the guy I had been corresponding with since I had started quarantine in March, but it was all a failure. He didn't seem really interested in me. I then compared him to Natanael, who was always very attentive to me, would go out with me and visit me despite the pandemic, we had deep conversations, and that for his age, Natanael was a very active, hardworking guy, who had determination and no fear of saying what he felt.
Me sentía mal porque había rechazado a Natanael por un chico que realmente no me merecía.
I felt bad because I had rejected Natanael for a boy who didn't really deserve me.
Después de ese quiebre tuvimos varios encuentros. Natanael y yo vimos Your Name, juntos, en mi casa, un día sin luz. También me llevó a su lugar favorito de nuestra ciudad, ese día sentí una mayor conexión hacia él, porque fue la primera vez que lo miré a los ojos por mucho tiempo y vi que realmente sólo quería lo mejor para mí. Vi amor.
After that breakup we had several meetings. Nathanael and I watched Your Name, together, at my house, one day without light. He also took me to his favorite place in our city, that day I felt a greater connection to him, because it was the first time I looked into his eyes for a long time and saw that he really only wanted the best for me. I saw love.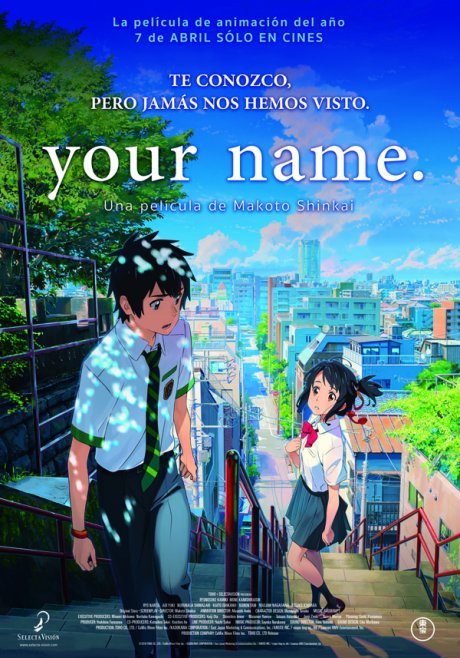 Source.
Unos días después, por chat, él me dijo que estaba vendiendo café y si quería comprarle, y bueno, sé que voy a decepcionar a varias personas, pero no me gusta ni tomo café. Así que le dije que no. Sin embargo, él es un buen vendedor, así que acepté comprar café para mi madre. Luego de eso, le dije que yo era fácil de convencer, a lo que me respondió:
A few days later, over chat, he told me he was selling coffee and if I wanted to buy from him, and well, I know I'm going to disappoint several people, but I don't like or drink coffee. So I told him no. However, he is a good salesman, so I agreed to buy coffee for my mother. After that, I told him that I was a pushover, to which he replied:
—Mentira. He estado tratando de convencerte sobre mí durante meses, y no te dejas.
—Eso es harina de otro costal—le respondí.
"Bullshit. I've been trying to convince you about me for months, and you won't let me."
"That's another matter," I replied.
A lo que me respondió con este meme:
He responded to me with this meme: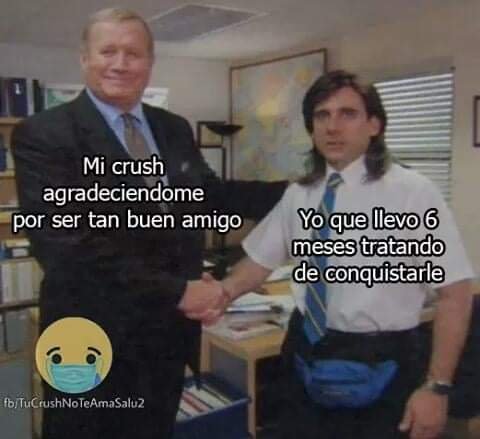 Translation from left to right:"My crush thanking me for being such a good friend."
"I, who have been trying for 6 months to win him over."
En esos momentos yo no me sentía muy bien, estaba pasando por un mal momento en casa, estaba segura que yo iba a durar unos meses así y no quería contagiarlo de mala vibra, tampoco quería comenzar una relación, mal emocionalmente. Sin embargo, también pensé que si seguía rechazándolo, lo perdería, así que fue cuando decidí confesarme yo. Al ver esa recepción de mi parte, fue cuando él realmente liberó sus sentimientos hacia mí con palabras. Nos amábamos.
At that time I was not feeling very well, I was going through a bad time at home, I was sure that I was going to last a few months like that and I did not want to infect him with a bad vibe, nor did I want to start a relationship, emotionally bad. However, I also thought that if I kept rejecting him, I would lose him, so that's when I decided to confess myself. Seeing that reception from me, that's when he really released his feelings for me in words. We loved each other.
Esa misma noche, no pude dormir de la emoción. Escribí mucho. Escribí el poema "Confesar" que en diciembre fue liberado como un vídeo poema. Fue su regalo de navidad.
That same night, I couldn't sleep from the emotion. I wrote a lot. I wrote the poem "Confesar" which in December was released as a video poem. It was her Christmas present.
View on 3speak.
Eso fue un cinco de noviembre. Y hoy después de tres meses a su lado, como novia, he aprendido un centenar de cosas, ambos hemos crecido muchísimo. He aprendido a tener más paciencia, conmigo y con él. A empatizar más con mi familia y con las personas que me rodean. A dejarlo fluir, a no seguir siempre las reglas, a permitirme divertirme, a trabajar muy duro, a utilizar mis últimas fuerzas para hacer cosas grandes, como los superhéroes. También aprendí que no siempre es bueno estar sola, que es genial cuando una persona te escucha y te apoya incondicionalmente, porque puedes llegar a saltar más alto.
That was on November 5th. And today, after three months at his side, as his girlfriend, I have learned a hundred things, we have both grown a lot. I have learned to be more patient, with me and with him. To empathize more with my family and with the people around me. To let it flow, to not always follow the rules, to allow myself to have fun, to work very hard, to use my last strengths to do great things, like superheroes. I also learned that it's not always good to be alone, that it's great when a person listens to you and supports you unconditionally, because you can get to jump higher.
Cuando lo invité a unirse a Hive, él se emocionó mucho, porque me estuvo escuchando todo el tiempo hablar de la plataforma. A partir de que él se unió, nuestra relación creció exponencialmente, somos ese tipo de pareja que, realmente, pueden trabajar juntos y no tienen problema. Me alegra tanto tenerlo en mi equipo. Estoy muy orgullosa de él, puedo ver su progreso más de cerca, así que cada paso que él da, se lo celebro muchísimo.
When I invited him to join Hive, he was very excited, because he was listening to me all the time talking about the platform. Since he joined, our relationship has grown exponentially, we are that kind of couple that can really work together and have no problem. I'm so glad to have him on my team. I'm so proud of him, I can see his progress more closely, so every step he takes, I celebrate him so much.
Si él avanza, yo avanzo. Si él retrocede, yo retrocedo. Somos un equipo y solo estamos trabajando en avanzar y divertirnos en el proceso.
If he moves forward, I move forward. If he goes backwards, I go backwards. We're a team and we're just working on moving forward and having fun in the process.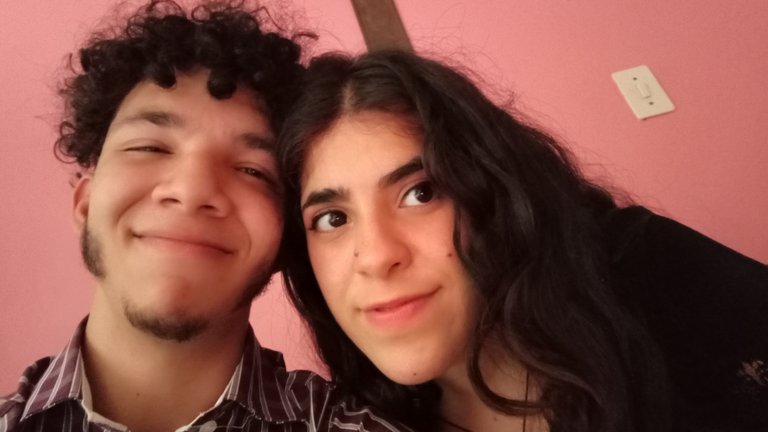 ---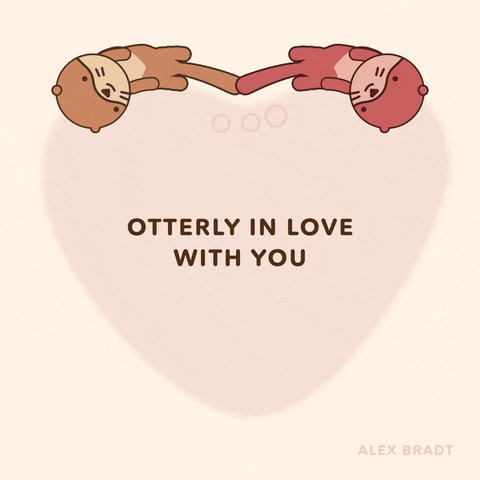 Source: Giphy.
---
Esta es mi participación en la iniciativa "Your Love/Friendship Story" de la comunidad de Blogging Challenge. Pido disculpa al jurado por escribir casi una novela, pero entiendan me, soy escritora, me gusta extenderme.
This is my participation in the "Your Love/Friendship Story" initiative of the Blogging Challenge community. I apologize to the jury for writing almost a novel, but understand me, I'm a writer, I like to extend myself.
Quiero invitar a participar a @marijo-pernia. En el post principal están las indicaciones de participación, para verlo click aquí.
I want to invite @marijo-pernia to participate. In the main post are the indications for participation, to see it click here.
---
Lee la versión de @natflower sobre nuestra historia. Es mucho más resumida y divertida: click aquí.
Read @natflower's version of our story. It's much more summarized and fun: click here.
---
Translated with www.DeepL.com/Translator (free version).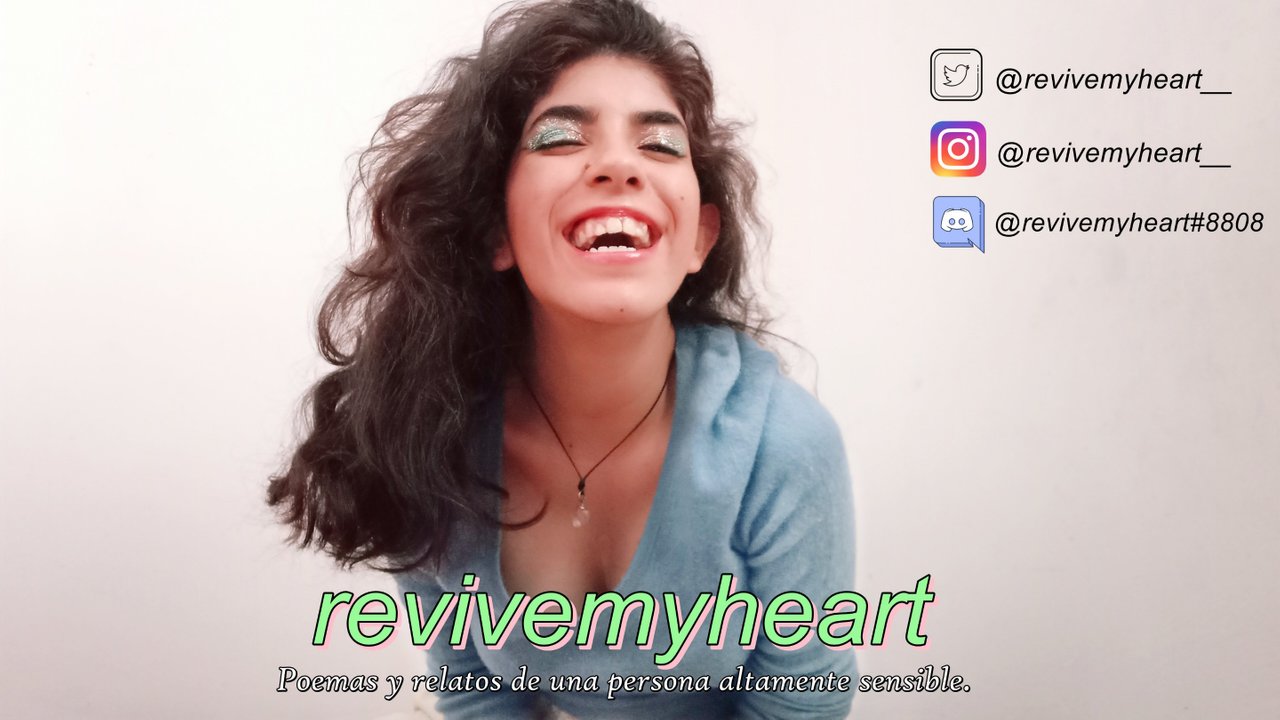 ---
---