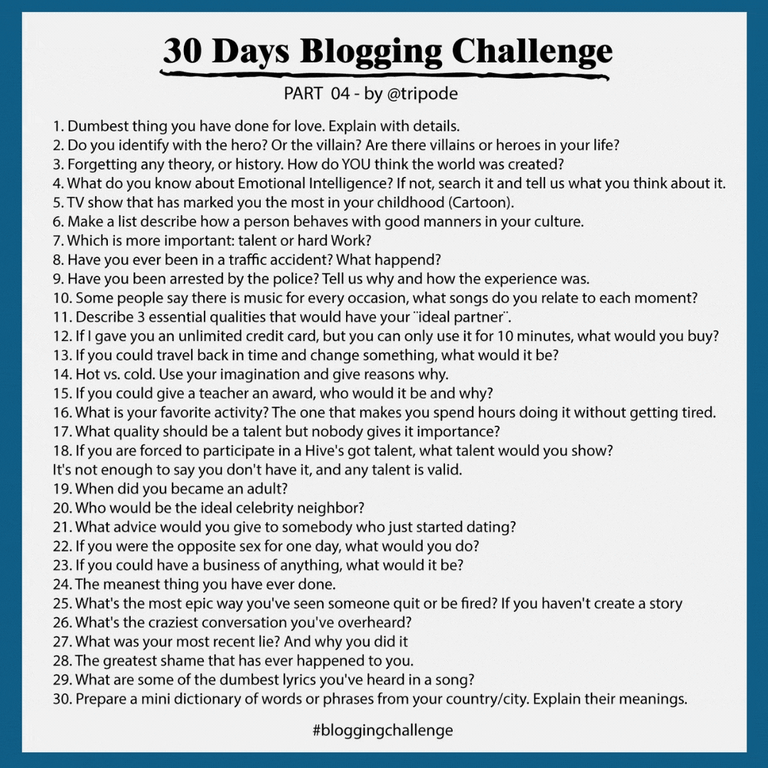 [ESP]
El reto se puso interesante, hoy lanzando números al azar sin tomar en cuenta el orden me ha tocado, después de pasar un día familiar. Me salió el número 11, describir 3 cualidades que debería tener mi pareja ideal, este reto va dentro de los 30 días de reto propuestos por @tripode dentro de la comunidad de @hive-163921; comencemos.
[ENG]
The challenge got interesting, today throwing random numbers without taking into account the order I got. After spending a family day, I got the number 11, describe 3 qualities that my ideal partner should have, this challenge goes within the 30 days proposed by @tripode within the community of @hive-163921; let's start.

Que tenga mucha paciencia / Have a lot of patience
Digamos que no soy un pan de dios, a pesar de todo tengo un carácter un poco muy fuerte y no hay nadie que me saque a la fuerza de lo que digo, por lo tanto debe tener la capacidad para lidiar conmigo, aparte que yo casi nunca salgo del cuartel (por los momentos) y cuando salgo son dos (02) días, mi pareja ideal debe aprender a lidiar además con ello.
Además debe ser paciente en cantidades industriales porque suelo ser un poco despistado, no quiere decir que no quiera a la otra persona, pero no soy del tipo de persona que escriba, en la mañana, al medio día, en la tarde y en la noche todos los días, un día si, otro día no, tres días seguidos si y sin ningún patrón finito.
[ENG]
Let's say that I am not a god bread, despite everything I have a bit of stronger character, and no one will force me out of what I say, therefore must have the ability to deal with me, besides I rarely leave the barracks (at the moment) and when I go out are two (02) days, my ideal partner must also learn to deal with it.
Besides, you must be patient in industrial quantities because I tend to be a little absent-minded, not to say that I don't love the other person, but I am not the type of person who writes, morning, noon, afternoon, and evening every day, one day yes, another day no, three days in a row yes and without any finite pattern.

De gran intelecto, buen corazón y sentimientos / Of great intellect, good heart and feelings.
Me considero sapiosexual, es decir, un gran intelecto, que pueda entablar una conversación que sea larga y productiva, sobre cualquier tema de interés lógico y que tenga la chispa de investigar, debatir y confrontar sus ideales; no obstante si tiene un carácter de poca humildad, con gran egolatría y que no acepta correcciones en sus ideas no me sirve ya ese papel lo tengo yo.
I consider myself a sapiosexual, who has a great intellect, who can engage in a long and productive conversation on any topic of logical interest, and who has the spark to investigate, debate, and confront his ideals. However, if he has a character of little humility, with great egomania, and who does not accept corrections in his ideas, he is of no use to me.

Que sea detallista / Detail-oriented
Me encanta que a pesar de que soy medio ogro me digan mi amor como estas, aunque les responda a la media hora, o amor ya hoy tenemos un mes y cosas del estilo. No porque yo no lo sea, sino que por el trabajo se me pasan esas cosas.
I love that even though I'm a bit of an ogre, they tell me my love like this, even if I answer them after half an hour, or love, today we have a month and things like that. Not because I'm not, but because of my work I miss those things.

Hacer click en la imagen llevara al servidor Discord de esta maravillosa comunidad.




Hacer Click en la imagen para unirse al Blogging Challenge Community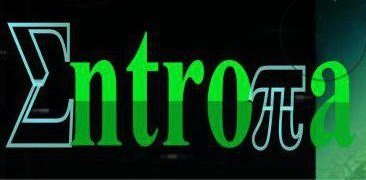 Hacer click en la imagen te llevara al servidor Discord y aquí para unirte al proyecto Entropia