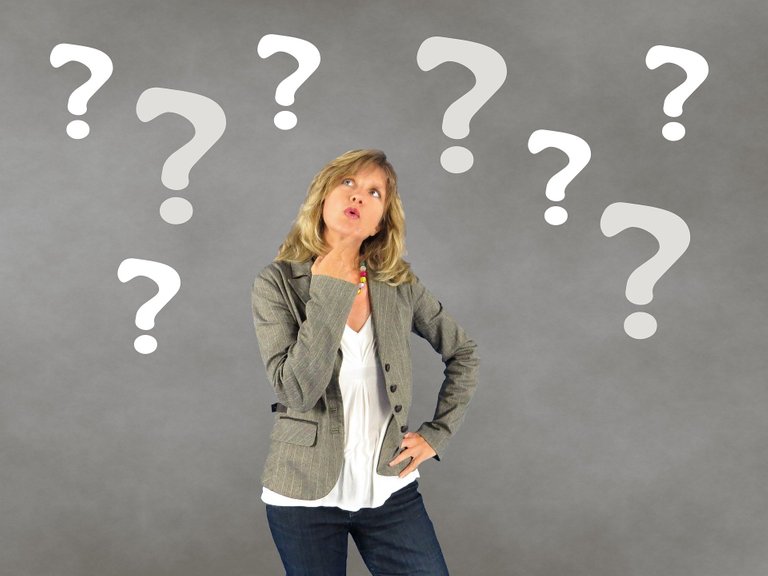 Source / Fuente
Greetings dear friends of Hive! It's a pleasure for me to join for the first time this edition of the blogging challenge sponsored by @surrealfia and answer one of your 30 questions in order to have some fun.
If you had the opportunity to change your career, what would it be and why?
¡Saludos queridos amigos de Hive! Es un gusto para mi unirme por primera vez a esta edición del blogging challenge auspiciado por @surrealfia y responder una de sus 30 preguntas con el fin de divertirnos un poco.
Si tuvieras la oportunidad de cambiar de carrera, ¿cuál sería y por qué?

Well, first of all, I have a degree in nursing with a specialty in operating room. To begin with I must say that I started studying this career with a view to change to medicine as soon as I had the opportunity, but it happened that right there, in the first semester, I really fell in love with the nursing profession and I knew that was what I wanted to do for the rest of my life.
Currently I do not practice it because in Venezuela, the health system is really bad, even before the pandemic, health professionals earn a salary that is not enough to cover their basic needs and therefore I made the decision to stop practicing and look for other options.
Bueno les cuento en primera instancia que soy de profesión Licenciada en enfermería con especialidad en quirófano. Para comenzar debo decir que comencé a estudiar esta carrera con miras a cambiarme a medicina apenas tuviera la oportunidad, pero sucedió que ahí mismo, en el primer semestre, quedé realmente enamorada de la profesión de enfermería y supe que eso era lo que quería hacer por el resto de mi vida.
Actualmente no la ejerzo porque en Venezuela, el sistema de salud está realmente mal, incluso antes de la pandemia, los profesionales de la salud ganan un sueldo que no les alcanza para cubrir sus necesidades básicas y por tanto tomé la decisión de dejar de ejercer y buscar otras opciones.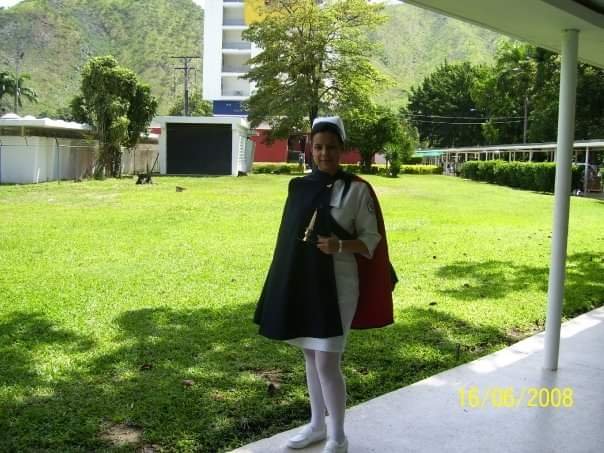 Now in thinking about this question, there are two things I would change careers for, and I say this very objectively, thinking about this idea of change in today's world. Currently, the world revolves around social networks, everything that people want to get to sell, goes through the filter of Instagram, Facebook and even tik tok, that's why I would really like to have studied digital marketing and advertising to learn all those little secrets to elevate a brand and be recognized.
It's amazing how important advertising and social media marketing has become nowadays and with the pandemic issue, we do everything practically from the cell phone to avoid being exposed in the street and get infected, that's why I think the career of the future is certainly everything that has to be related to social networks.
Ahora al pensar en esta pregunta, hay dos cosas por las cuales yo cambiaría de carrera, y lo digo muy objetivamente, planteándome esta idea del cambio en el mundo de hoy. Actualmente, el mundo gira en torno a las redes sociales, todo lo que las personas quieren llegar a vender, pasa por el filtro de Instagram, Facebook e incluso tik tok, es por eso que me gustaría mucho haber estudiado marketing digital y publicidad para aprender todos esos pequeños secretos para elevar una marca y ser reconocida.
Es increíble lo importante que se ha vuelto la publicidad y el mercadeo en redes sociales hoy en día y con el tema de la pandemia, todo lo hacemos prácticamente desde el celular para evitar estar exponiéndonos en la calle y contagiarnos, es por eso que creo que la carrera del futuro es sin duda todo lo que tenga que estar relacionado a las redes sociales.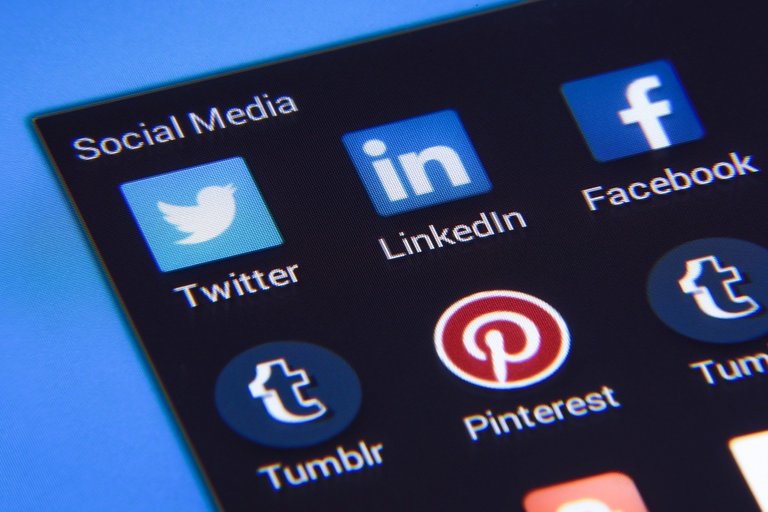 Source / Fuente
Another thing that I have always liked is to learn English, I think that whatever you want to do, if you have a good base in that language, it is a significant plus. In my case I would not like to learn English to teach, much less in my country where teachers suffer the same fate as nurses where they have to work hard and the salary is insufficient, in my case I would like to learn that language to be able to perform better, combine it with marketing work and ultimately raise my business.
Otra cosa que me ha gustado desde siempre es aprender inglés, creo que cualquier cosa que desees hacer, si tienes una buena base en ese idioma, es un plus significativo. En mi caso no me gustaría aprender inglés para dar clases, mucho menos en mi país donde los docentes sufren la misma suerte de las enfermeras donde tienen que trabajar mucho y el sueldo es insuficiente, en mi caso me gustaría aprender ese idioma para poder desenvolverme mejor, combinarlo con el trabajo de marketing y en definitiva elevar mi negocio.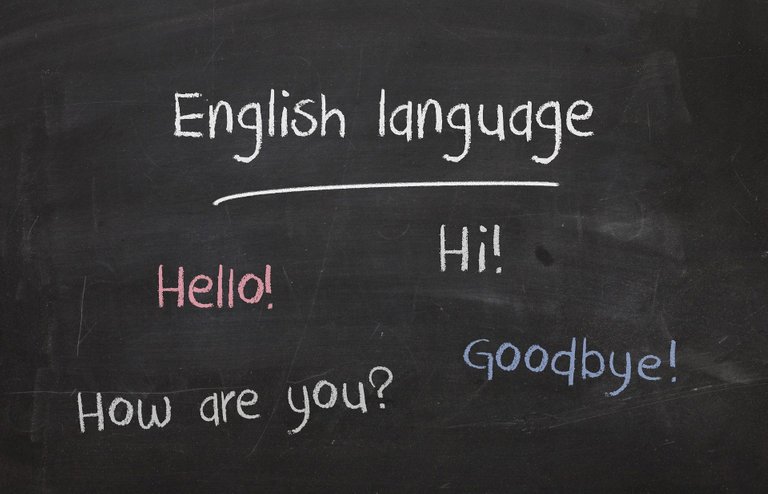 Source / Fuente
Undoubtedly, I love my career, but it is being very mistreated. Reflecting on question #2 of the challenge makes me ask myself another question, what's stopping me from achieving what I want? Nothing, simply nothing stops me from learning digital marketing and learning the secrets of those who know how to position a brand or nothing stops me from learning to speak English, I feel that whatever I want, with hard work I can achieve it.
Sin duda alguna, amo mi carrera, pero está siendo muy maltratada. Reflexionar sobre todo esto que me ha planteado la pregunta #2 del reto me lleva a hacerme otra pregunta, ¿qué me detiene para alcanzar lo que quiero? Nada, sencillamente nada me impide aprender marketing digital y conocer los secretos de aquellos que saben cómo posicionar una marca o nada me impide aprender a hablar inglés, siento que cualquier cosa que yo desee, con empeño lo puedo lograr.

This is my entry for the 30 Day Blog Challenge - Part 5. If you want to participate, here is the link to the original post.
Esta es mi entrada para el 30 Day Blog Challenge - Parte 5. Si deseas participar, acá te dejo el enlace de la publicación original para que escojas la pregunta que deseas responder. Gracias por leer esta publicación.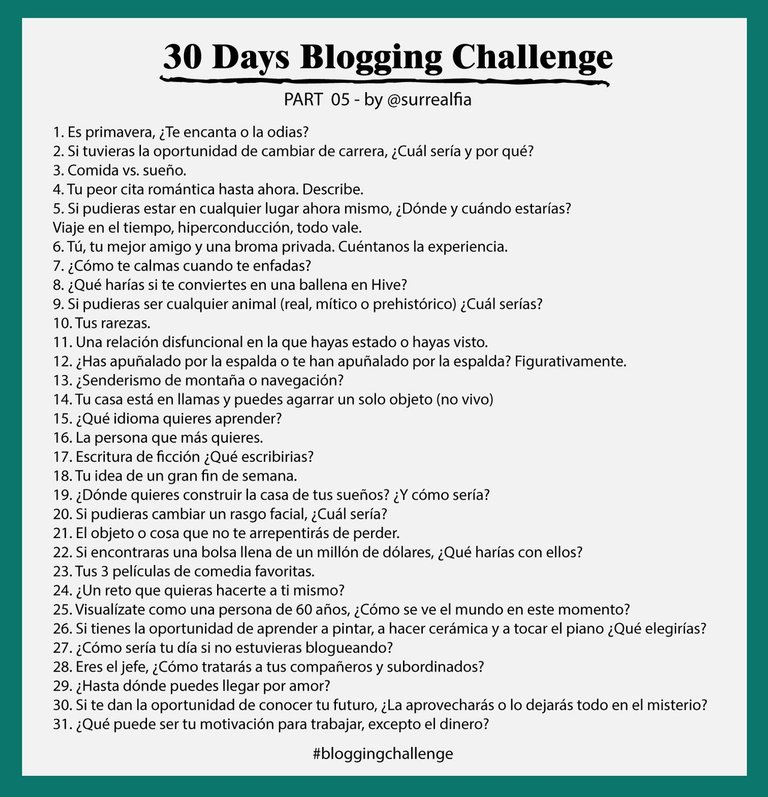 Separador Blogging: @tripode