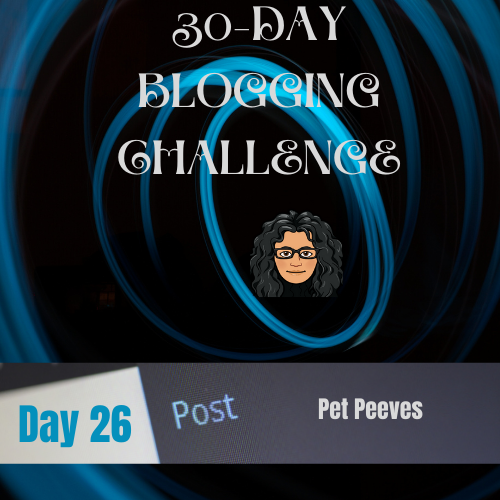 Image created in Canva by @justclickindiva utilizing its free images and bckgrnds

Day 26 of 30-Day Blogging Challenge. Today is gonna be a good day. I get to air my grievances about things that just drive me bananas. These items are known as "pet peeves." I have numerous ones that just make me cringe. I'm sure some items on my list may be on yours also.
Parking in the Handicapped Parking spaces.
This is one act that just hurts my hart. Do people realize what "set aside for special needs" are about? Sometimes I wonder. Whenever I see people drive up and park in a handicapped parking slot, I wonder whether they have a sticker or plate tag. You shouldn't judge before knowing all the facts. However, when I see no tag or plates, then I have to wonder what is so urgent that motivated them to take up a parking space meant to help others who can't walk far or need assistance.

Parking too close in a parking space.
What can you say? Are you in a hurry that you pull into a space with half your behind hanging in another lane. Drivers such as this shouldn't be surprised when they return to find half their rear torn off. All because they didn't take the time to park correctly. That means, if you don't know how to park correctly, then it's between the two lines, leaving enough space to open your door safely without hitting the car next to you. And that goes for both driver and passenger doors.

Leaving your cart in the middle of the grocery isle.
Ladies and gentlemen, do we need a sign that states "Park your grocery cart on either the left of right side of the isle. Middle lane is for traffic."

Entering the Entrance Ramp on the freeway
I have been witness to numerous drivers entering the entrance ramp, move over to the next lane, then slow down as if they weren't sure what to do next. Forward please, at the speed limit set by the city or state. A freeway entrance lane is not for sightseeing.

Sampling fruits in grocery stores.
I hope this isn't continuing during the pandemic. However, knowing people as I do, I've discontinued purchasing fresh fruit in bags that can be opened. I actually witnessed a shopper stand there and do that exact thing. That person then looked around to see if anyone was looking.

Changing Lanes Without First Signaling
Drivers who change lanes without first putting on their signal light are not only placing themselves in danger but also endangering others in traffic.

Día 26 del desafío de los blogs de 30 días. Hoy va a ser un buen día. Puedo expresar mis quejas sobre cosas que me vuelven loco. Estas cosas se conocen como "pet peeves". Tengo muchas que me hacen sentirme mal. Estoy seguro de que algunos artículos de mi lista pueden estar en la tuya también.
Estacionamiento en los espacios de estacionamiento para discapacitados
Este es un acto que me hace daño a mi corazón. ¿La gente se da cuenta de lo que significa "apartar para necesidades especiales"? A veces me pregunto. Cada vez que veo a la gente conducir y aparcar en una plaza de aparcamiento para discapacitados, me pregunto si tienen una pegatina o una etiqueta de placa. No deberías juzgar antes de conocer todos los hechos. Sin embargo, cuando no veo ninguna etiqueta o placa, entonces me pregunto qué es tan urgente que los motivó a ocupar un espacio de estacionamiento destinado a ayudar a otros que no pueden caminar lejos o necesitan ayuda.

Estacionamiento demasiado cerca en un espacio de estacionamiento.
¿Qué puede decir? ¿Tienes prisa por aparcar en un espacio con la mitad de tu trasero colgando en otro carril. Conductores como este no deberían sorprenderse cuando regresan y encuentran la mitad de su trasero arrancado. Todo porque no se tomaron el tiempo para estacionar correctamente. Eso significa que si no sabes cómo aparcar correctamente, entonces es entre las dos líneas, dejando suficiente espacio para abrir la puerta con seguridad sin chocar con el coche de al lado. Y eso va para las puertas del conductor y del pasajero.

Dejando tu carrito en el medio de la isla de la comida
Damas y caballeros, ¿necesitamos un letrero que diga "Estacione su carro de supermercado en el lado izquierdo o derecho de la isla"? El carril del medio es para el tráfico".

Entrando en la rampa de entrada de la autopista
He sido testigo de numerosos conductores que entran en la rampa de entrada, pasan al siguiente carril y luego disminuyen la velocidad como si no estuvieran seguros de qué hacer a continuación. Adelante, por favor, al límite de velocidad establecido por la ciudad o el estado. El carril de entrada de una autopista no es para hacer turismo.

Muestra de frutas en las tiendas de comestibles.
Espero que esto no continúe durante la pandemia. Sin embargo, conociendo a la gente como lo hago, he dejado de comprar fruta fresca en bolsas que se pueden abrir. De hecho, fui testigo de un comprador que se paró allí y hizo exactamente eso. Esa persona miró a su alrededor para ver si alguien estaba mirando.

Cambiando de carril sin la primera señal
Los conductores que cambian de carril sin encender primero su luz de señal no sólo se ponen en peligro a sí mismos sino también a los demás en el tráfico.

Do you have any pet peeves? Let me know in the comments below so that we can compare.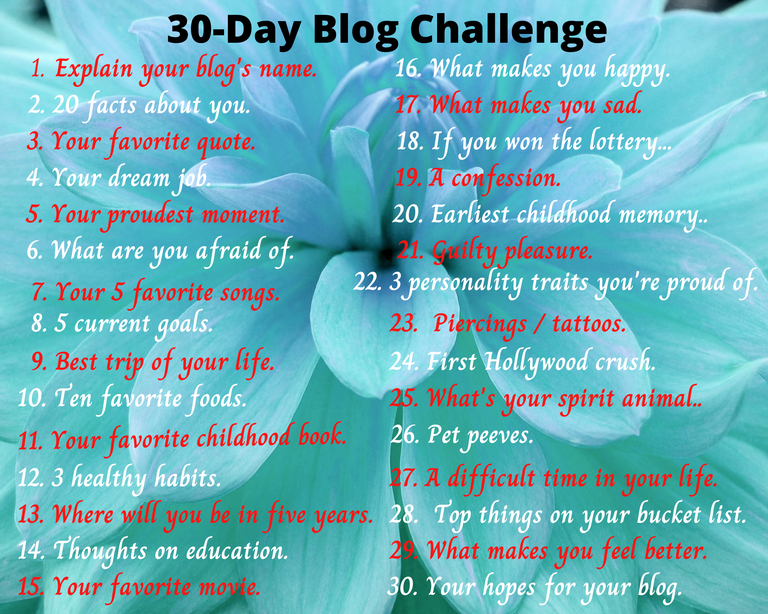 Follow my 30-Day Blogging Challenge below:

@flaxz initiative #iamalivechallenge (Published my post for my blog today)

Thanks,
@justclickindiva
Happy rest of the week everyone with whatever your endeavors.


SOURCES:
a) JustClickindiva's Footer created in Canva utilizing its free background and images used with permission from discord admins.
b) Unless otherwise noted, all photos taken by me with my (i) Samsung Galaxy 10" Tablet, (ii) Samsung Phone, & (iii) FUJI FinePix S3380 - 14 Mega Pixels Digital Camera
c) Purple Butterfly part of purchased set of Spiritual Clip Art for my Personal Use
d) All Community logos, banners, page dividers used with permission of Discord Channel admins.
e) Ladies of Hive banner used with permission of and in accordance with the admin's guidelines.

Your Personal Terminal Discord Invite

![Copy of Copy of Decorative Shape Facebook Cover1.gif](https://files.peakd.com/file/peakd-hive/justclickindiva/2P21YZdi-Copy20of20Copy20of20Decorative20Shape20Facebook20Cover1.gi