I know we've all heard of the phrase "falling in love". Many people has and more will still be, gone are the days of blind love, I guess that era is gone now. You have to open your eyes to whoever you want to spend your emotions with. Emotions too are becoming more scarce to come bye. People don't want to give there heart to some things anymore. They want out of things easily without commitment, in a world where money and game has replaced almost all the virtues and bedrock of humanity. This leads us to the question, what is Love.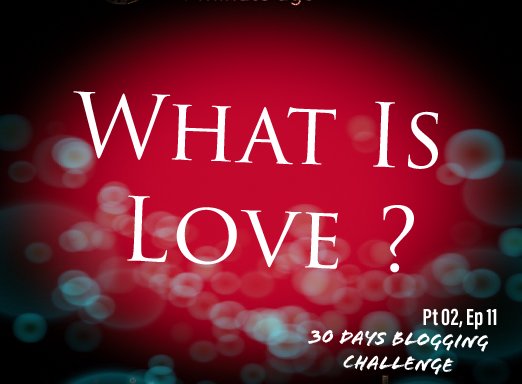 Love Is An Affection
Love is the ability to generate emotion toward the a thing or being without expecting anything back. Love is a sacrifice on its own. To love is to forget yourself into another person, if you get it. It is complicated to think about. Love is putting another person before you in thought, deeds and action. You weighs the loved person reaction to every action you're going to take thereby becoming less conscious of yourself in comparison the loved ones.
Love is God, God is Love
What this means is simple, by falling in love 💕😘 you're sharing in a particular trait DNA of God. You're sharing in His ability to like everybody. Love enlarges your heart and make you want to accommodate more and more people. You get to be cool with more and more people. Love makes you want to do good to everyone you meet. You want to put a smile on someone's face. You want to spread the joy of Love 💕😘 to everyone you meet. Love is harmless, Love makes life very easy for others.
11/30 Days Blogging Challenge Pt 02 Ep 11 :- How Do You Manage Stress.
10/30 Days Blogging Challenge Pt 02 Ep 10 :- Prediction Time: What Will Happen In 5 Years.
.
09/30 Days Blogging Challenge Pt 02 Ep 09 :- What I Will Put On A Billboard. .


08/30 Days Blogging Challenge Pt 02 Ep 08 :- My Believe That Is Going Weird To Believe Them..


07/30 Days Blogging Challenge Pt 02 Ep 07 :- What My Diet Looks Like.
.
06/30 Days Blogging Challenge Pt 02, Ep 06 :- 3 Items To A Desert Island.




05/30 Days Blogging Challenge Pt 02, 05 :- Best Advice Ever Received.
.
Day 04/30 Days Blogging Challenge Pt 2 Ep 04 ::: - 3 People I'm Following Closely




Day 03/30 Days Blogging Challenge PT 2 Ep 03 - Worst Advice I've Ever Taken.
.
Day 02/30 Days Blogging Challenge PT 2 Ep 02 - Best Investment I've Made.
.
Day 01/30 Days Blogging Challenge PT 2 Ep 01 - Word "Successful" Who Comes To Your Mind ? [ENG-ESP]