Happy Friday, folks!
I have a great idea for you - let's go to the market! This is the place I would love to come back again, and mainly not for shopping. Because Grand Bazaar is just a unique place itself with an amazing atmosphere, like an ancient mini-city inside of a great one.
So, let's go have a look.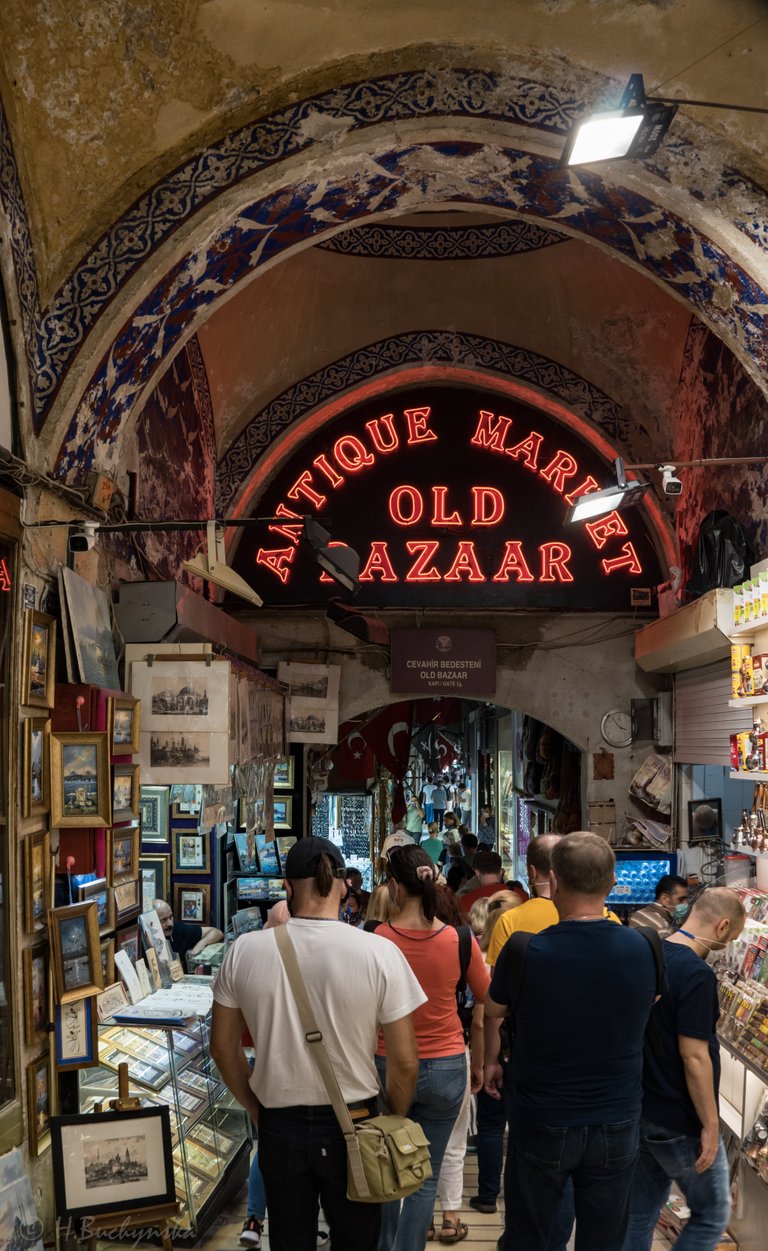 [//]:# (!pinmapple 41.010493 lat 28.968424 long Grand Bazaar, Istanbul d3scr)

To impress you from the beginning, I'll give you a few impressive facts:
The Grand Bazaar (Turkish: Kapalıçarşı, meaning 'Covered Market'; also Büyük Çarşı, meaning 'Grand Market') in Istanbul is one of the largest and oldest covered markets in the world, with 61 covered streets and over 4,000 shops on a total area of 30,700 m2, attracting between 250,000 and 400,000 visitors daily. In 2014, it was listed No.1 among the world's most-visited tourist attractions with 91,250,000 annual visitors. The Grand Bazaar at Istanbul is often regarded as one of the first shopping malls of the world. (wiki)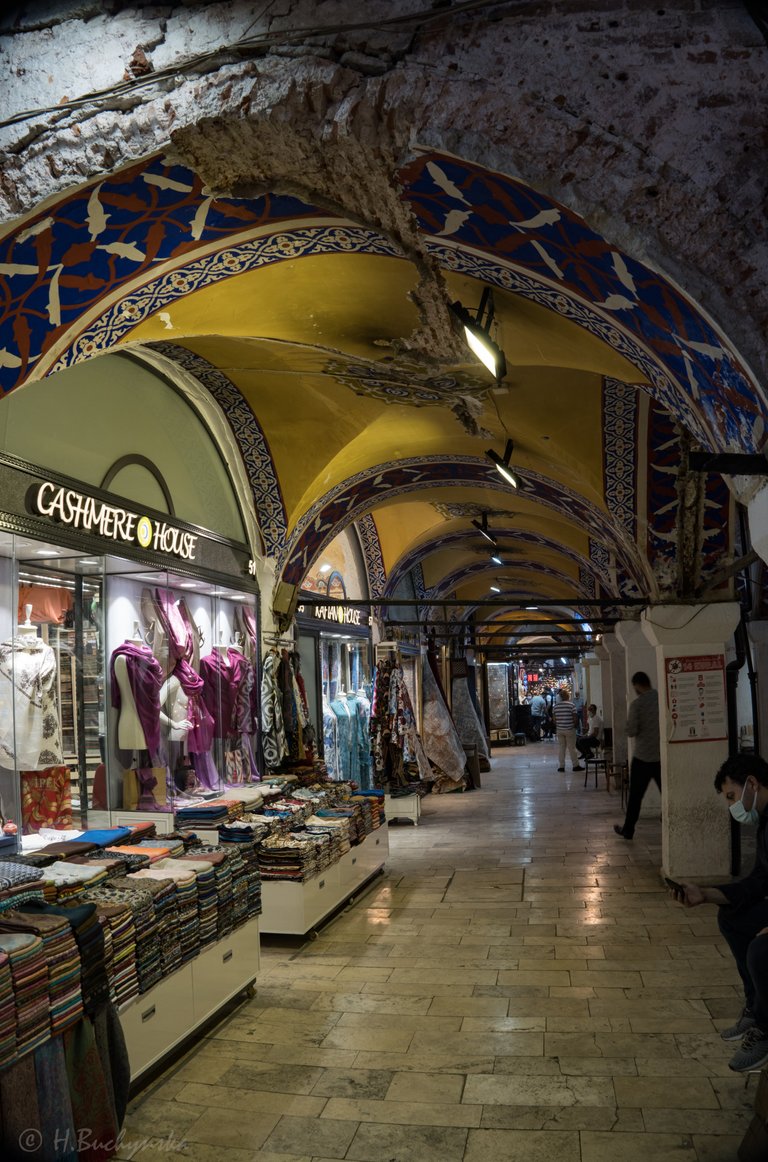 They began to build the bazaar during the reign of Sultan Mehmed II (Mehmed the Conqueror) after the capture of Constantinople in 1464. The names of the places are reminiscent of the old days, when each type of trade or craft had its own quarter: a street of jewelers, a street of carpet merchants, a street of skullcap manufacturers.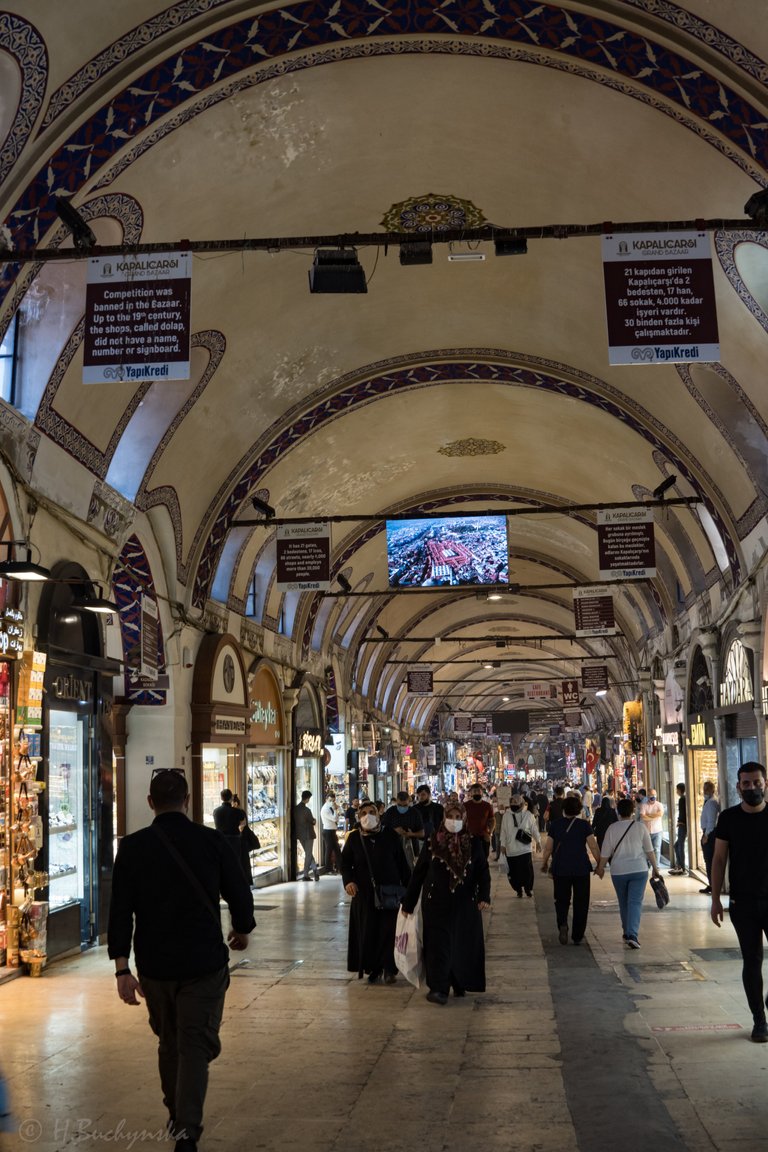 There are about 60 streets under these domes. We were told that the Grand Bazaar also has 2 mosques, 4 fountains, 2 hammams, 40 hotels and even 1 school.
In the center, there are 2 Bedestans - old covered parts of the market, around which it grew. They were built by order of the sultan. Old Grand Bazaar has 18 gates, then goes Grand Bazaar and then its surroundings which are also trading areas. You can easily get lost there.
Look at the beautiful masonry in the next shot.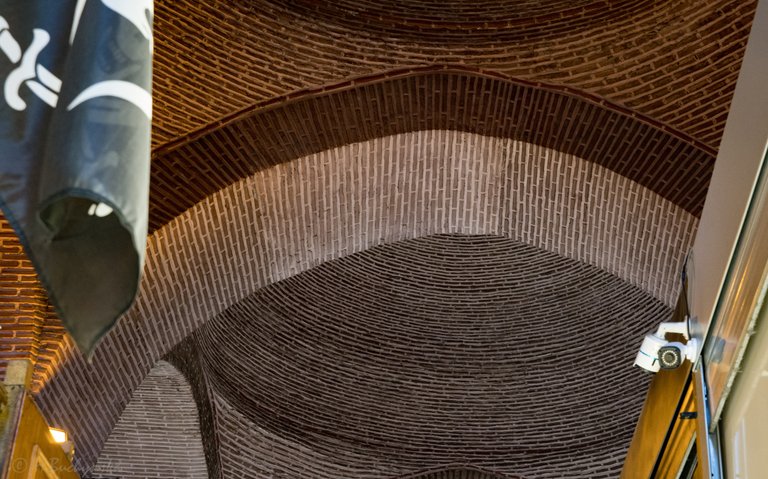 I took most of my photos in the morning, on my second visit. So, usually, these narrow streets are much more crowded and noisy.

Sellers are very persistent, although polite. Once noticed your gaze, they will not let you pass by. They are excellent psychologists and observers, because this is part of their job, and they are good at guessing which country you come from.
Oh, by the way, it might be interesting for travelers, the exchange rate here is very good.
Not I'll let you to walk by yourself for a while, but stick around!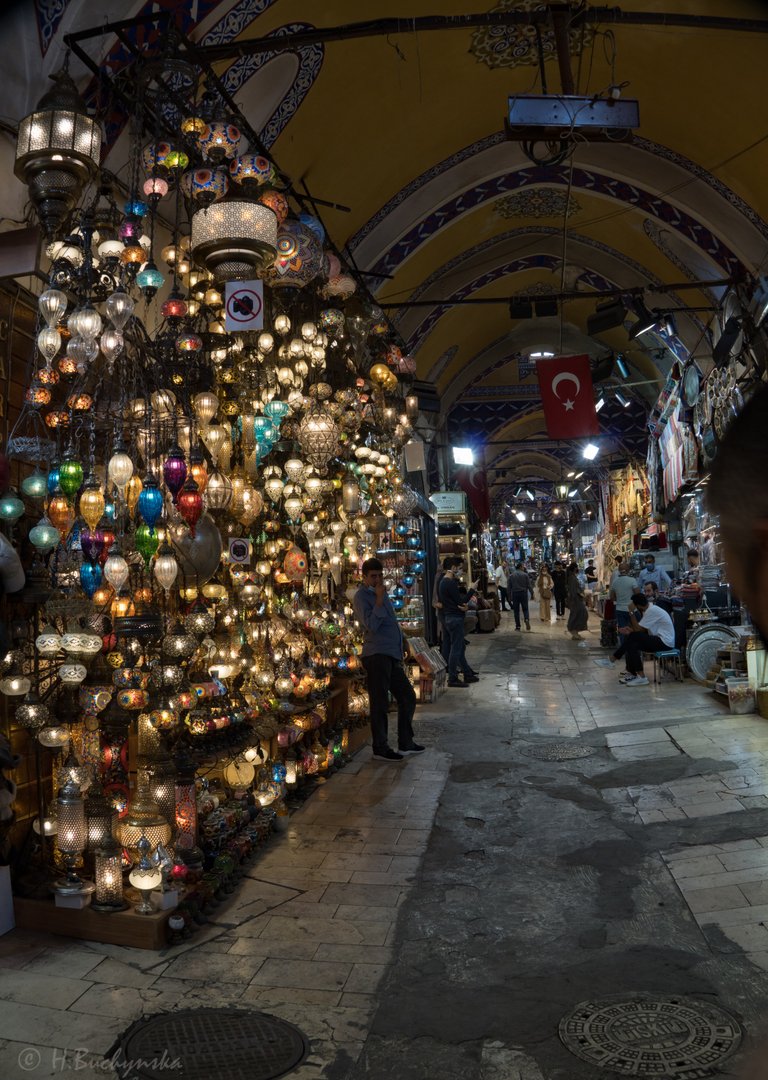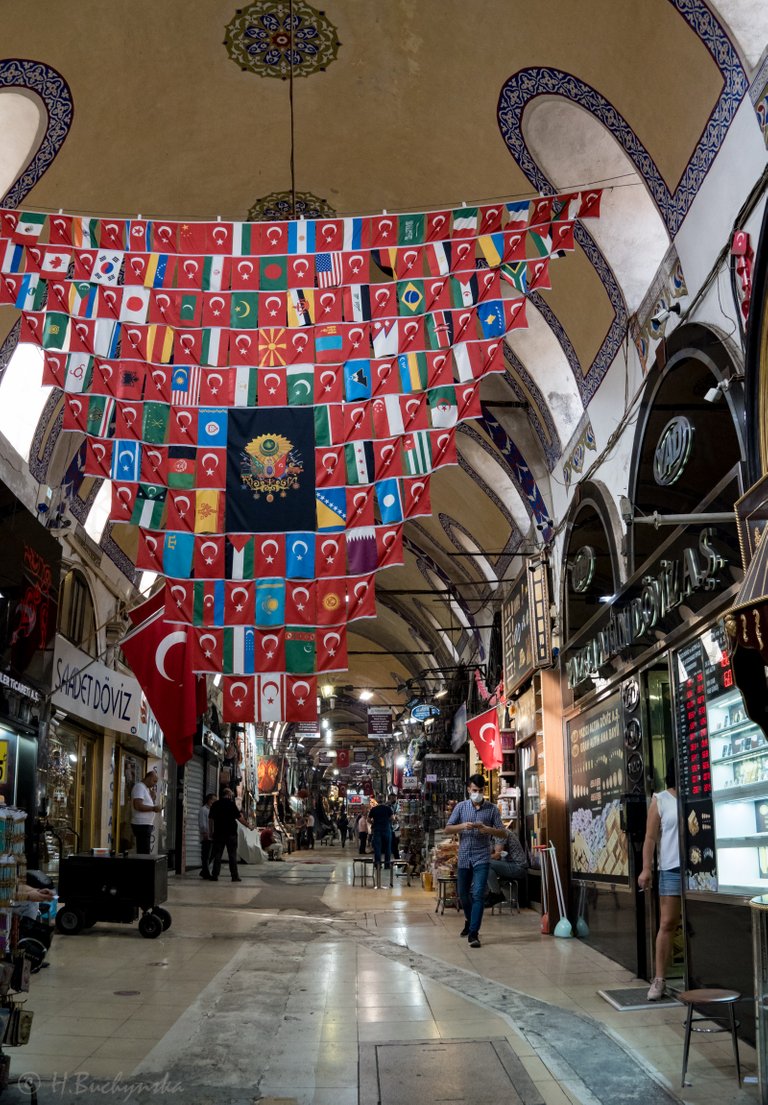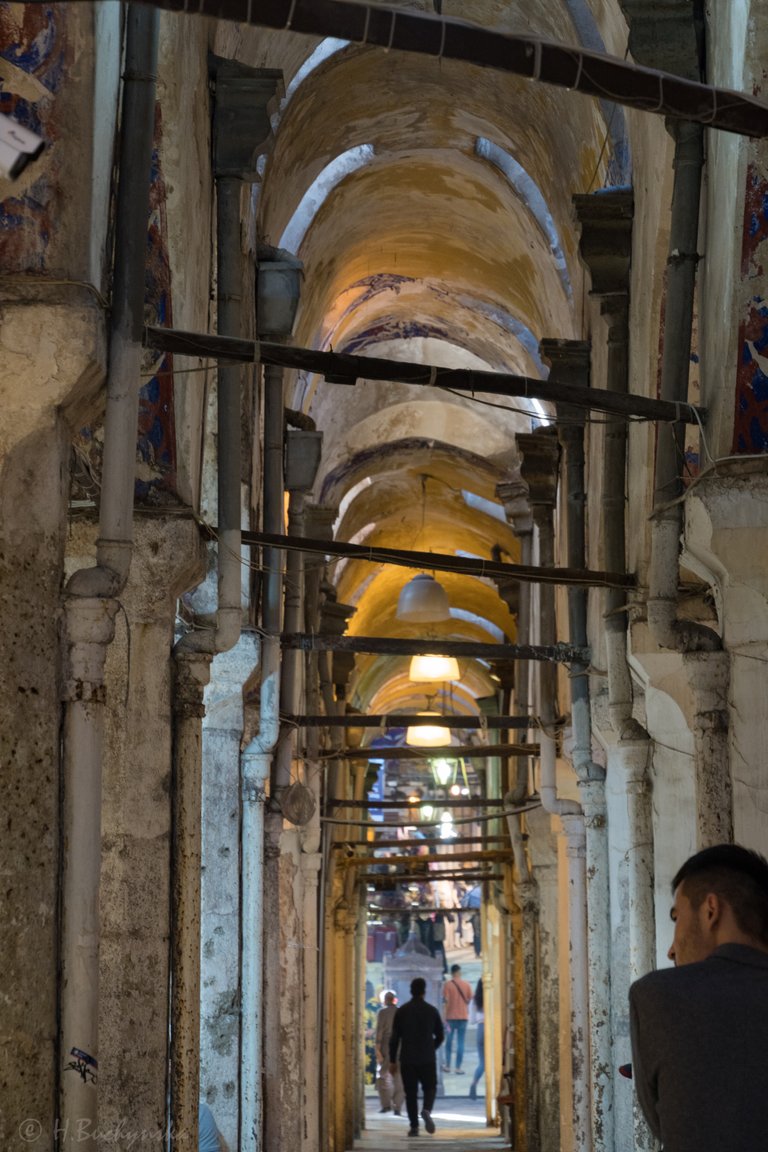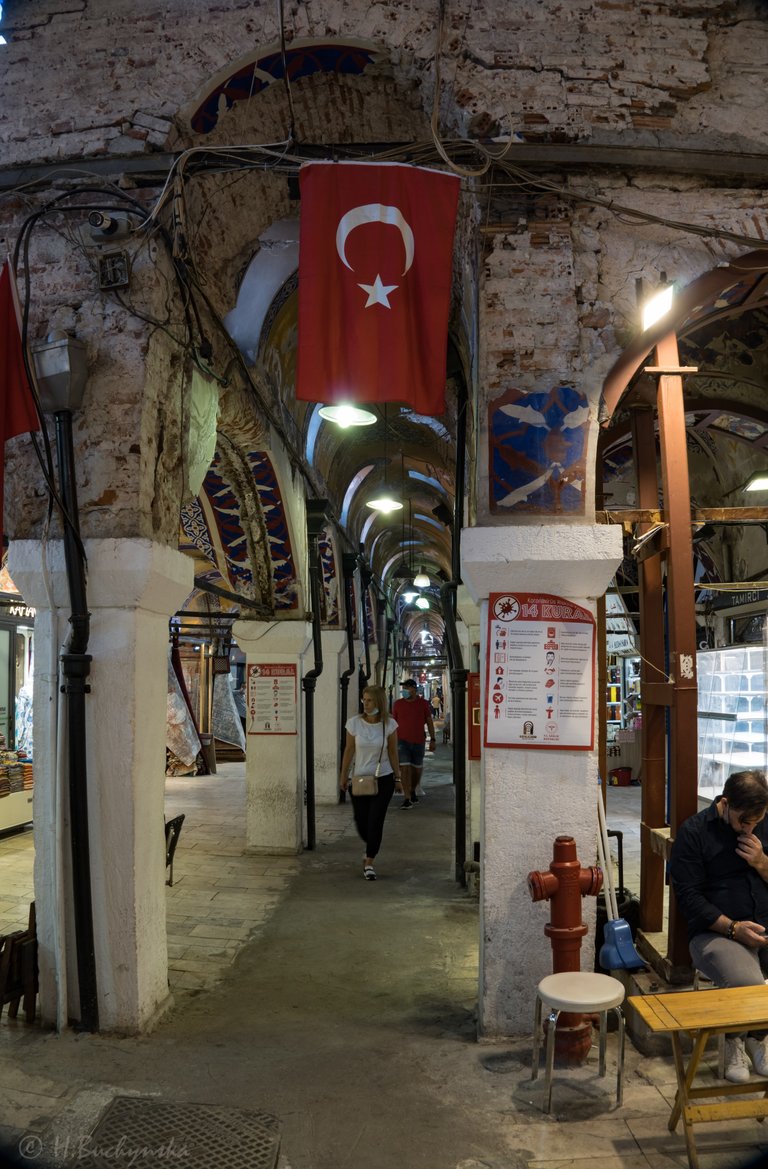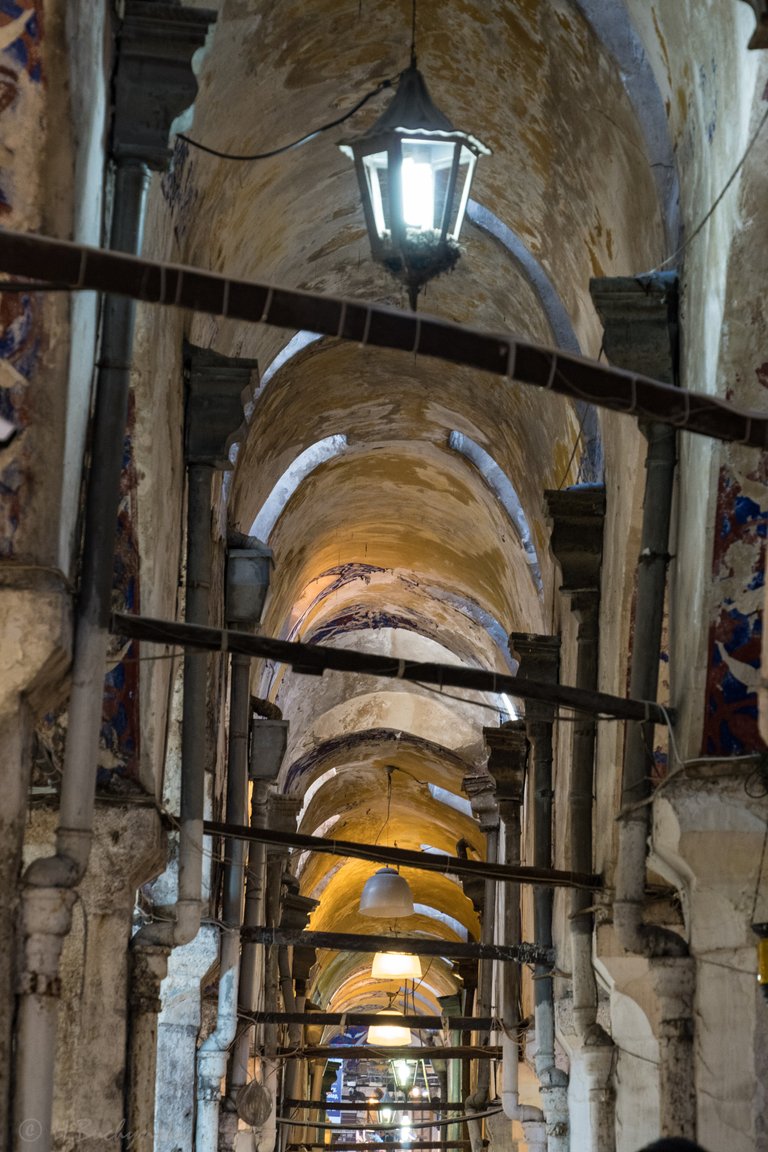 As it seems to me, Turk people are very hardworking. Probably, their work may not be of the best quality, but they work hard and do their best to please the client. On my first visit, a friend saw a jacket in a leather clothing store, which she really liked and was going to buy, but they did not have her size. And in 5 days, while she was in Istanbul and went to museums, they sewed her a jacket. 5 days including fitting, for a very good price.


If something is wrong with your purchase, it can be fixed on the spot in one of the small workshops.
I found an amazing place, but this photo is all I have. Look closer, this box has 2 floors. On the second floor, a thin young man repairs things.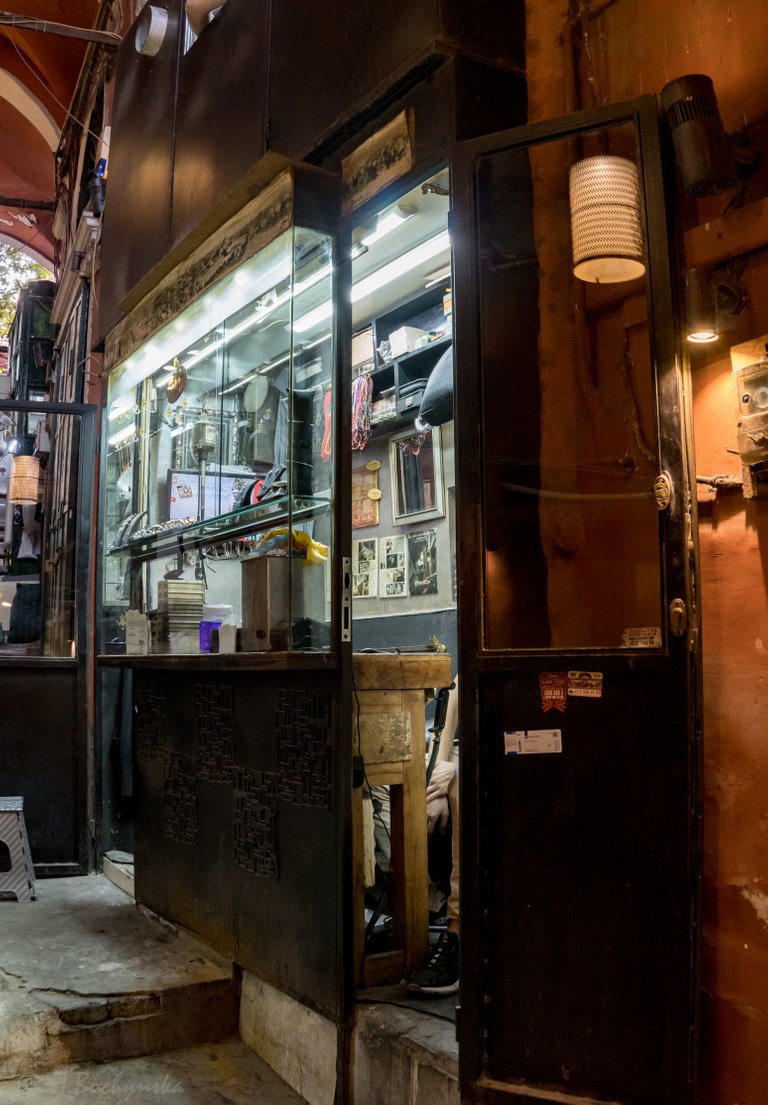 The next box is a tea point. Turks have their tea from small glasses with a well-known shape of a tulip. The tulip is also a symbol of Istanbul.
By the way, the history of tea here is also very interesting. There were harsh times when people were so poor that they couldn't buy coffee. So, they started to drink tea and make it strong to get a similar effect. Turkish coffee is also strong.
Okay, it was a side note, let's go on!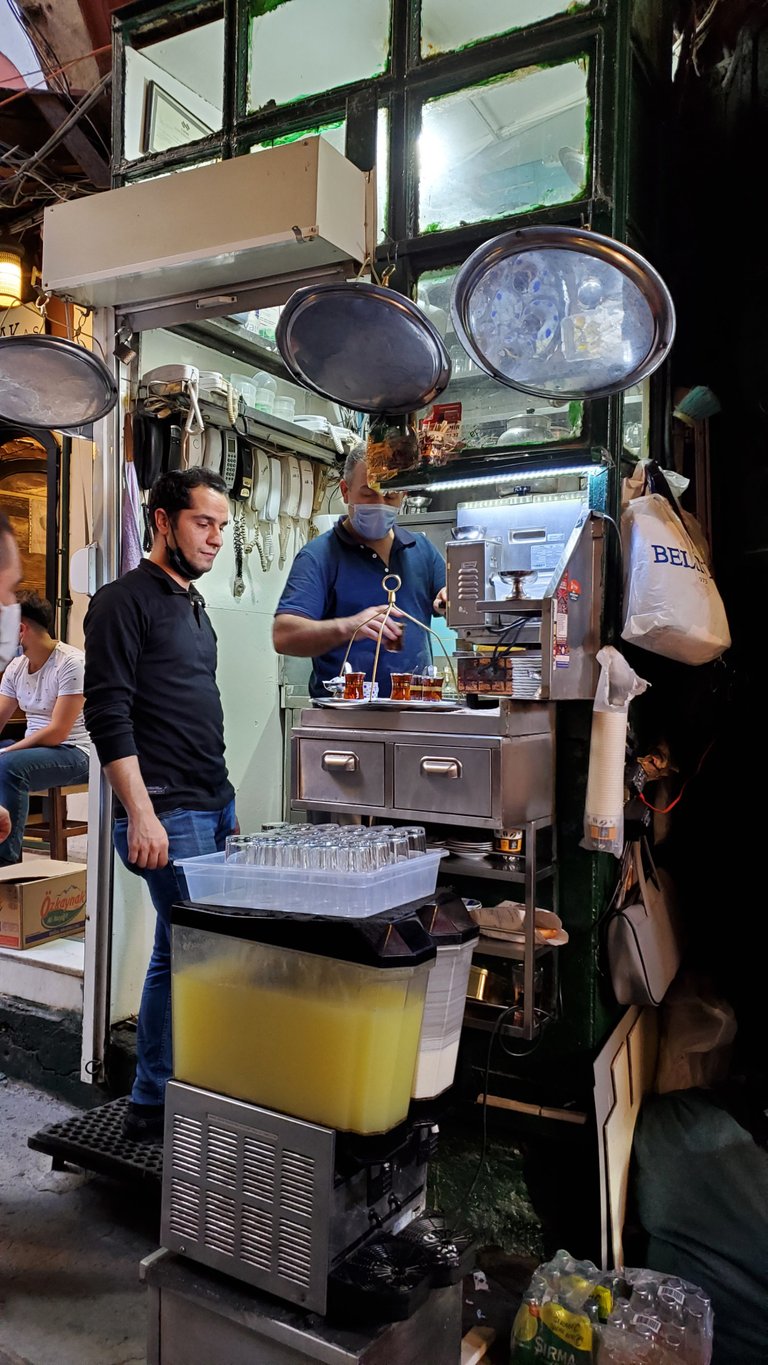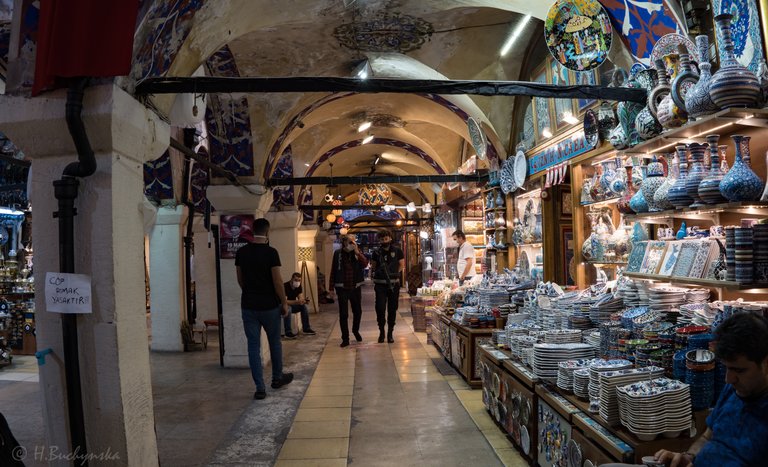 Walking in this maze, I noticed a lot of interesting things. Now I regret I didn't shot them all!
Like this axe - what is it for? I don't know.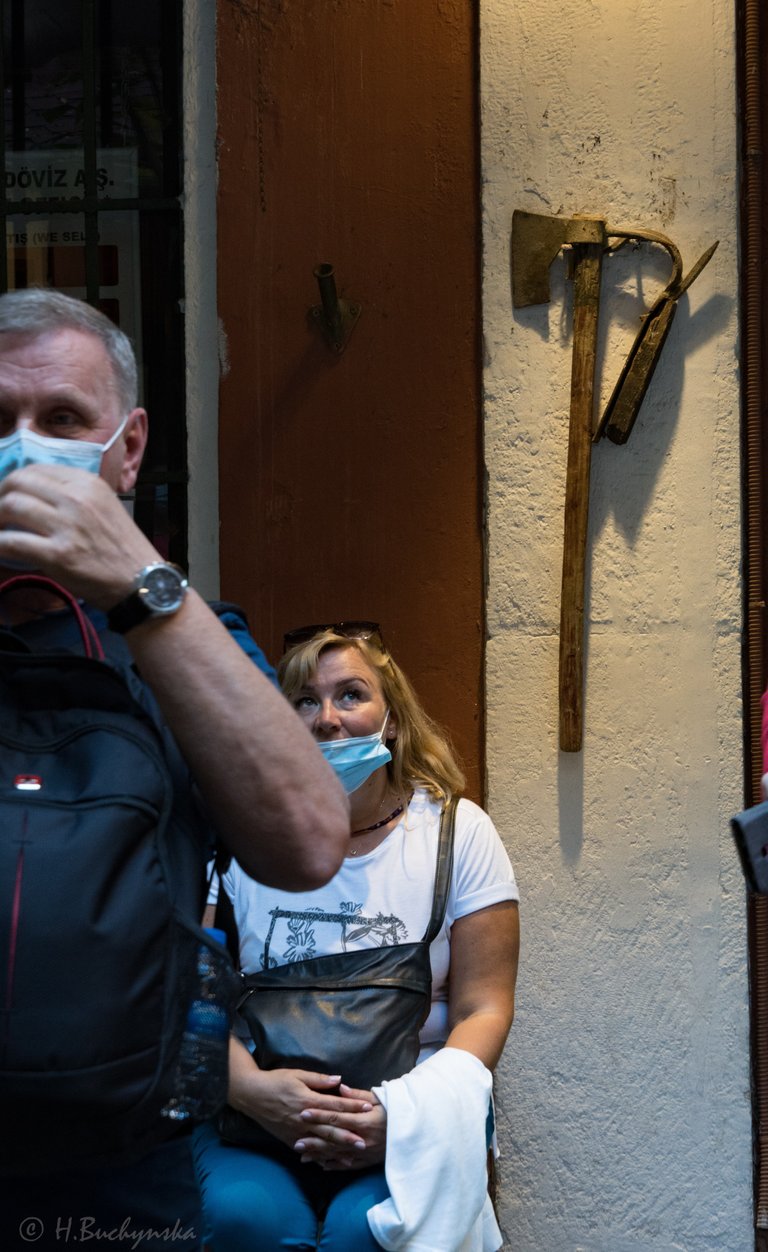 For those who don't forget to look up time after time, there is a gallery and a second floor. Let's go up and check what is up there...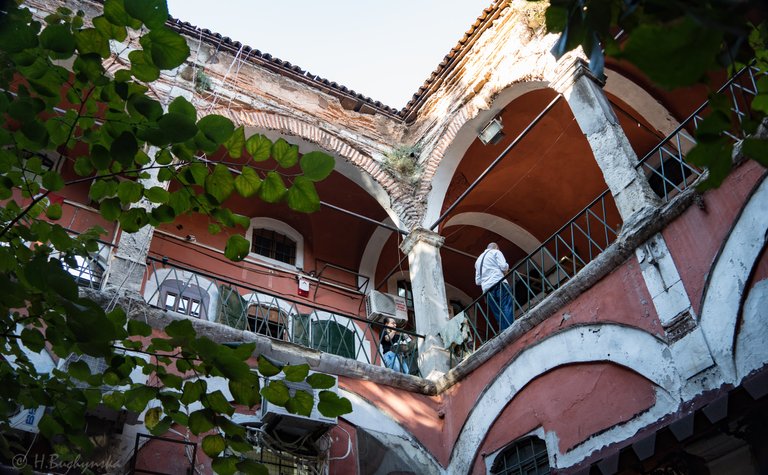 Sometimes I couldn't believe people can work here. The construction looks so run-down. But here, I found even a small room with a foundry furnace! Can you believe it?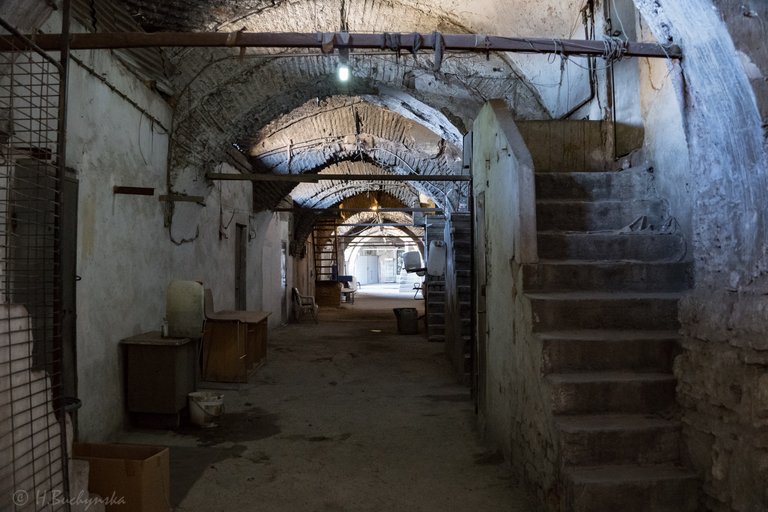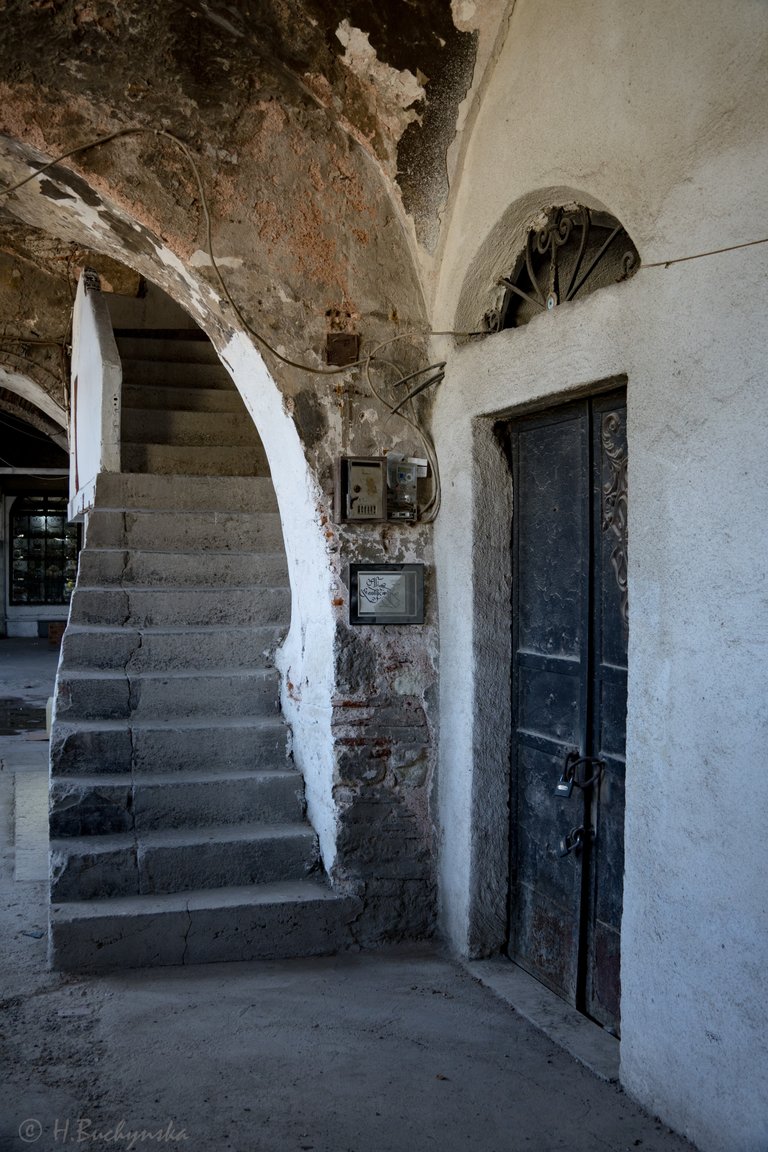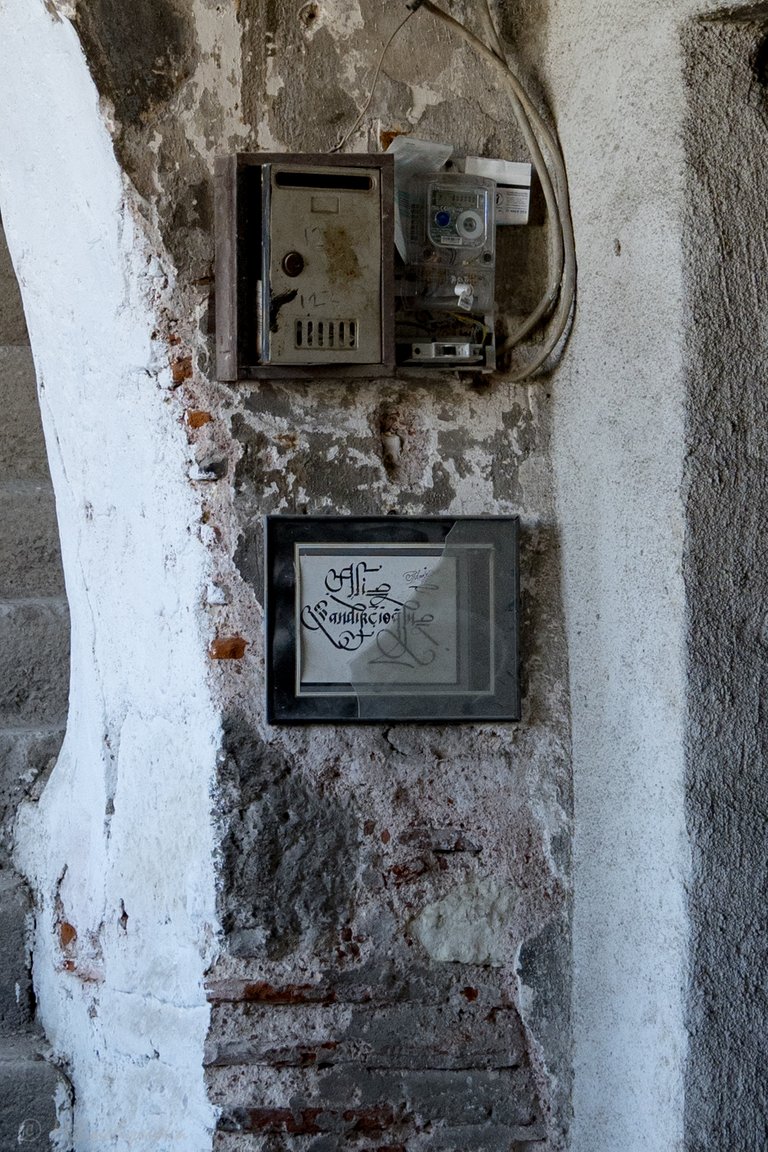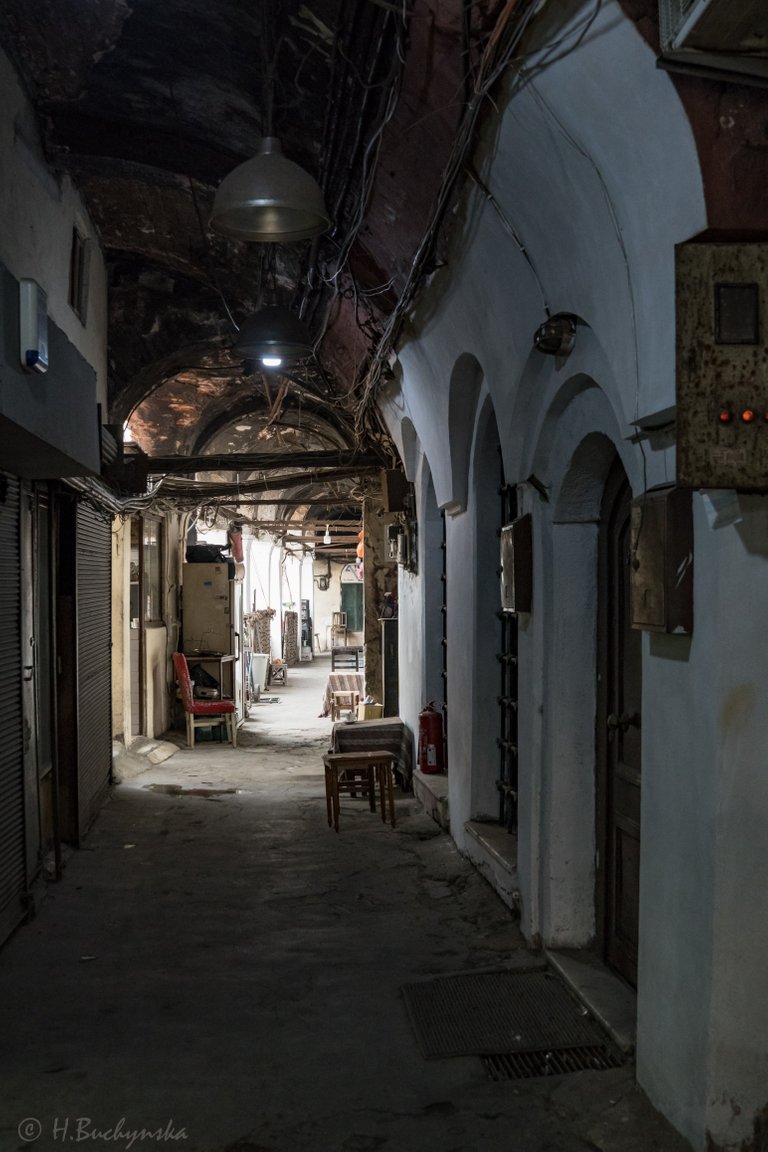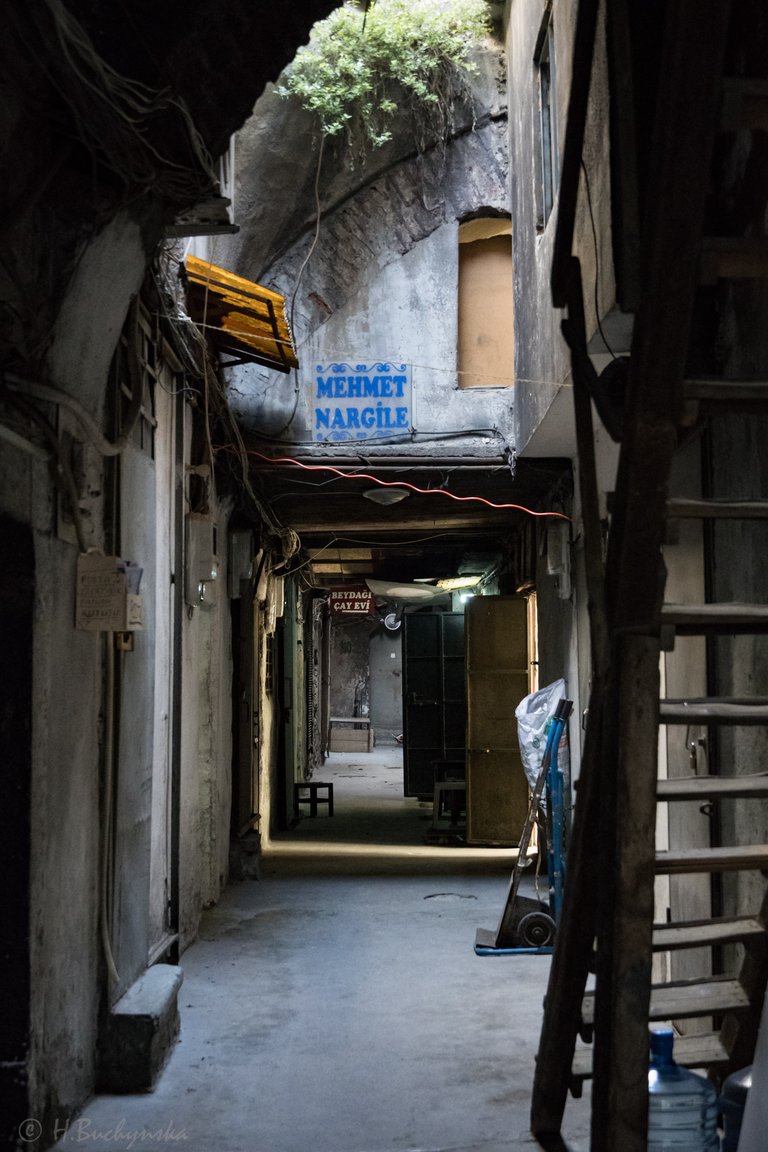 But let's leave them alone and let them do their work. Time for a break? You don't have to go outside the walls and look for a cafe because here they have everything.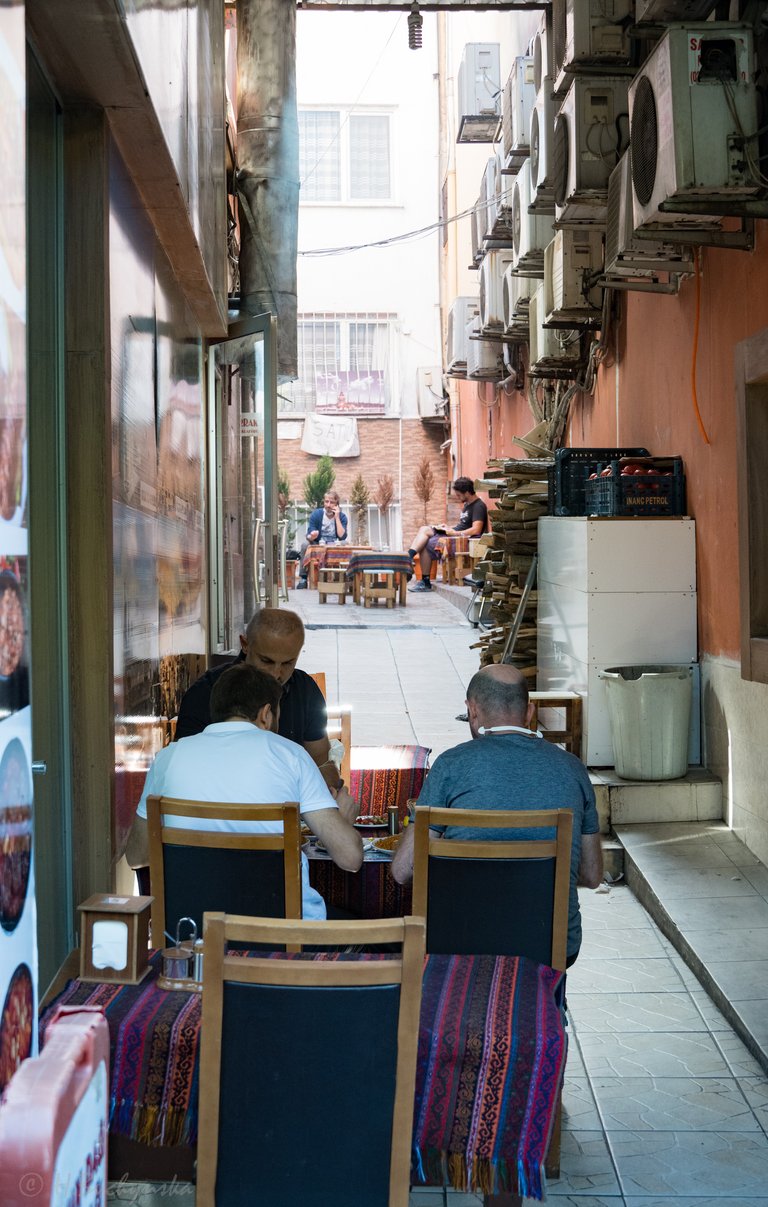 As I just said, everything.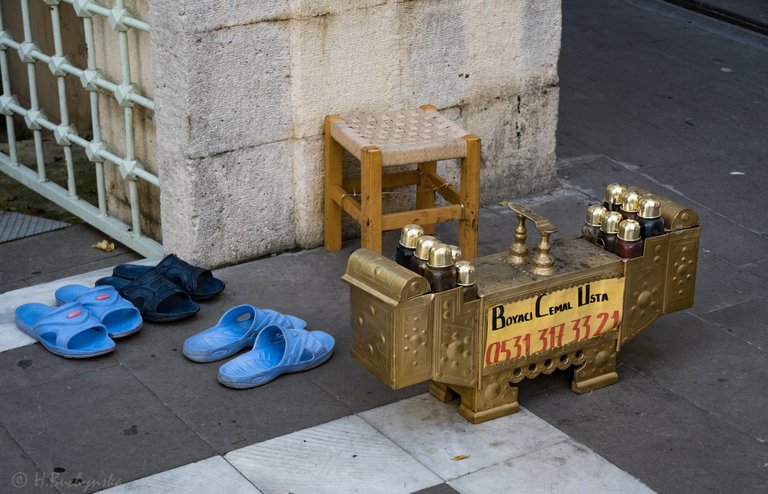 This is Grand Bazaar surroundings, neighbor streets. There are some quarters where sellers speak only Turkish. and you will have a chance to express your words using hands and face :) After all, I did it!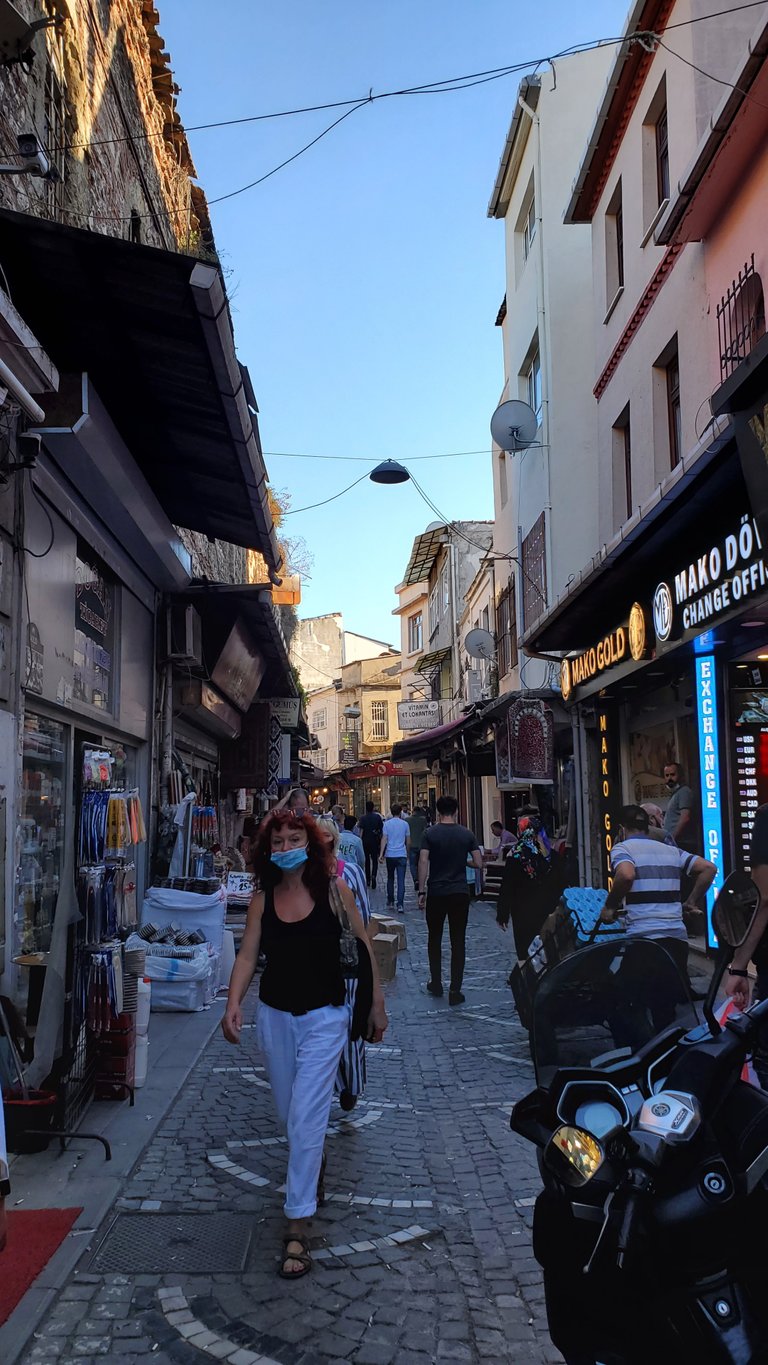 ---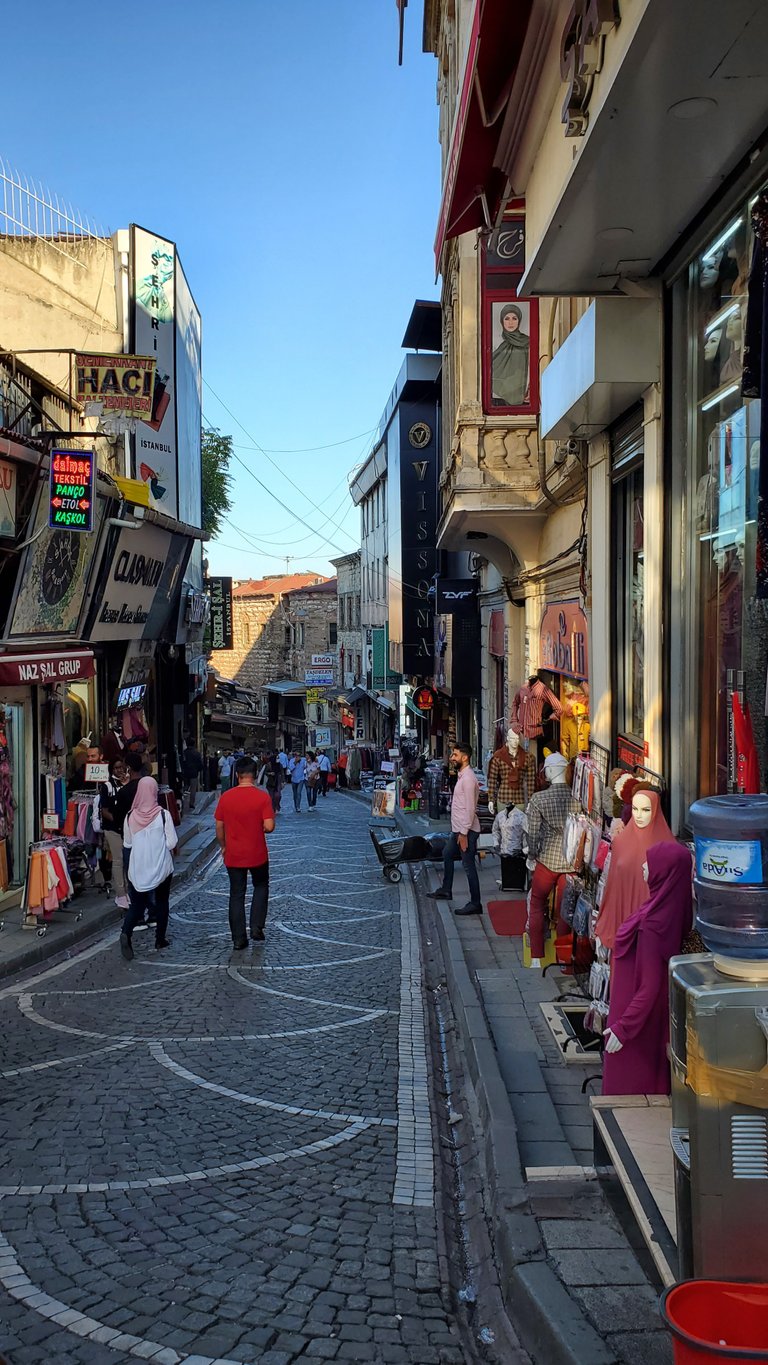 Here. This photo is taken with my smartphone, but I must show you.
In the morning, when this small city wakes up, and small shops just open one by one, all streets are filling with loaders. They pull and push big heavy carts. And if they can't use a cart with wheels, they put on this stuff (on the floor). And load a bale on it. This device helps to redistribute weight from back to legs.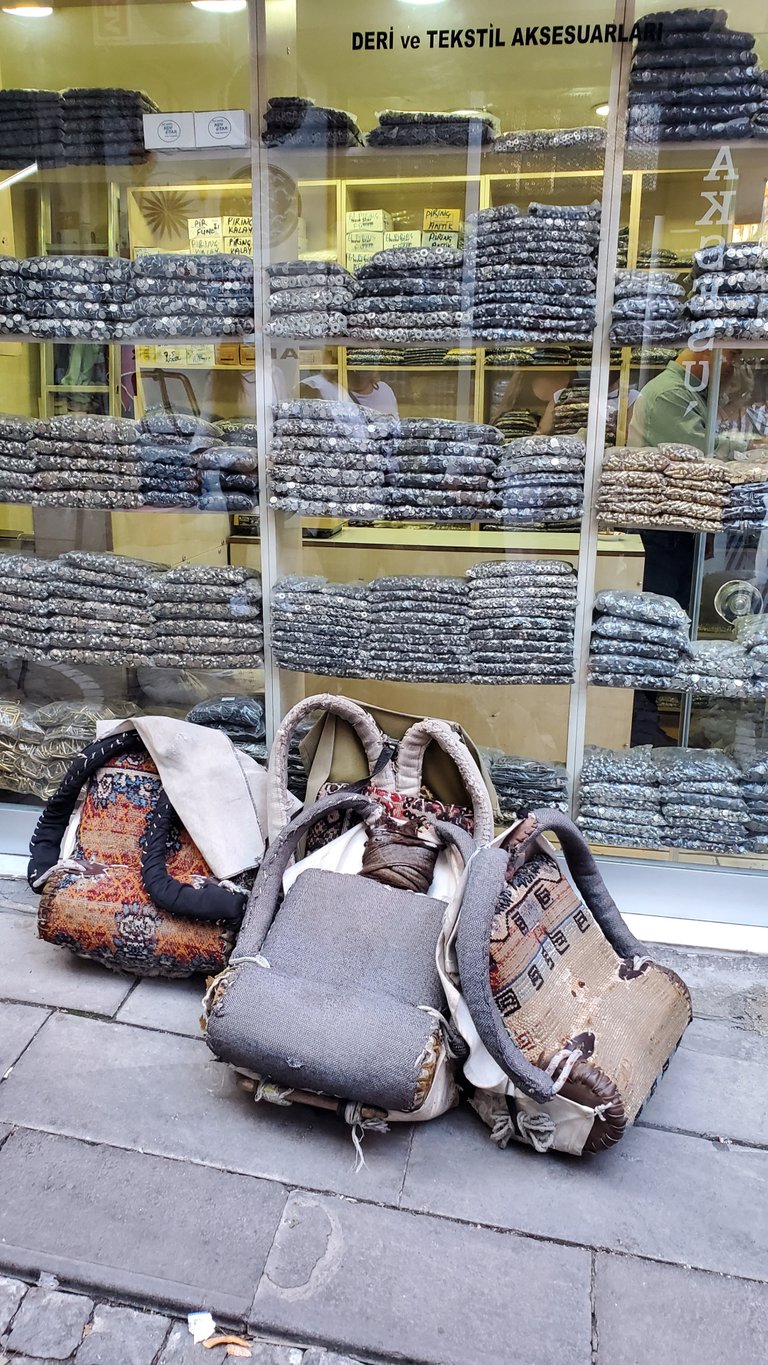 Ah, what Turkish beauty doesn't love gold!
When I was in Cappadocia, I met a girl from Ukraine who was going to marry a Turk man. We talked about weddings, and she said that before the wedding according to the tradition the groom makes the bride present of gold. No, not a ring or a pendant, but a lot of gold, heavy jewelry, especially bracelets. When Turkish women put on this jewelry, for example, for an important event like someone's wedding, then its weight can be up to 5 kg, and even more. It was very hard for me to imagine it. But after seeing this showcase, I can believe it.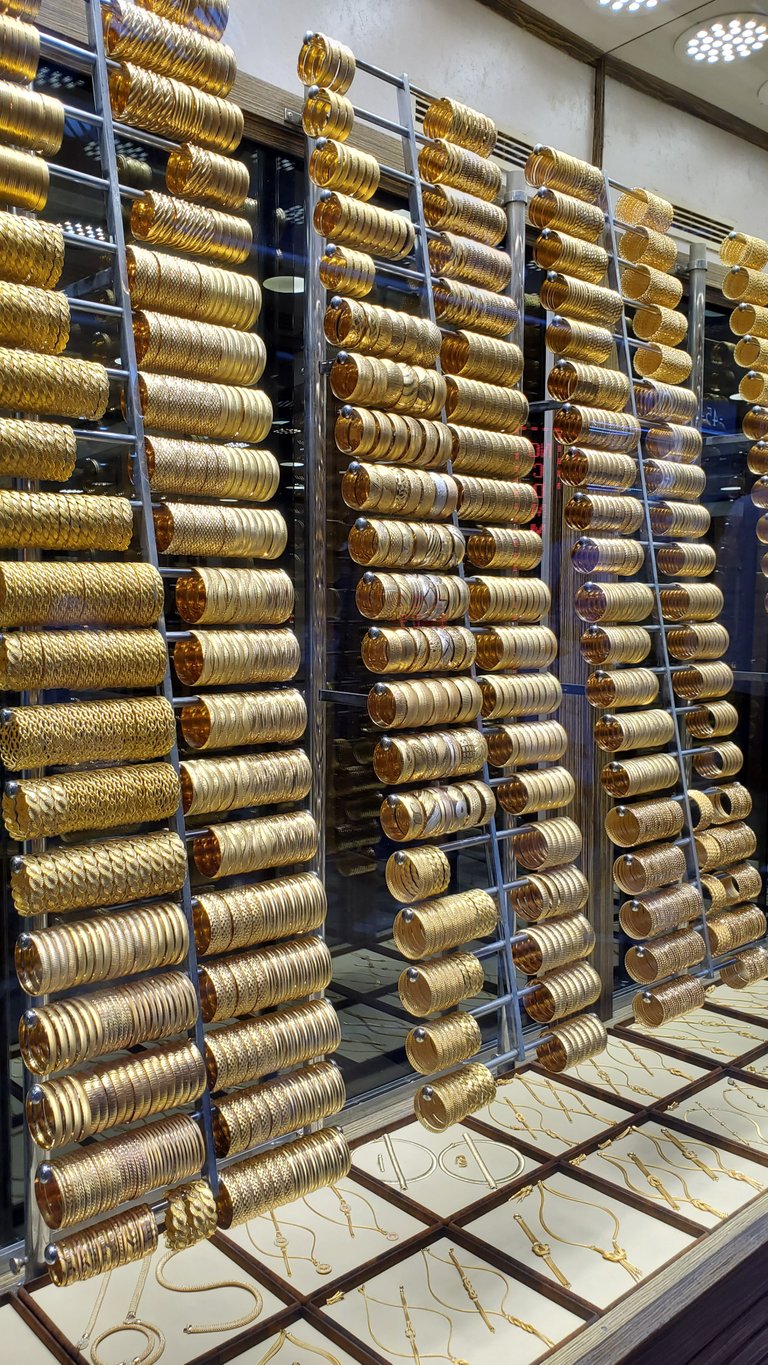 Phew! That is the end. I hope you are not too tired. How good that it was a virtual walk, because a real walk through the bazaar is quite a challenge. You need to start looking for your way back before you get tired :)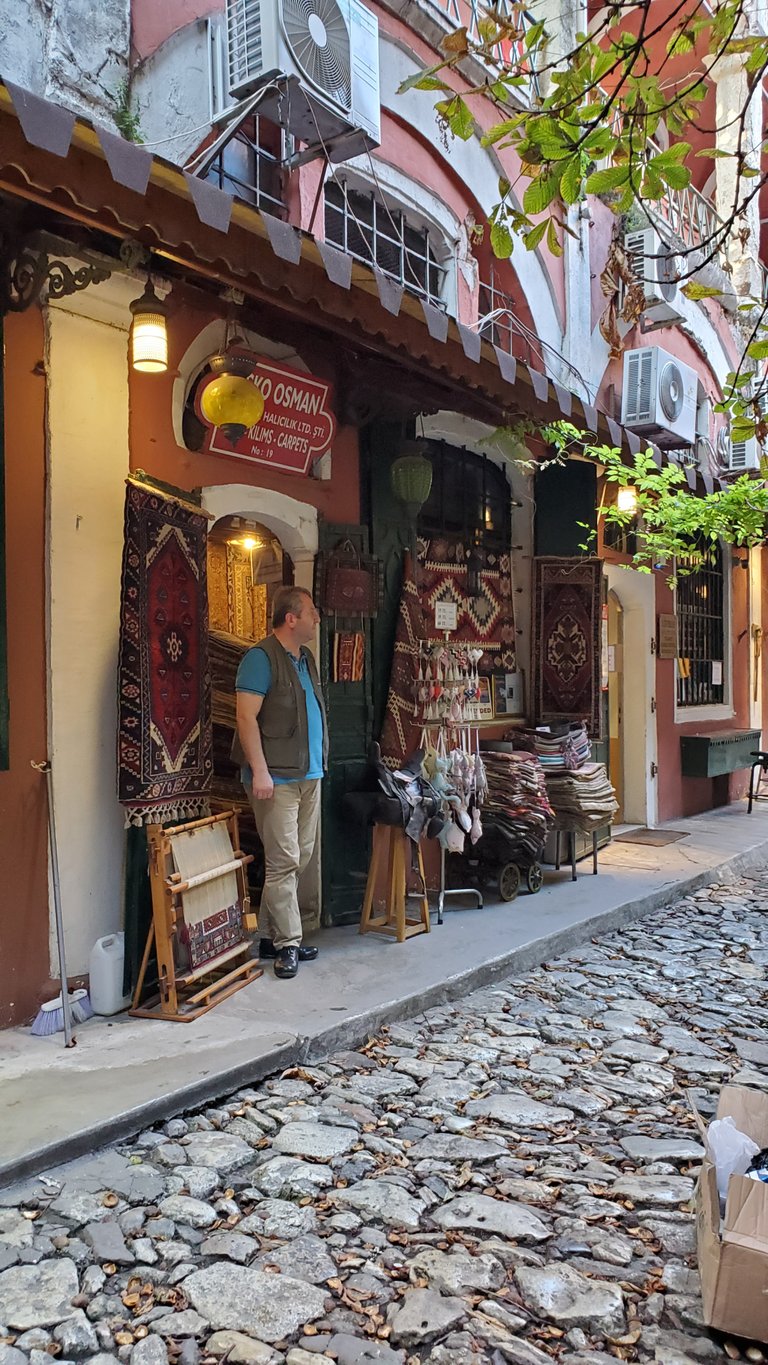 All photos used in my posts are taken and owned by myself. If you wish to use any of my images please contact me @zirochka.

Thank you for joining me today!


If you like my photo story and wonder about
other posts from my recent trip to Istanbul, here they are:



---
Day 1 - Exploring the city.
Little Hagia Sophia
Day 2
Amazing Haya Sophia
Istanbul Birds
Istanbul. Lost City. Part #1

Istanbul. Lost City. Part #2

Southern night in Istanbul
Stories of Istanbul cats - for #Caturday
Stay safe and have a great weekend!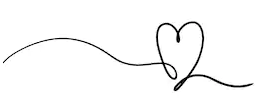 @zirochka